Abbey Road Orchestra: High Percussion
Spitfire Audio's Abbey Road Orchestra: High Percussion is a collection of 62 percussive instruments expertly recorded in one of the world's most iconic studios...
A meticulously curated selection of 62 percussive instruments performed by internationally renowned percussionist Joby Burgess and expertly captured in the legendary acoustic space that is Abbey Road Studio One. Focus on bringing life to your compositions with tailored features— such as soft takeover, voice choking and right/left hand mapping. Add a layer of unparalleled realism with a variety of beaters and playing styles.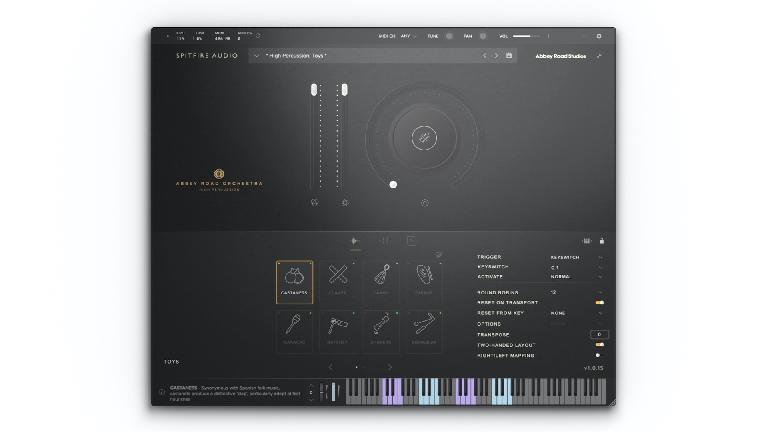 The second instalment of Abbey Road Orchestra, the most detailed range of sample libraries Spitfire Audio has ever created, High Percussion will be instantly familiar to Low Percussion users. Housed in the same Abbey Road Orchestra plugin and drawing on the same innovative features, intuitive mapping allows for easy layering and go-between to amplify the authenticity of your composition.
HIGH FIDELITY
This new untuned percussion library will expand your percussive palette, with a range of highly detailed and tactile instruments, while also providing an immediate natural feel that sounds authentic and cinematic.
High Percussion re-emphasises the nuanced features of Low Percussion, demonstrating their dynamic responsiveness. Soft Takeover, voice choking and two handed mapping all allow for an instinctive and gratifying performance. Expertly captured by GRAMMY®-winning engineer Simon Rhodes (Skyfall, Avatar), and performed by internationally-renowned percussionist Joby Burgess (Black Panther, Mission: Impossible), High Percussion offers an agile, responsive and intuitive experience.
UNPARALLELED REALISM
Detailed Realism

Dynamic Precision – Audible nuance:

With up to 11 dynamic layers
Up to 16 round robins
391 articulations, including discrete right and left hand performances
Ultimate Playability

Natural Playability – Key features to ease playability:

Soft Takeover
Two-handed layout
Right/Left mapping
Voice Choking
Easy to layer with ARO: Low Percussion
Extensive Instrumentation

Clarity and Quality – Revitalise your rhythm section:

62 percussive instruments, ranging from traditional orchestral staples to modern hybrid scoring essentials
Toy box section includes a selection of Claves x 6, Castanets (machine and handle), Ratchet, Vibraslap, Whips x 2, Plastic Pipe, Guiro, Shaker Pairs, Caxixi (Basket Shakers) Maracas (pair)
A difference in materials, recorded with multiple brush and beater options
STUDIO ONE: ICON OF THE PAST, INNOVATOR FOR THE FUTURE
A host to celebrated classical recordings from Elgar and Prokofiev, as well as iconic film scores from Raiders of the Lost Ark, Return of the Jedi, The Lord Of The Rings Trilogy, and the more recent releases of Avengers: Endgame and Black Panther, Studio One needs no introduction.
Home to one of the greatest in-house collections of vintage and modern microphones and a control room fitted with a 72-channel Neve 88 RS console with a unique and comprehensive surround monitor section,
Studio One is the perfect setting for our meticulously planned recording sessions. Our aim is to work with the best, to deliver you the world's most detailed sampling orchestra and Abbey Road – one of the most in-demand recording studios in the film scoring landscape – was the perfect space to make this happen.
"Spitfire Audio are undoubtedly the best team in the world to deliver something truly groundbreaking. The bar has been raised exceedingly high and this is only the beginning for the Abbey Road Orchestra series. It feels like we are all in for a remarkable journey."
— Mirek Stiles Head of Audio Products, Abbey Road Studios


DECADES OF EXPERTISE
This library has been formed by some of the world's best producers in music recording, created for professional composers of film, television, game and performance.
Joby Burgess – Joby's playing can be heard on major film and TV scores, notably leading the percussion sections on Black Panther, Rocketman, Ad Astra, Mission: Impossible, The Darkest Hour, Dr Who and The Green Planet.
Simon Rhodes – Simon joined the EMI Abbey Road Studios in 1987. He is now Senior Engineer and has a long standing association with various composers including the late James Horner with whom he worked for 18 years on over 40 projects including Avatar, one of the highest grossing films of all time.


KEY FEATURES
62 Percussive Instruments
16 Signals
17 Main Presets:

Bongos – A pair of Cuban bongos adept at carrying strong rhythms with a very focussed and articulate tone

Three Techniques:

Hands – Single strikes and rolls performed with the hands on the head of the drums in various positions to produce a variety of textures and accents
Sticks – Single strikes and rolls performed with wooden drum sticks producing a well defined attack with added presence
All in One – All available beaters and techniques for the drum presented across the keyboard

Congas (3) – A Latin American staple, congas combine a forward tone with balanced and controlled resonance presented here in a set of 3

One Technique:

Hands – Single strikes and rolls performed with the hands on the head of the drums in various positions to produce a variety of textures and accents

Darbuka – An Arabian hand drum ideally suited to fast intricate rhythms, producing bright overtones with a distinctive colour

Three Techniques:

Hands – Single strikes performed with the palm and fingers on the head of the drum in various striking positions for the traditional darbuka sound
Brushes – Single strikes and rolls performed with brushes on the head of the drum which accentuate the instrument's top end
All in One – All available beaters and techniques for the drum presented across the keyboard

Djembe – A traditional African hand drum, the djembe produces a deep fundamental and strong overtones

Three Techniques:

Hands – Single strikes performed with the hands on the head of the drum in various positions to produce a variety of textures and accents
Brushes – Single strikes and rolls performed with brushes on the head of the drum for a brighter, crisper timbre with reduced fundamentals
All in One – All available beaters and techniques for the drum presented across the keyboard

Log Drums (x6) – Hollow hardwood instruments with pitched 'tongues' struck with beaters producing a very organic, woody sound

One Technique:

Rubber Mallets – Single hits performed with rubber mallets producing a balanced and articulate tone which brings out the character of these instruments

Mini Bongos – A pair of miniature bongos - a delicate, lighter alternative the traditional bongo drums

One Technique:

Hands – Single strikes and rolls performed with the hands on the head of the drums in various positions to produce a variety of textures and accents

Octobans (x4) – A set of four Octobans – an unpitched alternative to boobams - producing a fast attack with a clear fundamental and a tight resonance

Three Techniques:

Sticks – Hits and rolls performed with wooden drum sticks producing a well-defined attack and a strong mid range
Rods – Hits and rolls performed with wooden rods producing an articulate attack with reduced fundamentals
All in One – All available beaters and techniques for the drum presented across the keyboard

Plastics (x3) – A set of plastics struck with sticks spread across the hall creating a punchy 'street ensemble'

One Technique:

Sticks – Single hits performed with wooden drum sticks in different striking positions

Roto Toms (x5) – A classic set of 5 rototoms producing a clear and well-defined tone with plenty of carrying power

Sizes: 6", 8", 10", 12", 14"
Three Techniques:

Sticks – Techniques performed with wooden drum sticks producing a well-defined, punchy attack
Brushes – Techniques performed with dense nylon brushes producing a crisp attack with reduced fundamentals
All in One – All available beaters and techniques for the drum presented across the keyboard

Shime Daiko – A traditional Japanese drum with a very tight, focussed sound which lends itself to energetic rhythmic patterns

Four Techniques:

Taiko Sticks – Techniques performed with traditional taiko sticks on the head of the drum
Rods – Techniques performed with wooden rods producing an articulate attack with reduced fundamentals
Hands – Techniques performed with the hands on the head of the drum
All in One – All available beaters and techniques for the drum presented across the keyboard

Field Drum – A 15" field snare drum with a deep maple shell, producing a much lower tone than a regular snare drum with a rounded character

Four Techniques:

Sticks (Snares On) – Techniques performed with drumsticks and the snares of the drum engaged
Sticks (Snares Off) – Techniques performed drumsticks and the snares off, producing the pure sound of the head and shell
Brushes – Techniques performed with wire brushes and the snares engaged for a more delicate timbre
All in One – All available beaters and techniques for the drum presented across the keyboard

Snare – A vintage 15" diameter snare drum with a chrome over brass shell, producing a full-bodied sound with a detailed top end

Four Techniques:

Sticks (Snares On) – Techniques performed with drumsticks and the snares of the drum engaged
Sticks (Snares Off) – Techniques performed drumsticks and the snares off, producing the pure sound of the head and shell
Brushes: Techniques performed with wire brushes and the snares engaged for a more delicate timbre
All in One – All available beaters and techniques for the drum presented across the keyboard

Piccolo Snare A – A 12" diameter piccolo snare drum with a shallow hammered steel shell producing an extremely tight sound to cut across even the densest arrangements

Four Techniques:

Sticks (Snares On) – Techniques performed with drumsticks and the snares of the drum engaged
Sticks (Snares Off) – Techniques performed drumsticks and the snares off, producing the pure sound of the head and shell
Brushes – Techniques performed with wire brushes and the snares engaged for a more delicate timbre
All in One – All available beaters and techniques for the drum presented across the keyboard

Piccolo Snare B – A 13" diameter piccolo snare drum with a shallow maple shell producing a crisp and articulate sound with present upper mids

Four Techniques:

Sticks (Snares On) – Techniques performed with drumsticks and the snares of the drum engaged
Sticks (Snares Off) – Techniques performed drumsticks and the snares off, producing the pure sound of the head and shell
Brushes – Techniques performed with wire brushes and the snares engaged for a more delicate timbre
All in One – All available beaters and techniques for the drum presented across the keyboard

Temple Blocks (x4) – Hollow blocks struck with mallets producing woody sounds with a focussed midrange

Three Techniques:

Hard Mallets – Single hits performed with hard mallets producing a bright attack
Soft Mallets – Single hits performed with hard mallets producing a mellow attack
All in One – All available beaters and techniques for the drum presented across the keyboard

Timbales – Latin American drums with a single head on a metal shell, played with light sticks and producing strong overtones

One Technique:

Sticks – Techniques performed with thin timbale sticks on the heads and shells producing a range of interesting textures

Wood Blocks (x4) – Hardwood instruments struck with mallets producing high pitched sounds which cut above the orchestra

Three Techniques:

Hard Mallets – Single hits performed with hard mallets producing a bright attack
Soft Mallets – Single hits performed with hard mallets producing a mellow attack
All in One – All available beaters and techniques for the drum presented across the keyboard

Nine TOYS – A collection of smaller percussion instruments for adding additional colours and textures:

Claves (x6) – Pairs of pitched wooden sticks struck together
Castanets (Pairs: Machine + Handle) – Synonymous with Spanish folk music, castanets produce a distinctive 'clap', particularly adept at fast flourishes
Ratchet – Turned with a handle, the ratchet produces a distinctive rotating 'clicking' sound
Vibraslap – A modern alternative to the 'donkey's jawbone', the vibraslap produces a signature rattle when struck
Whip (x2: Heavy / Light) – Wooden boards clapped together producing a very short, loud 'crack'
Guiros (x2: Wood / Plastic) – Ridged instruments which are either scraped or tapped to produce characterful rhythms
Shakers (Two pairs) – 'Pop' style shakers for creating driving rhythmic motion
Caxixi (Pair: Basket Shakers Low / High) – Of African origin and popularised in Brazilian music, caxixi are hand instruments filled with seeds, presented here in a pair
Maracas (Pair) – A staple of Latin American folk music, maracas are extremely agile shakers, presented here in a pair

Voice Choking feature – To precisely control the end of roll techniques by pressing the corresponding single hit key
98.05 GB download size
~ 234,769 samples