Just as digital audio forever changed the fiscal foundation of the music industry, the microprocessor brought power to the fingertips of artists that never previously existed at such a level. Between the cloud, LTE cellular speeds, and a world of apps, musicians can make music anytime, anywhere and with almost any device. Such freedom of creativity is especially advantageous to the songwriter.
Can inspiration for your next top 40 hit be called upon from a scenic location or coffee-filled writers' session? Sure, but in my experience, the truest emotions tend to arrive unexpectedly. So, for the spontaneous writer like myself, here are three great smartphone apps and tips to help keep you develop your next album on the go.
Google Drive
If by some chance you've never used a cloud storage app before, Google Drive is a great place to begin. The software is much more than a text editor, but it works well for that purpose (I actually wrote this piece in Drive, partly on my phone). All you need is a Google account and you can begin storing and accessing your songs, or "Google Documents," from anywhere.
One key feature in Drive is that it allows for real-time collaboration with other members of the band. First, you'll share the document with whoever's writing with you. Then, both of you can edit the document at the same time, watching each other's cursors dance around the screen. Let's be real: in this day and age, the combination of Skype video chats and songwriting collaboration via the web is a great way for bands to save money and time. In addition, the app's generic purpose provides a great way to host and share demos or riffs, as long as they're MP3 or WAV files.
Cons? By default, Drive doesn't allow you to edit documents with a device that's offline. You can choose to select offline access for specific documents, but in my experience it's not always been a smooth process. What a bummer it is to hatch a killer new hook and be locked out of your song file because the connection is too weak or nonexistent.
Evernote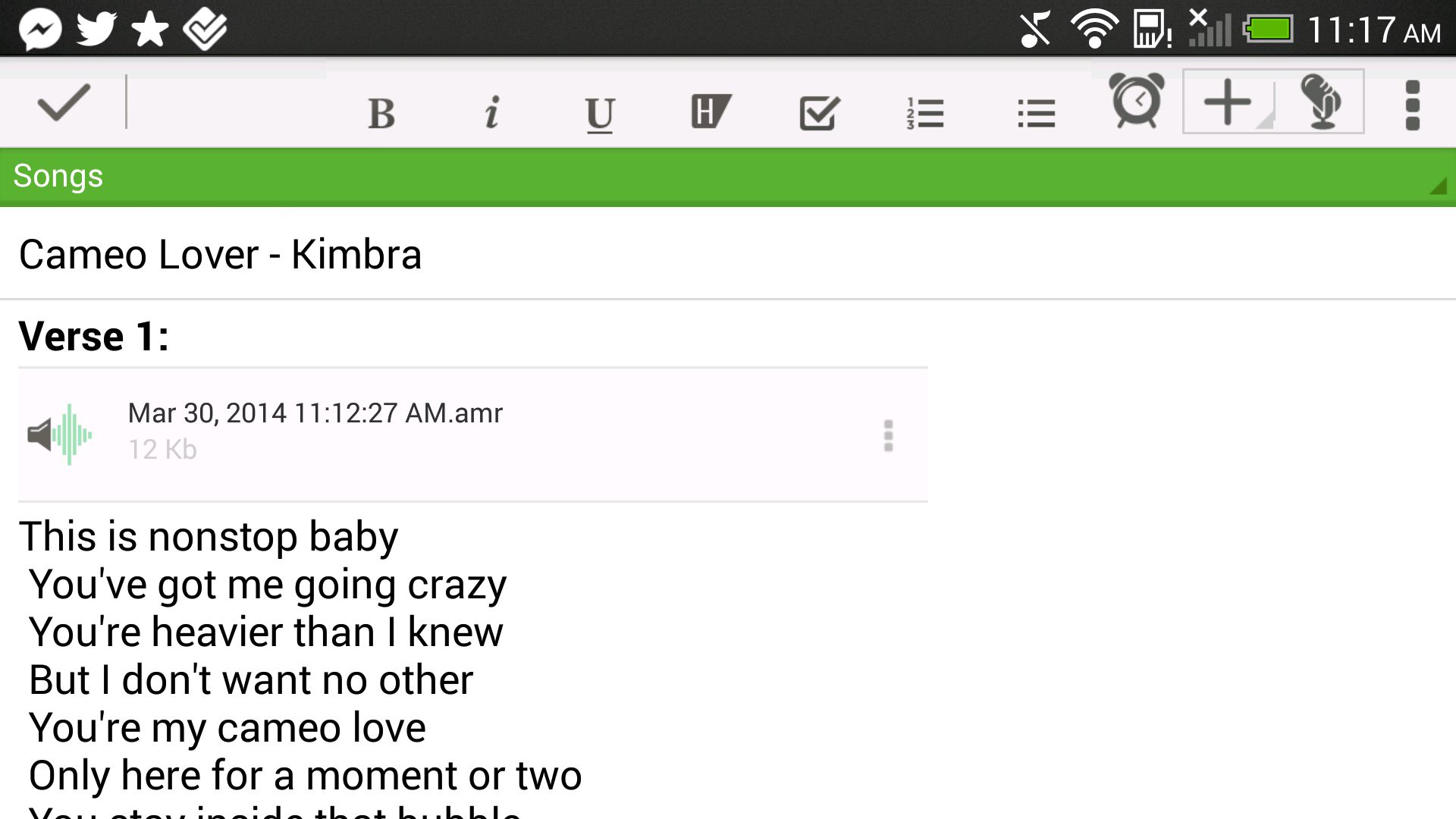 Evernote
An elephant never forgets, right? Well, using Evernote doesn't guarantee a perfect memory, but the software has a talent for making mobile note taking a breeze. As a recommendation, it's my number one choice for songwriters.
What makes it so great? For starters, it's available on iOS, Android and WP8 for free. And just like Google Drive, you can access the web version anywhere, but you probably already knew that. I personally use one specific notebook for all my song ideas, and another separate for finished numbers. But the organization is endless, and totally up to you, really. It's also worth nothing that unlike Drive, Evernote doesn't require a network connection to edit a song document. You can make as many changes as you like, but they won't be uploaded to the cloud until you're back online, which means you're never limited as to when and where you can write.
Evernote's shining star is its ability to store an audio sample inline with the text. For example, I record the melodies for each part of a song as I write it. Then, if I forget, it just takes one press of the play button underneath the section I wanna revisit and voila, I've got it! There are ways to achieve something similar with Drive and other services, but the simplicity of the app's layout makes the process speedy.
SoundCloud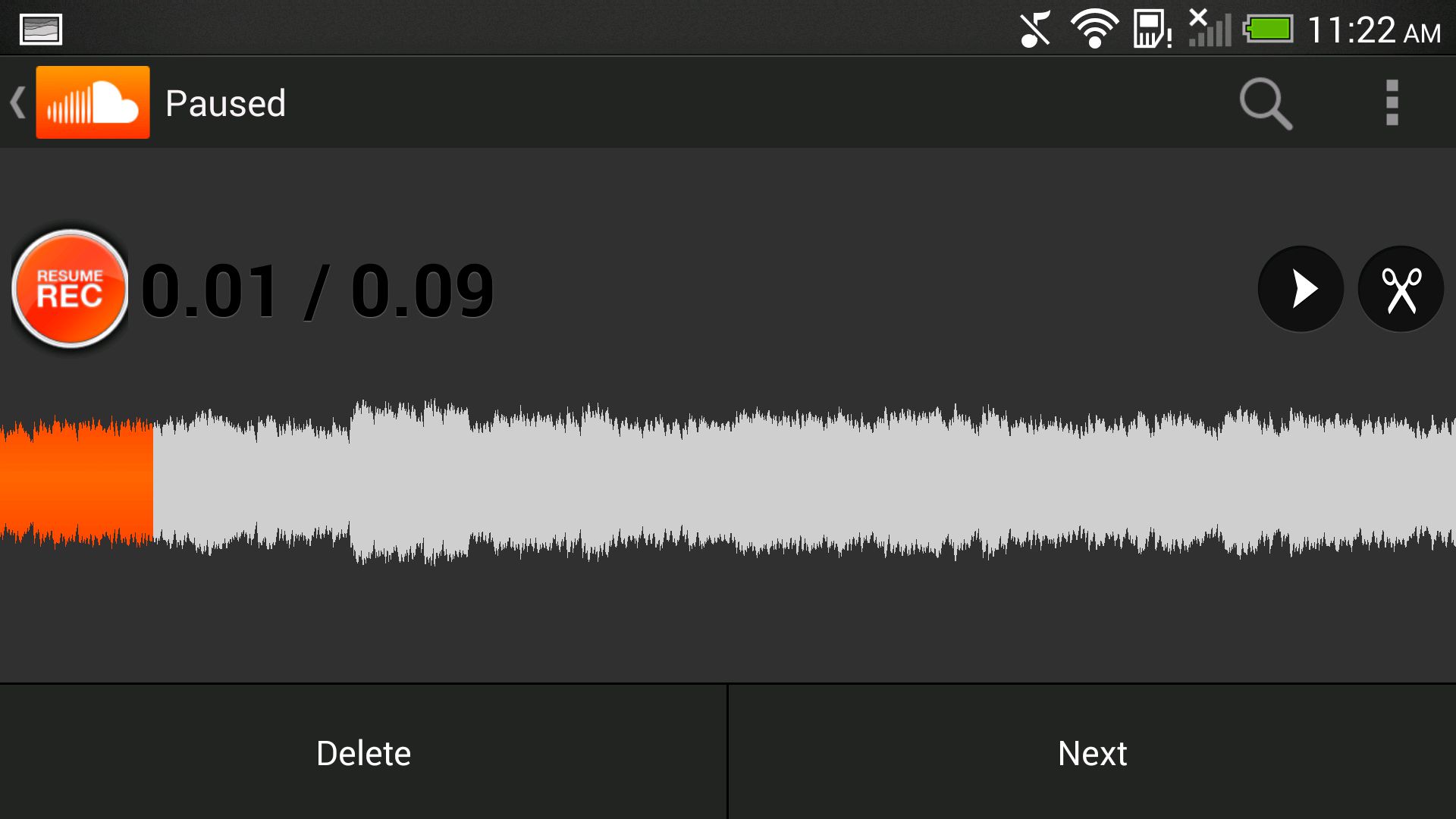 Though all my lyrically completed songs reside within Evernote, most of their original musical bits live in my SoundCloud profile. Whenever I haphazardly hum something with potential, I launch the Record widget from the homescreen of my HTC One and track it. It's really that easy: name it, choose whether to make it public or private, and upload away.
SoundCloud is a great platform for collaboration with the entire band for two reasons; users can leave comments at specific instances of the audio clip and your sounds can be shared with specific groups of users. So if your entire band has an account, make a group and upload your next song ideas for some feedback. The interface may take some getting used to, but it can prove to be a valuable writing tool.