909 Day: Behringer Reveals RD-909 Drum Machine Prototype
Hot on the heels of their RD-808 prototype jam last month, Behringer are back showing off the next big drum machine they're working on... a clone of the iconic TR-909.
As promised at the end of the video of the RD-808, TR-808 clone, on 08-08-2018, Behringer have released a sneak peek of their upcoming Roland TR-909 drum machine clone, named the RD-909.
We were hoping for a video demo, but we'll have to be satisfied for now with a rather nice photo instead. Do remember this is still a prototype as you can tell from the hand-written snippets in places. Evidently, the bass drum still might have a drive and a pitch control and the hi hats may have a tune control too.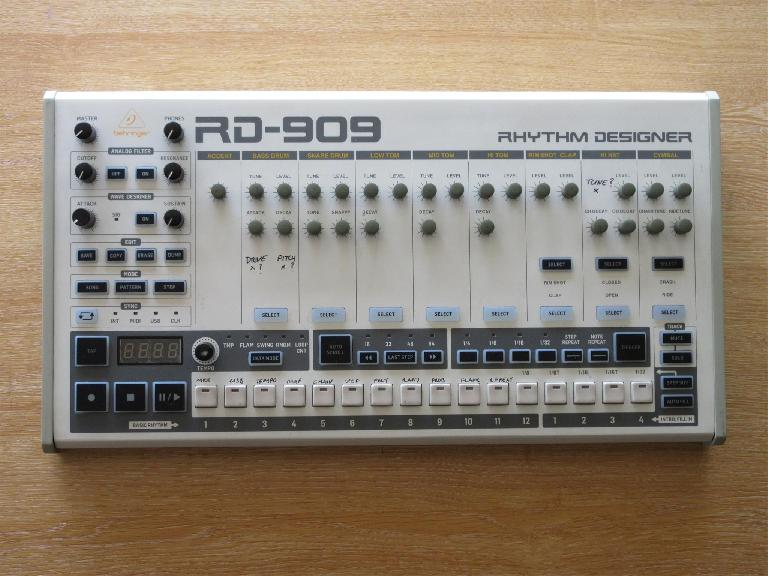 We suspect the RD-909 will feature individual outputs for every drum sound. You can see from the photo that there's an analog filter included too. And of course, there's a step sequencer will plenty of options and performance controls too.
These are the probable features so far... we've not heard anything official from Behringer on the price for the RD-909 or availability...
RHYTHM DESIGNER RD-909
Recreation of one of the most sought after and influential drum machines
10 original drum sounds: Bass Drum, Snare Drum, Low Tom, Mid Tom, High Tom, Rim-Shot, Hand-Clap, Cymbal, Open-Hat, Closed-Hat
Complete control over voice dynamics with per voice accent and flam
64-step sequencer with storage of up to 64 patterns and 16 songs with continuously variable swing
Integrated Wave Designer with individual attack and sustain controls for studio quality drum sound
Integrated dual mode filter with dedicated frequency and resonance controls for huge sound shaping options
10 independent analog outputs to record your patterns as multi-track audio
Easily readable 7-segment 4-character LED display for tempo with dedicated tap tempo button
16 authentic step pads with bold, full-color LEDs
Up to 99 loop measures of each pattern change with 16 pattern changes per song
Songs can be chained together for expanded compositions
Unique Auto Scroll feature for extremely easy operation
Comprehensive Midi In/Out/Thru and USB implementation for synchronization and connection to external devices
Per-Track Solo and Mute for enhanced realtime control
Sync options include USB, MIDI, Clock and Internal
Powerful headphone and L/R main outputs on 1/4" TRS connectors
3-Year Warranty Program