Putting your personal stamp on another artist's song is in one way very complimentary, and in another, screaming, 'look what I can do with this!" This is your chance to show the world a different take on the original version and possibly a better more popular version. Think about what your intention is for remixing a chosen song. Will you be simply putting it up for free on your SoundCloud account? Will the artist/label be releasing it as a track on an upcoming single? Do you want to get paid? Ask yourself all of these questions before obtaining the stems. Below are some useful tips for starting out as a remixer, with tips along the way for more experienced.
1. Finding Stems to Remix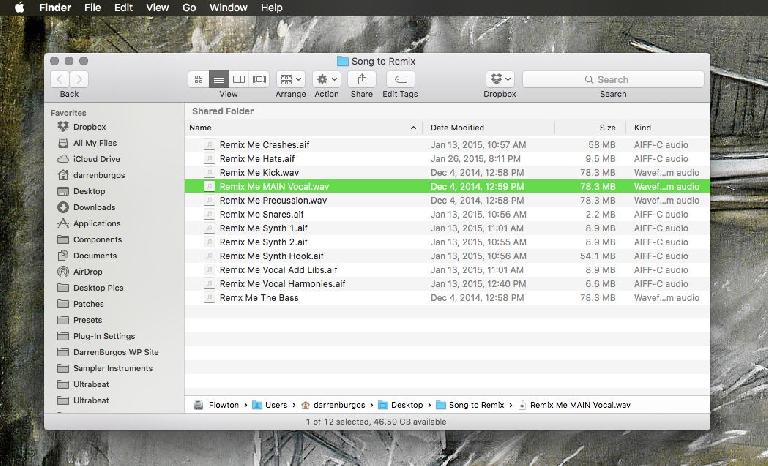 The goal is for an artist/label to come to you eventually, but in the meantime, there are many places on the internet to find "free" stems. These are usually shady looking sites, and the files they give you are of lower quality. Also remember one important thing… you really don't have permission from the songwriter to even do this yet. This is not a biggie if your intention is to post it as a free SoundCloud remix, but the owner/owners can still (however unlikely) ask you to take it down …especially if they feel like it's not in-line with the artist's or label's taste.
The best way to obtain the vocal stem/stems for remixing is to contact the artist, songwriter, or the label the record comes from. Introduce yourself, send them some links of work you've already done, and tell them the song you're interested in. If it's a go and they're ready to send you stems, it could be a simple Dropbox share, or if it's a managed artist, you may have to sign a basic contract. If you don't hear back from them try once more, then move on at that point. Remember you have no idea why they never responded… as long as you don't tell them off lol, you might hear from them at a later date
2. Choose Wisely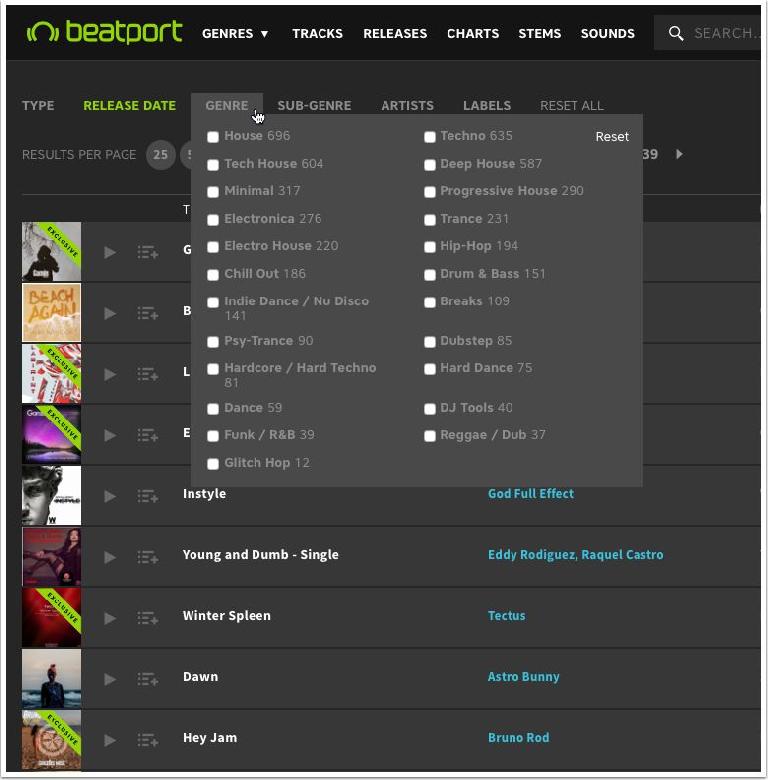 Make sure there's something about the original version you can connect with. This is super important… if you don't like it now, there's a strong chance that no matter what you do, you never will. Be open to new creative combinations, however there's often production elements in songs that if presented in a different way, might be a great starting point. Think about what you'll be doing in the remix, and target a specific genre it will fit nicely in.
3. The Right Stems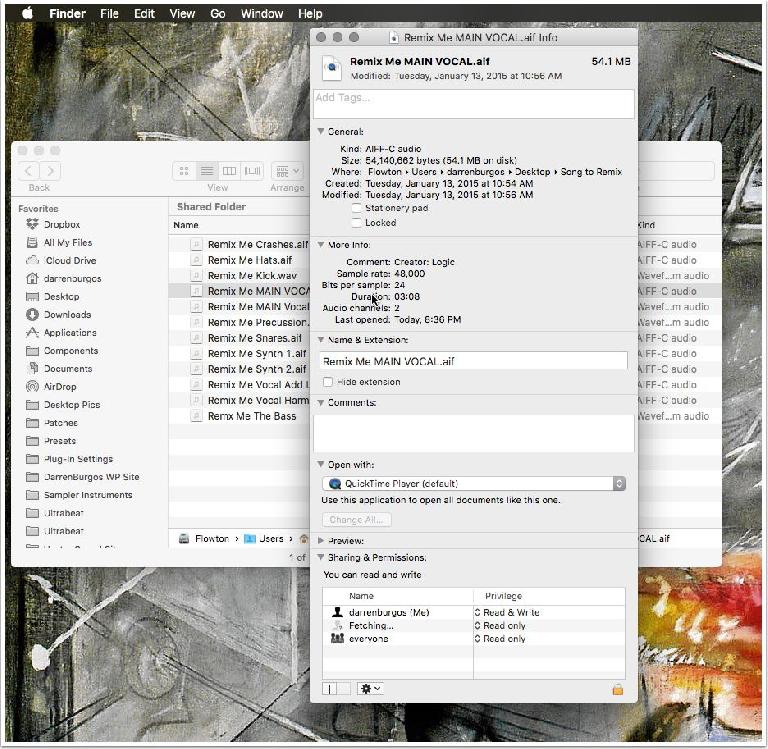 Often you'll only need a single stem of the vocal, but sometimes you might get (or want) many other elements contained in the original song. Whether it's a single vocal or every sound separated, make sure you're getting the original high quality WAV/AIFF files (never been made into MP3s, then converted to WAV/AIFF). The ideal file(s) should be 44.1kHz (and up) 24 bit files. If there are elements in the original you'd want without effects, there's no harm in asking at this point if you're in direct contact with the producer. Remember too that people get busy, and they may need to actually create the stems to give you.
4. Faster or Slower?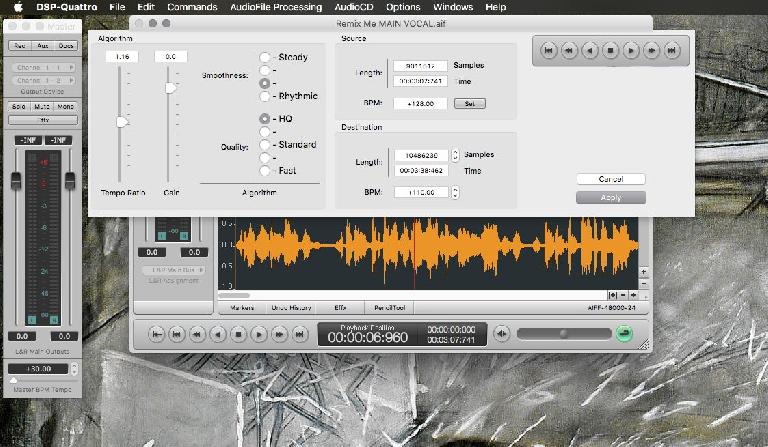 So any audio file that was not originally recorded at your chosen tempo must be either compressed or expanded/stretched. Should you go with the original tempo and just match that in your DAW, or do you want to speed things up a bit …possibly slow it down? Most audio stretching/pitch altering engines in DAWs are terrible sounding. They create a "graininess" over your audio tracks when stretched a bit too far. It's easy for some to spot these degradations in the higher frequencies. Instead of allowing your DAW to Warp (Ableton) or FLEX (Logic) the stems to a specific tempo—distant from the original, use a separate sample editor that is dedicated to doing the job. Try Triumph, SoundForge, or DSP Quattro. Changing tempo in a dedicated editor can take several minutes depending on the stem (times that per stem count) length, but worth it for the sound quality. Once they're made, just drag them into your DAW and make sure to match the tempo. Most sample editors do a better job adjusting the key in addition to the tempo too. If the BPM is only changing by a small amount, Warp and Flex can sound perfectly acceptable.
Remember that if a song seems too fast, you can change to "half time." This means for example the snare that was on the 2 and the 4 is now only on the 3 (beat 3) of every bar. With a more broken kick pattern and less busy hats, this alone can completely change the groove/feel of a song.
5. What Key to Choose?
You can always choose the original key to start building and playing in parts, but one easy way to totally change-up a song is to switch modes. Every musical scale uses a set amount of notes, first figure out the song's actual key and practice all the notes used in it, then try shifting your starting point to the 2nd, 3rd, 4th, 5th, etc. note that is played in that specific key. If it were a C major scale (all white notes), the next higher note would start on D. Like you've switched the key to D, but you're still only playing notes the key of C contains. Using only the notes used in the original key will assure harmony, but don't be afraid to shift outside to notes not in the key/modes too.
Even if you're grabbing loops, knowing the key is important. In Logic for example when you change to the song's specific key under the Signature tab, the loop library will play back in that key. Often when using music based loops, the key information is included in the file name (screen shot below).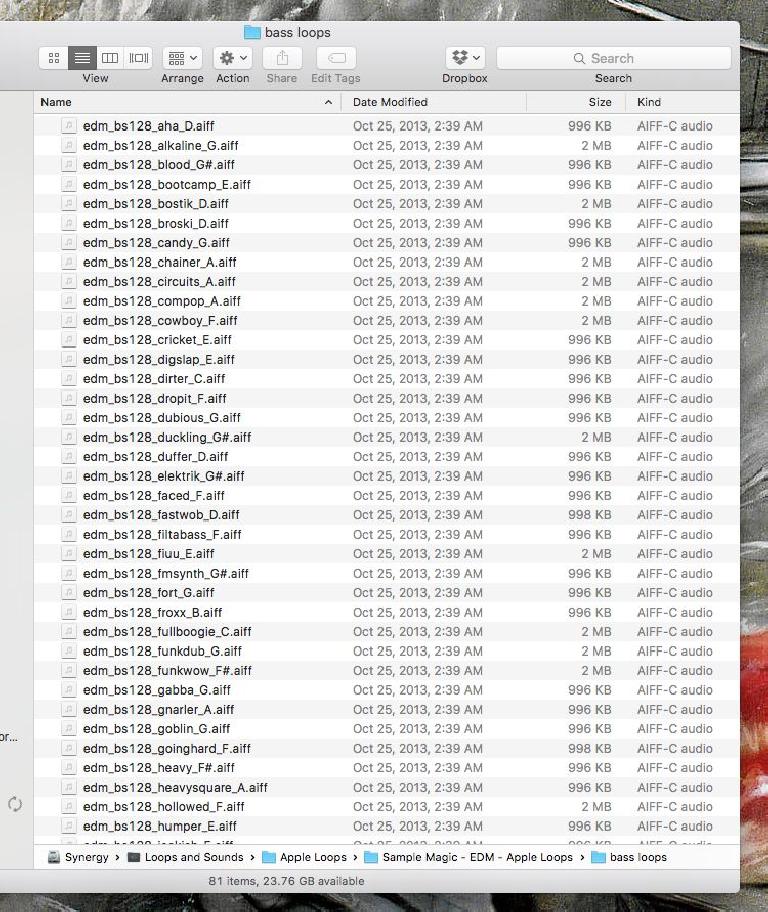 The "key" will almost always be the one musical note you can hum at any point of the song. Often the key will be given to you by the producers, but if not, download a piano app on your phone… when trying to determine a key, play any of the piano's 12 notes (at any octave) repeatedly till you find the one that fits the best. If your ear is good, this will be easy, if not, you could try some key detection apps, one called Key Detect by Mixvibes is one of the few options for this.
6. Against the Wall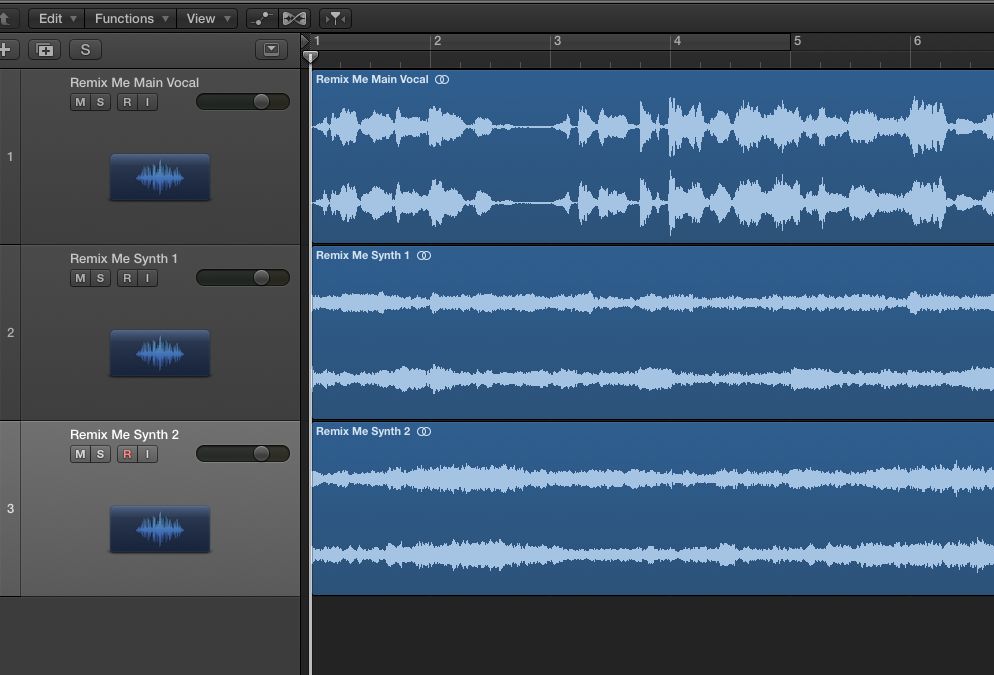 After first matching the tempo in your DAW, each stem should be lined up at bar one and replicated back in perfect sync… yes, you'll be totally changing everything, but if your elements are not in sync from the start, you'll soon be entering a nightmare world not easily escaped from! Not knowing where to cut or paste to specifically for copying sections, pasting and repeating is a huge headache and will move you away from being creative.
7. Cut Away Silent Sections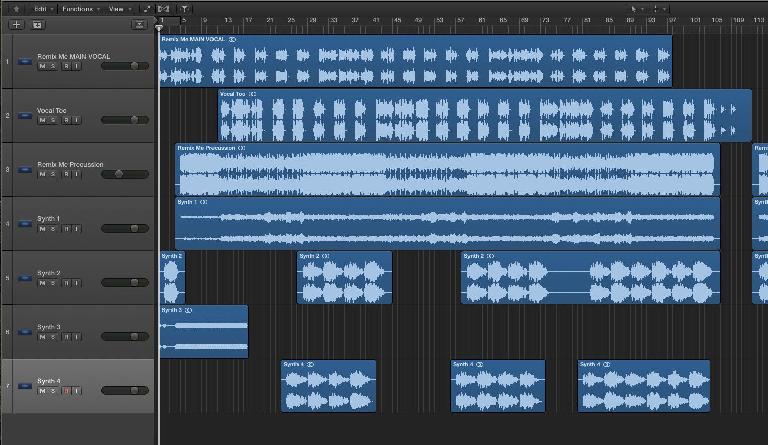 There's no real easy way of doing this. After making sure all stems are in sync, go over each one and cut away any sections that only play silence. By doing this, you'll have a clear visual picture of the original version's arrangement. This makes it much easier for finding sections to cut, edit, chop, process and manipulate.
8. Finding & Making Hooks From Stems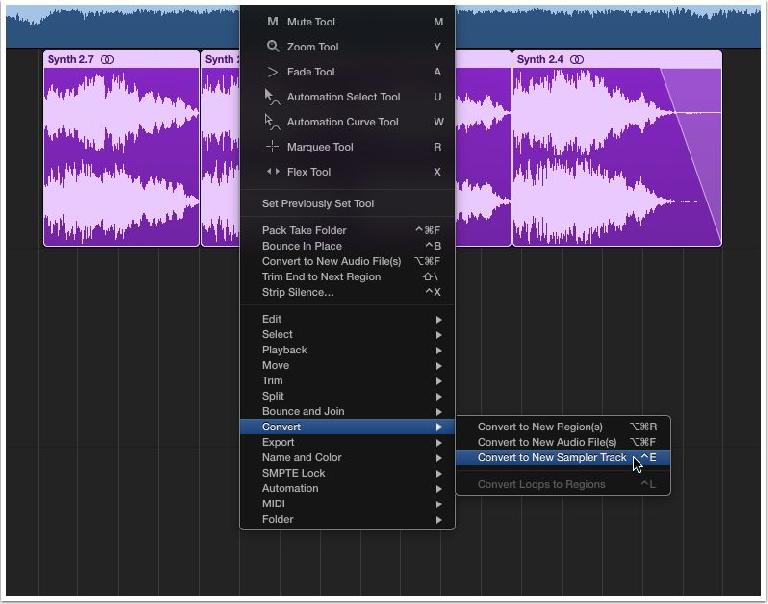 Listen to the original elements and find sections that could sound good looped. Sometimes the last notes played before a silent section can be used. When you find useful parts, either edit them as audio, or try adding them to the sampler of your choice. This way you can "play" the looped part pitched across the keys, create rhythmic pitch bent rising sounds, reverse, filtering, and tons more. In Logic Pro make a new sampler instrument using EXS24 or Alchemy. In Ableton Live use Sampler. A couple of third-party options in both VST and AU versions would be Expert Sleepers Crossfade Loop Synth, or Togu Audio Line's TAL Sampler.
9. Rise to the Occasion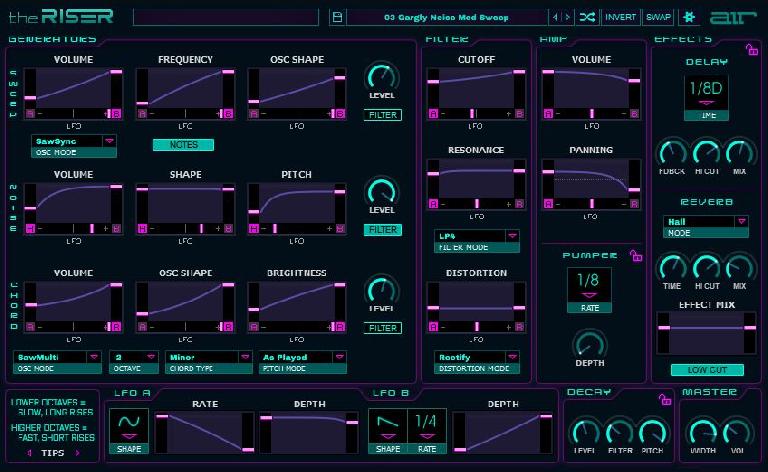 Risers seem to be everywhere from Hip Hop to Progressive House. Spend some money and either buy a collection of them from one of the many sample houses, or buy "The Riser" by AIR Music Technology. The Riser is a great instrument that is meant specifically for making riser sounds. Because The Riser is a synthesizer, it's actually playing back super clean risers that have not been degraded by stretching or compressing the time. The various octaves on the keyboard trigger different bar lengths like, 2, 4, 8, 16, etc. …so it's super easy to line them up in your remixes.
Thanks for reading! Here's the SoundCloud page for Darren Burgos (the author) where you can check out some of the remixes he's made. Happy remixing! Here are a few examples: