However you feel about the iOS vs. Android situation, it's impossible to deny that the vast majority of app development in the music field happens on Apple's devices. Love Apple or hate it, the company maintains strict control over its hardware, software and App Store and this appeals to developers, who feel better able to commit resources when they know exactly what devices their apps are going to have to work with. Although there are more Android than iOS devices in the world, the fragmentation of Android hardware and software means an almost infinite combination of factors can come into play and it's difficult to say if any given device will have the right specs to run an app.
That's not to say, however, that all is lost. Although slow off the mark, Android has come a long way in the last couple of years and the higher-end hardware certainly has the power required to run music apps, if not always the software support. Things are coming together though, especially if you have a newer Samsung device, which developers tend to use as benchmarks for making their apps. Recent versions of Android have made steps towards dealing with latency and other issues that had made life tricky for music-makers. So if you do have an Android device, the word of mobile music is definitely becoming more accessible to you. That being the case, here are some of the best tools currently available.
1. IK Multimedia iRig HD-A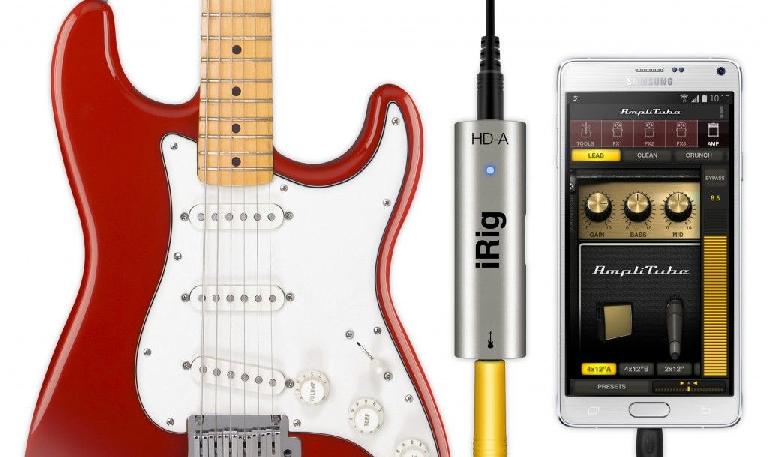 IK has a near-monopoly on making audio and MIDI hardware devices that natively support Android, and you'll find plenty of products on its website. The iRig HD-A is but one, though it's probably one with the widest appeal. A 24-bit audio interface for connecting your guitar or bass directly to your device, it has separate cables for OTG and USB connection, a preamp with gain control, up to 48kHz sampling rate and it powers from your device. Of course you can connect other line level signals like synths too. There are system requirements, principally a device that supports Samsung Professional Audio technology like recent Galaxy models. It comes with Amplitube Free for Android which you can bulk up via in-app purchases to add more features, though the basic feature set is fine for many people.
2. G-Stomper Studio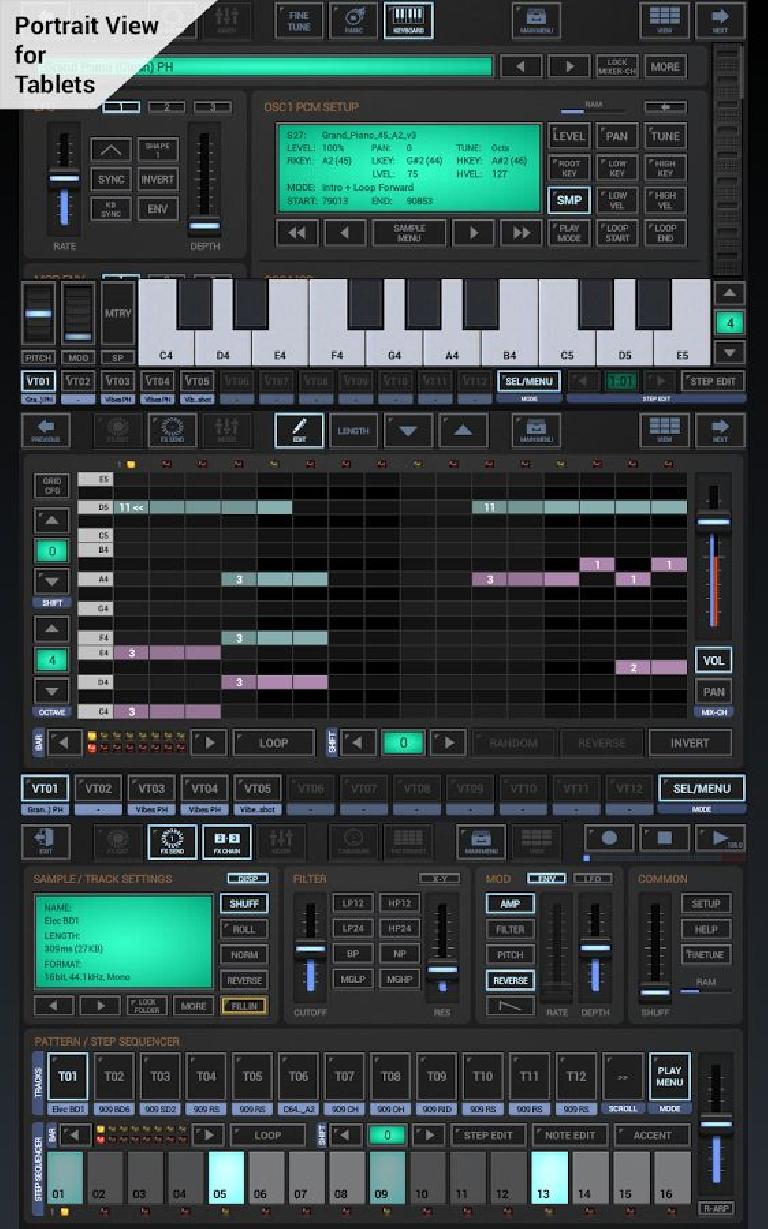 One of the few DAWs designed specifically for Android, this remarkably feature-packed app gives you lots of tools for making music. There's a step sequencing drum machine / groovebox, sampler, virtual analog synth, 24 drum pads, pattern / song arranger and a line mixer. As well as that you'll find an audio editor, effect rack with 43 effect types, master section and built-in keyboard. You can use sidechaining, tempo synced LFOs, filters, modulation and automation as well as exporting audio stems, mixdowns and MIDI files. If you thought Android wasn't suited to mobile music production, this app may change your mind!
3. FL Studio Mobile HD 3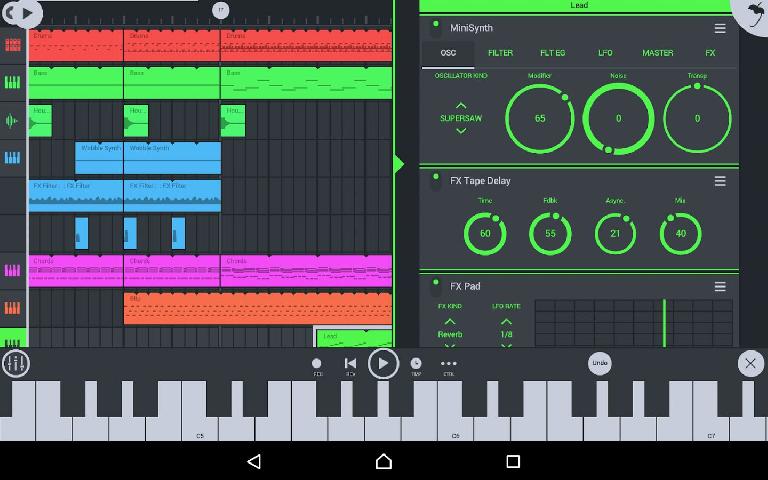 Image Line is one of the few developers truly working across many platforms and its overhaul of FL Studio Mobile HD saw the app come to Android in addition to iOS and Windows Phone. With a much more futuristic and pared-down look than the previous version, it nonetheless packs in a ton of features including onboard synths and samplers, sequencing, touch controllers, audio tracking, multiple effects, step sequencing and sharing projects to versions of FL Studio running on other devices. It's one of the slickest and most fun ways to make tracks on your device, with more depth than the colourful interface might suggest.
4. USB OTG Cable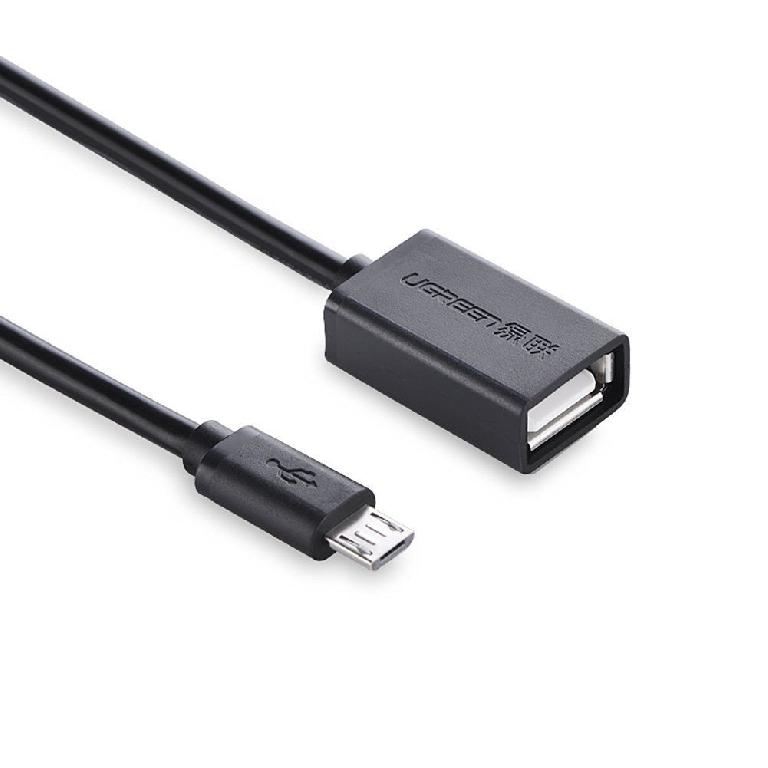 This isn't exactly the most glamorous product to look at but it's essential if you want to connect MIDI devices like keyboards or other controllers to your Android device. Very simply it converts a regular USB port into a micro USB port and so lets you hook up almost any USB device, for very little cost. From there however you are dependent on your hardware so check before you start down this road: does your Android device support USB input of MIDI, is the latency going to be usable, will your USB MIDI keyboard be recognised by the app you want to control? It's not ideal that you can't automatically answer yes to all these questions, but there's usually enough information out there to let you find out.
5. Alexander Zolotov SunVox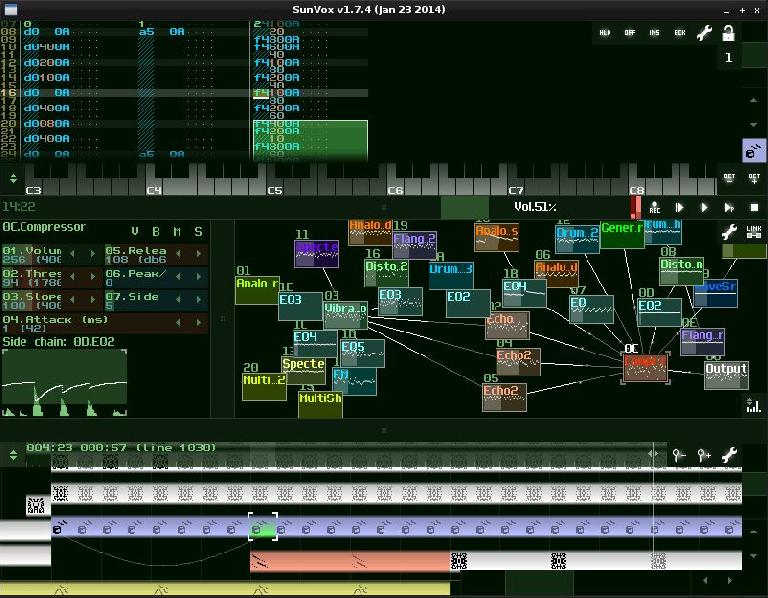 One for the more technical user, this is a small modular software synthesizer environment that uses a pattern sequencer and a whole bunch of synth and effect modules to let you build your own complex setups and sequences right on your device. Running on almost every mobile and desktop system imaginable, it also has multitrack WAV export, MIDI import and export, FM synthsis, a sampler, a drumsynth, sample recording and lots more.
6. IK Multimedia GrooveMaker 2 for Android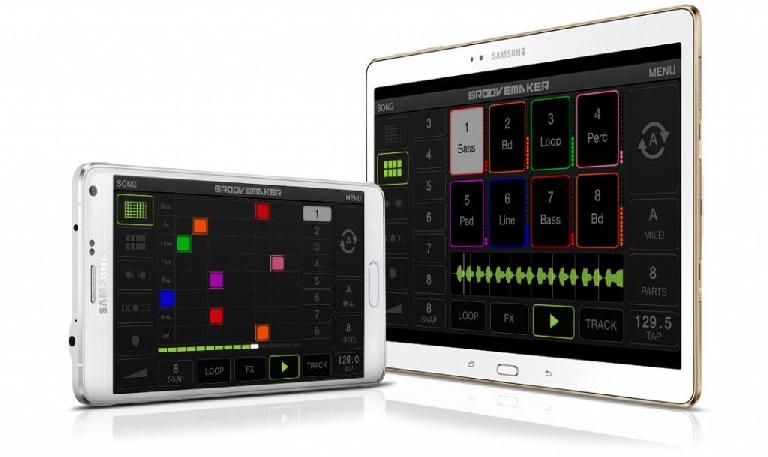 IK makes some of the best native music apps for Android. GrooveMaker 2 provides a pre-arranged set of loops that have been set up to all work together, and then gives you the ability to remix them on the fly using the touch interface. You can add extra loop packs via in-app purchases, add live effects with the X/Y pad and even import and mix your own loops.
7. Caustic 3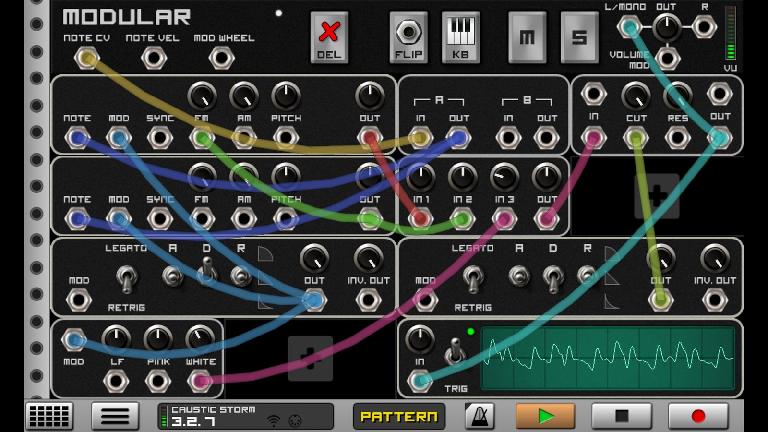 This cool little app provides you with up to 14 virtual synths and samplers that you can combine into a rack including basses, beatboxes, vocoders, organs and wave synthesizers. With an effects rack and onboard mixer as well as a song sequencer it's a portable powerhouse and is free to use, though there's a small charge to unlock saving and exporting functionality.
8. SPC – Music Sketchpad 2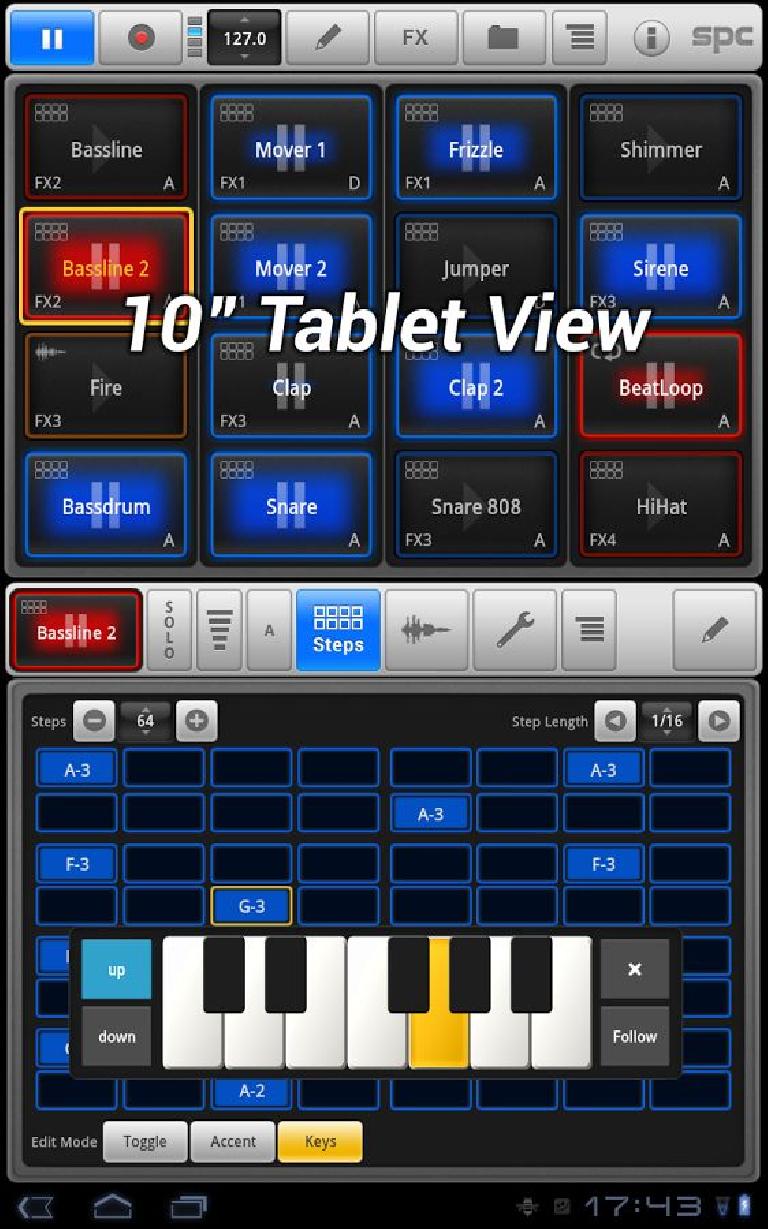 This nifty app packs quite a punch, with tools for sampling, sequencing and beat programming on your Android device. You get 16 pads for looping and sequencing, sample import, a drum machine and sequencer, keyboard, audio sample editor, loop slicer and effect rack as well as many other features. At the price, it's an absolute bargain.
9. Akai iMPC For Samsung Galaxy / Android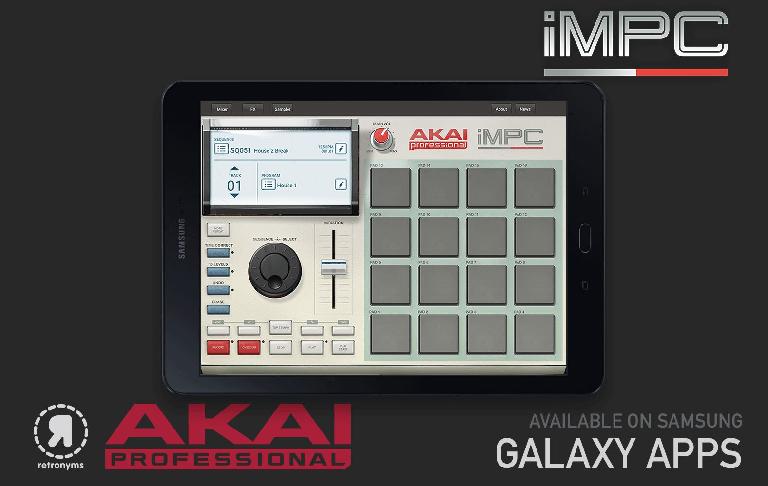 The popular iOS app iMPC, is also available for Samsung Galaxy devices too. Previously an iOS exclusive, iMPC fuses the workflow of an Akai Professional MPC (Music Production Center) with cutting-edge tools for composing, editing and mixing music on a Samsung device. It features everything you need to make and manipulate beats on a mobile device. But you will NEED a Samsung Galaxy device, not just any Android device.
Here's iMPC for Samsung Galaxy's main features:
More than 1,200 samples, 50 editable programs, and 80 editable sequences

Exclusive iMPC sound set and classic Akai Professional sound library

Sample from Android mic, line in or music library using multi-touch turntable interface

16 Levels mode: 16 levels of attack, velocity, length, and tuning

Note Variation slider: adjust attack, velocity, length, and tuning as you play

Trim and categorize samples, undo takes and erase samples

Built-in effects: delay, bit crusher, master compressor/limiter

Export your projects for use in the desktop MPC Software or in wav format