While most third party plugins are available for individual purchase, most companies also offer bundles of some or all of their processors and these can often deliver a lot more bang for the buck. But there are so many bundles available - which ones might offer a package of effects that's perfect for you? Well, ask 10 producers that question and you'll get 10 different answers. Ultimately it's a personal decision. But to help out, here in no particular order are 8 bundles that are among the best and definitely worth considering (and needless to say, this list represents one man's opinion). I'll start with five companies' collections that are geared toward basic mixing, and finish up with three bundles that lean more to creative processing. So here goes.
1. UAD Analog Classics Pro Bundle
Universal Audio makes both hardware and software processors and the majority of their plugins are faithful models of classic hardware. They offer a number of bundles, some grouped by processor type, some by the hardware brand being modeled. For adding a bit of classic analog flavor to basic mixing tasks, I like their Analog Classics Pro bundle.
This collection includes models of four vintage processors: the Teletronix LA-2A and 1176 compressors, and the Pultec EQP-1A and MEQ-5 equalizers. These all capture the distinctive tube and transistor character of the originals, which are the templates for dozens of copies and clones. As an added bonus, you get three versions each of the LA-2A and 1176 compressors. Each of these versions, modeled on units from different production runs, offers a subtly different flavor of the model's characteristic sound, making this bundle a good choice for anyone who craves some of that vintage analog vibe.
Learn the top, most up to date industry-standard FX and processing audio tools in
the AskAudio Academy
.
2. Waves Abbey Road Bundle
Waves has too many bundles to count (I lost track at around 50 or so), and they run the gamut from effects to mixing and mastering tools and producers' signature collections. I'm going to pick my own favorite, the Abbey Road bundle.
This is a collection of modeled hardware created in partnership with Abbey Road Studios, which meticulously recreates the sound and character of some of the most famous pieces of kit ever to grace a recording studio. There are emulations of the in-house-designed REDD tube and TG12345 transistor consoles, the RS-56 passive tube EQ, the Studer J37 4-track (of Sgt. Pepper fame), and even the varispeed setup used to create the famous Abbey Road ADT effect.
They've also included models of Abbey Road's four EMT plate reverbs and rounded off the mixing tools with three vintage "character" mics. The latest addition to the bundle is Vinyl, which emulates the vinyl cutting and playback gear in the studio's mastering suites, including two turntables and three cartridges, plus a control for dialing up as much vinyl artifact as you could ever want. If you've heard and enjoyed the rich sound of the countless recordings made at Abbey Road (and who hasn't!), this bundle could help get you one step closer to that gold standard of record production.
Learn the top, most up to date industry-standard FX and processing audio tools in
the AskAudio Academy
.
3. Slate Virtual Mix Rack
Slate Digital not only offers plugins but they also make a touchscreen mixing surface that's compatible with most of the major DAWs and provides an alternative to mousing around your workstation. Like the others, Slate offers a large selection of bundles but for mixing I think the go-to collection would be their Virtual Mix Rack.
The suite of processors includes compressors and EQs clearly inspired by both vintage outboard gear (FET compressor) and the classic British (Neve) and American (SSL) analog consoles of the 70's and 80's. Not content to just recreate the original gear, Slate has added various welcome new features to their processors, and many engineers and producers swear by the sound of their virtual tools.
Learn the top, most up to date industry-standard FX and processing audio tools in
the AskAudio Academy
.
4. Sonnox Essential (mix) bundle
Sonnox, like the other companies mentioned here, offers a number of bundles but unlike the ones I've listed so far their plugins are not emulations of vintage analog gear: instead, they're ultra-clean, high-end digital processors, designed with an emphasis on transparency and versatility.
The Sonnox Essential mix bundle includes four of their Oxford processors: a versatile Dynamics plugin (incorporating a compressor, limiter, expander, and gate, as well as an option for tube emulation), an EQ (descended from the Sony OXF-R3 console), a De-Esser and an algorithmic Reverb. These processors may be just the ticket for a mixer who wants tools that offer a highly professional level of precision and flexibility.
Learn the top, most up to date industry-standard FX and processing audio tools in
the AskAudio Academy
.
5. iZotope Music Production bundle
iZotope's Music Production bundle is a mix of meat-and-potatoes mixing and mastering processors and cutting-edge tools for creative mixing and processing.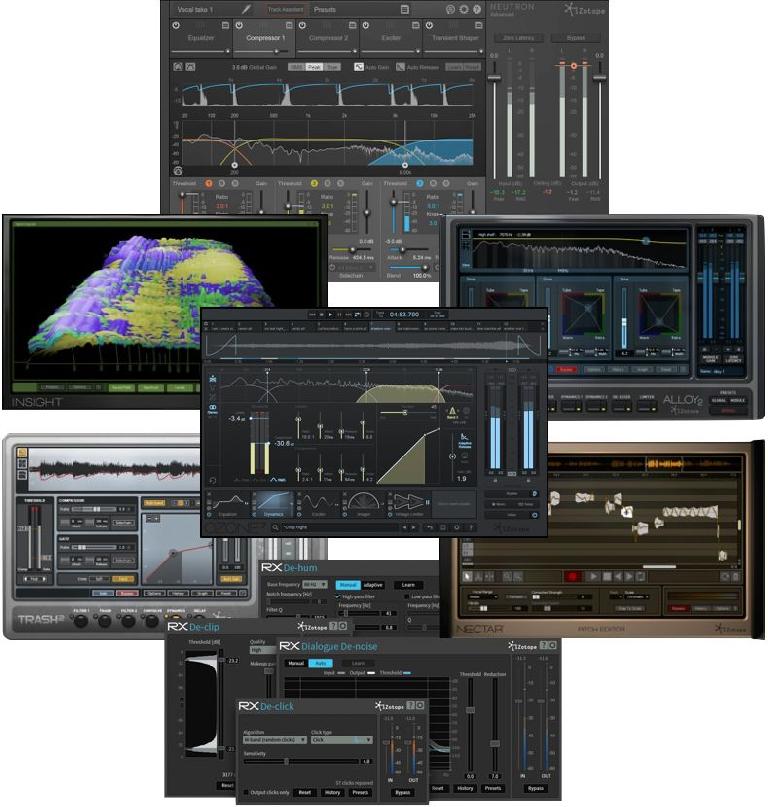 This collection covers all the bases and then some. It includes some of iZotope's best mixing processors. Trash brings flexible distortion options and Nectar 2 and VocalSynth offer comprehensive and creative vocal processing respectively, while Neutron (Advanced) combines automatic intelligent analysis and mix processing features with a series of powerful mixing tools (compressor(s), dynamic EQ, exciter, transient shaper, and limiter).
For mastering, Ozone 7 (Advanced) is practically a bundle within a bundle, with its collection of both precision and vintage dynamics and EQ, plus imaging tools. And the bundle is rounded off with a selection of audio repair plugins from RX (iZotope's miracle processor for damaged audio), and Insight, their comprehensive metering suite. If you can't get it done with this collection, you're just not trying!
Learn the top, most up to date industry-standard FX and processing audio tools in
the AskAudio Academy
.
6. Soundtoys 5
These next three bundles lean more toward effects, starting with the excellent Soundtoys 5 bundle.
This is a collection of creative effects plus a rack for setting up multi-effect patches, and it's a doozy. The bundle could be divided into two groups. The "basic black" plugins include Soundtoys' versions of classic effects like phasing (PhaseMistress), tremolo (Tremolator), echo (EchoBoy), and panning (PanMan) along with additional processors like Decapitator (distortion/saturation), FilterFreak (synth-style filter fx), and Crystallizer (a unique delay & pitch shift processor).
The feature set for each of these goes way beyond the usual options and controls. The other group would be five effects (+ extra lite versions) that are modeled on classic hardware: Radiator (Altec 1567a tube mixer), Devil-Loc (Shure limiter w/distortion), Little AlterBoy (early digital pitch-shifting fx), MicroShift (Eventide H3000 widening fx) and PrimalTap (Lexicon Prime Time delay). These toys offer particularly distinctive takes on distortion, pitch shifting and delay effects, and would be worth the price of admission on their own. All in all, a powerful and fun collection of toys.
Learn the top, most up to date industry-standard FX and processing audio tools in
the AskAudio Academy
.
7. FabFilter Creative bundle
FabFilter's plugins are very popular for their combination of excellent sound quality and versatile capabilities, enhanced by a unique look and feel. Their Creative bundle includes four of their most versatile processors.
Saturn (multiband distortion/saturation), Timeless 2 (tape delay), and Volcano 2 (synth-style filtering) handle the effects. Each plugin's feature set is enhanced with extra goodies that make quick work of dialing up great sounds. The collection is rounded off with Twin 2, an analog-style synthesizer that combines an easily-accessible layout with powerful processing, including a 50-slot modulation matrix (the other three effects plug-ins also have a mod matrix). This is the bundle to go for if you really want get creative.
Learn the top, most up to date industry-standard FX and processing audio tools in
the AskAudio Academy
.
8. Eventide Anthology X bundle
As a hardware company, Eventide was responsible for many classic processors like the 910 Delay/Harmonizer and the H3000 Ultra-Harmonizer to name just a couple. Their kitchen sink bundle, Anthology X, is a huge collection of their best effects plus some additional mix processors for good measure.
Eventide breaks up this bundle into four groups. The Clockworks legacy plugins hark back to the company's hardware days (as Eventide Clockworks), and include software versions of the 910, H949, Omnipressor, and the Instant Phaser and Instant Flanger: all classic examples of early digital fx technology, with tons of vibe. There are two plugins based on the H3000 Ultra-Harmonizer, which include effect algorithms and the Band Delays algorithm from that legendary box. Three Multi-FX plug-ins offer reverb and pitchshifting technology from the flagship H8000 processor. And to round off the effects capability of the bundle, a set of mixing and mastering plugins are also included, incorporating a channel strip (with EQ and compression from the Omnipressor, micro pitchshift, and modeled transformer saturation), several EQs (modeled on Urei hardware), and a sample delay. Eventide helped to define the sound of many of the effects we take for granted nowadays, and this bundle can bring all of that mojo to your mixes as well.
Learn the top, most up to date industry-standard FX and processing audio tools in
the AskAudio Academy
.
Final Thoughts
Since I'm running long, I'm going to stop here, even though there are plenty more truly excellent bundles that would be worth a shout out. I'm sure I've omitted many of your favorite collections, but these 8 represent a number of can't-miss choices for either basic mixing or creative processing. Each brings something unique to the table and any of them would serve well as alternatives or adjuncts to your favorite tools in the studio.
Learn the top, most up to date industry-standard FX and processing audio tools in
the AskAudio Academy
.