As more producers embrace Live as their DAW in the studio, it seems fewer are using it for the task it was originally developed for: live performance on stage. Here we'll explore some tips for maximizing the improvisational potential of this powerful platform.
If you're starting from scratch, read Timo Preece's excellent article: Preparing a Custom Live Music Performance Setup (https://ask.audio/articles/preparing-a-custom-live-music-performance-setup) to help develop your own approach.
Getting Started: Build Your Framework
Once you've decided what controllers you want to use and how you want to categorize your loops and stems, create a track for each category – audio or MIDI as needed – along with your sends.
Now you can populate the tracks with your audio and MIDI clips, organizing clips you're likely to want playing at the same time on the same horizontal row, called a Scene. Tracks, clips and Scenes can all be color coded and renamed for easy reference at a glance. At this point it's advisable to attenuate audio clip volumes within the Clip Sample Properties so that all clips on the same track are at comparable volumes to avoid unnecessary fader adjustments on the fly.
You can progress through Scenes in a linear fashion, hop around from one to another any number of rows above or below it, or use the Scenes as basic guidelines to orient which clips you might want to trigger independently.
Tip 1: Simplify Navigation With Group Tracks
I've got an extra track that doesn't fit neatly within my control surface's 8 by 8 clip launch grid. I don't know about you, but I have enough moving around up and down in my Session that I prefer to avoid paging side to side looking for additional tracks. To avoid this, I can create Group tracks by selecting all tracks of a similar type, such as drums and percussion, or chords and stabs, holding down Shift to select them all so long as they're neighboring each other, and using CMD+G to Group them. I can now use the Group track clips to trigger multiple clips simultaneously within the group: "mini scenes", if you will. If your clips are color coded, you may want to have the most significantly colored track furthest left, as that will be the color of the Group Clip hash by default.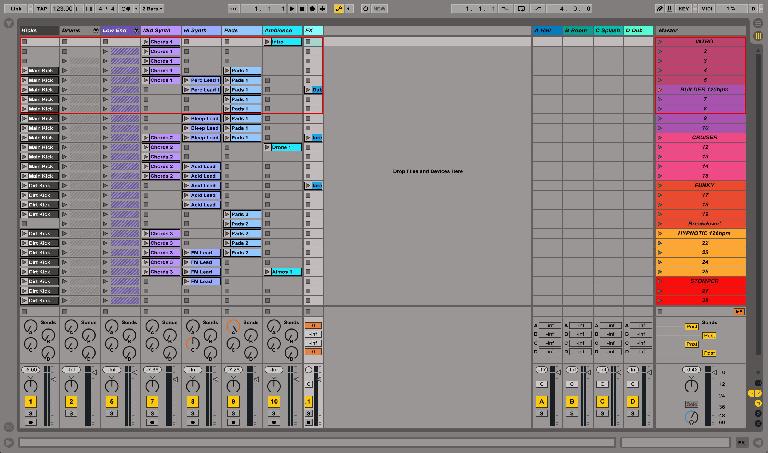 Drum Loops and Mid Percussion grouped to Drums, Bass Lines and another Sub track grouped to Low End – all fitting within the 8 by 8 Push 2 launch grid.
Group tracks were intended to easily create mix busses, and this aspect can be useful on stage too, saving precious CPU by employing for example a single Glue Compressor on a Group bus instead of multiple compressor devices, one per individual track.
Tip 2: Expand Your Possibilities With Launch Quantization
Global Launch Quantization, specified by the dropdown menu right of the project BPM along the top left of the GUI, at the default setting of 1 bar, specifies the interval at which clips and Scenes will be triggered or stopped. To allow yourself more time to trigger multiple clips in different locations, or to simply employ more conventional phrasing, try setting this to a longer 2, 4 or even 8-bar setting.
Tip 3: Legato Mode For Beat Juggling
Each individual clip's launch quantization can be specified independently via the drop-down menu in its own Launch properties: the default is "Global", meaning whatever the main menu just described is set to. Instead, you could set a bunch of drum loops on one track to be triggered at 1/4 note intervals – and to juggle between them while retaining a continuous play position throughout (without triggering each from their default downbeat start point), just enable the Legato button.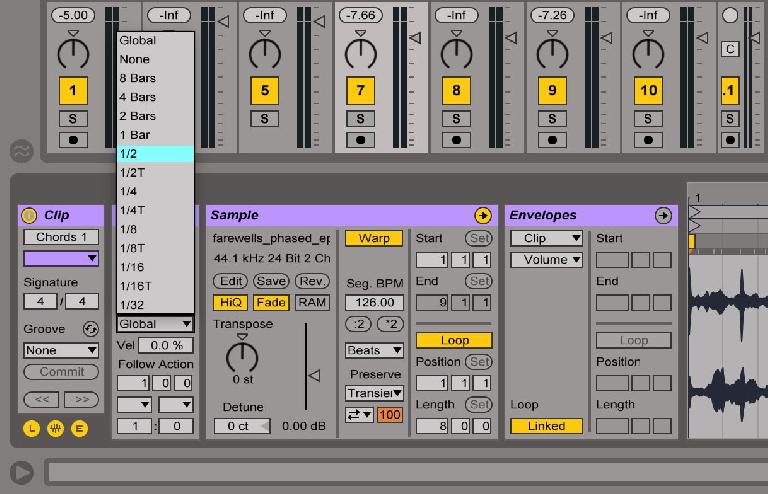 Setting a Clip's Launch Quantization independently; the Clip Legato button is hidden behind the selection menu pictured here.
Tip 4: Use Crossfader Assignments For Easy Change-Ups
Sometimes you want to create breakdowns or change-ups without being constrained by Launch Quantization intervals, Global or otherwise. In this case, Live's Crossfader, visible by clicking the "X" toggle in the lower-right corner of the main GUI, lets you assign any track to either the Left (A) or Right (B) side of a horizontal mix slider. The Crossfader itself appears below the Master channel, and can of course be assigned to a MIDI controller if you're not using a control surface that already supports it, such as an APC40.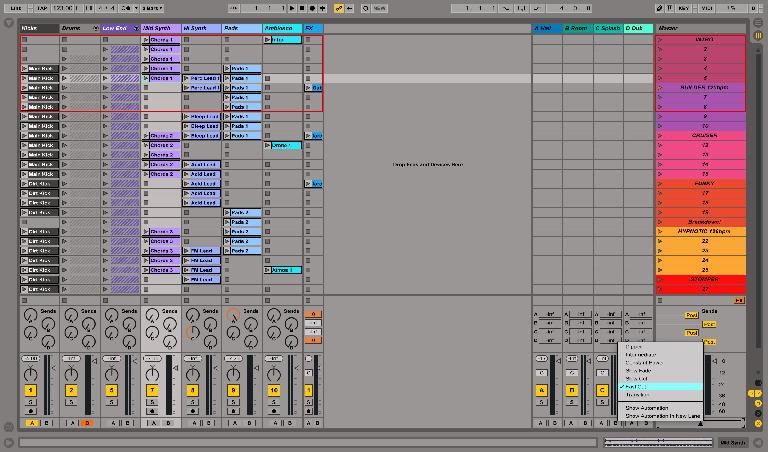 Selecting the Fast Cut curve setting from the Crossfader's right-click context menu, with Kicks assigned to the left and drums assigned to the right.
With my kicks assigned to the left and drums on the right, a swift flick of the Nanokontrol slider I've assigned to the crossfader can either remove the kick or the other drums for as long (or short) a time as I want, allowing for all kinds of fun dynamics on the fly. Multiple tracks can be assigned to one side of the fader, so feel free to get creative.
Tip 5: Program Tempo Changes Via Scenes
BPM changes can be programmed into Scene titles by renaming (CMD+R) and typing the numeric value of the desired BPM followed by the letters "bpm". You can program time signature changes the same way – just write the desired time signature (e.g 5/4) into the Scene title.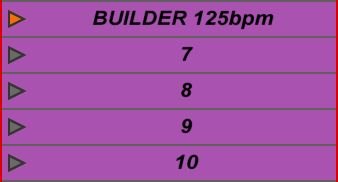 BPM changes programmed into the BUILDER Scene, confirmed by the Scene's orange play trigger.
Tip 6: Let Your Clips Play Uninterrupted
If you've got a longer clip that you want to continue playing without interruption as you trigger other Scenes below or above it, you can remove the default Stop button located on empty clip slots by selecting them and hitting CMD+E. To reinstate the Stop button, use the same command. Now you can trigger the Scene below your longer clip and it won't be forced to stop playback until its natural resolution – or another Scene or clip that contains a stop button on that track is triggered.

Empty Clip slot with Stop button removed below the Drone Clip.
Tip 7: Automatically Switch Between Instrument Patches On The Same MIDI Track
If you want to play MIDI clips (or live MIDI input) through the same virtual or external instrument and have Live automatically switch presets via clips, I've got good news. With plugins and external synths that support this, you can use Program Change settings in your MIDI clips to specify the Bank, Sub-bank (if applicable), and Program numbers that correspond to the desired patches in your instrument.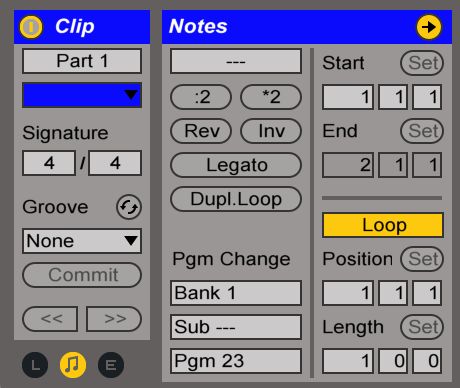 Two different MIDI Clips with different Program Change settings to trigger a different preset patch; you may have to do some homework to find the right patch ID numbers.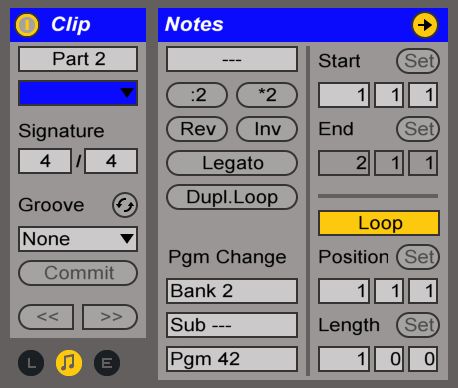 If you're using Live's instruments, you can replicate this behavior within an Instrument Rack. In this case I'll create one for two different lead sounds. In the Rack's Chain view, I'll click the Chain button above the visible chains to open the Chain Selector, and set each patch's Chain Selector range to a single discrete position that doesn't overlap the other: in this case: 0 for Lead 1, and 1 for Lead 2.
Now I can go to each clip's Envelopes, view the Envelope for the Instrument Rack Chain Selector, create a breakpoint at the start of the clip, and move it to the corresponding Chain Selector value for the desired part. Triggering the clip now switches to the intended instrument.

Tip 8: Easily Build New Scenes From Currently Playing Clip Combos
When you stumble upon a particularly excellent combination of clips that reside in disparate locations throughout your Session, you can use the Create menu command "Capture and Insert Scene" (Shift+CMD+I) to collect them all and place them together on their own new Scene which you can rename accordingly for future use and reference. The new Scene will be inserted at whichever Scene row is currently selected.
Learn more Ableton Live tips, tricks & techniques in the Ask Audio Academy
here.