In the old days, when a recording session was over and the talent had packed up and gone home, there wasn't too much that could be done if the recording was found to be fatally flawed or deemed unacceptable at that point, short of calling them back for another session. When that wasn't possible (or time didn't allow for it), more skilled engineers might take razor to tape, but that still assumed that somewhere on tape there were useable bits to be found to fix any problem areas. Otherwise, the old "fix it in the mix" philosophy was called up—flaws might be buried in the mix, masked with effects, or slathered with reverb, to smooth out the rough edges.
Nowadays, of course, there are a lot more options when the talent is gone, and there's no chance or no time for a re-do. In no particular order, here are 7 tools & techniques that can be used to bring problem recordings up to snuff.
1. Comp it Up
Comping (from "Composite") means assembling one good take from the best bits of several takes. Even when there aren't obvious problems with a recording this is a common approach, and when there are issues, it's a life-saver. As long as even one take has a good version of each problem area, a skilled engineer can usually put together a finished Comp track in no time that sounds like a seamless performance. Additional convenience tools can make this process even more streamlined, like Logic's "Quick-Swipe" feature, which lets the editor assemble the Comp by simply dragging/selecting the desired sections from each take, without the extra steps of having to Copy & Paste each section into the main track by hand.
2. Use AT & Q
Most DAWs offer some way to automatically correct for poor timing and out-of-tune notes in an audio track, and if an option isn't included, third-party plug-ins are always available to handle the job. Everyone is familiar with Auto-Tune (and its many clones that often come built-in to most DAWs), but besides the signature vocal effect, the original intended purpose is to perform transparent real time pitch correction. And when there are timing problems in an audio recording—well, Quantization is not just for MIDI any more. Any DAW that has a time-shifting feature (Elastic Audio, Flex Time) will also allow for audio Quantizing as well as manual editing (warping, flexing). While all auto-correction algorithms may occasionally need some additional manual tweaking for the best results, the time saved is still considerable, as opposed to doing it all by hand, note-by-note.
3. Fix Bad Chords
One of the most intractable problems can be trying to fix bad notes in a polyphonic recording, like a piano part or guitar chords. If one string is (or goes) noticeably out of tune, the track is often a throwaway, since pitch-editing software, by and large, can only operate effectively on monophonic parts (single note melodies). But there is one tool that can save the day—Melodyne's Editor software, with its DNA (Direct Note Access) feature. DNA lets this version of Melodyne edit pitches even in polyphonic audio recordings, making it possible to fix bad notes within chords, correcting for that one out-of-tune string. You can even get creative—if the wrong chord was played, or a better chord is desired, musical changes (i.e. major to minor, and the like) can be dispatched with ease.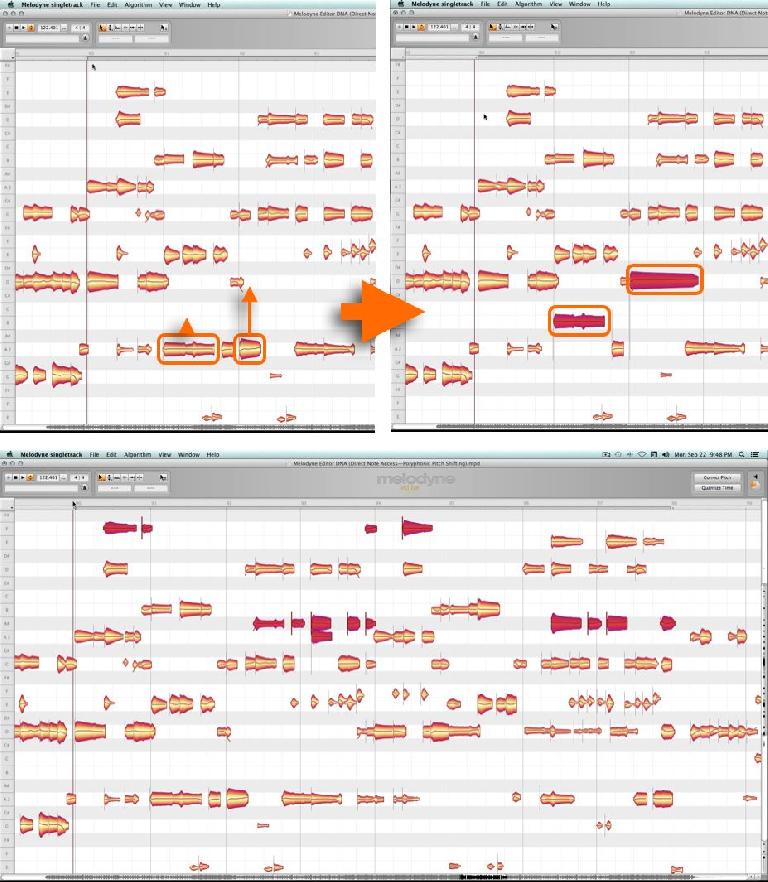 Fig 3 Melodyne Editor's DNA feature at work editing individual notes in a polyphonic audio recording: Top: bad notes within chords are fixed; Bottom: (the same) major chords are changed to minor
Audio Example 1 An audio recording with A) a couple of bad notes within chords; B) Melodyne's DNA feature fixes them; C) the chords (in the same audio recording) are edited with DNA, from major to minor:
4. Re-Amp
If a recording of an electric guitar part is deemed to be weak, thin, muffled, or otherwise poor-sounding, there are many ways to address it. Of course, EQ is the most obvious solution, but there's another choice that might potentially yield even better results—re-amping. This refers to the practice of taking an already-recorded guitar track and running it through an amp after the fact. Traditionally, this meant pulling the audio out of the DAW and running it through a miked-up real amp—dedicated re-amping boxes from companies like Radial can insure proper level & impedence for the signal running between DAW & amp. Of course, nowadays amp sims within the DAW offer another, equally viable option. The tonal character of a miked-up amp is more complex and rich (with phasing and room tone) than simple EQ curves, and can often add additional depth (and even a little extra drive or distortion). And if the original audio recording was of a dry, DI'd guitar, then you'll really have a clean canvas for your re-amping efforts.
5. Double or Replace with Audio-to-MIDI
A good performance suffering from a weak instrument tone might not always respond well enough to the usual techniques for punching up the sound (EQ, compression, delay, reverb)—sometimes, you might wish you had a completely different-sounding instrument playing the part. Well, that may be possible. DAWs or plug-ins that offer audio pitch editing (i.e. Melodyne, Logic's Flex Pitch) usually allow the (detected) audio notes to be converted to MIDI data. While this may require a little tweaking of the new MIDI track for the most musical results, the conversion will allow you to play the part through a virtual instrument of your choice, either doubling the original audio recording, to add some thickness, or replacing it outright.
Audio Example 2 An audio bass part (4 bars) and the converted MIDI track triggering several virtual basses (4 bars each):
6. Sweet Harmony
Everyone knows that a technically-fine but weak-sounding vocal performance can be helped by a little doubling (even John Lennon hated to hear the sound of his voice played back without the famous Abbey Road ADT (doubling) effect applied). Naturally, this can be done in real time, with delays (and, optionally, a little random mod, as with the Abbey Road ADT), but modern pitch editors allow for even more creative ways to gussy up a vocal performance. Going beyond simple pitch correction, these editors allow for after-the-fact harmony creation, which can really bring a lackluster vocal part to life, if applied judiciously. Some pitch editing features will even help you create the harmony, by restricting the copied, transposed harmony notes to the key of the song, though there'll always need to be some manual editing for the best results.
Audio Example 3 A Flexed harmony part is added selectively to punch up the original vocal part:
7. Fix a Rushin' / Draggin' Tempo
Sometimes, it's not just an individual recording or performance that's deemed problematic after the fact, but the entire song. After the band has packed up their amps and drums and gone home (or out on tour!), the producer decides that a song's overall tempo is wrong—just a little too slow, or too fast, or too inconsistent. In older times, the only option was to speed up or slow down the tape machine, and hope the concurrent pitch change didn't make the track suffer from too much "chipmunk effect". Nowadays, of course, time shifting can simply be enabled for all the recordings in a song, which will then follow any global Tempo changes made. This could simply be an overall slight adjustment up or down, or it could involve a more elaborate Tempo Map, with changing tempos correcting for any unmusical rushing or dragging in the performances. The best results will be achieved if care is taken to select the optimal time-shifting algorithm for each track, but the end result can be seamless, and the whole process needn't be too time-consuming—certainly less time-consuming than bringing the band back in again!
The Wrap
Most experienced engineers/producers will be familiar with these tools and techniques, but a lot of musicians and songwriters may not immediately think to try some of these approaches. Yet, in the modern world of recording there are very few problems—including recordings that just plain suck—that can't be made better, at least to some degree, with the many options the modern studio has to offer.