Keeping your sessions organized and backed up is not just important, it's critical. However, it's the kind of thing you need to get into the habit of doing. I've developed a system that has worked for many years. By following the same easy organizational paths, I can plug in a drive from five years ago and easily find a session, its audio, session icons, backups and bounces. I happen to use Pro Tools, which is specifically what I will discuss here, but this type of organizing can work for any relevant DAW project.
1 - First Things First
When first creating a new project, it makes sense to create a master folder for it. In Pro Tools 10 and 11, select Create Blank Session, then choose your Audio File Type, Bit Depth, Sample Rate, I/O Settings, and whether or not you want Interleaved. Then hit the blue OK button.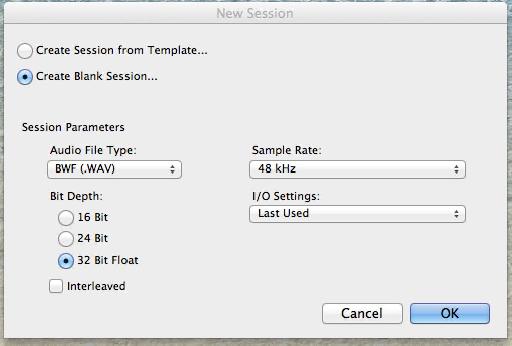 At this point, the Save screen appears, where you can name the session using Save As: (currently untitled).
2 - VIP
This is the important step. You then navigate to your hard drive under the Devices column on the left and highlight your drive that you want the session to reside on, which then selects it. In my case, the drive is a portable one called G DRIVE. Next, hit the blue New Folder button on the lower left side of the screen. A New Folder dialog box will appear, where you will name your new master session (ASK AUDIO MASTER). I happen to use capital letters for most everything, just so they stand out, but you certainly dont have to. Then hit Create.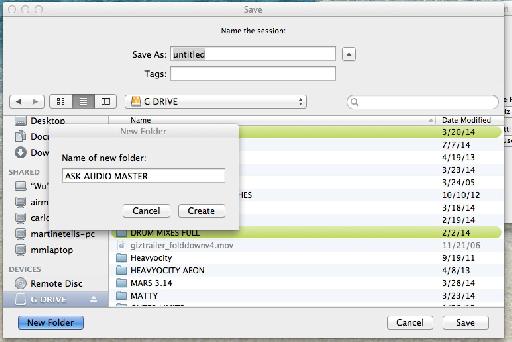 3 - You're Not Done Yet
So now you've named a master folder ASK AUDIO, which resides on the drive of your choice. But if you just hit 'Save As: BAD ASS TUNE'