Using the best mics available is key to getting the best recordings, but those mics still depend on having a good preamp to bring their signals successfully into the DAW. While the mic pres in your typical interface or small console are certainly serviceable, the best preamps will do more than just set the level and pass the signal along to the next stage—they can bring out the best in those top microphones, and even add a little something of their own, for that extra indefinable quality that really can bring a recording to the next level.
There are a lot of high-end preamps around, and they range from vintage-style models full of analog warmth to ultra-clean designs with enviable detail and clarity. And there's no one perfect preamp—different mics, with their different impedances, will react with specific preamps—it's the combination of the two that can produce the best sound. But when that combination works, you'll know it—you'll be rewarded with that magical quality that brings the music right into the room with you, for as much of the excitement and immediacy of a live performance as you can enjoy from a recording.
So what are some of the best preamps out there? Well, here are 7 of them, each of which can, in its own way, bring out the best from top-quality mics. This collection ranges from character to clean, at various price points, and any one of them would be an excellent choice for any studio, large or small. So, in no particular order...
1. Universal Audio 610
Universal Audio is one of the oldest, most established companies when it comes to analog gear. They're most noted for their classic compressors, the LA-2A and 1176, and their preamp designs have also lent that classic analog warmth and presence to studios for many years. The 610 preamp is a current model, but it originally dates back to the early '60s. It's a perfect example of the classic tube-based preamps of that era. And it lends its unmistakable analog warmth to anything you run through it. In its current incarnation, the 610 is available in several formats, from the single-channel 610 Solo (around US $1k—a reasonable price for this kind of kit) to a dual-channel version (UA 2-610), and in combination with other classic UA processors, like the LA-2A (LA-610).
The Solo can be switched between mic pre and DI operations, and the dual version also incorporates a variable Impedance selector. Many of the best mics—especially hi-end vintage mics—are very sensitive to input impedance, and this lets the engineer match individual mics to the preamp for subtly different qualities, a very useful feature.
2. Tube-Tech MP-1A/MP-2A
The MP-1A is another example of classic tube-preamp design—in this case a modern version of those vintage units. It's a two-channel tube design, similar to the 610 (mic or DI options).
I've included it in this survey because I used one for many years in the studio, where it was my go-to mic pre whenever I wanted a little extra analog warmth—it was a perfect complement for the crisp presence of my studio's vintage U87. The MP-1A is now discontinued in favor of the MP-2A, which adds a three-position variable Impedance switch (600, 1200, 2400 Ohms) and greater headroom. The updated circuit is also found in the modular rackmount PM1A. The MP-2A is pricey (around $3500), but that's pretty much par for the course.
3. Neve 1073
The 1073 Preamp/EQ module, from Neve's vintage '70s consoles, is probably the most famous—and most desirable—classic British console preamp of all time. Originals can command stratospheric prices, but a host of current reissues and clones—from Neve and many other companies—are also available.
This is a Class-A, solid-state design—its analog warmth and character comes from its transistorized circuitry and Transformer, which adds that unique transformer edge to signals. The preamp section is extremely simple (gain, phase flip, hi-cut filter), but the three-band semi-parametric EQ lets you shape the incoming signal, with the warm, smooth EQ characteristic vintage Neve consoles have always been known for. The 1073 makes its way onto many engineers' desert-island gear lists, and while originals and current versions from Neve are pricey ($2–4k), there are clones based on the classic circuit available at somewhat more modest price points, including from Rupert Neve's current company, Rupert Neve Designs.
4. API 512
An alternative to the classic British console preamps, like the Neve 1073, the API 512 comes out of American company API's classic consoles. The current version, the 512c, is a fully discrete solid-state design, based around API's 2520 op-amp circuit and Transformers, which give the unit its own distinct sound, not quite as "colored" as the 1073, perhaps, but still full of analog character. It offers options for mic/line/instrument input. The 512c is a 500-series module—it's reasonable under-$1k price (typically around $800) doesn't include the necessary 500-series rack, but if you're planning on multiple input channels, or looking to combine it with API's equally famous 550 EQ and 2500 compressor modules, it's a pretty good deal, as these things go.
5. Grace Designs M-101
So far, all the preamps I've mentioned have been "character" preamps—designs known for the analog warmth and presence they impart to signals passing through them. But sometimes you don't necessarily need—or want—extra "character" from the preamp, you just want the cleanest, most transparent signal possible. There's another class of preamps that are designed for this, and Grace Designs is one such company, offering an extremely clean and transparent signal path, in models like their well-respected M-101 single-channel preamp (<$800)—the design is also available in 2-channel and 8-channel versions.
A Transformerless design, the M-101 focuses on headroom and detail, providing XLR mic inputs and high-Z balanced/unbalanced TRS inputs. There's also a switch which slightly alters the signal path and changes the input impedance, optimizing the preamp for ribbon mics. Grace, along with companies like Millennia, who offer similar straight-line-with-gain style designs, fill that particular niche, for engineers and studios who may need or prefer transparency over character, with certain mics, or for certain recording situations.
6. Preamps for the Rest of Us
I decided against titling this entry "budget preamps", because some of the models I'm going to mention really don't deserve that sometimes pejorative title. First off, most of them aren't that cheap, and second, the best of them are truly excellent preamps that just happen to have been designed to come in at a slightly more accessible price that most of the others I've mentioned. A perfect example of this is the Focusrite ISA-One, a single-channel preamp which you can find for around $450 (street). Nobody would associate the name Focusrite with "budget" gear—the company (originally founded by none other than Rupert Neve) has provided a number of modern classics, like the Red series processors. The ISA-One (along with its multi-channel brethren) is a solid-state preamp (based on Rupert Neve's original ISA-110 module) with a clear, warm sound, thanks to its Lundahl (LL1538) input Transformer, a classic circuit that's lent its analog warmth to many of Focusrite's designs (ISA-110, Focusrite Red series). The ISA-One also includes variable input Impedance, along with other niceties like insert points, an independent DI channel, and an optional A-D card.
Another reasonably priced quality preamp is the FMR RNP—"Really Nice Preamp". An entry in their "Really Nice" series (which includes a compressor—RNC—and limiter—RNLA), the RNP—a dual-channel model which can be had for about $475—is a clean Class-A design based around modern op-amps, which provides excellent sound for a not-too-stiff price.
Of course, there are true "budget" preamps. Models from companies like PreSonus and ART range from around $200–$300 for 2-channel units, and while they may not be as transparent as higher-end models, they provide reasonable performance on a budget. Many of the low-priced tube-preamps are characterized as "starved-plate" designs, since, as a cost-saving measure, they run their tube(s) at low plate voltages (i.e,. 9v–12v) rather than the more typical voltages (≥200v) of higher-end designs, which provides less headroom.
7. UA Unison Preamp Technology
This last entry is something a little different. As we all know, analog circuitry is routinely emulated nowadays in software, via component modeling, where the entire circuit path of a piece of analog gear is replicated in code. There are plug-ins modeling almost all the classic pieces of analog gear (compressors, EQs), but digital versions of preamps are not as widely found. That's because there's more to a preamp than just emulating the effect of the different stages in the circuit path. The interaction between source (mic) and the preamp—output impedance->input impedance—can't be recreated inside the box—a digital simulation can't look backwards and affect the voltage transfer from the mic, and that's a key component of the magic of the best analog mic/preamp combinations (that's the way so many of the preamps I mentioned offer variable impedance options).
But Universal Audio has tackled this issue in some of their interfaces (including the latest Apollo/Twin units). Circuitry in the analog preamp section of the interface is controlled via software when you select one of UA's modeled preamp plug-ins.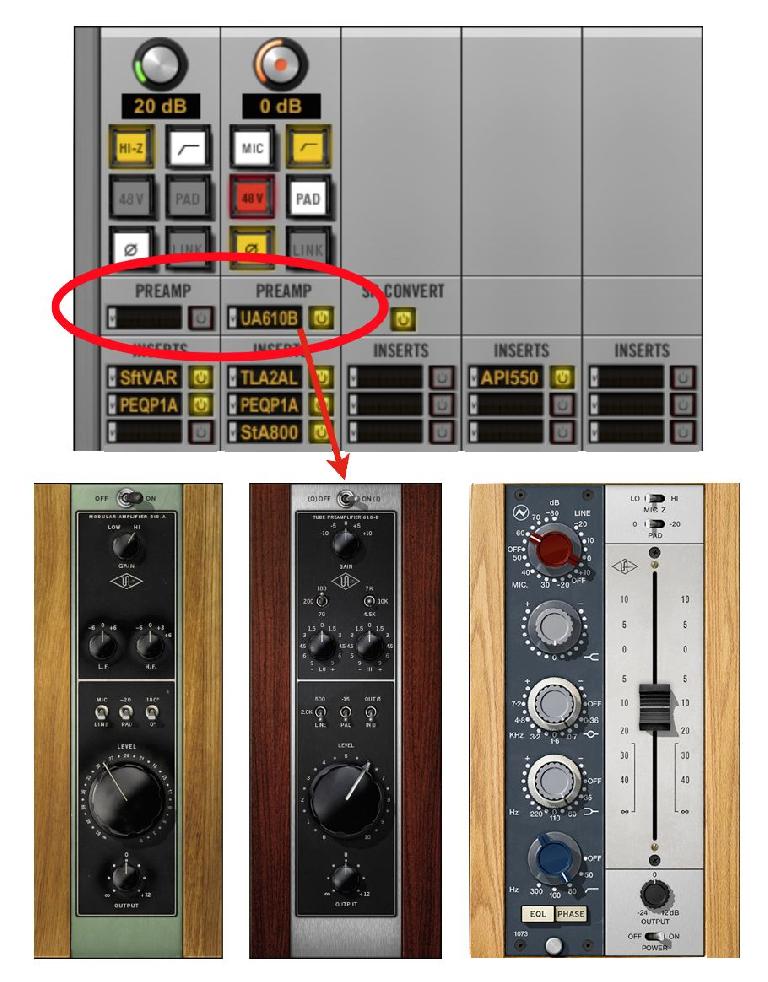 Fig 7 UA's Unison technology combines software & hardware to emulate classic preamps: (Top) Inserting a Unison preamp model in the UA Console; (Bottom) some Unison-equipped plug-ins
The software alters the actual physical impedance of the hardware preamp, for actual analog interaction with the mic, and controls gain-staging, letting the engineer drive the virtual overload characteristic of the modeled preamp. The processed signal is recorded with this subtle effect, so it's like using the real thing, with all the benefits of analog interaction between source and preamp. Only Unison-equipped plug-ins will utilize this capability—currently these include modeled versions of the UA 610, Neve 1073, and API preamps (as well as some of UA's guitar amp & stompbox sims). For anyone who owns one of the Unison-equipped interfaces, it's another way to add a little of that analog character, without breaking the bank.
Of course, there are many, many more excellent preamps out there, besides the few I mentioned, but these are some of the classic designs, and whether you're looking for analog warmth and presence or crystal-clear transparency, you wouldn't go wrong with any of these models. Differences between preamps may seem fairly subtle at first, but they're there, especially with the best mics, and once your ears become accustomed, you'll definitely welcome the extra something that the best preamps bring to the table.