Every mixing console—real or virtual—includes at least a basic EQ section, and these certainly can get the job done. But more discriminating engineers and mixers often prefer to use an EQ that has a more distinctive "sound"—when that's what they're looking for, they typically turn to classic analog EQs, which impart their own unique qualities, thanks to their specific circuitry and design. The tubes, transistors, transformers, as well as different capacitor or inductor-based circuitry, all contribute to those models having their own sonic signatures. And sometimes a unique layout and design tend to give a particular EQ an even more distinctive quality. If you choose to use the actual hardware models—whether vintage or reissue—these "character" EQs can be pricey. Fortunately, most of the true classics are available in virtual form, as software emulations—often from several companies. The best of these modeled plug-ins really do capture the unique analog qualities that made the originals so desirable. Let's take a look at 7 classic analog "character" EQs, that you can now find as software.
1. Pultec EQP-1A
The Pultec EQP-1A may be the grandaddy of vintage "character" EQs. It's a passive design—technically, that means no boost, only cut. But the unit does offer both boost and cut—an all-tube amplification section adds 16 dB of makeup gain after the EQ circuit, so when a boost control is used, it's really cutting the selected band relative to the overall boosted level. This design means that the tube circuitry is always in the picture, warming up the sound—in fact, the EQP-1A is sometimes run flat (or with minimal EQ settings) just to pass signals through the warmth of its analog circuitry. This, coupled with the inductor-based EQ design, gives it gobs of analog character.
But the Pultec also has distinctive response curves that make it more flexible than its simple bass and treble layout would suggest. You have simultaneous boost & cut knobs for the same bands, but rather than canceling each other out, they're slightly offset, so you get a response with a slight dip before a boost, or a slight boost before a cut.
This results in a smoother response, another aspect of the EQP-1A that's made it one of the most sought-after—and widely-emulated—EQs in the world. Many companies—including UAD and Waves—offer virtual emulations, and there are even free plug-in versions available, to bring the classic Pultec sound to the masses.
2. Manley Massive-Passive
The Manley Massive-Passive is that company's take on the passive, tube-based EQ of the Pultec, but it's a modern piece of hardware. Like the Pultec, it's also a passive design with tube makeup gain, and it offers a more comprehensive feature set, with 4 fully-parametric bands per channel (it's a stereo unit), switchable bell curve or shelving response on each band, and its own particular EQ curves, that give it a fat, rich sound—kind of like "a Pultec on steroids" (or so they say).
Even though the hardware is readily available, it can also be had as a plug-in (once again from UAD), bringing its warm fat tone to even more modest budgets.
3. Abbey Road EQs
I'm actually going to lump several EQ designs together here, even though they employ different circuitry—what they have in common is that they're all originally products of Abbey Road studios, and are all famous for the sound they contributed to so many classic albums, from The Beatles to Pink Floyd and beyond.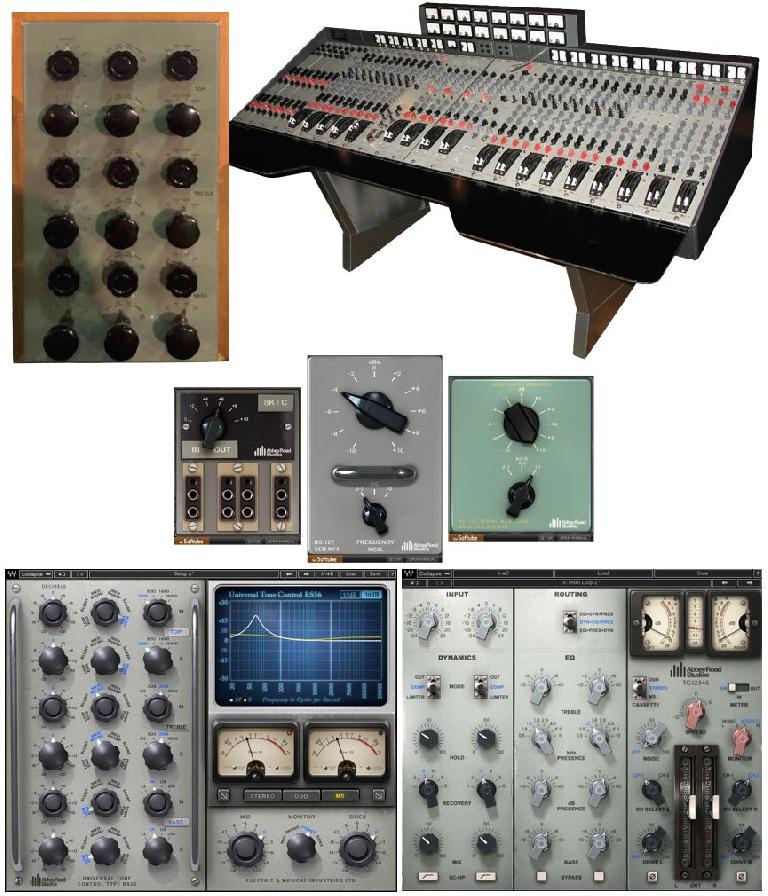 Fig 3 An original Abbey Road RS56 EQ and TG12345 console (top); virtual versions (bottom)—Softube Brilliance Pack (RS127/135); Waves RS56 and TG12345 emulations
The simplest are a pair of basic treble boosters, meant to augment the limited EQ on early Abbey Road consoles. The RS127 and RS135 both offer different flavors of treble boost, and are currently available as software emulations.
Another Abbey Road EQ design that can be had in virtual form is the RS56. Designed by the studio's own REDD team, it was their take on the Pultec—a passive design, with makeup gain provided in this case by the tube and transformer Siemens V72 amplifier circuits used in the famous REDD consoles. The RS56 was a three-band parametric design, with switchable frequencies and curves, and a particularly sweet sound. Originally intended for mastering, it found use in many classic recordings, and a virtual emulation is currently available from Waves as part of their Abbey Road bundle.
Abbey Road eventually replaced their tube gear with transistorized designs. The TG12345 console was introduced in time to handle the recording of the Beatles' Abbey Road album, and it featured another classic EQ design—this time, the circuitry utilized germanium transistors, an early design now prized for its distinctive edge. Like most EQs that were part of a console (at that time), it was a simple bass and treble affair, with an additional presence control, with switchable midrange frequencies. The distinctive sound of its germanium transistors and other circuit components gave it a somewhat more aggressive sound (relative to the tube-based RS56), and both software versions and hardware reissues bring that sound into the present day.
4. Neve 1073
Now that we're moving on to console EQs (designs that were originally part of larger consoles), the Neve 1073 would be the perfect place to start. The 1073 was originally included in classic vintage '70s Neve consoles, but is also found in rack formats, and, of course, as a plug-in nowadays.
One of the most sought-after EQs of all time, it's a three-band, semi-parametric layout (the high-frequency shelf is fixed), and it's Class-A circuitry and the warmth of its transformer-based design give it the kind of analog presence that just makes everything sound better. Its broad curves contribute to a reputation for smooth, "musical" tonality—it's the quintessential "classic British console EQ". A slightly bigger (4-band) brother, the 1081, shares the same DNA, and both models are so widely emulated (in both hardware and software) that you should have no trouble finding a version to use.
5. SSL 4000 E/G
The other classic British console EQ is, of course, the EQ from the SSL 4000 E and G series consoles. This is a more modern-style 4-band solid-state design. By reputation, if the Neve EQ sound is thought of as smooth and warm, the SSL EQ sound is often characterized as punchy, but with their more flexible controls, you can really dial up whatever response you want—you'll still enjoy the slight analog edge imparted by the circuitry's particular non-linearities.
The E and G series EQs look similar, but each had its own particular vibe—the E more "rock & roll", slightly edgier, and the G a bit smoother (the G-series EQ featured a slight pre-boost dip and pre-cut rise similar to the Pultec's curves, which contributed to the differences). From the '80s on, so many records were mixed with these EQs that they came to define the tonality the recordings of that era, and with the numerous software models available, you can enjoy that sound too.
6. API 550
The API 550 EQ is often thought of as the American version of those classic British console EQs. It has its own particular character, to my ears offering a bit more of a detailed, crisp high end, along with nice fat lows. The 550a (3-band) and 550b (4-band) both employ a "proportional-Q" design. With many EQ circuits, the bandwidth widens the more you boost or cut, affecting a widening range of frequencies, but with a proportional-Q design, it narrows as greater boost or cut is applied, restricting the range of frequencies affected to the same area regardless of the amount of gain applied to a band. This make for less overlap and less interaction between bands, allowing for more precise, surgical settings.
Hardware versions are currently available in API's own 500-series rack format, and plug-in models can also be had from several sources.
7. Trident A-Range
Finally, the Trident A-Range EQ is another classic console EQ, though perhaps not as generally familiar to many engineers as the Neve, SSL, and API models that have become ubiquitous in studios large and small. Designed by Trident's Malcolm Toft, the A-Range console was another classic British desk, but more of a rare bird—apparently only 13 were ever built, though they found their way onto classic recordings from David Bowie, Lou Reed, and Queen.
The A-Range's EQ featured inductor-based EQ circuitry, with a unique design that had 4 switchable bands (2 bell curves and 2 shelves), bookended by 3 highpass and 3 lowpass filters with different frequencies, that could be engaged together for unusual filter curves. In fact, the interaction between bands is one of the most distinctive aspects of this EQ, making for a unique character that can provide yet another sound for the engineer/mixer's EQ toolbox.
The Rub
And that's what the obsession with "character" EQs is all about—trying out different EQ designs can lead to greater tonal variety, and can help pull a mixer out of an EQ rut—where you get in the habit of going to the same EQ settings all the time, on the same EQ, and one mix starts to blend into another. Mixing it up (no pun intended) with EQs that have distinctly different sounds and responses can provide new ideas and approaches to tonal shaping, and that can only help make any mix better. So, when someone comes by, looks at all the different EQ plug-ins in your DAW's plug-in menus, and says "geez, how many EQs do you need?", you can just smile, knowing how they help you achieve more colorful and rich-sounding mixes.