Modern Modeled Amp Sims do a great job of providing the tone and response of real amps. Component, or point-to-point modeling technology analyzes the contribution of all the elements of an amp - the electronic circuitry, the tubes, the speakers and even the mics used to record amp tones. Then software emulations of all these components are arranged into a virtual signal path, which ideally will not only sound like but also respond dynamically to the player's touch the same way the real thing does. This article will take a brief look at 7 or so of the top Amp Sims currently available.
Commonalities
Since most Amp Sims have a similar overall feature set, I'll first run down a list of things they all have in common and then focus more on what distinguishes each product in particular. Naturally, all Amp Sims have a collection of amps (some more, some fewer), including classic amps (Fenders, Marshalls, Vox, Mesa-Boogies) and/or boutique/high-gain modern amps.
Sims also all provide individual mix and match cabinets, either modeled in software or based on Impulse Responses of real cabinets. Some people feel the IR cabs have a more open, natural quality. And there's always a selection of virtual mics with adjustable virtual mic positions. Also, most (though not all) of the major sims also include effects, and many of the Sims are expandable with additional amp models available as add-ons - there's more variety there, so I'll touch on those two aspects individually when appropriate.
While all Amp Sims incorporate graphics suggestive of the originals, some Sims present a consistent panel of controls for all models, while other Sims more closely mimc the originals' front panels in layout. So if you dialed up the same settings on the Sim as on the real thing, you should get (more or less) the same result. Both approaches are equally valid; the former offers greater convenience when auditioning different amps in playback, while the latter offers greater familiarity for those used to working with the real amps on tap.So let's look at some of the popular software Amp Sims available today.
1. Line 6 POD Farm 2.5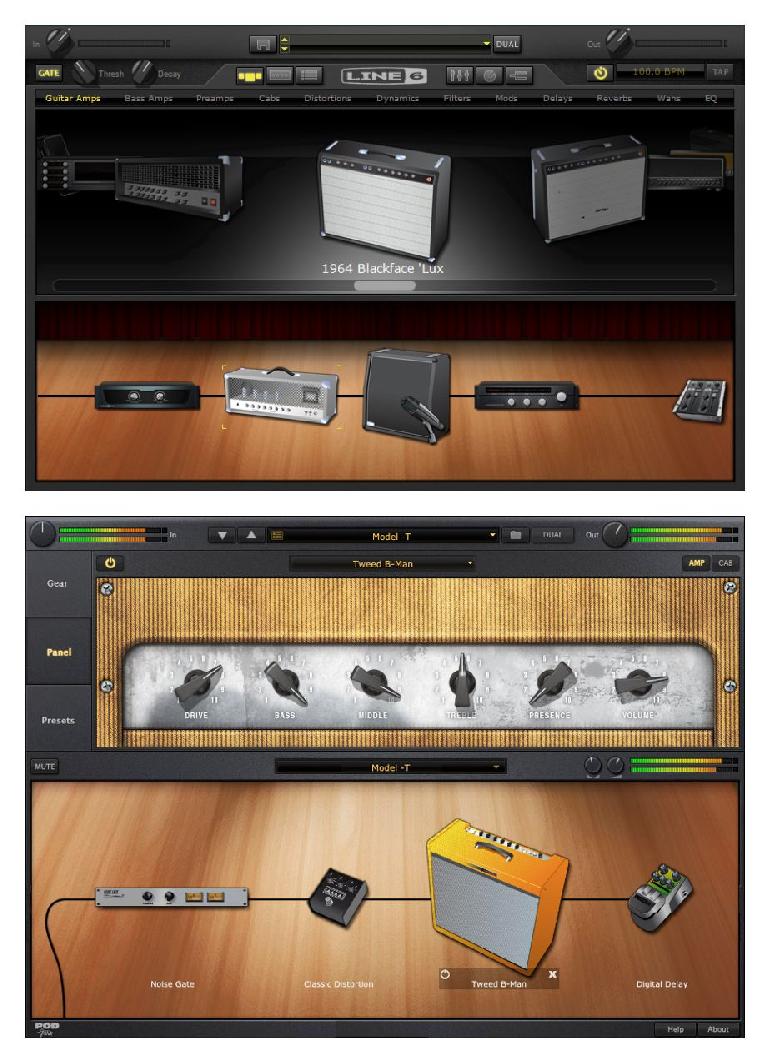 I'm starting with Line 6's POD Farm because it's one of the older, more well-established software Sims. Line 6's hardware POD was the breakthrough digital amp modeler back in the early days and the POD Farm is a software extension of that. There are free, lite, and full versions - the full version boasts 78 guitar amps along with 28 bass amps, another common include, and 14 cabs plus tons of virtual stompboxes and studio FX. The amps include all the usual classics along with a big selection of modern high-gain units, and various add-on bundles can be purchased to brings the smaller version up to the kitchen-sink tally of the full version.
Line 6 adopts the method of following the original amps' layouts and responses as precisely as possible, making POD Farm a good choice for people who want their experience dialing up sounds on the real amps to translate seamlessly to working with the Sim. A straightforward routing interface lets the user customize up to two layered signal paths for maximum flexibility.
POD Farm's model quality has always been excellent but lately Line 6 has introduced updated HD models in the hardware and now those are soon to be available as a new software Sim, HELIX Native, based on their current top-of-the-line hardware modeler.
2. IK Multimedia Amplitube 4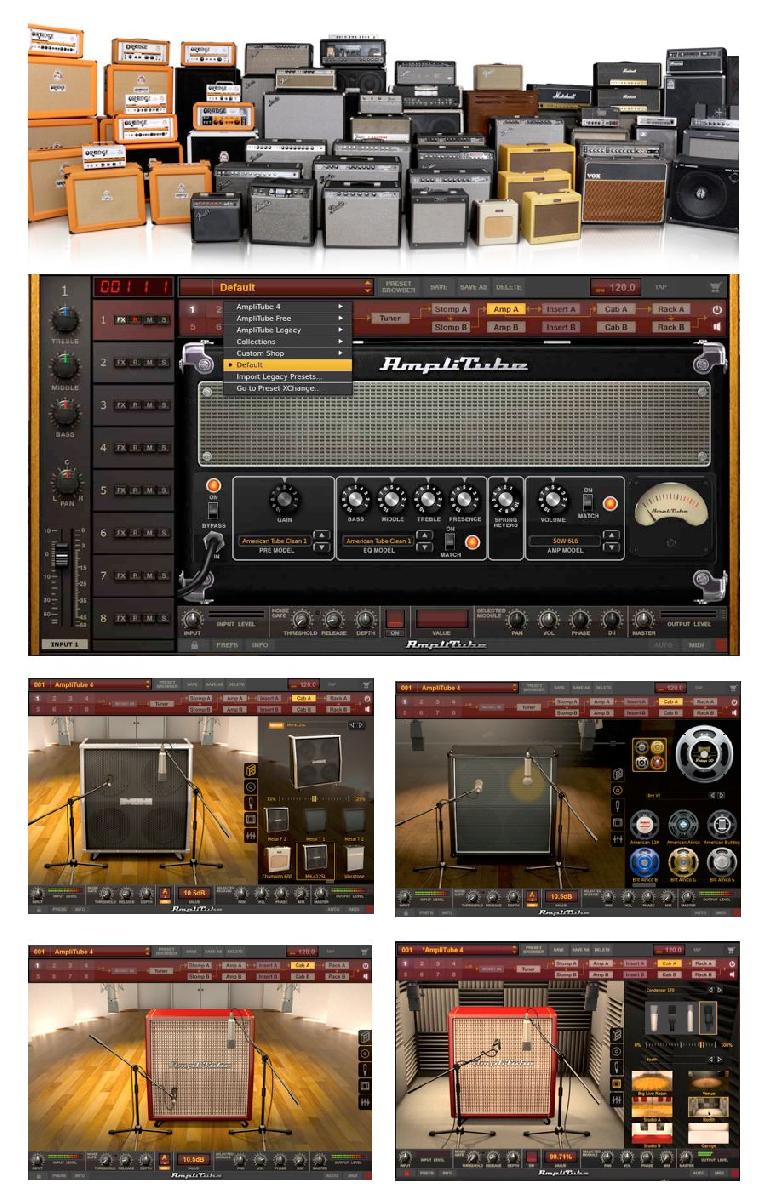 IK's Amplitube 4 also boasts updated modeling technology on many of their amps, which they've dubbed "Hyper-Realistic" tone. Amplitube has always had good sound quality - the newest models are a little more open-sounding than in older versions, and IK pays particular attention to the dynamic response as well, which players should appreciate. Users can mix and match not only amps and cabs, but also preamp, tone stack, and power amp sections, and once again there are flexible routing options including dual amps, cab and effects.
Like POD Farm, Amplitube 4 comes in free, regular, and Deluxe versions. The full collection tops out at over a hundred-something amps and is continually growing thanks to IK's Custom Shop where users can select, audition, purchase and download individual new amp models to augment the included sims. Recent collections have focused on specific companies' products like Fender, Marshall and Orange.
Another new distinguishing feature is Cab Room, a comprehensive environment for selecting and customizing the cabinet and mic components. You can not only select different cabinets but whip up your own custom designs, specifying cabinet dimensions, choosing and combining specific speakers, positioning mics in 3D and even tweaking the ambience of the virtual room. The sound of particular speaker cabinets and mics is a big part of any guitar sound and these options should not only please guitarists, but make their engineers and mixers very happy as well.
3. Native Instruments Guitar Rig 5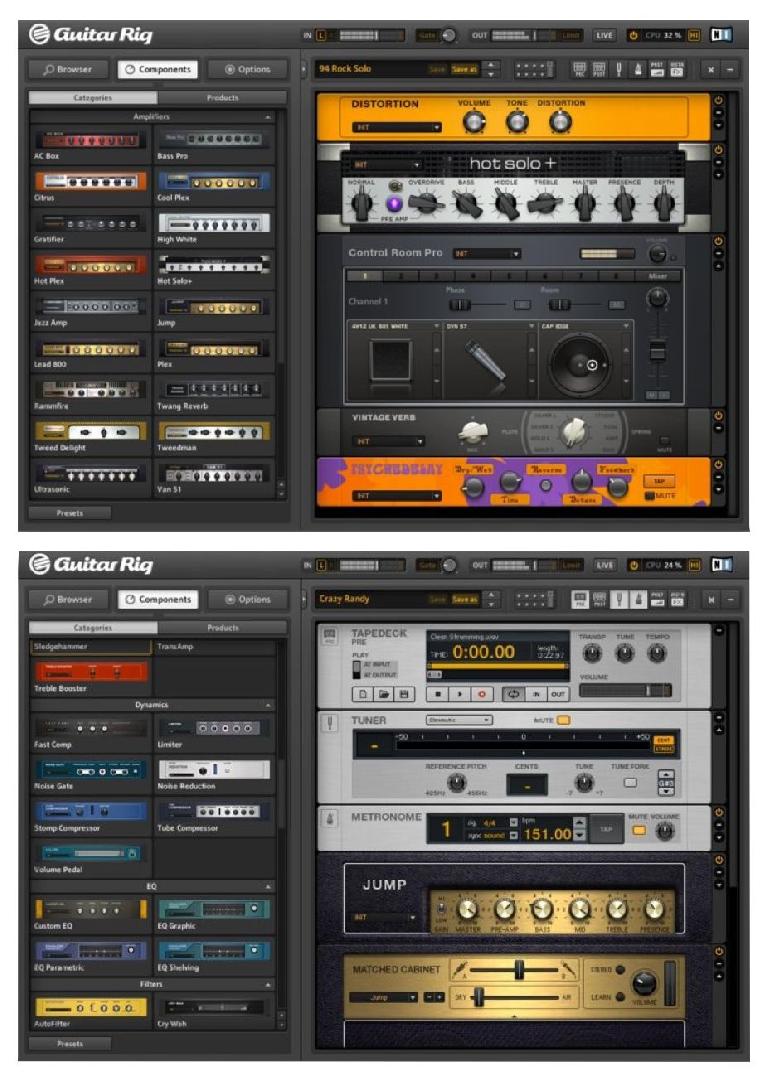 Guitar Rig 5 Pro is Native Instruments' offering and it's another one that's been around for quite some time. Guitar Rig, like many Amp Sims, is a little less specific about which amps they've modeled (this has to do with trademarks, licensing, & legal agreements) but it's pretty obvious what they are, based on the descriptions and graphics. It's not as large a collection (17 amps) as the previous two Sims, but it covers all the bases in terms of the major different types of amps. Since the Guitar Rig interface is basically a rack, NI includes a large suite of FX and it's easy to sculpt a very finished sound within the plugin, saving your best efforts as custom presets.
Like IK, Guitar Rig opts for the "same control panel for all models" approach which is convenient for experimenting, but not as accessible for a guitarist looking to precisely duplicate a specific sound he dialed up on a real amp. But the sound is good: to my ears, the models all share a tight, well-controlled character that sits well in a mix.
4. Waves GTR3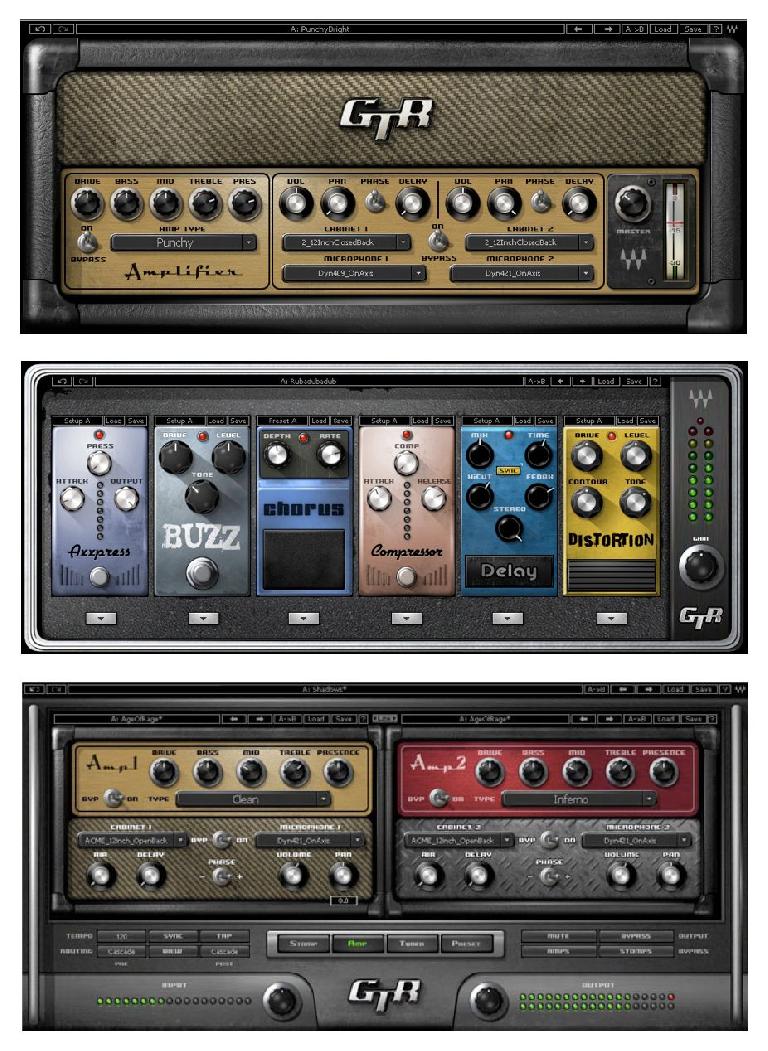 GTR3's amp collection (26 amps) is similar in scope to NI's, incorporating both vintage models (Clean, Crunch) and High-Gain offerings (plus a few bass amps, like most of the other Sims), mix and match cabs (up to 2 per amp) and various virtual mics to round out the basic set. As with all of Waves' analog emulations, the modeling is second-to-none.
There's also the separate GTR3 Stomp collection; 26 FX in a chain of up to 6, and the GTR3 ToolRack can incorporate amp/cab/mic plus effects either as a plugin, or as a standalone application for live use.
5. Softube Amp Room bundle

Softube's Amp Room bundle incorporates their three Amp Sims - Virtual Amp Room, Metal Amp Room, and Bass Amp Room - into one collection. Unlike most of the other companies listed here, Softube opted for simplicity over features and add-ons. The entire bundle has only five amp models: Vintage Amp Room offers three models—the "Brown" amp (Fender Twin Reverb), the "White" amp (Marshall JCM 800), and the "Green"amp (Vox AC30). Metal Amp Room offers only one (Engl Powerball), as does Bass Amp Room (Hiwatt DR103).
There are basic cabinet and mic options but the whole point is to provide the closest thing to what you'd get right off the mic is a live recording situation, without any distracting bells and whistles. To that end, many people feel that the Amp Room sound and dynamic response is more open, natural and finely-detailed than many other Amp Sims and has even more of a real "analog" vibe to it. The Amp Room bundle is available in the usual native plugin formats, but also for the UAD hardware platform. UAD has their own collection of very excellent Amp Sims, but I decided to restrict this roundup to native software.
For those who want to bring the Softube quality to guitar effects as well, they do have suitable standalone FX plugins including Spring Reverb and Tube Delay, plus a guitar Feedback Simulator that, with a little practice, could be just the ticket for those late-night virtual guitar sessions.
6. Positive Grid Bias Amp & Peavey Revalver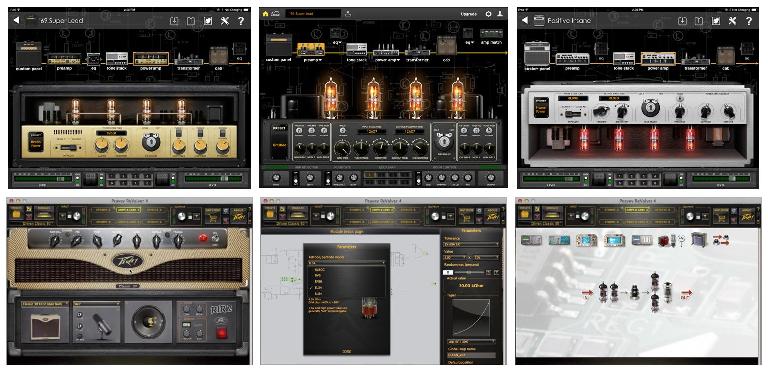 I'm including these two products together because they have a key feature in common. Both Amp Sims offer customization options down to the circuit level, providing the ultimate degree of control for electronics-savvy would-be DIY amp designers. In addition to the usual amp collections and feature sets, both plugins let the user dial all the way down down to the circuit component level - tubes, transistors, capacitors, inductors - and design their own virtual amp (CAD-style).
Each of these plugins also offers an additional special feature. Bias Amp has "Amp Match", which lets the user capture the sonic signature of any real amp, and Revalver includes "ACT" (Audio Cloning technology), which will "profile" the sound of your guitar and then transform it into another guitar via a set of presets, providing a greater variation of virtual sound sources for its amps.
Admittedly, these DIY circuit modeling features are not for the faint of heart or the more performance-oriented user, but with both Bias Amp and Revalver you still get a ton of excellent finished, ready to play amp models, and for any adventurous tinkerers out there either of these plugins may be the one to beat.
7. Apple (Logic) Amp Designer & Avid (Pro Tools) Eleven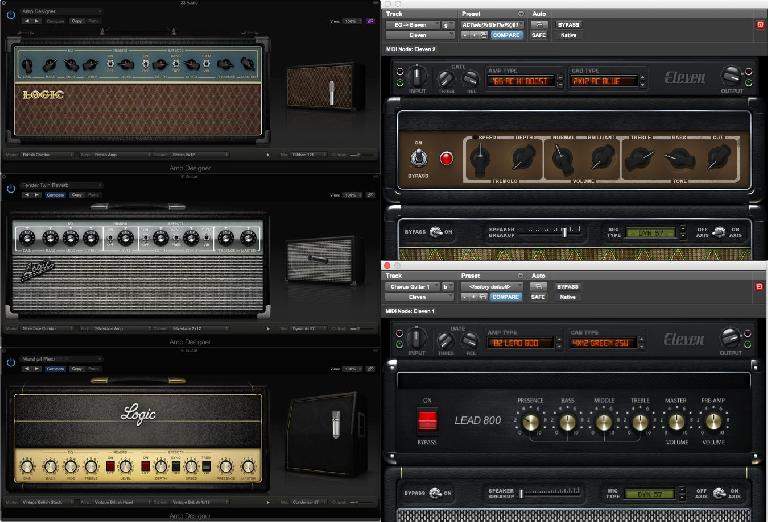 Both of these are exclusive to the parent company's DAW. Amp Designer is built in to Logic Pro, and Eleven is a Pro Tools-only add on. But unlike some other DAWs' included amp sims, both of these stand up to any of the third-party stuff out there.
Logic's Amp Designer offers twenty-something amps, with the usual mix and match cabs and positionable virtual mics. They're mostly classic/vintage models with a few boutique and high-gain sims as well, and despite the generic names and same-panel-for-all approach, it's easy to identify and dial up the distinctly different characters of all the amps you'd need, plus the quality of the modeling is excellent.
Eleven (of course named for a famous scene in the movie Spinal Tap) has a slightly smaller collection, more closely hewing to the original amps' layouts, but once again the sound is top-notch with nice details like speaker breakup added to the standard amp/cab/mic options.
If you're not on the prowl for particular boutique amps or an unusual level of tweakability, but just need a good-sounding, good-feeling collection of amps - and if you work in one of these DAWs - you might find what you're looking for has been right there all along.
Honorable mention
Of course I've skipped over plenty of equally good Amp Sims, including many freebies. Amp Sims like Overloud TH3, Scuffham S-Gear and Brainwork BX all provide excellent amp modeling and many users swear by them, even over the more familiar products I surveyed here. If you're looking for good Sim, the only real test is to grab a demo and play though it. Selecting an Amp Sim, like a real amp, is a personal decision and with the current crop there are no wrong choices.