60s Synths? Moog Is Bringing Back Modular, $35,000 Synthesizer IIIP
80s synths are the thing right now. Sometimes 90s synths even get a shout out. But 60s synths? Moog Music are giving life back to one of the original modular synths from 1969, Synthesizer IIIp.
Although original and cloned analog synths are becoming more affordable there's still a market for super expnsive synths. You know, those that are beyond the reach of most musicians / human beings. Moog Music are re-releasing the Synthesizer IIIp, a 1969 modular with ten oscialltors. But at a cost and in limited quantities (it is hand-made after all). Only 40 will be made and they'll be available for $35,000 USD each.
Considering the 80s synth revival is done and dusted, and some 90s synths are finding their way back into fashion, is Moog about to kick start a 60s or 70s synth revival? With 40 units only being created, it's not likely. However, like the Model 15 for iOS, we do wonder if there could be demand or interest for a Synthesizer IIIp iOS synth app/plugin. It's be a novel way to bring the inaccessible-to-most modular monster to an incredibly accessible music making platform.
Here's the official info from our friends at Moog Music Inc:
In the late 1960s, Bob Moog and a team of ten skilled technicians began hand-building cutting-edge musical instruments that they called "synthesizers" -- instruments that would radically change the landscape of music.

The world got turned on to the idea of the synthesizer -- and electronic music -- through the visionary works of experimental musicians during the late 60s and early 70s. Wendy Carlos composed her sonic masterpiece Switched On Bachusing the electronics of a customized Moog Synthesizer III--creating space for artists like George Harrison to employ his Moog Synthesizer IIIp on the Beatles' Abbey Road sessions, and Isao Tomita to shape the sounds of "classitronica" using the first Synthesizer IIIp in Japan on Snowflakes Are Dancing.
Watch Anthony Gonzalez & Joe Berry of M83 explore the new Moog Synthesizer IIIp during their recent visit to the Moog House of Electronicus:
Although production of Synthesizer IIIp was discontinued in 1973, these original modular systems designed by Bob Moog are inimitable in sonic character and remain highly coveted for their limitless reconfigurability and vibrantly organic musicality.

Nearly fifty years later, we are proud to announce the return of the Moog Synthesizer IIIp to production for a very limited time.

Every Synthesizer IIIp will be built using all-original documentation, art, and circuit board files. Moog Synthesizer IIIp production is highly limited. Only 40 units will be produced and sold worldwide.

Learn more about the Synthesizer IIIp HERE.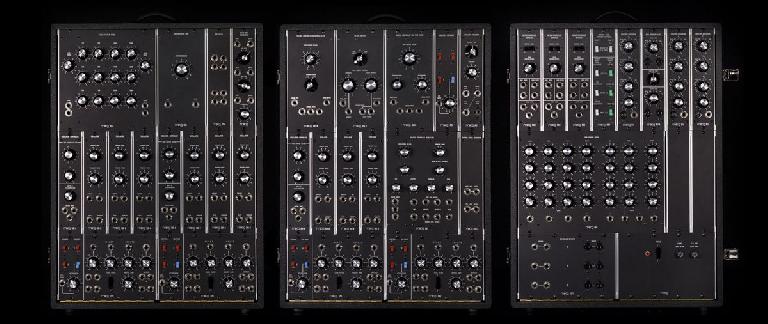 Here's the full specs of the IIIp:
Entire system recreated using original documentation, circuit board and art files and traditional manufacturing techniques.
37 hand-stuffed, hand-soldered modules custom mounted and hand-wired in three solid wood, tolex-wrapped cabinets.
10x discrete 901 series oscillators (Coveted for their organic sound. Not found in the Model 15, System 35 or System 55)
905 Spring Reverb module (Expands the character of any sound into enchanting, piano-like trails. Not found in the Model 15, System 35 or System 55)
4x CP3 mixers (These are tonally similar to the mixer found in the Model 15. Not found in the Model 15, System 35 or System 55)
984 4-channel Matrix Mixer (Designed for parallel processing, complete with dedicated controls for Bass and Treble. Not found in the Model 15, System 35 or System 55)
100% discrete design (There are absolutely no op-amps. Not the case in the Model 15, System 35 or System 55)
Only 40 Moog Synthesizer IIIp will be handcrafted and sold worldwide
IMPORTANT NOTE: A new Synthesizer IIIp is built exactly as the originals. It also behaves exactly as the originals, which means tuning instability and susceptibility to interference is inherent to the design.
SYNTHESIZER IIIp MODULES
1x 901 Voltage Controlled Oscillator
3x 901A Oscillator Controllers
9x 901B Oscillators
3x 902 Voltage Controlled Amplifiers
1x 903A Random Signal Generator
1x 904A Voltage Controlled Lowpass Filter
1x 904B Voltage Controlled Highpass Filter
1x 904C Filter Coupler
1x 905 Reverberation Unit
3x 911 Envelope Generators
1x 911A Dual Trigger Delay
1x 912 Envelope Follower
1x 914 Extended Range Fixed Filter Bank
1x 984 Four Channel Mixer
1x 991 Lowpass and Highpass Filter with Attenuator
1x 992 Control Voltage/Attenuator Panel
1x 993 Trigger & Envelope Voltages Panel
1x 994 Multiples Panel
4x Console Panel No. 3, each including:
- 4-input mixer with + and – outputs
- 2 Trunklines
- Control Voltage Switches
- Master Volume
- Click Filter
1x Console Panel No. 1 including:
- 3 Control Voltage and Trigger Outputs
1x Console Panel No. 9 including
- Power Switch
- Pilot Lamp
- Fuse Holders
1x 350 Watt 120 VAC or 230 VAC Switch Selectable Power Supply