No matter how much homework you do, performing live – even with just a laptop – means staying on top of a lot of details and multiple moving parts. Here's a few key tips to make traveling and performing live at least a little bit smoother.
Back It Up
The only thing worse than a hard drive failure is a hard drive failure on the road. Rather than allow this sort of issue to cancel a show, be sure to Collect All & Save your Live set, then save a copy to a secure external drive, trusted cloud storage, or both.
Make A List And Check It Twice
Depending on your general attitude toward indulging during gigs – which we neither condone nor judge – and the hospitality policy at your venue, you may find yourself in a somewhat different frame of mind when you finish your set than when you first set up.

Factor in a cramped DJ booth and the artist playing after you animated by their own performance, and tearing down turns into a trickier proposition than it might seem at first glance. The venue is dark, loud, and you're in a rush to get out of there, so it's all too easy to forget a cable or two.

Save yourself unnecessary replacement expenditures with a checklist detailing what you brought and used, and what you should have when you pack up. Apple's Notes app syncs with your phone, which is handy when your computer is already packed up – but there are plenty of other apps you could use for this on iPhone or Android. Just be sure to update the checklist whenever you modify your rig.

Example Checklist: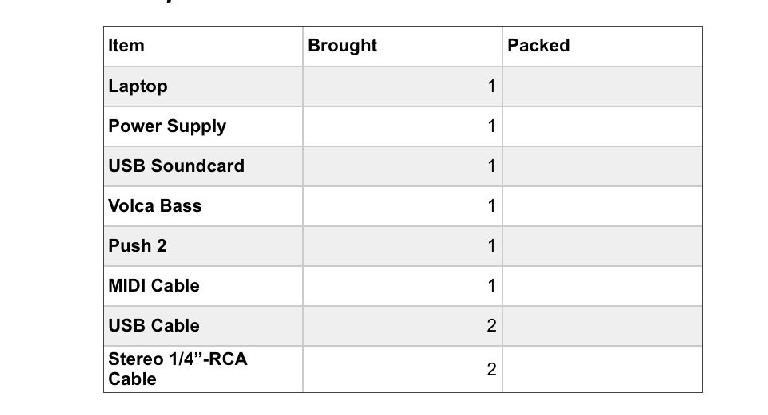 Bounce To Audio
A dynamic performance definitely requires real-time control – but with only two hands, it's impossible to control every element of a set kinetically. Decide which parts require the least hands-on control that can then be bounced from soft-synths to audio tracks to free up precious processing resources for the dynamic parts that count the most.

PRO-TIP: Free up even more resources by converting stereo tracks to mono with an external editor like the free Ocen Audio.
Safety Loops
If you're running long audio (or MIDI) stems, you should enable looping and find a smooth looping segment towards the end of the clip. Since the start point doesn't need to be within the looping section itself, you can start long clips from the beginning and also make sure they loop nicely at the end, ensuring they don't stop abruptly if you get caught in a groove while focusing on another element. Feel free to experiment with unconventional loop lengths such as 12 or 20 bars (so much as phrasing allows) in order to keep the loop somewhat less predictable in terms of how it lines up with other loops.
PRO-TIP: Remove stop buttons on empty clip slots using CMD+E to allow previously triggered clips on that track to continue playing once a scene containing the empty slot without the stop button is triggered.

Removing a clip stop button (a), and the resulting empty clip slot between clip groups (b)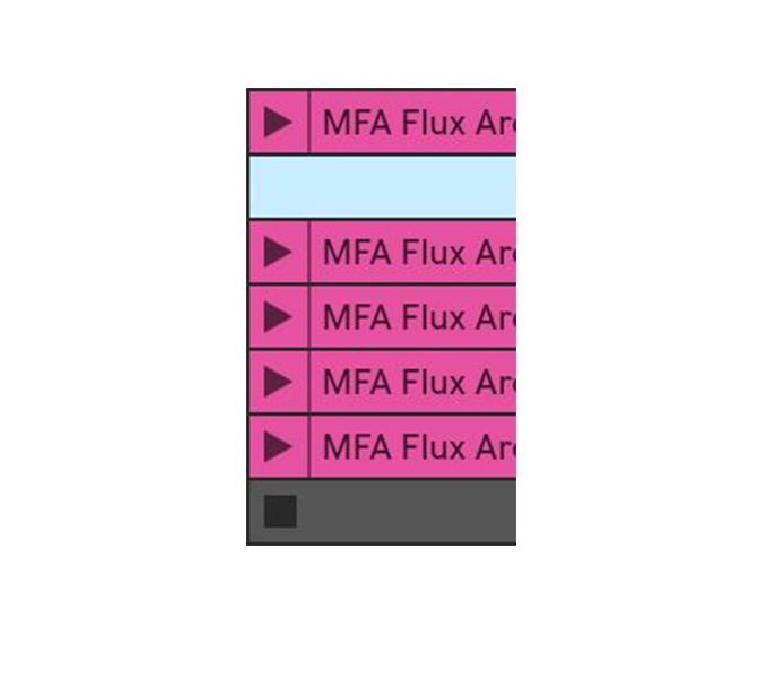 Organize To Mesmerize
A great way to stay on top of a Live set without needing to stare at the screen constantly is to put some effort into organizing sensibly.

With Live 10's groups within groups, not only can you apply buss processing in sub-groups, but you can also create sub-scenes: groups of clips that trigger simultaneously via group clip trigger without having to trigger an entire scene's worth of clips. Creating track groups and sub-groups also allows you to more easily collapse an entire set's worth of tracks down to the eight channels most commonly supported with clip launching MIDI controllers.

Multiple sub-groups and a "sub-scene": the Percussion track is part of the Drums group, but only Hats and High Perc are in the sub-group High Freq Perc, allowing different combinations of clips to be triggered simultaneously
Coming up with a color scheme scheme can also help identify which clips, scenes or tracks you're looking at, either with a quick glance at your screen, or with a color-LED clip launch controller. Not only can you color clips, but also tracks and scenes via secondary-click context menu. For example, try coloring all the scenes in a song the same to easily see them grouped.

PRO-TIP: Did you know tempo and time signatures can be hard-coded into scene titles? Just write the desired BPM followed by a space and then "BPM" (without quotation marks), or simply append the new global time signature in standard format (ie., 5/4).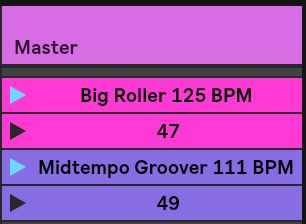 Color-coded scenes with BPM changes hard-wired
A Little Master Buss Processing Goes A Long Way
Even if you generally run your tracks at a reasonably low volume, accidents can happen – especially in a live context. To ensure you don't blow a sound system (or a fan's innocent ear drums), place a limiter at the final stage of your master channel. I wouldn't recommend lowering the threshold though – it's only there for safety.

A gentle Glue Compressor with a high threshold and ratio no greater than 2 can also help meld your mix, especially important with clips coming from many different sources. An EQ8 can be added between the compressor and limiter, available for slight adjustments to compensate for any room or sound system issues at sound check. You can optionally add other sweetening here – just be sure to avoid anything too processor-intensive, and make sure your limiter is the last audio processor in the chain.
PRO-TIP: Hard-limit your track volume faders by setting their maximum values in the MIDI control browser to 0db instead of the default +6db – that way, even if you slam them all the way up, they shouldn't gain out too hard.