If you're in the market for an audio interface, it would be easy to get overwhelmed by all the choices available nowadays. How do you pick the best one for your needs—not just for now, but for the near future as well—and just how much will you need to spend to get something suitable? Here are a number things to consider when choosing your next audio interface.
1. $$$

Of course, price is always a factor, but ultimately that's going to be determined by two things—the specific feature set you require, and the level of audio quality you demand. The first will be the subject of most of the rest of this article. As to the second, well, that's more of a judgement call, these days. In the early days of digital audio converters, there were clear and obvious differences in sound quality between lower-cost boxes and the big-ticket items. But now, even relatively budget-priced interfaces can deliver top-notch sound (case in point, some of Apogee's mini-interface models), skimping only on features rather than audio quality. Now, if you're in the market for a really high-end audiophile-level design, then you know you'll be spending at least $2,000 and up. But for the majority of musicians, engineers, producers, and small studio owners, something in the $500 to $2000 range will probably get you both excellent sound quality and the feature set you require.
2. Compatibility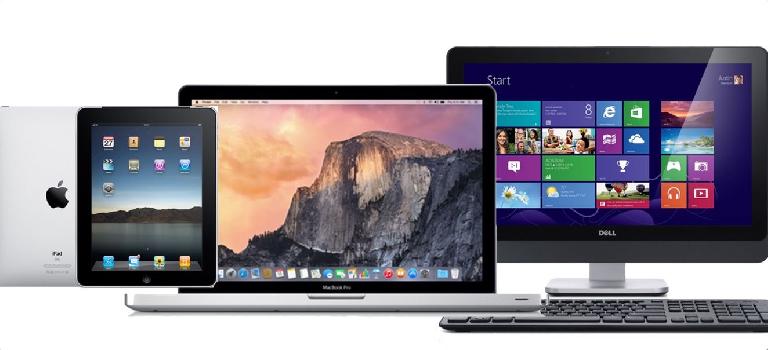 Naturally, this is key. Most interfaces are cross-platform compatible, and many are even class-compliant—that means they don't require the installation of third-party drivers to operate, making installation and potential troubleshooting more straightforward. But you still want to make sure that the interface's firmware/driver version (if applicable) is compatible with the OS you're currently running (and stay on top of that if /when you update).
3. Connectivity
You also need to pay attention to the means of connectivity the interface provides—you need to make certain that it will connect to whatever ports are available on your computer—and on the next computer you expect to buy, if an upgrade is imminent (and let's face it, it always is, for the likes of us musical types!). Older units usually connect via USB2 or FireWire 400/800, while this year's models may sport USB3 or Thunderbolt ports.
Those new connections are considerably faster, and would be the best choice, but if you do decide to pick up an interface with the older ports (to save $$$?), you can usually connect it via adaptors to one of the more modern ports on your computer. But if your computer has only the older ports, I wouldn't try adaptors going in the other direction—it might be time to consider that computer upgrade as well, as a hedge against future connectivity obsolescence.
4. I/O (gozintas & gozoutas)
The number of ins and outs is one of the primary considerations when choosing an interface, and that will depend on two things—your current requirements, and the kind of sessions you anticipate doing six months or a year from now. If your only studio application is recording yourself one track at a time, then a simple stereo 2-in 2-out model should suffice, letting you save money, or put it toward quality rather than features. For a little more, 4-in/4-out boxes can offer a bit more flexibility, in case you want to multi-mic something, or record, say, a voice, guitar, and bass at the same time. The extra 2 outs can come in handy, for inserting analog processing or running extra monitor mixes. Some interfaces provide additional routing options, making it easier to reconfigure the box for tracking or mixing, at the push of a button—SPL's Crimson, for example, has a number of convenient routing options that can be easily controlled from its top panel.
Of course, for real multi-track recording, the point of entry will be your basic 8-in 8-out designs. Most of these augment the 8 analog ins & outs with 8 (or 16) additional digital ins & outs, most commonly via industry-standard ADAT "Lightpipe" optical digital connectors (I use these on my MOTU boxes to link two 8-channel units into a 16-track live recording rig).
Sometimes you can save a little cash if you choose a model that has more ins, but only stereo outs, but if you're recording multi-track, again, those extra outs may be needed for additional monitor mixes (and, of course, if you're working in Surround formats, you'll need at least six of those outs for feeding your surround system).
5. Latency
Most interfaces nowadays are capable of suitably low-latency operation, making live recording through the computer less of a compromise than in years past (this is especially important if you'll be depending on internal processing, like guitar amp sims, during tracking). But it's still a tradeoff—the best results will be had with the most modern ports (particularly Thunderbolt), but it's as much a function of use and the computer model itself as the interface, so I wouldn't worry about it too much at this point in time.
Most interfaces provide the option of "Near-Zero Latency" monitoring, for live recording scenarios. This is where an incoming signal is taken into the interface, but instead of being sent to the performer's monitor mix after being routed through the computer, where the bulk of the latency is added (thanks to the input/output buffers), it's split and routed directly back out to the chosen monitor mix.
These interfaces usually include onboard routing, for greater flexibility, and some even include some onboard DSP, to make up for the fact that this kind of direct monitoring by necessity accesses the signal before it can be processed by any plug-ins—the DSP instead provides its own low-latency processing, within the interface itself, and sometimes you can choose to record with or without this (or both).
6. Extra Features
And that brings us to the wild card in choosing an interface. Many models—especially the $1000+ 8x8 boxes—feature on-board DSP. This may take different forms—it can be simple routing/mixing, as above, and many interfaces even include their own input processing, which utilize the box's DSP, rather than the computer's DSP. At the high end, some of these interfaces can direct that on-board DSP to be used by plug-ins that run in the DAW itself. These are not just available on input, but can be used in mixing as well, except they use the interface's DSP chips rather than the computer's CPU, freeing up more computer power for higher track counts and lower latency (this was how the original DAWs worked, before native audio processing took over). A good example of this is Universal Audio's Apollo line of interfaces—their onboard DSP runs the company's proprietary plug-ins, most of which faithfully emulate classic and vintage analog gear. The plug-ins only run if one of the interfaces is connected, so it's a package deal, but a good one, considering the quality of the effects.
The Wrap
It's worth it to spend a little time researching the current state of affairs regarding interface features, i/o, and connectivity options, as well as this year's and next year's computer ports, before making a commitment, especially if you're looking at one of the pricier interfaces. But the good news is, these days you'll get not only better performance in all respects, but more bang for the buck than ever from this most fundamental piece of studio gear.