When I first got my hands on Line 6's HELIX, I wasn't sure how much I would use it. After all, I had plenty of cool amps, pedals and lots of great software simulator plug-ins. Several months later, it's become an absolute go-to staple in my arsenal of guitar sounds for studio work. Here's a look at 6 reasons why.
1. VARIETY STORE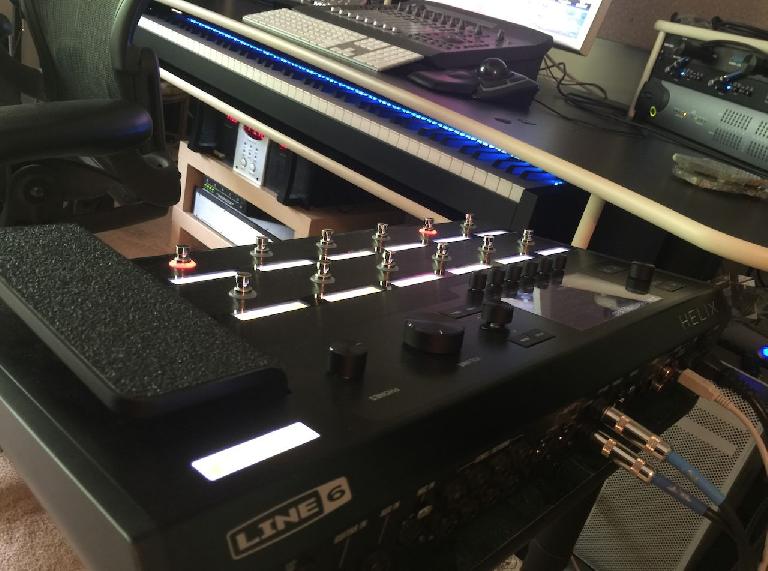 This box is like having a candy store full of highly useable sounds. I find it incredibly inspirational to step through the presets while I'm playing, and see what works for my needs. As a TV composer, I need a lot of everything and this has delivered me a wide variety from clean and funky to ambient huge pitch shifts to hard and heavy nasty stuff.
Inside are 45 Amps, 30 Cabs, 16 Mics and 70 effects, all at your feet or fingertips. Another thing that's important to me is that there's plenty of I/O. You've got stereo 1/4" outputs, stereo XLR outputs, AES/EBU outs and S/PDIF digital I/O, MIDI I/O, Variax, stereo 1/4" expression pedal outputs, 1/4" CV out, 1/4" external amp switching, XLR Input for a mic, 1/4" guitar in, 1/4" aux in, 4 1/4" external controls and four 1/4" returns and USB Type B for computer connectivity. I can even connect my external pedalboard to it and use the effects I'm used to playing through.
It's got a 6.2" color LCD display and 12 touch sensitive footswitches for editing, along with 10 sturdy rotary knobs. Taking it further, there's a built-in expression pedal for control of volume, wah or amp/effects parameters.
There's already been many instances where I was composing and thinking, hmm, what sound will work for this? Stepping through a bunch of Helix presets, I've found the answer every time.
2. GO DEEP – OR NOT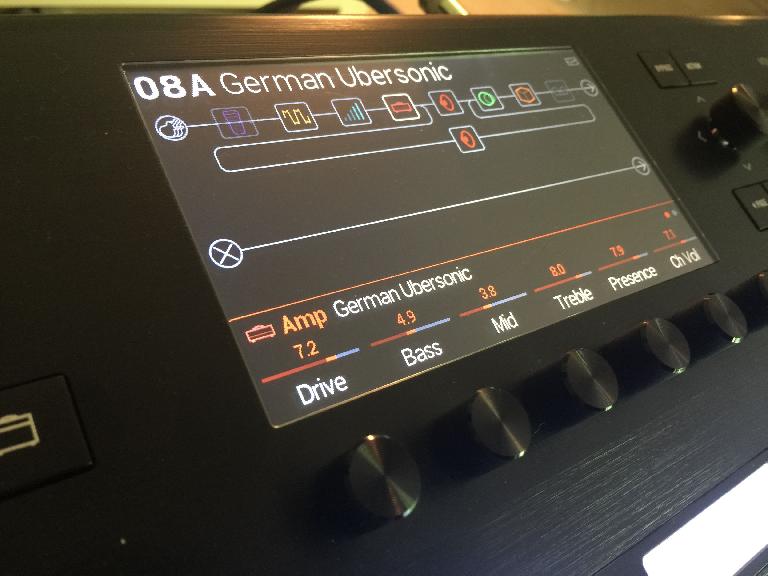 I don't always have time to delve into settings to get sounds. I need that bolt of inspiration immediately and don't want to tweak too much.
Helix was designed to quickly grab a knob or two (or none) and dial in the important things—such as gain, EQ settings, and effect parameters. They are available instantly on the home screen, which can be displayed at any time by simply pressing the home screen button.
I like the fact that I can get great tones right away, and not have to dig into the box. Sometimes I change nothing at all, just play the preset. That's a testament to the designers who—to me—were obviously players who knew what they were doing.
However, when I do choose to go deeper, I can. Better yet, they made it easy to do so. Just touch an effect, and it auto maps to the home screen in color. You can page left or right to get to more settings, etc. If you don't like to use your fingers, you can go into Pedal Edit Mode where you can use the pedals to tweak one parameter at a time, or go into Stomp Footswitch Mode to toggle between the values of parameters or turn effect blocks on and off.
I will admit that I still have more to learn about the flexibility and tonal varieties available to me, but I'm actually excited to take the time and do so. Each time I sit with this box, I learn a bit more about it.
3. DUAL PURPOSE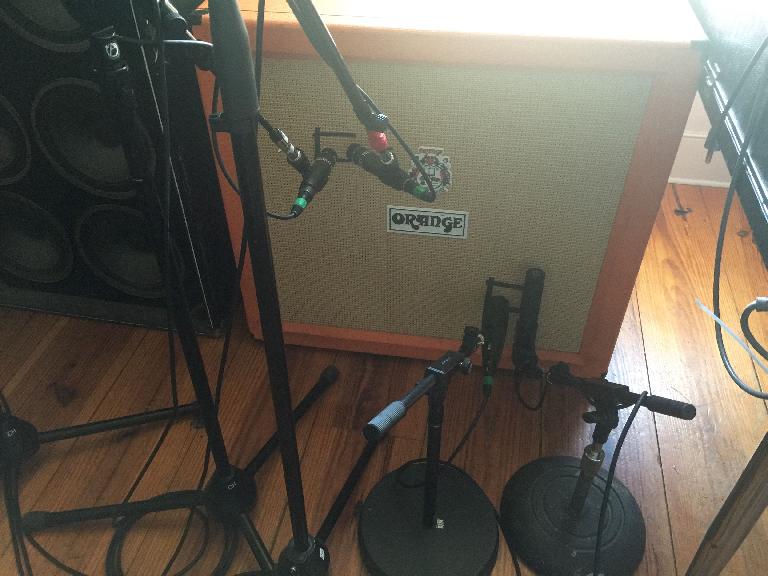 On a recent session at Clubhouse Studios in Rhinebeck, NY, I used Helix along with my amps. I had to do a bunch of hard and heavy cues for a network sports show and chose my Ibanez 7 string (so I could have the Low B growl).
Since I like to double all my guitar parts, I had my Mesa Boogie MKIV head and an Orange 4X12 cab for one side. On it were two Shure SM57s, a Sennheiser 421 and an AEA N8 ribbon. I would track the part (live with the drummer) and then immediately double it.
For the double, I simply plugged into my Helix, which was running XLR out into 2 direct boxes, through a good preamp. I would feed the amp sounds in my left ear and Helix in the right. What I noticed was that Helix was brighter and crisper, while still retaining the heavy distortion I wanted. The amp was darker and thicker. The two different tones totally complimented each other and made for a seriously wicked guitar sound.
4. TUNER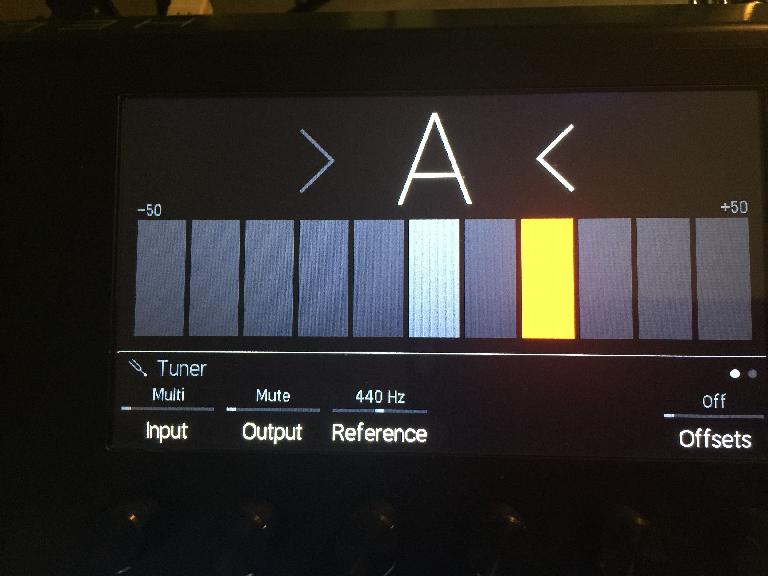 Helix has the coolest tuner in the business. All you do is hold the TAP footswitch down until the Tuner screen appears. Hit your note on any instrument, any string, and the bars will light up red if you're sharp or flat (left or right), or green when you're in tune.
In addition, you can set string offsets for slightly out of tune needs, or even set it up to route Helix out to your own stomp or rack tuner when you hold down the footswitch.
5. EDITING ONSCREEN - OR ONSCREEN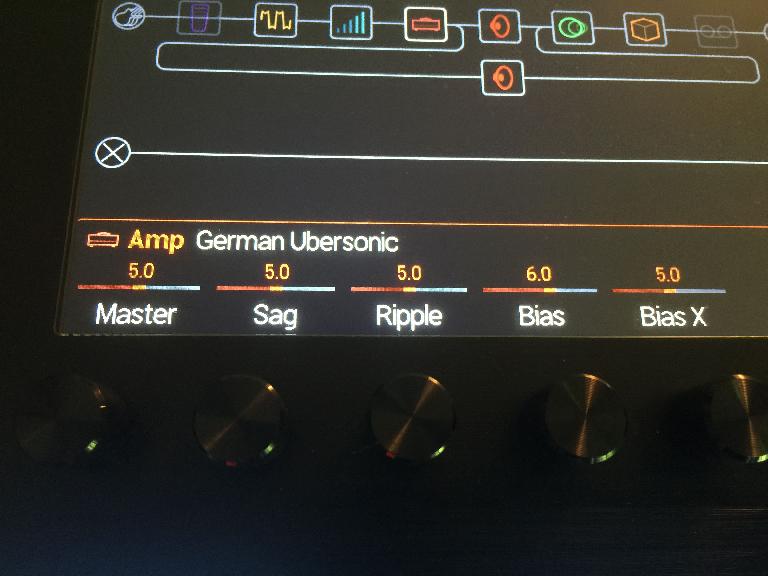 As mentioned above, there's a 6.2" 800X400 LCD display for tweaking your sounds. Below that sit 6 smart edit knobs, and 12 touch sensitive foot switches. When I say touch sensitive, I mean it. All you need to do is hit the knob with your fingertip and the screen responds immediately to that setting, including the relevant color (hard to believe how useful that is).
Another way to get at the sounds is with newly released Helix Edit software. This lets you work on your computer screen to edit the sounds in a useful, visual way. You can customize, edit and save your sounds right on the desktop, as long as you have the USB connected.
6. THE BEEF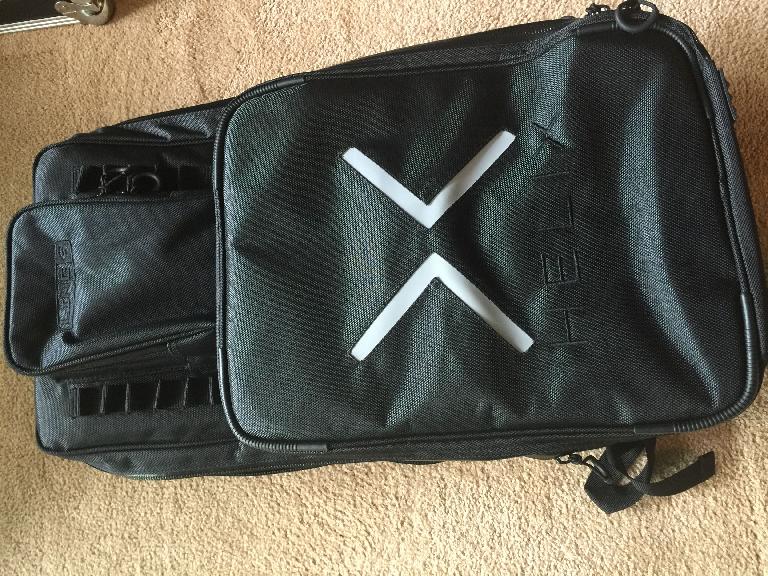 This thing is built like a 14 lb aluminum tank. I have full confidence in the build and design, and that means a lot to me. I purchased a cool carry bag for it, and take it with me to certain sessions almost like an amp.
I like the fact that I can sling it over my shoulder, arrive at the studio, turn it on, plug in a few ¼" cables and be ready with wicked tones in minutes. I also use it for bass as well (there's some great bass presets available), especially in the heat of a session when I'm playing my own parts.
This thing rocks, is rugged, flexible and delivers badass tones quickly. I find myself often plugging into it just to play, enjoy the sounds and experiment. You can't ask for much more than that.