Whether your preferred DJ platform is classic vinyl, digital vinyl systems like Serato, laptop-based solutions such as Traktor or Ableton, or plain old CDJs, everyone these days seems to be taking a USB key to the gig as a fail-safe back up. Not only have Pioneer's latest USB-enabled CDJs been embraced as a global industry standard, but they're powerful and relatively easy to use for anyone with experience beat-matching. Problem is, if you're not using Pioneer's free Rekordbox software platform to organize the music on your thumb drive, you're missing out '" big time.
Advance Waveform Analysis
For example: if you're not using Rekordbox to analyze your music, the CDJs have to analyze your waveforms in real time. This means it's all too common to be unable to visualize the peaks and troughs of your tracks via the CDJ waveform display'"which can be a serious handicap, especially when you're playing new tunes that you haven't learned inside-out just yet; in addition, BPM detection may suffer as well. On the other hand, if you load your tracks into Rekordbox and copy them to your USB key from there, not only will the waveform and BPM data be ready to go, but you'll also have key analysis and a host of other categories to help navigate your collection on the fly. The Rekordbox BPM analysis also ensures any on-the-fly looping using the CDJs' loop functions will be tight, tidy, and right on-beat'"so long as Quantization is enabled.
Custom Organization
There's nothing worse that peering into an unorganized, non-Rekordbox-analyzed music folder on a USB stick and trying to navigate it via LCD display with the pressure to choose a tune'"especially when most tracks purchased from major digital retailers have file names starting with an obtuse string of seemingly random numbers that provide little insight to the track's identity. Rekordbox allows you to ensure all your files are tagged correctly with a number of fields you can use to navigate, as chosen via the CDJ's primary Menu display. These include Artist, Title, Remixer, Album, Label, Genre, BPM, Key, Duration, Release Date'"as well as custom colors (all your dub techno could, for example, be dark blue), custom tags, comments, and more. This gives you a wealth of pathways to find that special track the moment demands'"even if you can't remember the title or who produced it.
PRO-TIP: If you're a Traktor devotee, you can use Next Audio Labs' Rekord Buddy app to convert your intricately programmed Traktor playlists to Rekordbox format'"or vice versa.
Auto-Syncing Playlists
Not only does Rekordbox seamlessly synchronize with your iTunes playlists and allow you to create your own custom playlists'"color-coded, of course'"but you can also auto-sync connected USB keys and other enabled storage devices to selected Rekordbox playlists, ensuring they're automatically topped up with new tracks upon connection to your computer. After playing a particularly stellar set, Rekordbox gives you the option to store recently played sets as playlists via the built-in History functionality. In addition, you can handily store CDJ preferences to easily load your ideal default settings'"auto-cue, pitch range, vinyl mode, jog-wheel brightness, etc.'"onto any CDJ as soon as it reads your USB key; typically you'll just have to press the CDJ's Menu button to confirm the change.
Custom Cue and Loop Points
Rekordbox also allows you to store customized cue points within your tracks, allowing you to jump to up to three key sections of a track live in the DJ booth. You can also set up loops of various segments throughout a track, which is particularly helpful when certain tracks are just too short: you can set them up with a smooth loop up to eight bars long towards the end of the track for extended layering segments. With the same technique, you can also salvage tracks from questionable elements by looping a pristine section before the producer managed to derail their better ideas. Eight memory loop slots give you the opportunity to remix or edit on the fly by skipping between different key looping segments of a track.
Beat Grid Editing
Pioneer's beat detection algorithm is typically quite reliable, but if you need to make occasional adjustments, the grid editing mode is your friend. You can zoom in to reveal color-coded transients in the waveform, then easily shift the grid left or right, expand or contract the grid spacing, or set the current marker as the downbeat. Half-time and double-time buttons easily re-map the BPM with a single click, while a handy undo button saves a lot of hassle should you come to regret a recent click. Rekordbox also allows you to specify whether you want to make changes to the entire track's grid, or only from the current point onward. A tempo tap button is there to confirm or deny any rare suspicion that the auto-BPM detection might be off, while a metronome toggle helps to reference the timing against a steady source.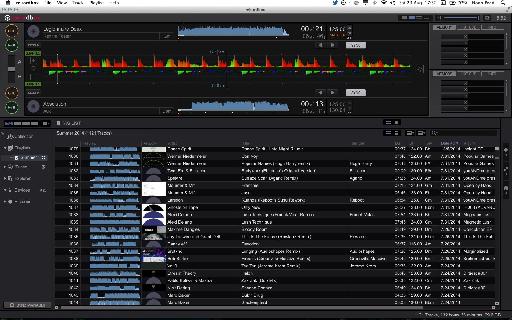 Mix Testing Audition mode in action. The new redesign as of version 3.0 is rather easy on the eyes.
Mix Testing Audition Mode
If, like me, CDJs are your platform of choice in the DJ booth, one of the best features of Pioneer's recently revamped Rekordbox software is the mix testing audition mode. If you're on the road without access to your DJ set up, the Rekordbox 2-player mode allows for synchronized playback of two tracks simultaneously with a simple, vertical A/B crossfader (pictured above, at left) to blend between them. While not full-featured enough to compete with programs like Traktor as a laptop performance solution, it's more than enough for quickly testing mixes of new tracks to see how they might work together on stage '" a welcome feature indeed for anyone who acquires new music on the road, and a productive way to spend the flight between gigs.
On top of all that, if you want to bring your computer to the club, you can connect it directly to the CDJs and use all of Rekordbox's built-in search functionality and other features right there in the booth. The Rekordbox iOS app syncs music from your computer's Rekordbox library and analyzes your iPhone's iTunes library, making music available to their latest Nexus model CDJs via wi-fi. Best of all: Rekordbox is a completely free download at http://rekordbox.com'"get on it.