Over the last 10–15 years, virtual distortion processors and amp sims have gone from barely usable to being virtually indistinguishable (in playback, at least) from the real thing. In the software realm, there are a ton of them available, and many DAWs even include their own. Besides freeing home recordists from the need for a soundproofed space, being able to generate and edit the distortion characteristics of a part after it's been recorded is a terrific advantage at the mix stage. But even though distortion plug-ins are relatively straightforward to use, you'll want to avoid a few potential mistakes that can prevent you from getting the best results from them. Here are 6 things to watch out for when using virtual distortion.
1. Don't Use The Wrong Input
When you plug your guitar into a real (physical) amp, the input is set up for the correct level and impedance to draw the best tone from the instrument. But laying down tracks with a virtual amp, you'll usually be plugging the electric guitar (or bass) directly into the interface, and this is the first place where you could go wrong. Standard line-level inputs, although they may use the same 1/4-inch jack as your guitar cable, are not necessarily equipped to handle the very low level of a (passive) electronic guitar or bass, and they most likely will not present the proper input impedance (about 1 MegaOhm) needed to get the best signal transfer from guitar to computer. This can result in a noisy signal (when the gain needs to be cranked later on in the chain) along with frequency-response losses, leaving you with a less-than-optimal signal before it even hits the virtual amp. The input you need will usually be labeled Instrument (or have a pictorial indication, like a little guitar)—this should provide better gain-staging and present the correct impedance for electric guitar and bass. If this is lacking, there are inexpensive third-party devices and DI boxes that will do the trick. Some interfaces do feature a combined line/instrument input, but you'll want to make sure of that before you go plugging into that 1/4-inch jack.
2. Know your Gain controls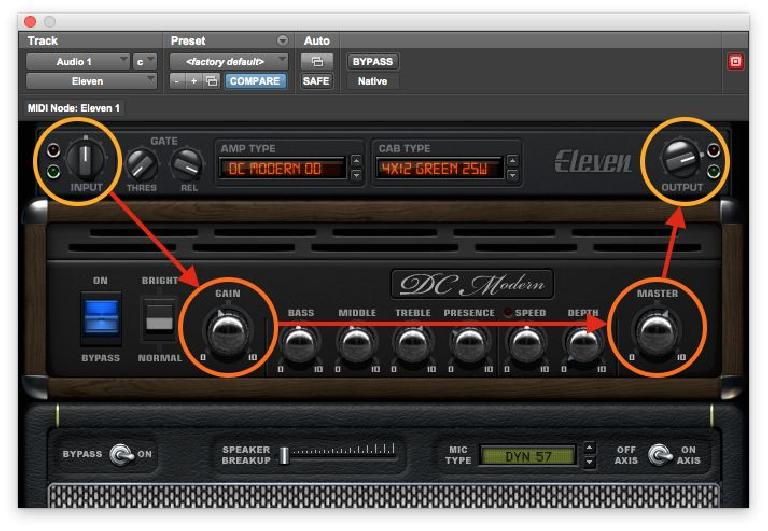 Fig 2 The plug-in's Input & Output level controls (yellow), which simply provide proper gain-staging for the incoming/outgoing signal vs the simulation's (preamp) Gain & Master (volume) knobs (orange), which affect distortion, tone, & playing feel
On a classic real guitar amp, there are one or two gain controls: Preamp gain (Drive), which feeds the signal into the preamp tubes, and Master Volume (output), which pushes level into the poweramp (output) tubes. Amp sims usually replicate this as well, but many also have additional Input and Output level controls, and they function differently. Plug-in Input controls are just there to calibrate the incoming level of the (guitar) signal, to insure that it hits the modeled amp circuitry at the same level that it would with the real thing. And plug-in Output controls are just like a mixer's channel fader—they simply set the final level of the processed signal exiting the plug-in. However, the modeled Drive (preamp gain) and Master Volume (poweramp gain) controls that are part of the sim not only alter level (dial up distortion), but affect tone and response in more complex ways, emulating their effect on the various real amps that have been emulated.
For these knobs to provide the most realistic simulation, the incoming level must fall within the expected range—the level it would be at in the analog world. So to get the most realistic and dynamic response out of an amp sim, you'll want to use any plug-in Input control to calibrate the incoming signal level to the level the virtual amp expects (most amp sims will provide a recommendation in their documentation). And make sure you don't use the virtual amp's Master Volume as a mix level control—that's what the plug-in Output control is for. The amp sim's virtual Master Volume knob will add poweramp tube distortion, and should be set for the desired tone, not the desired overall level. Properly gain-staging the signal through the virtual amp will assure that you get the best tone it's capable of; poor gain-staging can make even a top-quality amp sim sound cheesy and flat.
3. Don't be Afraid to Mix and Match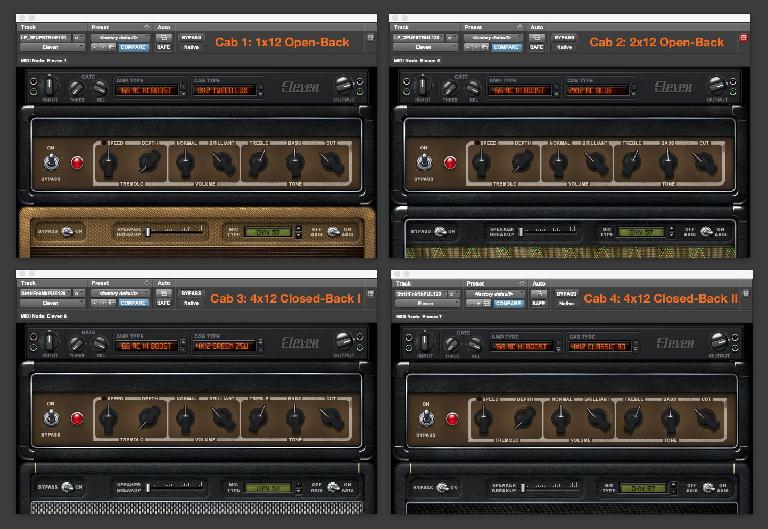 Fig 3 Mix & Match: The same virtual amp with a few different cabinets (small single speaker, dual-speaker open-back, 4-speaker closed-back x2)
Most amp sims come with presets that include both the amp head (the electronics) and the matching cabinet. But there's no reason you can't try different cabinets with different heads—even in the real world, guitarists do this all the time, sometimes even combining multiple cabinets for a richer tone. The speaker cab is a big part of the sound of any amp, and substituting a very different-sounding cab can often sound like a whole new amp, revealing different aspects of the tone. It's so easy to do in the virtual world, there's no excuse for not indulging in a little creative experimentation.
Audio Example A—guitar figure playing through the same virtual virtual amp with a few different cabinets (small single speaker (Tweed); dual-speaker open-back (2x12 AC30); 4-speaker closed-back x2 (4x12 Greenbacks; 4x12 Vintage 30s)"
4. Distortion is Not Just for Guitar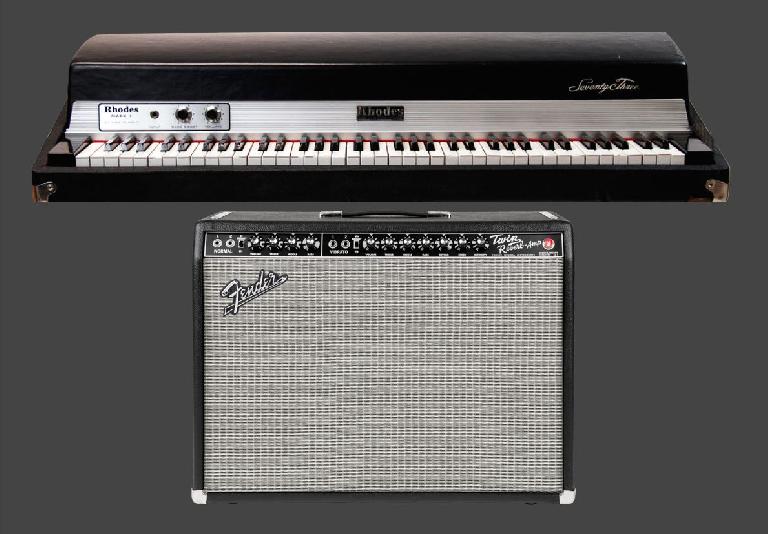 Fig 4 Guitar amps like the Fender Twin Reverb are often pressed into service for instruments other than guitar, like classic electric pianos (Fender Rhodes, Wurlitzer, etc.), harmonica, and even (as an effect on) voice
Just because many distortion processors and amp sims may be marketed primarily to guitarists, that doesn't mean they won't potentially be useful for adding a little edge to other instruments, and even voices. Running a vocal part through a small (practice-size) amp can create a great special effect, and many instruments will benefit from a little euphonic distortion and crunch to beef up their tone. For example, the classic Rhodes electric (Stage) piano used to be voiced at the factory while running it through a Fender Twin Reverb (guitar combo amp), which adds some sparkle and grit to the otherwise mellow tone.
And, of course, drums take to a bit of overdrive like a fish to water, and adding the distortion in parallel can allow you to dial up a sharper edge, while still preserving clarity and full-range response. So don't be afraid to go ahead and crank those amps and overdrives, even on what may seem to be unlikely sources, and see what a little crunch can do for your tracks.
5. Don't Always Go to Eleven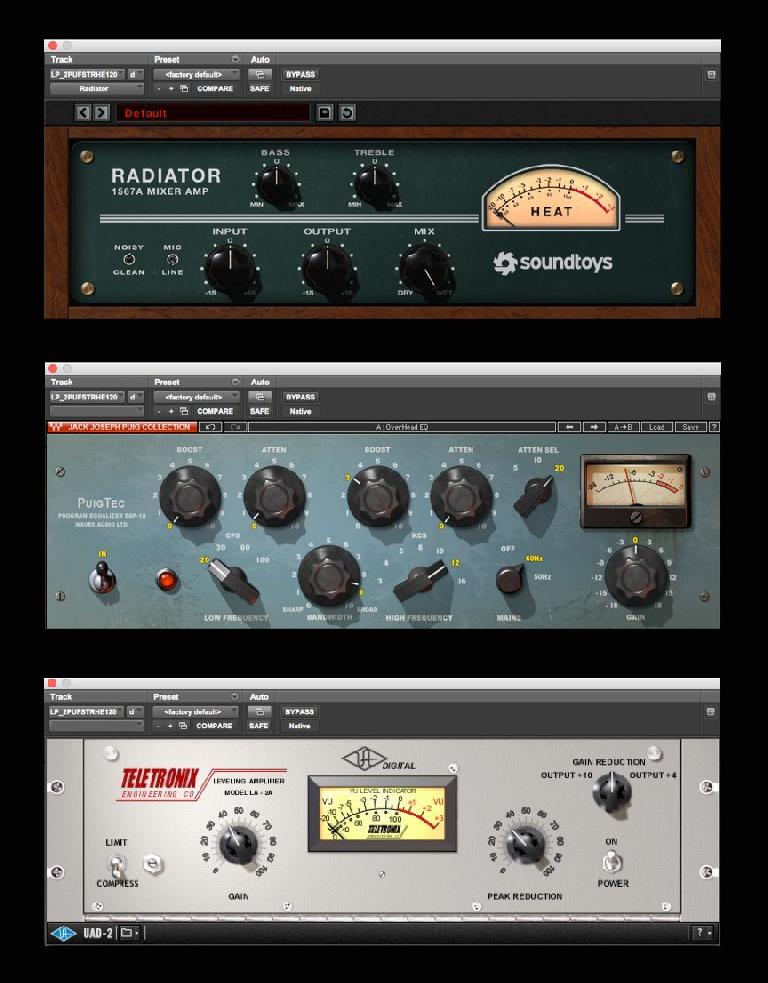 Fig 5 Some devices that may be used for their (real or virtual) analog warmth as much as for their processing
Of course, adding distortion to a signal doesn't always have to mean fuzzbox city—small, almost imperceptible quantities of overdrive can add presence and warmth while not really sounding full-on distorted (or even mildly crunchy). Even guitarists often use an overdrive pedal not for over-the-top drive, but just for a subtle thickening and tonal sparkle (Stevie Ray Vaughan often utilized an Ibanez Tube Screamer this way). And there are many processors that are not intended primarily as distortion processors, but do generate subtle distortion harmonics as part of their sound—most virtual emulations of classic tube-based EQs and compressors also simulate the analog warmth and presence the tubes and transformers in those circuits provided. In the real world, engineers often run a signal though these devices without actually processing it, just to get that extra edge the circuitry imparts.
These processors may not approach the level of distortion you'd expect from a dedicated amp or pedal, but their desirable warmth and presence is the result of very gentle overdrive and subtle harmonic distortion that just come with those kinds of circuits. Sometimes that hoary old cliche does hold true—"less really is more".
6. Give Digital its Due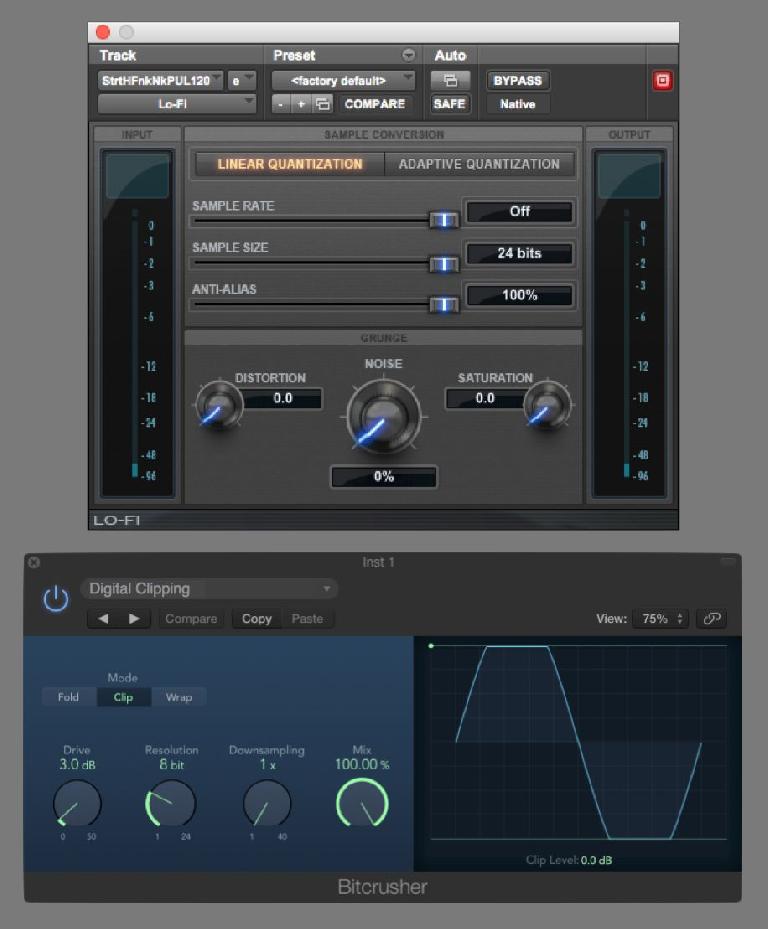 Fig 6 Pro Tools' Lo-Fi & Logic's BitCrusher provide edgy, gritty digital distortion as an alternative to analog's smooth, warm crunch
Despite the recording industry's love affair with everything analog, especially distortion, digital distortion brings its own unique qualities to the table, when warmth and presence won't do, and buzzy, fizzy, spitty, and nasty is just the ticket. Digital distortions range from Aliasing (metallic ringing that results from lowering the Sample Rate) to Quantization Distortion (that fizzy, splatty buzz that comes with low bit-resolution) to hard digital clipping. A host of aptly named Lo-Fi and BitCrusher plug-ins can provide some of the nastiest, most industrial-sounding distortion you're likely to find, which can really add that modern edge to drums, synths, and just about anything that you want to trash up a bit.
Distortion is one of the most popular tools in the recordist's and mixer's bag of tricks, but to use it to best effect, you'll want to avoid potential pitfalls and self-imposed limitations like the ones mentioned here. Employed properly, nothing pumps up the sound of a track or a mix like a little creatively applied crunch, for that extra oomph we all want for our musical efforts.
Learn Audio Processing Basics in The Academy here.