녹음 보컬 아무튼
1. Don't use a stage mic in the studio
지금, 지식을 기록하는 방법이 - 또는 - 그 유명한 가수의 이야기로 가득하다 항상 그의 믿음직한 SM58 (고전 $ 99 휴대용 표준 클럽 마이크)를 기록, 여전히 큰 소리를 관리합니다. 그리고 그것을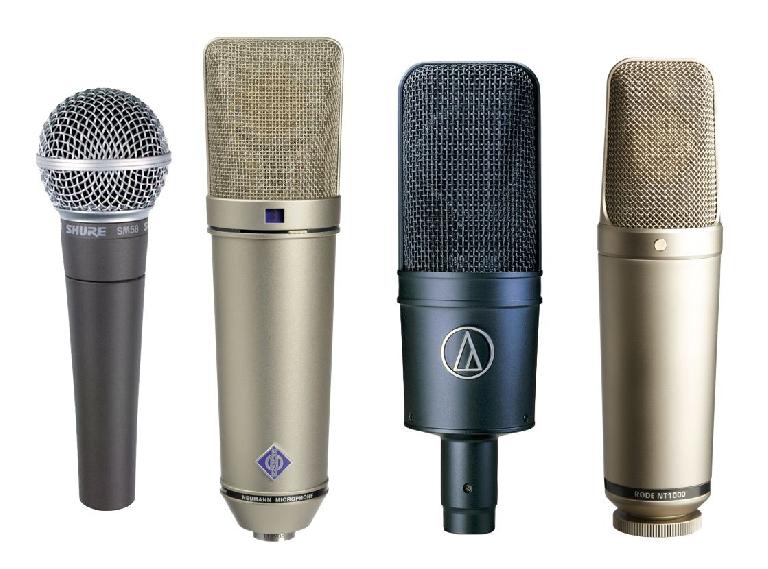 그림. 1 : (R에 L) Shure의 SM58 (고전 동적 단계 마이크); 노이만 U87 () 고전적인 (그러나 아주 비싼 대형 다이어프램 보컬 콘덴서); 더 많은 예산 의식 보컬 콘덴서의 커플 (4033 AT, NT1000 탔어요).
2. Don't choose the mic strictly based on brand-name or $$$ cost
위의 나의 권고에도 불구하고, 당신은 shouldn
3. Don't position the vocalist too close
당신이 가수를 유혹 할 수 있지만 마이크에 바로 도착
지향성 마이크에 너무 가까이 (방향 받기
4. Don't let the vocalist move around too much
보컬은 마이크에서 약간의 거리를 유지 갖는 하나의 잠재적 인 단점은 그 / 그녀가 그 거리에서 성능이 주위에 너무 많이 이동하면, 당신은 기록의 보컬 톤과 주변 레벨 변화를들을 수있을 것입니다
5. Don't depend on the mic's own popscreen
보컬에 적합한 모든 마이크가 내장 popscreen (앞 유리)가 있지만, 이것은 일반적으로 P-팝의 자유를 보장하는 것만으로는 충분하지 않습니다
6. Don't overload the ADC
경우에도 당신을
이 디지털 클리핑을 제거하려고하는 데 사용할 수있는 특수 소프트웨어가 존재하지만, 그것을
이러한 가장 일반적인 함정에 거의 관심이 최고의 보컬 녹음을 보장해야한다. 당신이가는 길에 좋은 깨끗하고 다이나믹 신호를 얻는 경우가 올 때, 다음 시간이 당신을 섞어
Watch this Audio Concepts video series in The Academy to go deeper
HERE
.
Watch this video series on Recording Vocals in The Academy
HERE
.