If you had to choose six (or fewer) audio mastering apps, these are ones we'd recommend...
1. IK Multimedia T-RackS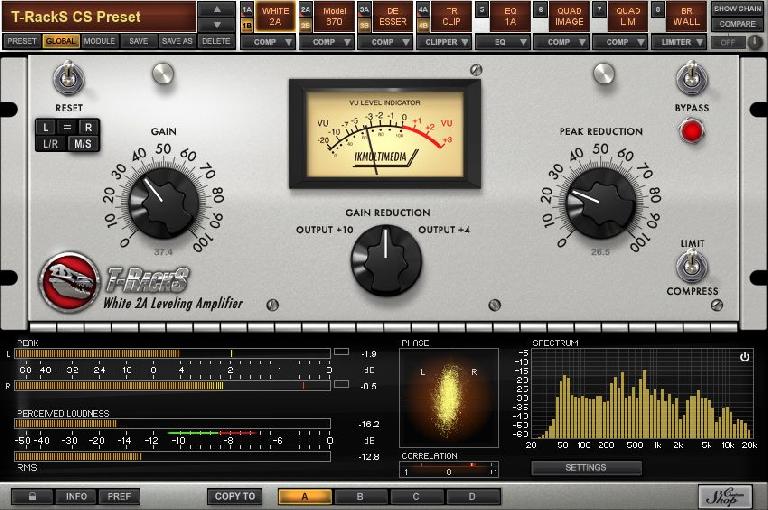 T-RackS was one of the very first software mastering suites on the market, at a time when mastering was still considered to be something of a mysterious art by bedroom producers. Buying a hardware finalizer was usually too expensive, so IK's application was one of the few ways that you could master your tracks yourself without spending a fortune.
Sharing some of the visual DNA of those early versions, the current T-RackS is vastly more powerful and now comes in a multitude of different flavours with "themed" sets of modules like the British Studio Series, Vintage Compressors Bundle and so on. It works as a standalone app with some nifty audio analysis tools, and the component modules can also be loaded as individual plugins inside your DAW so there's some extra value in being able to use them for tracking as well as mastering. IK has actually created loads of component processors so if you haven't looked at T-RackS since its early days you might be surprised by what's on offer.
2. iZotope Ozone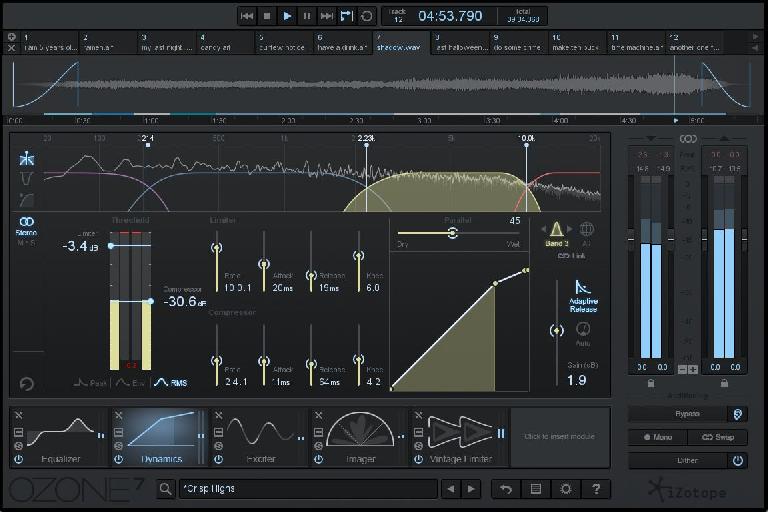 Ozone is another processing suite that has been around for a good few years and gone through many upgrades and revamps in that time. The latest version is a real powerhouse of audio analysis and sculpting, with a semi-modular design that lets you build any kind of processing chain you can imagine, from hard-edged modern EDM mastering through to vintage, warm soul production.
Like some other suites, the Advanced version of Ozone actually gives you all ten of its modules as separate plugins so you can use these at any stage in the production process. Visually, it's got an ultramodern vector-based look but is actually capable of any type of mastering effect. The Standard version costs less than the Advanced edition but has fewer modules. For those with more modest needs however it's still a good bet, giving you the core feature set for mastering.
The Advanced version adds more modules and also has things like Codec Preview for testing stream quality before export and the Insight metering plugin for detailed audio analysis. You can actually try Ozone before you buy, by heading to the website.
3. Final Touch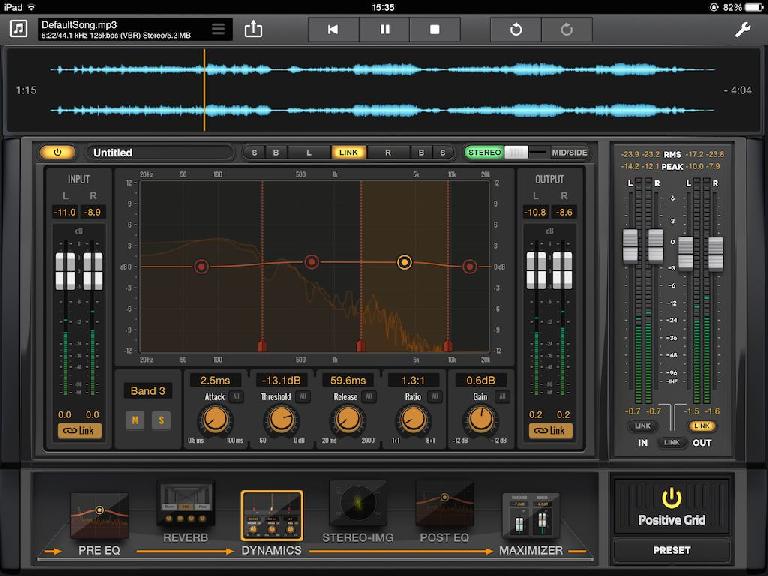 The iPad became a serious platform for music makers a while ago, but still relatively few dedicated mastering apps actually exist for it. Positive Grid's Final Touch is one, a beautifully designed effects suite that's been built from the ground up for the touch interface. Featuring a Maximizer, Pre and Post Equalizers, 4-Band Dynamics, Stereo Imager, Reverb and Dithering it aims to make your mixes sound huge, balanced, polished and professional.
The idea is that since people travel with their iPads more than with their laptops, you can not only work on the move but also try out your masters in different locations and on different playback systems, which is always recommended when mastering. Positive Grid are DSP experts and have designed Final Touch to mimic classic analog hardware in the way it responds to pushing the levels. The results are much more striking than you might have expected to hear from an iPad app, and for the price it's a great way to get into the world of mastering.
4. Waves Masters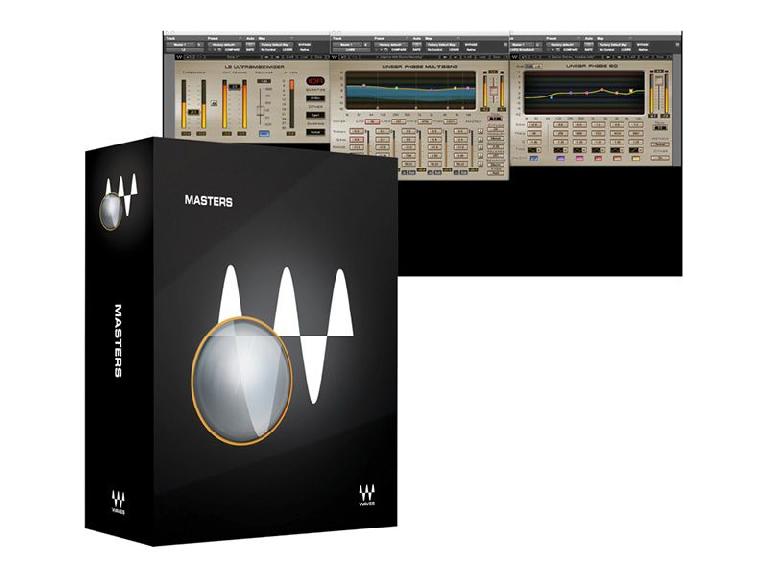 Waves is well known for making awesome plugins and it produces a range of bundles focused on specific tasks or themes. The Masters bundle consists of three of its classic plugins: the L2 Ultramaximizer, Linear Phase EQ and Linear Phase Multiband Compressor. Although their interfaces are relatively simple by modern standards, it's what's going on behind the scenes that counts and these processors have been used on countless hits over a period of many years.
If you prefer to build your own mastering bundle this is possible too, by getting individual plugins and replicating the typical mastering chain of compressor, EQ and limiter, perhaps with some stereo processing and audio analysis thrown in for good measure if your budget will stretch.
Price: $549
Web: http://www.waves.com/bundles/masters
5. Audio Mastering for iPad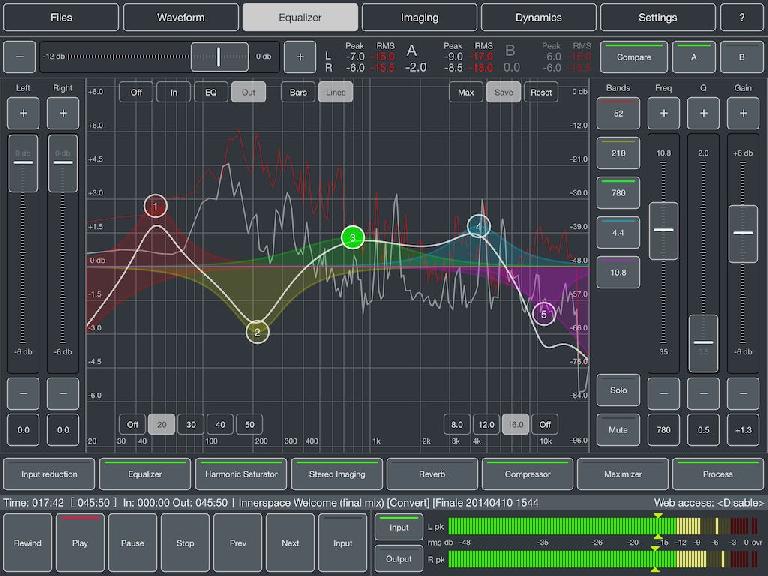 This mastering app for the iPad is surprisingly advanced, offering features like 32-bit, 96 kHz processing, up to ten bands of EQ, multiband compression, a harmonic saturator, loudness maximizer, spectral analysis and much more. With a pro-looking design, you get access to various online file storage systems like Dropbox and SoundCloud, and the whole thing feels pretty high-end. You can connect it to other apps running on your iPad via Inter-App Audio and Audiobus, and use it to process whole stereo files or live streams, recording the result as your final mastered product.
6. Wave Arts Power Suite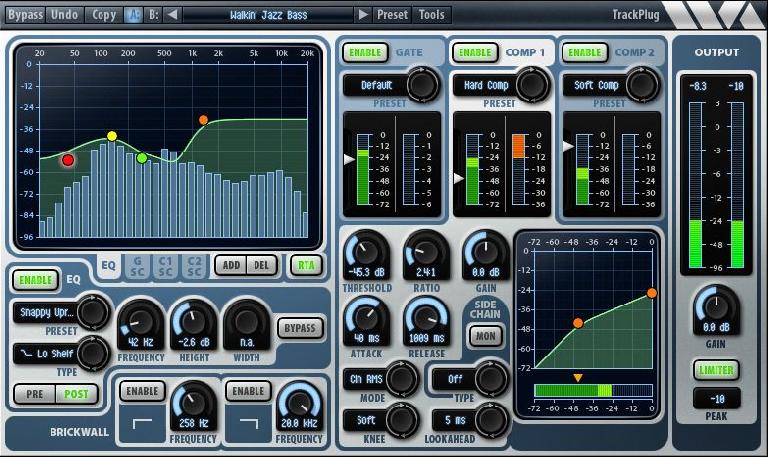 Sometimes overlooked but absolutely worthy of your attention, Wave Arts' Power Suite 5 is a great mastering toolset comprising a channel strip, reverb, maximizer, multiband compressor and stereo imaging processor. A bundle of plugins rather than a standalone app, you can use any of them at any stage in a production such as when tracking and mixing. Taken together, they represent all the elements required for mastering a project. With a powerful yet friendly interface theme and thoughtfully designed layout, they will help you get the most out of the mastering process without spending a fortune at a mastering studio.
Learn all about mastering in the AskAudio Academy
here
.