As performers, musicians, DJs and producers, we're always looking for useful and innovative ways to become more expressive with our instruments—both on stage and off. In this roundup, we'll be looking at both new and possibly overlooked alternative MIDI controllers, including some DIY projects, that may help spark your creativity.
#1 - Livid Instruments Guitar Wing
While guitarists have seen their fair share of MIDI control capabilities, nothing has come close to what Livid Instruments is offering with their new, Kickstarter funded Guitar Wing project. Not only do you get a wireless interface that will fit on nearly any guitar or bass with no modification (and is easily attached/removed), it provides a 3D motion sensor, 4 velocity and pressure sensitive pads, 4 buttons, 2 ribbon fader strips and 4 switches which can be used to control nearly anything you can imagine—your DAW, lighting, effects, plug-ins or any app that accepts MIDI control. The 3D motion sensor is probably the coolest aspect as it can be used to send control messages just by moving your instrument around. Don't let the 'Guitar' part of Guitar Wing limit you, though—you could attach this to nearly anything—belt buckle Guitar Wing anyone?
More about Guitar Wing here:
#2 - Haken Audio Continuum Fingerboard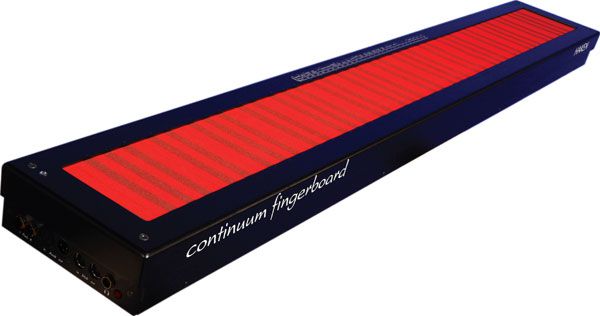 The Continuum Fingerboard, one of the most dramatically expressive instruments ever.
For anyone with a serious fetish (and budget) for unique devices, the Haken Audio Continuum Fingerboard is a must-see. What makes this controller different is its soft fabric, touch and position sensitive surface that's based on Hall-effect sensors. Using rods suspended in magnetic fields, it can measure 6 values per finger, giving extreme control. As a bonus, the Continuum comes complete with a built-in synth engine, including analog and digital outputs, with a host of presets so you can jump right in to playing with one of the most dramatically expressive instruments I've seen. When you're ready to dive into using it to control your own synths or other MIDI devices, the Continuum comes with an editor for Mac or PC.
#3 - Makey Makey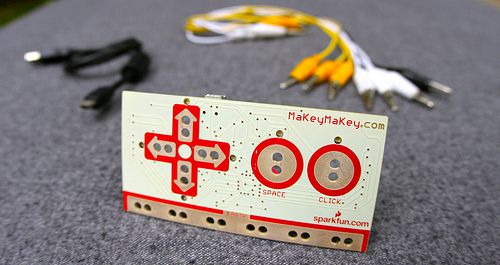 Wanna record your next hit by pressing bananas? Makey Makey is made for you!
While not a MIDI controller per se, the Makey Makey definitely fits firmly into the 'alternative' category. The $49 unit uses electrical conduction to emulate key strokes—perfect for use with Ableton Live's Key Mapping feature. The coolest thing about Makey Makey is that you can use nearly any conductive object—Play-Doh, a banana, graphite, foil and so on—as your trigger. Used in conjunction with an app like Bome's MIDI Translator and you can turn those keystrokes into MIDI messages. Makey Makey supports up to 18 inputs, of which 6 can be triggered simultaneously, and is fully Arduino compatible. The possibilities are enormous!
#4 - Source Audio Hot Hand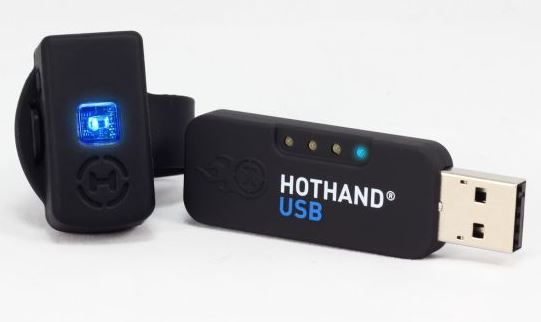 Control parameters just by waving your hand around with Source Audio's Hot Hand.
Wave your hand around with this 3-axis wireless motion sensor and open up a world of MIDI control possibilities. The Hot Hand translates your hand motions (or the motion of whatever the module is attached to) into 3 MIDI control messages that can be mapped to any parameter using the available software editor.
http://www.sourceaudio.net/products/hothand/hothand_usb.php
#5 - Misa Digital Tri-Bass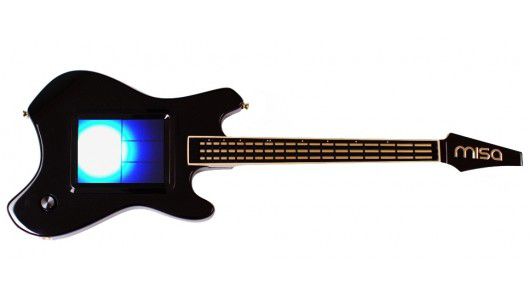 The Misa Tri-Bass... The bass of the future!
When I first saw the Tri-Bass my immediate reaction was... WANT! This is one of the most futuristic looking and functional instruments I've seen in a long while—kind of a cross between a Korg Kaoss Pad and a bass... sort of. Sporting a 4-section touchscreen (which can be turned into a 6-section 'drum pad' or one big touch pad) and a 3-'string' neck, you really have to see it to believe it!
http://misa-digital.myshopify.com/
#6 - Pianocade!

Play music? Play video games? Get the best of both worlds with Pianocade.
Retro gaming meets MIDI in this Chiptunes synth MIDI controller. Stylish to a fault, use its joystick and buttons to control any manner of synths, lighting, DAW or MIDI compatible app. While no longer in production, if the designer can get enough interest, they may make more of them—otherwise you're likely on a serious hunt to track one down.
[survey id=2]