With so many free instrument plug-ins available it's impossible to download and use them all. (We've tried!) So, here's 55 of our top suggestions for FREEE Drum, Synth, Sampler, Real Instrument & Guitar based plug-in instruments.
DRUMS
TactileSounds TS-808
This Windows-only instrument takes original Roland 808 samples, analyses them and matches their waveforms as closely as possible to the real thing. You get 15 channels to create cool-sounding retro drum patterns with it. It's simple to use and a whole bunch of fun to play with.
Audiospillage - Minispillage
This Mac-ony instrument has three fully editable drum pads that can create a range of drum and percussion sounds : bass drum, wood drum and electro hi hat. With a slick interface, it's more advanced than you might expect from a free instrument and is capable of making some cool and unusual sounds.
Teragon Audio KickMaker
This unique free plugin is dedicated to one thing only – making kick drum sounds. Ideal for anyone wirking in EDM where a synthesized kick is the beating heart of your track, it uses four oscilators plus effects to work its magic. Each oscillator has its own ADSR curve for sound shaping so you can tweak and tailor indepent kick drum parts for your beats.
DSK Music - SynthDrums
Simple but fun, SynthDrums stores 12 patches and has selectable outputs and MIDI automation support for your DAW, as well as multiple effects including filters, stutter, distortion and EQ. Each of its sounds can be tweaked using the synthesis sections and patches can be copied and pasted, saved and loaded using the utility section at the top. A good way to get into synth drum programming.
Hahaha DS-01
Despite the name there's nothing hilarious about this free drum synth, but it has the tools where it counts! With eight synth sections, you get one for each drum type ranging from kick and snare through hi hats and several toms. It sounds wonderfully 80s and each sound can be extensively tweaked plus they have panning and volume controls, so you can creatively submix any drum part.
MT PowerDrumKit 2
There aren't so many "real" drum instruments around for free, but this one uses real samples mapped onto a virtual kit to provide rock, pop and metal fans something to work with. With built-in compressors and a groove library for inspiration, you can mix onboard and the developers have already pre-tweaked the patches for optimum sound character to suit different genres.
Psychic Modulation Cubix
Cubix has both a drum synthesizer and sample player with an onboard arpeggiated bass synth, making it a smart little box for programming electronic sequences. The developer also makes Minimal, a similar beatbox that provides a useful alternative for making beats and basslines. It looks rather more slick than you might expect from freeware, and it sounds great too!
Groove Analogizer
Groove Analogizer is an "audio controlled drum synthesizer", meaning that like a vintage electronic drum tone generator such as a Simmons, the percussion sound is triggered by an audio input, not by a MIDI message. This also means that it loads as a VST effect, usually in an insert slot and not as a VST instrument. With a bunch of controls and different ways to tweak the sound, it's an unusual take on drum synthesis.
DigiDrum Pro
Surprisingly adept for a free instrument, this has a good selection of features including 5 separate parts with 5 user definable audio outputs, 27 classic drum and percussion waveforms, user wavefile import, layering of parts, a versatile filter setup capable of many different timbres, velocity modulation of amp, pitch and filter to 'humanize' the feel of the beat and full VST automation of every sound editing controls.
SYNTHS
Green Oak Software Crystal
Crystal has been around – and free – for years and is still regularly updated. A clever semi-modular synthesizer, it's remarkably capable and lets you generate a wide range of cool synth sounds as well as providing some in-depth tools. Despite being a relative senior in tech terms, it still sounds fresh and unique even today.
u-he Triple Cheese
This proudly cheesy synth, a winner of the KVR Developer Challenge, doesn't use classic synthesis techniques to make sound but rather multiple comb filters that produce very short, chromatically tuned delays. The three "cheese modules" can either generate their own sounds or process the output of the other modules. So don't be afraid to be cheesy!
Togu Audio Line TAL-NoiseMaker
This free synth sounds as cool as it looks. With three oscillators and up to six voices, it has a bunch of onboard effects to fatten up your sounds including chorus, reverb, delay and bitcrusher. With a simple layout that doesn't use hidden menus it's a great way to learn about synthesis by manipulating the different controls.
Ichiro Toda Synth1
Modelled after the Nord Lead 2, Synth1 is a simply designed but powerful software synth with two oscillators, FM modulation, four types of filters and two LFOs. There's an arpeggiator as well as onboard effects including tempo synced delay, a chorus / flanger and a portamento mode. Although the interface looks a bit retro, it will probably come back into fashion any time now.
MiniMogueVA
Based on the classic Minimoog hardware synth, this free software version adds some bells and whistles not present on the original model. There's 5-note polyphony, an arpeggiator and 16-step sequencer as well as an onboard chorus effect with oscillator drift and a programmable digital delay. It's Windows-only, but a lot cheaper than buying a real Moog.
Steinberg Model-E
Although officially unsupported you can still download the Model-E synth for Mac and PC. It's a classic analogue synth with a very low CPU load which makes it great for older machines. In fact you can see the DNA of Steinberg's newer synths in this vintage model too, and it has plenty of controls to teach you about synthesis and make some cool sounds.
OB-XD Synthesizer
The OB-XD is based on the classic Oberheim OB-X synthesizer but also expands on some of its limitations. A mixer was introduced to blend the two oscillators and noise source which is much more flexible than the fixed levels of the original design. It's been built to sound rich and full, though it doesn't include any on board effects so you can add these yourself via additional plugins.
TAL Elek7ro
This nifty little virtual analog synth sounds great and of course it's also free! It has two oscillators with selectable waveforms, one sub oscillator and one noise oscillator. A fat low pass resonance filter helps with richnes and there's mono or poly playback modes, envelopes and full MIDI learn. A bunch of free presets are also available to download.
u-he TyrellN6
This free synth started off as a concept for a hardware unit modelled on Roland's Juno 60, a project which was ultimately aborted. But the developer ported the core design into a software synth, with a cool design, dual oscillators, mixer and filter sections as well as dual LFOs and onboard effects. It has tons of functionality and a great sound. What more could you ask for free?
Digital Suburban Dexed
Dexed is a free plugin synth that is modelled after the classic Yamaha DX7, a staple of music from the 80s and 90s. It's also a cartridge librarian for a real DX7! Its sound engine has been based on the Yamaha hardware and you get 144 automatable parameters as well as access to many of the controls that would be found in real life for making classic digital tones. If you happen to have a real DX7 it's also the perfect patch manager.
Tone2 FireBird 2
Firebird is a subtractive synthesizer that uses a unique synthesis architecture to deliver fresh sounds. Once a paid product, its interface provides you with the tools to create impressive patches with a minimal amount of effort. FireBird comes with 437 built-in sounds and uses Harmonic Content Morphing synthesis and 84 oscillator types, 38 filter effects and 13 processing effects. It's a no-brainer for Windows users to download this cool synth!
TAL NoiseMaker
Another one of TAL's cool free plugins, the NoiseMaker is an updated version of the Elek7ro and has a completely new synth engine with an effects section, ring modulator and syncable triangle wave. There are three oscillators and up to six voices, ADSR and MIDI learn among many other cool features. It's really simple to use, and a fantastic way to learn about how synthesizers work while making cool sounds.
Big Tick Audio Cheezemachine
This fun instrument emulates the sound of classic string ensembles, with a decidedly retro character. You get a saw waveform, chorus ensemble emulator, 6-stage phaser and a reverb as well as 32-note polyphony and low CPU usage. If you're after the sound of vintage machines like the Crumar Performer or Arp Solina they are here, for free!
VST Speek
This synthesizer is about as old school as it gets : a vocal synthesis plugin for Windows that takes text that you type into its window and recreates it as retro robot voices. You can control pitch, speed and mouth and throat formants as well as using MIDI to trigger it, and changing settings mid-speech. Amazingly despite its supremely retro styling, it's 64-bit so will work with modern DAWs.
u-he Zebralette
Zebralette is essentially one of the oscillators from its larger, paid relative "Zebra" intended as a way to introduce you to the instrument family. But it sounds great, with two LFOs, aulti-stage envelope and three onboard effects as well as dual spectral effects and a megasaw wave. Check it out to get the spirit of the full instrument for none of the cost.
daHornet
daHornet is the virtual simulation of a cult synth. It's a fully fledged plugin with MIDI learn, a random patch generator and many cool sounding presets. daHornet used to be payware, but NUSofting decided to make it available for free and even let apulSoft port it to mac OSX VST & AU! It's actually really useable in many kinds of music, and has a simple, approachable interface.
Chip32
This tiny, Mac-only virtual synth produces old school electronical sounds and features a graphical wavetable editor. Chip32 has multiple MIDI control options as well as an ADSR envelope, a basic filter and a bitcrusher. Sometimes it's nice to strip things right back to the basics, and this simple but surprisingly powerful synth will help you get to grips with the building blocks of synthesis.
TAL U-NO-LX
An emulation of the classic Roland Juno 60, this free synth has zero feedback delay filters, up to 12 voices, a multimode arpeggiator, aliasing-free oscillators MIDI learn and 300 presets including the original factory hardware "Bank A". Literally modelled on one of the orignal units in the company offices, this is a warm-sounding synth that will provide hours of playing and tweaking enjoyment.
SAMPLERS
Plogue Sforzando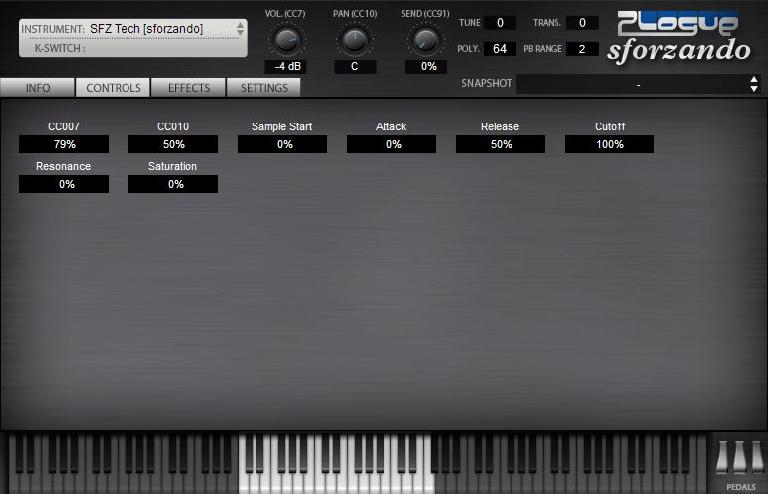 Sforzando is a free, highly SFZ 2.0 compliant sample player. Advanced sample hobbyists now have a powerful tool to experiment and share instruments without relying on proprietary formats. sforzando has only one instrument slot; no fancy UI, effects or mixers. Every tweak has to be done at the SFZ file level! You can also get a free sound collection from ARIA using the link on the product's homepage.
Mac and PC. Standalone, VST, AU, RTAS, AAX
TX16Wx Software Sampler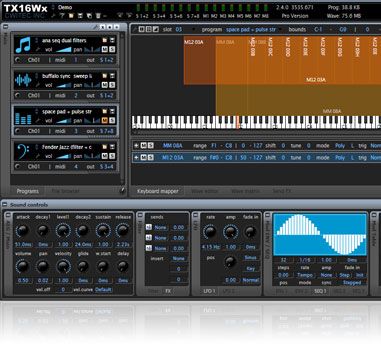 This surprisingly advanced software sampler is completely free and has advanced features including sound shaping, unlimited modulation, a mapping editor, sample recording, wave editing and beat slicing, trigger switching, send and insert effects and more. If you're looking to record, modify and work with yor own samples and even build them into instruments, this is well worth checking out.
Grace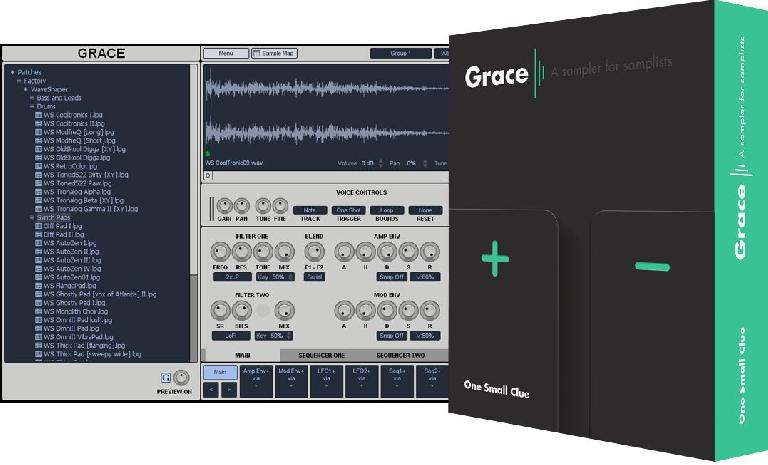 Bundled with 54 original patches, this free sample instrument for Windows features 2 filters per voice (LP, BP, HP, comb, lofi & ring modulation), 2 x AHDSR envelopes, 2 x LFOs, 2 x step sequencers and 4 x XY control pads. There's WAV, AIF and SND formats support, SFZ patch import, drag and drop sample loading from some DAWs and a browser with sample preview. There's no reason not to download it today!
Sonic Assault SAM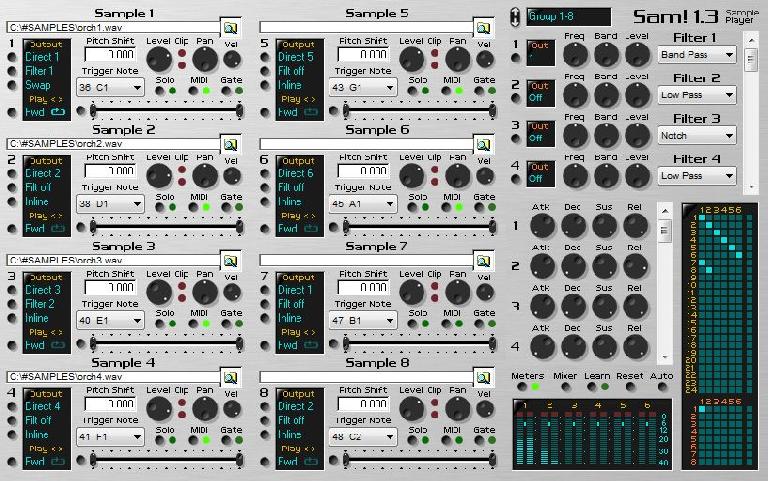 This cool looking free sample player for Windows has 4 16/24-bit Stereo Wave File Players with ADSR Envelopes, Forward/Reverse/Loop Play Start/End Position settings, sliders with Fine Adjust and Cue Markers, manual gatetTriggering and solo switches, 8 patchable 12db LP/BP/HP/notch filters and automation capability.
Sfz

This simple sample player features 128 internal programs, 256 voices of polyphony, SoundFont compatibiity, unlimited layers per voice, custom sample rate support up to 384kHz and multiple envelope generators and filters. It looks simple but can provide you with a ightweight yet powerful way to work with your samples and SoundFont files.
Xoxos Element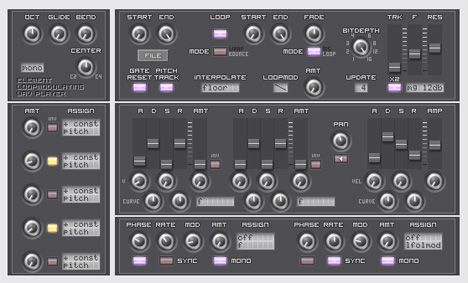 This loop modulating WAV player can load one WAV at a time and has wrap mode looping, bounce mode looping, two crossfade modes, 4 interpolation modes, emulated downsampling and a selection of different filter modes. With 8 voices of polyphony you can use it for simple sample playback inside your Windows DAW.
Instalooper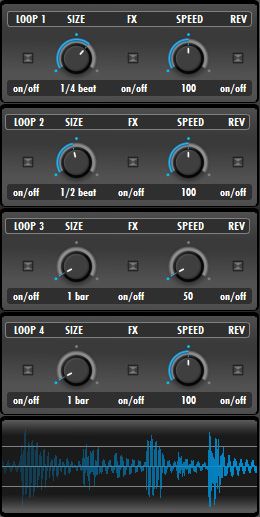 This nifty instrument loops the incoming audio on the fly and has trigger buttons to loop the audio as well as knobs to change the loop duration. It syncs with your host and once looped you can adjust the speed and/or add an effect on the audio loop.You also get a sample rate reducer, autopan, hi pass filter and chorus effects.
Delamancha Manic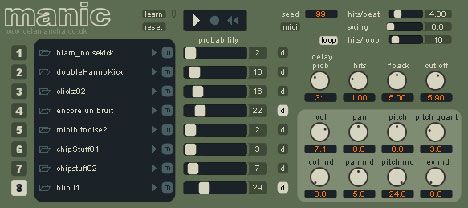 An 8-slot random sample player for Windows, Manic triggers samples based on a propability setting or a tempo sync pattern. You can also randomize volume, pitch, pan, delay reverse and swing as well as controlling it via MIDI. There are 246 samples and 25 presets and it's an interesting way to generate new and unique variations and patterns without having to spend lots of effort thinking about it.
REAL INSTRUMENTS
Kontakt Player Free
NI is big enough to be able to give away something pretty generous in the form of Kontakt Player Free, which comes with 650MB of sampled instruments split into five sections. Band contains 13 instruments including guitars, basses, acoustic drum kits, electric pianos and a drawbar organ. World has six exotic instruments and Synth has 12 synthesized leads, pads, basses and drum kits. Vintage contains 13 classic analogue synths and keyboards, while Urban Beats has five drum loop production kits. You'd be mad not to get it!
MDrummer Small
A smaller version of the bigger paid version, MDrummer Small still has 500MB of samples, multisamples and rhythms and comes in all formats and also as a standalone app on Windows (though not on the Mac). You get over 30 drum kits made up of over 400 drum components, over 200 samples, 50 multisamples, 60 rhythms and over 2500 loops. It has a built-in sequencer and technology to help you humanize your beats as well as all of Melda's standard plugin tools, which are very advanced.
AZR3 Organ
This virtual organ for Windows provides three different organ models and nine drawbars which can be modified to change the tonewheels and the frequencies present in the signal. As well as six different waveform shapes you can use key click which is a key part of the organ sound, percussion switches, sustain and vibrato as well as using key split mode, monophonic mode for bass sounds and scalable pitch bend. Onboard effects include saturation, distortion and fuzz and there is of course the requisite rotating speaker effect.
BigTick Ticky Clav
Ticky Clav uses a synth engine based on a physical modeling algorithm that reproduces the string vibration and the two pickups of the Clavinet Model C. The click part of the sound comes from the key click that was such an integral part of the sound of the original. You get a built-in wah wah effect that's a classic part of the Clavi sound and selectable manual or auto wah gives you extra control. Sign up on the site and you will be getting suitably retro in no time.
UVI Workstation
UVI's instrument host is free to download and comes with a small selection of free demo instruments for you to test out, including electric piano, analogue strings, jazz drums, Spanish guitar and synth bass. It also has some built-in effects and an onboard arpeggiator and mixer. If you choose to add paid instruments sets they also introduce extra features, but the demo version is unrestricted and good for adding a few sounds to your toolkit. It's a good introduction to UVI's world.
Cellofan
Want a free cello? Of course you do! This very simple VST plugin for Windows only has just three controls: attack, release and slide and sounds much more authentic than you might expect from such a lightweight plugin. If all you need is a cello rather than a whole orchestral suite, save yourself plenty of money by downloading it today completely free.
4Front Piano
4Front makes a few good free and inexpensive plugins and this one is incredibly straightforward: a single patch with no tweakable settings. As such it's great for just playing rather than spending hours changing virtual mic positions. But if all you want is a piano and you don't want to part with any cash, you should definitely check it out. Paid versions are available if you do want more features.
DSK Brass
This surprisingly adept brass plugin for PC gives you 2 layers and 23 instruments including: Sax Soprano, Sax Tenor, Sax Alto, Harmon Mute,Trumpet, Trumpet Cup Mute, Trumpet Staccato,Trumpet Swell and many more. There's an octave selecter, micro detuner, delay and flange effects and MIDI automation capability as well.
Ixox Flute
It's basic but hey, it's free! This sample-based flute instrument was played by the developer and has simple controls including articulation, single or dual flutes, attack and release and virtual distance controls. It's probably quicker than learning to play the flute for yourself.
DSK Saxophones
Got time to learn the sax? Me neither. This simple free plugin can come to the rescue however with two types, soprano and tenor, an ADSR section, velocity curve selector and built in reverb. It's simple to use and easier on the pocket than a big, commercial sampled brass instrument.
VCSO Community Edition
Here's something interesting, a public domain 3GB orchestral sound library that's completely free. There is plenty of information on the site including links to various format converted versions that people have taken the time to create so you can also load it in Kontakt, AU and other more esoteric formats. It requires a little technical knowledge but hey, it's free.
Piamo
This developer actually makes loads of free plugins in all kinds of categories. We have picked Piamo because it's a modelled virtual piano with plenty of controls that has a light footprint rather than using up gigabytes of space on your hard drive. Check it out along with their other cool free stuff.
Samsara Hurdy Gurdy
Yes you read it right, a hurdy gurdy in VST format. Modelling two strings and a drone source, it looks more like a synth but sounds like something else entirely. You can make many settings and tweak all kinds of parameters. And frankly it's got to be easier than trying to find someone who can play a real hurdy gurdy.
GUITARS
Keolab Spicy Guitar
Modelled acoustic guitars don't often come for free. Spicy Guitar gives you nine types of guitar : four folk, two classical, one flamenco, one jumbo and one gypsy as well as a choice of either nylon or steel strings. You have MIDI keys for playing notes and then control keys for the playing articulations like legato, palm mute, harmonics, sustain or chord detection. There are different chord types and also a strumming engine to recreate the action of playing that's virtually impossible to do by using MIDI keys.
Voxengo Tube Amp
Basic to look at but sounding great, this free amp plugin from specialists Voxengo applies asymmetric tube triode overdrive usually found in single-tube microphone pre-amp boxes to your signal. The sound varies from a mild "warm" overdrive to a fuzzy distortion and it also includes a -6 dB/oct low-pass filter that is built-in into plugin's tube/valve modeling equation. Use it on other sounds too like synths or vocals, to give them an edge!
SimulAnalog Guitar Suite
This suite of plugins models various amps and analogue processors aimed at guitarists. Among the included models are a Boss DS-1 distortion, SD-1 overdrive, Tube Screamer, Phaser, Modulation, Fender Twin 1969 and a Marshall JCM900 Dual Reverb amp. Originally conceived as an academic project, it focuses on extremely realistic recreation of tone rather than necessarily flashy graphics. But ultimately that's better for you!
NI Guitar Rig Player Free
The free version of NI's hit Guitar Rig processing suite is a generous free giveaway as well as being expandable with extra packs if you want to purchase them. You get one amp, 17 cabinets and 13 effects taken from the full version as well as 50 presets. The software uses an intuitive drag and drop system and there's a tag-based browser for easier searching as well as automation support and Live View for a more streamlined workflow while performing live. It's a great way to get started with virtual guitar processing.
Steinberg VB-1
Although technically discontinued, Steinberg still makes its classic VB-1 bass instrument available for download both for Mac and PC. It's four voice polyphonic which is fine for bass, since bass is usually pretty mono or duophonic, and has damper, pickup position, pick position and wave morph controls as well as a ramdomizer to quickly create new bass tones. In today's world of mega-sample libraries, it's a refreshing 4.3MB in size, which is tiny. Many longtime Cubase users will remember this charming little bass instrument and now it can be yours for free.
DSK Akoustik Guitarz
A cool sounding virtual acoustic, this gives you four guitar types, amp, envelope and fine tuning controls, stereo spread and portamento options, three onboard effects and it even responds to velocity. What more could you ask for free?!
DVS Guitar
DVS actually makes a range of free Windows VST instruments and effects which are worth checking out. The DVS Guitar is based on a sampled guitar and includes Overdrive, Reverb and Flanging. It's good for leads and heavy sounds, and very realistic if you are good with a pitch bend controller. Maybe it won't feature on the next Metallica album, but it's fun nonetheless.