With so many free effect plug-ins available fhere's 52 of our favorites. We've split these into categories per page to make ti easier to find what you're looking for:
Free Mixing Plugins
Flux BitterSweet 3
BitterSweet 3 is a transient designer that can help to tame the transients in your audio material. Simply turn the large dial in the centre to either decrease or amplify the transients in the signal. It's particularly handy for drums and things like emphasizing or softening hi hat cymbal parts. Like all of Flux's plug-ins you get 64-bit support and up to eight channels of audio at 384kHz which is pretty amazing,
TDR Kotelnikov
TDR Kotelnikov is a wideband dynamics processor that combines high fidelity dynamic range control with deep musical flexibility. With 64-bit floating point processing it offers a fast but natural sounding compression, a sidechain high pass filter and advanced stereo linking options for the stereo bus. Although simple to use it's also powerful and has won acclaim for its great sound and clever interface.
lkjb Luftikus
This is a digital adaptation of an analog EQ with fixed half-octave bands and additional high frequency boost. It has bands at 10,40,160 and 640Hz as well as a 2.5k shelf and mastering and analogue modes depending on how you are using it. As an addition to the hardware it allows deeper cuts and supports a keep-gain mode to avoid dramatic changes to overall gain while you are changing EQ settings. Sometimes you want your EQs to be simple and that's just what you get here.
Voxengo Stereo Touch
This effect transforms a monophonic track into a wider stereophonic track by using mid / side coding to alter it. The idea is that you can take relatively flat-sounding mono sources and widen them out without having to use a double track recording technique. Try it on mono mic'ed guitars and vocals for a particularly handy effect.
Minimal System Instruments Delay Studio Free
With a gorgeous interface, this free delay and filter plugin offers 3 fully configurable independent delay bands (Low/Mid/Hi) with complete and accurate control over the frequency width of each band. Each band is split into left and right channels with independent delay time and feedback and there's a comprehensive filter bank section. Each band has its own fully featured filter on both left and right channels complete with cutoff and resonance controls. There are a total of six filters and six LFOs.
Blue Cat Freeware Pack II
Blue Cat's Freeware Pack contains some excellent mixing tools for Mac and PC in all major formats. The Chorus is a vintage chorus effect with variable delay, the Flanger sounds great on everything from guitars and drums to vocals, and the Phaser rounds out the modulation effects. Gain Suite contains a series of gain utilities that let you use MIDI automation to control the volume of several channels at the same time. Finally, FreqAnalyst is an excellent spectral analyzer that helps you better understand what's going on inside your mixes.
Klanghelm IVGI
IVGI reacts dynamically to an input signal and can produce soft, subtle saturation when applied across a master signal. Equally it can be used more aggressively to distort individual tracks. It has a Controlled Randomness feature that introduces drift and variance in the effect and allows you to alter the frequency dependency of the saturation with the response control. Use it to subtly warm up your masters and mixes, and all for free!
Sanford Delay
A simple but effective delay plugin, Sanford Delay has a filter in the feedback path that can be used to simulate the classic dub echo effect by filtering off the echoes over time. You can also pan your delays and of course it can be tempo synced to your host for perfect timing as well as featuring MIDI learn.
TAL DUB III
Dub delay can sound really cool on all kinds of sounds and this free effect plugin has an alias-free saturation stage, a delay of up to 6 seconds, multiple filters and adjustable inout drive. You can sync your delays to divisions of your BPM as well as achieving infinite delay if you so wish. It's a great sounding effect however you choose to use it.
BC Lab CREV-01
The website for this free convolution plugin is in Japanese but you'll see from the interface that it has advanced controls including predelay, frequency shaping, stereo balance and width, decay damping and gate amongst others. You can load your own impulse response files and even search for these online from the interface. Use it to bring a sense of space to your productions.
cytoSonic Space 360
What you see is pretty much what you get with this free room simulator, which uses algorithms to place your sound inside a virtual space. This can be manipulated with the subject placement / speaker pad to place your sound in a particular place and there are also reflection, abience and room scale controls. Use it to go beyond what your DAW's standard reverb might be capable of.
Lazy Kenneth is a curiously-named sidechain compressor that's designed to help you achieve the popular "ducking" effect that can be heard in all kinds of electronic music where the bass is made to pump in time with the kick drum. Stick this on the bass track and it automatically ducks the signal when the bass drum sounds. Voila – instand ducking!
De la mancha GTO
This vintage peak compressor looks the business and has more advanced features than you might expect to find in a free effect. There's external sidechaining, parallel compression and good metering as well as harmonics, saturation and noise in the signal path. Add to that optional hard limiting and a bunch of great presets and there's no reason not to download this today!
Terry West VocEQ Pro
Take control over your vocal tracks with this free vocal plugin. You get 4 bands of mono EQ, gender presets for male or female vocals, pre / mid / air boost options, gender attenuation controls and an auto limiter on the main output. There's also an onboard compressor section and VU meters for monitoring levels.
Viper ITB VeeCS
This mini channel strip is a great addition to any DAW, especially where the native channel strip may be basic. You get two EQ sections with shelving filters and bells, HPF and LPF filters to make unique EQ curves, a tube saturation model for warming vocal parts and a brickwall limiter for boosting the overall gain. Basically it's really easy to get to grips with and can help you take control of any tracks.
Free Mastering Plugins
LVC Audio ClipShifter 2
ClipShifter is a waveshaping audio plugin that works like a clipping-style limiter and can be used at all mixing stages from distorting basses and drums to maximizing mix buses and warming up whole mixes. The sonic characteristics of the clipping distortion can be altered from hard, brickwall-style clipping to softer saturation with compression. It can be used in static or dynamic modes, and there's an independent left / right or mid / side threshold control.
Baxter EQ
Baxter EQ is designed to be used in mastering chains and has stepped controls for easy parameter matching, a full dual channel layout, mid / side encoding support and per-channel level for easy A/B matching. Using 64-bit internal processing it also has oversampling, Baxandall shelving filters, 2-pole Butterworth filters and smooth shelving operation. Used as part of your mastering chain, it can help you create the optimum EQ shapes for your tracks.
A1StereoControl
The A1StereoControl can help you to deal with the thorny issue of stereo widening and compensating for the bottom end with its "Safe Bass" algorithm that centres all bass signal below a user-configurable threshold in order to keep the bass tight. Different pan laws and curves are supported as well as a classic 'balance' mode and dual panning. Use it to add some scope to your mixes and masters.
Ferric TDS
FerricTDS is a simple module that was inspired by the smooth dynamic shaping characteristics of some high-end reel to reel tape machines. Simplifying the behaviour of these machines down to three core characteristics, it simulates dynamics for shaping the overall dynamic response, saturation for adding extra harmonics and limiting for controlling peak performance. Using 4x oversampled core algorithms, it can bring a smooth and classic sound to anything you run through it.
Vladg Sound Limiter no.6
This free limiting plugin has five modules: an RMS compressor, peak limiter, high frequency limiter, clipper and a true peak limiter. Both brickwall and soft limiting are supported and use different timing settings depending on the effect you're going for. Mid / side is supported and there's a multiband mode which is useful for getting more precise control over the limiting of different frequency bands within a track. 4x oversampling is available and you get retro level meters as well as choice of two different GUIs.
MQ57
This parametric EQ is designed for mastering and features 7 filters per channel: 5 peak and 2 shelf. There are both stereo and dual mono processing modes, M/S support, high and low pass filters and specialized balance and tilt controls. The relatively wide Q factors are helpful for making broad changes to masters rather than the kinds of surgical EQs you might prefer while mixing.
Terry West Saturn Console
This channel / buss enhancer can be strapped across your master outputs to lend some warmth and coherence to a master. You get saturation, precomp emulation, crosstalk emulation, HP and LP filters, stereo / mono modes and input drive control. It's pretty straightforward but works well and can help to add some power to your tracks.
X10 Multiband Compressor
This developer gives his wares away for free and they are more capable than you might have expected. The X10 multiband compressor has ten configurable bands of compression that you can use to surgically restrain or boost multiple frequency points across a mix or a master. Although multiband compression should be used carefully, it can sometimes come to your rescue when you're grappling with a particularly tricky master.
Terry West MHORSE P3
An analog parallel mastering processor, this surprisingly feature-rich free plugin can be used to really take control over your masters. It has 3 parallel parametric equalizers, 6 wide Q settings per band, multiple specialised filter types, an NY parallle compressor, 3 band parallel tape saturator, DC remover, stereo widening, low and high exciters and a Deharsh processor in addition to many other cool features. You'd be mad not to check it out!
FREE Creative Effects Plugins
SineVibes Zap
A mini synthesizer that is controlled by audio that you route into it, this plugin uses three different oscillator waveform modes (pure sine, ring mod sine and phase mod sine) and the idea is that it turns any sound source into a series of dynamically generated basses, bleeps, blips, sweeps or glitches. Just like VJ software makes graphics respond to the characteristics of incoming audio, Zap does it with synthesized sound. It's a quick way to beef up beats by adding auto-generated synth elements.
SplineTime
SplineTime is a granular-based effec that lets you operate in 4 different dimensions simultaneously: time, speed, pitch, filter, each within a pattern of 16 individual tempo-based sync-steps. Straightforward parameter access allows subtle spectral and temporal movements as well as complex transformations of audio material. SplineTime processes realtime audio input, or can be used as a sample player with WAV files.
TAL Chorus LX
Taken from the chorus section of a larger virtual instrument, this effect features the characteristics of the chorus section of the classic Roland Juno 60 synth. With two different modes, you also get a dry / wet control, a volume knob and a stereo width control to change the amount of separation that the effect introduces. AAX format is supported both on Mac and Windows as well as VST on both and AU on the Mac.
A1 Audio A1TriggerGate
A1 TriggerGate for Mac and PC is a rhythmic gate audio processor that can be used to get the popular effect that's heard a lot in dubstep, house and other electronic styles of music. There's a variable onboard step sequencer where each beat consist of four steps, or three in triplet mode, and each step has its own volume fader. Designed to be as simple as possible, the effects sound great. Although highly programmable, the effect also has a randomizer for punching in a whole new bunch of settings instantly.
Sinevibes Atom
Atom is a filter with a focus on dynamic, tempo-synced modulation. With five different resonant filter types each with three slope settings, you also get two modulators with multiple waveforms that run at rates ranging from 1/128 note to 16 bars. A chaos function randomizes the amplitude of each modulator cycle and you get a lag switch to smooth out the waveform curves. It also features an different kind of interface, with simple graphics rather than the kind of GUI you might be used to seeing. Advanced transport sync algorithm and support for tempo and time signature automation round out the feature set.
Acon Digital Multiply
This chorus effect uses a phase randomizing filter that avoids any unwanted comb filter effects from the signal. It can simulate up to six additional voices and the pitch and loudness of any of these can be tweaked. You also get an integrated EQ and a pre-delay section to create modulated and diffuse echo effects. You get undo and redo capabilities, A/B of setups and a preset manager. It comes in VST or AAX formats for Windows and VST, AAX or AU on the Mac, all in 32 or 64-bit versions, and with support for 96kHz sample rates and mono or stereo processing.
Delamancha Truc2
Truc2 is a multi-effect plugin with 4 different effect modules and two automated X/Y pads to modulate their levels and parameters. Designed to add variation and movement anywhere along the scale of subtle to overkill, it is suitable for all kinds of uses. The 4 effect modules are Dirt, Grain, Ring and Delay. The first X/Y pad modulates the volume/mix level of each module, whilst the second X/Y pad modulates any 4 of the 15 automatable parameters.
Camel Audio CamelCrusher
CamelCrusher takes some of the processing technology from the company's other multi-effects and puts it into a simple free effect. There are two distortion types, a warm, analogue modeled resonant low pass filter, a very easy to use compressor with a 'phat' mode and a MIDI learn function as well as a load of presets and a randomizer for instant inspiration. CamelCrusher is perfect for fattening up drums, vocals, synths and almost anything else.
FreeG
The Sonalksis FreeG plug-in for Mac and PC is a simple master fader plug-in that can actually be inserted on any channel, not just the master buss. It gives you a physically much larger fader to work with, with finer controls, plus very accurate metering. You get multiple metering ballistics types, peak and RMS level meters, pre and post metering options and a selectable pan law control. There's also a Fine mode for more sensitive calibration of the master fader and a mono mode for when you are working with mono tracks inside a project.
Voxengo Span
Span is a realtime FFT audio spectrum analyser that can give you an accurate visual readout of what's going on in terms of the frequency and amplitude of your audio. It's highly configurable, letting you specify FFT block sizes and visual slope amongst other things, and supports multichannel analysis or displaying spectrums from two different channels or groups at the same time for comparison. You also get output metering with adjustable ballistics and metering time, headroom estimation and clipping detection as well as correlation metering.
rf Destroyer
rf Destroyer is a multi effect with multiple effect units in one page, useful for sound design and shaping the sound into something more exciting. You get a noise gate, drive and distortion controls, bit crusher, pre and master filters, equalizer, compressor and limiter and last but not least a flanger and a chorus. Use it to mess up your tracks creatively.
VST Classics
Found amongst Steinberg's "discontinued" products, there are some unsupported instruments and effects from previous versions of Cubase that may well still work on your system, albeit with no guarantees. These include Neon, Karlette and VB-1 virtual bass amongst others. If you have an older version of Cubase or just fancy trying out these much-loved classics, they are free to download.
MultiInspectorFree
This free plug-in visualizes up to four different audio signals in realtime in one window and helps you identify overlapping frequencies within a mix. It's a 31-band spectral analyser with multitrack functionality though limited to a sample rate of 44.1kHz. For more features you can upgrade to the full version. By analyzing your signal accurately you can see where problematic areas are occurring in the mix and use EQ to fix them. Software analysis is generally more accurate than relying on your ears alone.
MIDI FX Freeze
Things like chorders, arpeggiators and other tools that interpret your input are great but they remain virtual until you render them to audio, whereupon you lose editability. This plug-in does things differently by turning live-generated MIDI parts into editable regions on a MIDI track. From there you can work with the parts directly since they are no longer virtual. You insert the plugin at the end of the MIDI effects plugin chain and then use it to freeze the MIDI part, at which point it is rendered down to a MIDI event on the target track. If you work with arpeggiators and the like a lot, it's brilliant.
FREE Vocal Effect Plugins


Vocov Vocoder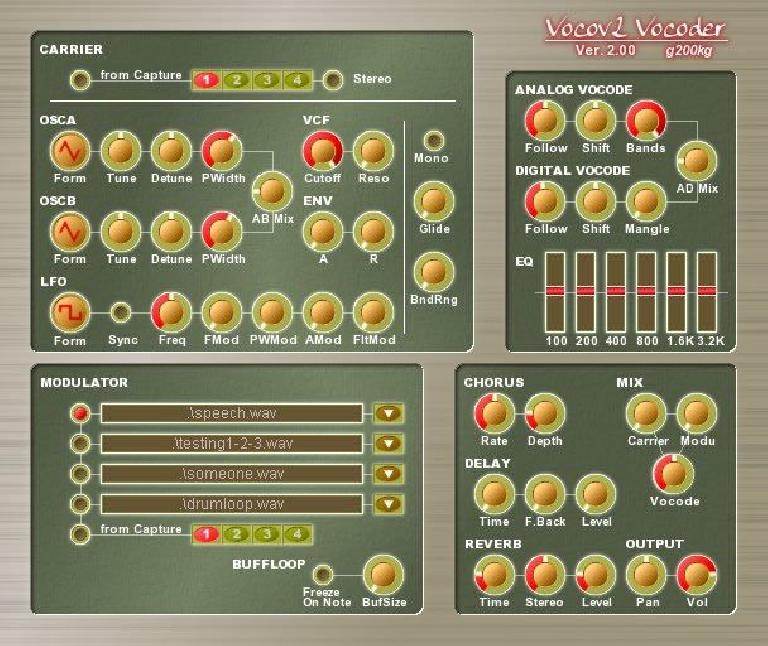 This vocoder is a digital / analogue hybrid model for Windows that can vocode and mix with two different engines: an FFT-based digital engine or a filter bank analogue version. It works as a VST instrument with a special plug-in to deal with the carrier and modulator components that are required for taking input signal and using it to create the vocoded effect. You get built-in eight-voice polysynth plus the ability to use recorded audio as the carrier, up to four inputs to use as the modulator and a buffer freezing function. Six band graphic EQ and an effects section with delay, chorus and reverb round out what is a pretty awesome package.
J-Hud Vocal King

Vocal King is a vocal processor for Windows that can help your vocals stand out in a mix using two compressors/limiters, pre amp knob and a final comp stage. Signal is fed through the pre amp compressor, then through other modifiers that help bring presence out of the vocals and then sent through the final comp compressor. It's very simple to use and can go above and beyond what basic DAW channel strips do.
MaxSynths DSP2 Vocal

DSP-2 is a high precision effect for vocal processing that includes an Intelligent Dynamic Processor, a saturator, a four band equalizer fixed on vocal key frequencies and a room emulator based on the Schroeder reverberator. DSP-2 has been designed to be an easy to understand solution for all your vocal processing needs. Use the vocal-tailored EQ and saturation stages to sweeten and manage your vocal tracks.
Kerovee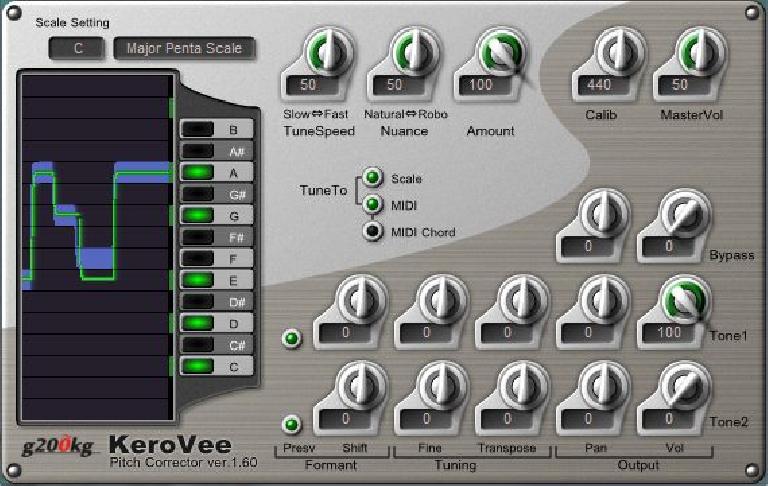 Kerovee however is a free Windows pitch corrector in VST format aimed at achieving the kind of hard-corrected effects heard in a lot of dance music, providing a robotic effect but not in the same way as a vocoder. Here, you can specify a correction scale and a tune speed and the plugin will pull input notes directly to the closest scaled notes. There are also formant and tuning controls as well as Tune to MIDI for playing input from a keyboard to determine hard pitch correction.
FREE MIDI Effect Plug-ins
ARPocalypse
ARPocalypse is an 8 step rhythmic pattern generator VST effect. Simply explained, it takes chords of up to six notes and plays them in a predefined sequence in sync with your sequencer. It might look a bit like a strange 8-bit computer game but it can be fun to play around with if your DAW doesn't have its own VST arpeggiator
Advanced MIDI Gate
Advanced MIDI Gate can be used to easily mute an audio/VSTi track via MIDI and can be used to create the stuttering effects commonly found in trance and psy-trance. The envelope can control a filter instead of a VCA and noise can be added to the signal to make the sound more aggressive. Either the left or right channel can be delayed slightly to fatten the sound and when you stop your sequencer, the plugin disables itself so that you can edit the gated track without having to switch the plugin off.
Tonespace 2
This MIDI chorder is a different, more intuitive music keyboard, combined with a chorder. It supports over 50 different grids, 14 scales, 18 keys, 30+ chord types and 25 chord voicings. It can function as a VST or Audio Unit plugin, processing incoming MIDI events and/or generating outgoing MIDI. You don't need to use MIDI thoughsince there is also a standalone executable which contains its own synth for a fast start.
ToneCarver Nova 3
This generative MIDI sequencer is really novel and works on the idea that a set of rovers move through a matrix of cells until they encounter a wall, another rover, or an obstacle. When a rover encounters a wall, it emits a MIDI note corresponding to the row and column, then reverses direction. When a rover encounters another rover, both rovers are rotated clockwise. It's a little like Yamaha's Tenori-On in its behaviour, and genuinely unique.
Middi Morphy
This is a tool to interpolate between different MIDI parameter settings. It allows you to set up scenes of parameter setting, where each may represet presets of your synth or fx, and then morph between the scenes on a 2d pane. To the left you have a (initially empty) list of MIDI controllers. In the center you have the area where the scenes are created. It's simple but really interesting for MIDI fans to play with.
ToneCarver Wind Chimes
Remarkably, Wind Chimes simulates wind conditions that interact with a wind chime model., sending MIDI notes representing wind chime strikes. It also sends control change messages representing the instantaneous system energy.It doesn't process audio or respond to MIDI input but it does however output MIDI notes representing chime strikes and optionally channel control messages representing wind force levels. Combine it with a chime based instrument for interesting results.
Sonic Assault MIDIMod
An LFO and envelope generator in Windows VST format, MIDIMod has 200 real time generated waveforms, 2 AHDSR envelope generators with selectable contouring, multiple modes including time, sync, triggered single cycle and manual control, sync to host tempo capability and a MIDI thru channel router. Use it to modulate and control all kinds of software and hardware MIDI destinations.
Humanisator
Available as part of the MIDIBag collection, a free download, this is a simple humaniser plugin that can take rigid MIDI quantized parts and convert them into more natural sounding patterns. You can define how much and in what range Humanisator should alter the timing, velocity, pitch and modulation of the MIDI stream, allowing very natural sounding and interesting phrases to be created easily.
HY-SEQ16
An analog style step sequencer, it has 3 sequencer sections as well as 2 LFO units, with each sequencer section able to be controlled independently. You can hook it up to any software or hardware that can be MIDI triggered and make advanced patterns, very possibly more flexibly than any step sequencer built into your DAW can manage.
RandARP
RandARP is a VST plugin arpeggiator with many randomization features, allowing incoming notes or chords to be manipulated in many ways. Standard arpeggiator parameters like number of octaves, note length and note order are included but the plugin also offers complete randomization of the velocity, gate, shift and swing parameters. The use of randomization means you can achieve results that would be unlilely or even impossible if programming in a conventional fashion.