Producers of today are privileged to having a head-spinning variety of synthesizers and effects which sound amazing and offer limitless creative possibilities. You may not have thought about this before, but your favorite sampler counts among them! No matter if it's the one bundled with your DAW, the third-party workhorse you swear by, or even the good old AKAI MPC—by approaching it a little differently, almost any sampler can become a monster of a synthesizer, churning out sounds you can't get any other way. All it takes is the time and curiosity to experiment!
So, how is this possible? The answer begins with a simple question—what's a synthesizer? In general, a synth is a combination of several interconnected elements—oscillators (the sound source), filters, envelopes, modulators, and effects. Sound familiar? Of course, your sampler has all of these features built-in as well! It's just that the raw sound doesn't come from an oscillator, but from a sample you loaded. Doesn't matter—your sampler has all the necessary ingredients to shape and mangle any sound into an epic synth patch! The only prerequisite is that you must use a rather specific sample—one that sounds less like a recorded sound, and more like an oscillator.
So, how do you do that? Once again, we'll start with a simple question—what's an oscillator? In the realm of synthesizers, an oscillator generates a continuously repeating (periodic) signal at a frequency between 16 Hz to 20 kHz—the boundaries of human hearing. If you ever tried programming your own patch with a synthesizer you like, then you surely know the raw sound of an oscillator—it sounds like a continuous cycle of a repeating waveform. This could be the traditional sine, square, triangle, and sawtooth-shaped waveform, or in the case of wavetable synths like Massive and Serum—something completely different, whose character can only be described with eloquent names like "Crusher" and "Deep Throat."
Samples, meanwhile, sound like samples—that is, complete sounds or musical phrases, played back when and how you want them. By tweaking your sampler to smoothly loop back and forth around a tiny segment of the sample, you are effectively dealing with a wavetable oscillator—one you made on the spot by dropping in a sample, listening for a short cool-sounding loop, and homing in on it. Tune it, tweak it, add envelopes, modulation, and effects, and there's your sampler turned wavetable synth! Your sound shaping freedom is only limited by the capabilities of the sampler, easily expanded by the wealth of effects that come with your DAW or reside in your collection. And if one oscillator isn't enough, either stack a few patches on top of each other, or drop more samples (if your sampler lets you do that), and get going. It's a lot of fun!
This approach is sometimes referred to as "resampling" and has been around for a long time. It's been popular among underground hip-hop producers as they sought to transcend the limitations of their often bare-bones setups to come up with fresh new sounds from scratch. When they couldn't afford synthesizers (or bother sampling them from records), they explored the synthesis possibilities of their grooveboxes by looping extremely short segments of samples and running them through the sampler's built-in envelopes, LFOs, effects, and whatnot. To set off your journey on the right path, we'll show you the general steps for pulling off this essential, time-tested technique. As samplers generally work the same, these tips are non-specialized and apply to almost any product you may be using.
Step 1 - Make a "Samploscillator"
Start by dropping in any sample you have on your mind—an 808 kick drum, your voice, a field recording, a cool bass sound you made. Anything goes! Listen to it and find a section that you think sounds cool looped. Engage your sampler's looping feature, home in on that part, and twist the loop's beginning and end points until you have a very short section of the sample literally oscillating. Yes, it has to be short, and it probably won't sound very inspiring initially. Don't worry, that's part of the game. We'll make it sound rad later!
While adjusting the loop point, you might experience crackles and pops in the beginning of the sound. This happens because the sampler "cuts" the audio at a point that doesn't quite cut it (pun intended). The problem is resolved in two ways. First, zoom in very closely on that short segment's beginning and end sections, then set the start and end loop points so they fall where the sound wave meets the imaginary straight line that divides it into top and bottom halves. This is called a "zero crossing." By the way, some samplers have the ability to automatically snap loop points to zero crossings—so find that function and try it, if it's available.
Another thing you're going to want to do is play around with the crossfade settings. Simply start increasing the crossfade value until the clicks and pops diminish, or disappear altogether. If they prove stubborn, don't worry. There's a fix for that, which is waiting for you in the next step. Also, this is the part where you tune your sample-turned-oscillator to your preferred pitch. If you feel your ears are deceiving you, here are two workarounds for that—either use a guitar tuner to hit the correct pitch, or use a signal generator and create a sine wave, set to the frequency of the note you want to hear. Then match the "samploscillator" pitch to the sine wave as closely as possible. Unless you want to sound amateur or uber-extreme, staying in key is important!
Step 2 - Climb the Envelopes
All synthesizers and samplers have adjustable ADSR envelopes. They are essential, for they let us manipulate the sound's Attack (how quickly the sound reaches full volume), Decay (how quickly the sound drops to sustain level after it reaches peak), Sustain (the constant volume that the sound is played at until you release the key), and Release (how quickly the sound fades to silence when you release the key) properties very precisely. You are given free reign to experiment, but do mind that the right Attack setting can "mask" tiny clicks and pops that occur at the loop's initial stage.
Adjusting the other properties depends on the kind of sound you're making—a "stab" or percussive sound benefits from shorter settings all around, while an evolving pad generally likes slower envelopes—so open up the ADSR and twist the knobs until you like what you hear. There's no secret sauce to this—just open-minded, objective listening!
Step 3 - Modulate the Modulators
At this stage of your sound design, the sound occurs when you want it to, but it stays relatively flat in terms of pitch, width, panning, and other properties that contribute movement, dynamics, and listener interest. Solution—use your LFOs and go crazy! Try modulating everything possible and check out how it sounds. A "static" pad can be rendered more exciting if it subtly pulses back and forth between the left to right speaker. A bass sound can be especially rad it if fluctuates in pitch at the right moment. Some samplers and third-party plugins (like Xfer's LFO Tool) also let you "modulate" the LFOs themselves with another LFO, velocity envelopes (the harder you hit the keys, the quicker the LFO oscillates), or even good old automation.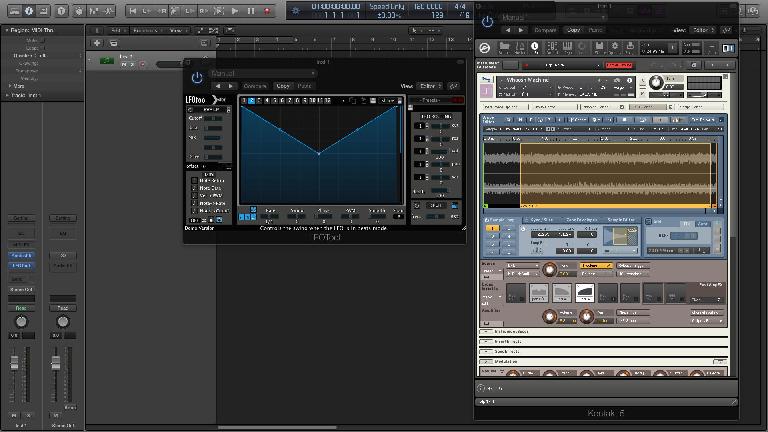 Feeling limited? You can always increase your sampler's LFO flexibility by using a third-party modulation plugin, like the popular Xfer LFO Tool.
In fact, competent producers often automate the heck out of their LFOs, envelopes, and filters to make sounds that seem to have a life of their own, spreading themselves all over the place. Listen to some glitch-hop productions by Defazed, and you'll know what I mean!
Step 4 - Use the Filters
Granted, your sampler's filters probably don't sound as phat as the classic Moog two-pole filter. Big deal! Either use a third-party filter plugin, or stick to what you've got with your sampler and twist the cutoff and resonance controls until it sounds cool. Also, feel free to automate the living lights out of them! Opening up the filter or cranking the resonance at the right point can produce badass sounds that surprise the listener and generate excitement.
Of course, you might want to leave that part for later in the production process. But if you aren't working on a song right now and you're focused exclusively on making a sound, you are given free reign. Go ahead, pencil in some automation curves, or reach for your hardware's knobs and see what comes out!
Step 5 - Add Effects
This has to be the sweetest part! Now that you and your sampler have produced a rad synth sound that's brimming with life, it's time to add the final touches to it. Grab your favorite effects plugins or your sampler's built-in ones, play around with their controls or presets, and see what they add to it! Choruses and phasers rule on bass sounds, while pads and leads generally love their reverbs and delays. Don't refrain from distortion, either—most digital sounds are begging for a little grit. You don't have to pile up every effect in your arsenal and lose your sound in a wash of effects.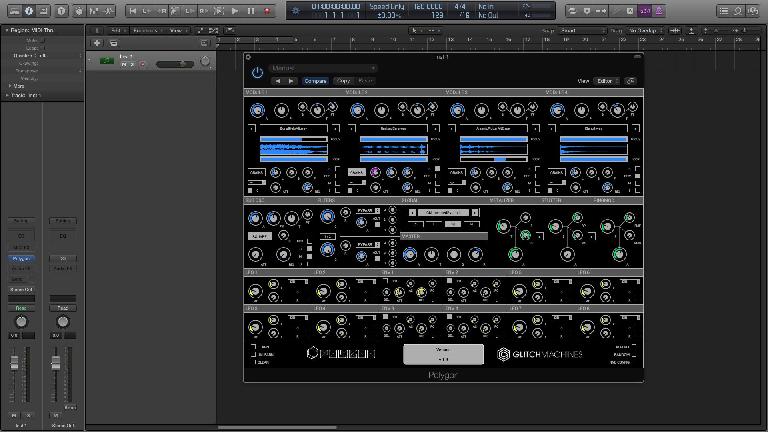 Samplers such as Glitchmachines' Polygon feature unorthodox built-in effects which yield themselves to experimentation.
If you are stacking a number of effects, try to stay subtle with each. But if you are going for a specific effect that gives you what you need, be bold and see how it sounds when pushed to extremes. A Wet/Dry knob comes particularly handy in here, letting you blend the smashed up, chorused-out, phazer'd to death signal with the original one to taste. But if your effects and plugins don't have this knob, simply place the effected signal on another track and mix it with the original in parallel. At this stage, you might also want to introduce an EQ and squash any unpleasantness in the lows, mids, or highs. Remove the boominess by high-passing, scoop out some of the mids between the 500 and 2000 Hz range for clarity, and either reduce the harshness beyond 12 kHz with a low-pass filter, or if you like how things sound already—try a subtle boost in the 12-18 kHz area for some "air" and presence.
Conclusion
This is it, folks! Remember, you don't necessarily have to execute these steps in this same order. These are simply general pointers to put your mind on the right direction and give you the confidence that you know what you're doing. Resampling is as effective of a sound design technique as any other, so if you're intrigued by the possibilities it offers, be prepared to invest some time in sculpting sounds. And remember—having fun is mandatory! If things don't sound impressive right off the bat, take a breather, come back and try again. Such is the way of the producer!
Learn more about sampling and synthesis in The AskAudio Academy
here
.