Native Instruments Giant sits amongst a collection of pianos in Native Instruments Komplete. I am continually drawn back to NI Giant for a variety of music projects and it has quickly become my favorite sampled piano over the past year. There are a lot of beautifully sampled pianos in Komplete and frankly, in many sample instrument libraries out there. But, nothing comes close to the Giant in terms of usable contexts as well as overall sound quality.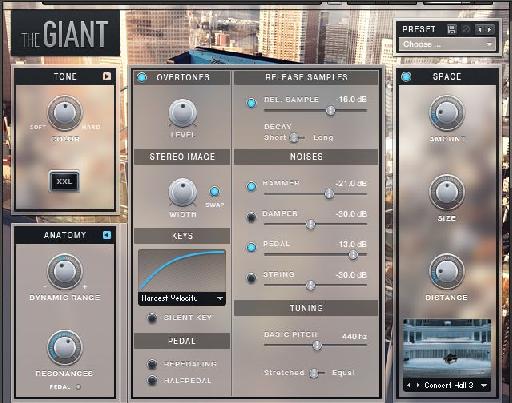 Native Instruments Giant in Kontakt 5
Here are some reasons to use NI Giant in your next production:
For The Low-End
The first time I hit an octave with my left and in the low end of this piano I was blown away. And rightly so! The sampled Klavens Model 370i upright is 3.7 meters tall and the soundboard over 4 square meters. This is double the vibrating surface of a 9ft grand piano. It's amazing to hear the difference between the low end of the other sampled pianos in Komplete and this one. Rock, pop and jazz piano based tunes will really benefit from the strength of this sound. Try this sound for a Bass line even.
For The Character
Plain and simple: This piano has grit. Especially when using the hard velocity setting (see screenshot below). You can achieve quite a great honkey tonk piano sound for blues or a rockin' piano for modern rock or pop. Add some hammer, damper or pedal noise for even more character. You can create your own signature character piano sound complete with the custom space reverb.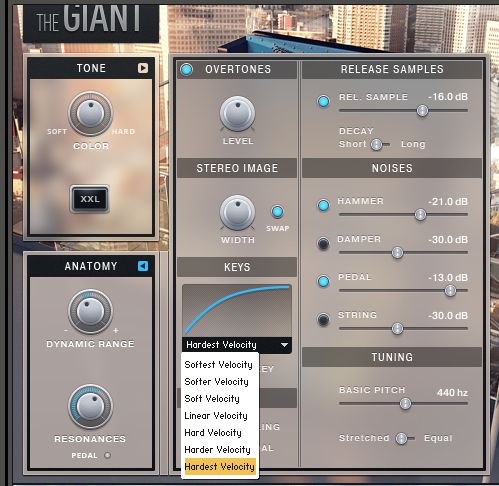 Native Instruments Giant Velocity Settings.
For Sound Design
The Cinematic instrument in Giant gives you access to all kinds of unconventional piano noises. One of my favorite parts is the Noise FX section that provides string scrapes, prepared piano style hits, wood thumps and more. Any one of those sounds could be the basis for a sound design task or for creating unique percussion lines.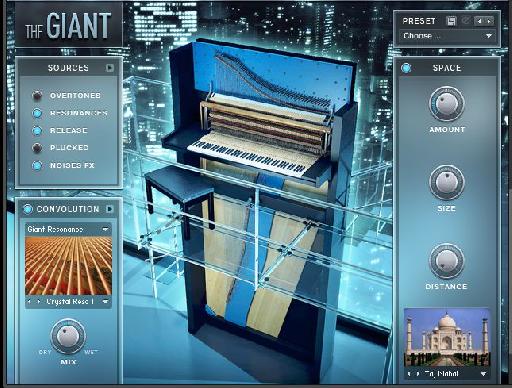 Native Instruments Giant Cinematic Instrument.
A Piano for Any Genre
This piano can morph in so many different ways it can be used in many genres of music. Think everything from blues and jazz tunes, pop/rock, electronic, experimental, classical and every aspect of film and game audio composition.
For Creating an Entire Composition
It's possible to create an orchestral style arrangement or atmospheric film score using just this instrument. Although a bit unconventional, this is what a project needs sometimes. The Noise FX samples can be used to create all kinds of interesting percussion parts. The plucked strings become a pizzicato string section. Creative use of the convolution reverbs or spaces in addition to longer release times can emulate dreamy sustained pads or string lines. And, of the course the piano itself covers the entire frequency range of the orchestra and can be used that way with the different dynamic settings to mix and match timbres even further.
IF NI Giant has been collecting some virtual dust inside your Kontakt player lately, I would suggest taking a first or second look at its capabilities. You will not be disappointed.