The key to working quickly in Pro Tools, or any DAW, is using various shortcuts and quick keys. There are many workflow enhancers often underutilized by producers because there are so many to remember. Plus, you may not use them all of the time, and thus, they slip the mind. The list below features some of the simple, but valuable Pro Tools features I use while composing and editing.
Contextual Menus
Contextual Menus are everywhere in Pro Tools and change depending on the area you are working in. Right-clicking on an object or area will give you access to a Contextual menu. In the example below, I show a menu in the track versus a menu in the MIDI edit window. This is a great way to access tools quickly. I often delete, duplicate and hide tracks this way and when editing MIDI, access different tools or launch the quantize window.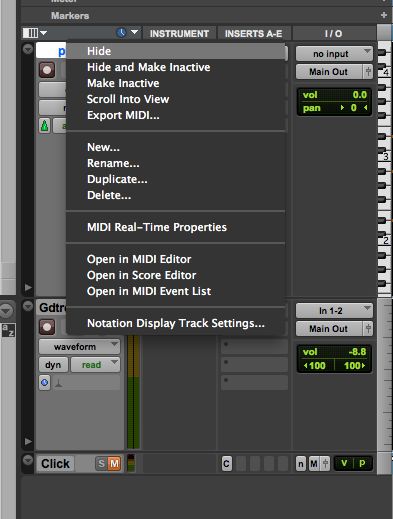 Contextual Menu in Track.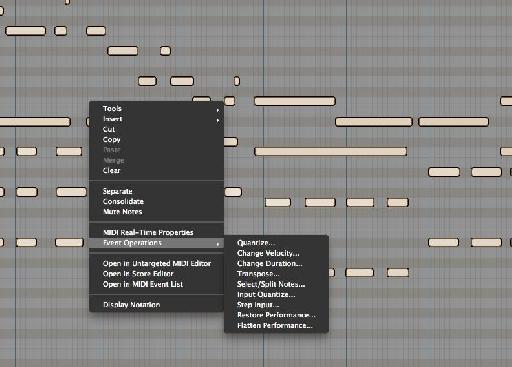 Contextual Menu in MIDI Edit Window.
MIDI Merge

Activate MIDI Merge.
MIDI Merge is located in the MIDI Control Menu between the conductor and metronome buttons. In the screenshot below, you can see it next to the transport controls. When MIDI Merge is on, you can overdub MIDI parts. I use this a lot when composing complex piano or string parts and need to stack a few layers or play the parts in hands separately to achieve accuracy.
Track Automation Lanes
I like to use automation lanes for mixing in effects so I can remain in the edit window while composing, editing and mixing. The first screenshot shows how to access the plug-in automation window where you add aspects of the effect you want to create automation lanes for. In the next screenshot, you will see the reverb added as an automation lane option with the two parameters I selected.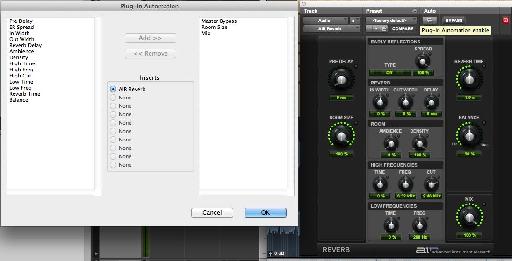 Plug-in Automation Activation.

Create Automation Lane.
Be Smart, use the Smart Tool

Activate the Smart Tool.
This handy little bracket lies above the Trim, Selector and Grabber Tool Buttons. The Smart Tool groups these functions together so you can access any of them depending on the part of the region your cursor is on. The Fade tool is also part of the Smart Tool function. I save a lot of time using the Smart Tool while editing.
Common Key Commands
There are pages of key commands available for Pro Tools users. Keep in mind that the single key commands will only work when keyboard focus mode is activated in the edit window. The keyboard focus mode button is the black square with a & z in it that turns orange when activated. It is the one in the upper right corner of the edit window. Here are a few I use often:
Command-D: Duplicate regions quickly (especially great for loops)
Zoom with R & T: R to Zoom Out and T to Zoom In
X, C, V: Cut, Copy and Paste with Keyboard Focus Activated
B: For Separating Regions
Shift-Command-K: Export Audio Regions without bouncing to disk. This is especially handy when printing a final mix within Pro Tools.
Do you have any essential Pro Tools Workflow tips to share? Please post in the comments below. The Ask Audio article comment section is for our community to connect and share valuable information to benefit all.