Nei primi anni 1990, Korg ha pubblicato un sintetizzatore chiamato Wavestation, che ha caratterizzato
Tuttavia, ci sono stati un numero limitato di inclusi Onda sequenze e sono diventati rapidamente molto riconoscibile agli ascoltatori più esigenti. Mi ricordo che guardavo uno dei miei programmi televisivi preferiti e un ottimo musicista, che aveva più spettacoli in onda e quindi probabilmente è stato catturato in una crisi di tempo, era semplicemente il loro utilizzo nudo come spunti. Sono rimasto allibito e sempre lavorato per modificare quelli che ho utilizzato per personalizzare loro, non il più facile dei compiti sul Wavestation.
La stessa cosa accadde quando Spectrasonics
Io li modifica e la gente mi chiedo,
Vorrei rispondere onestamente,
Bene, ora abbiamo una ricchezza di buon suono royalty-free loop Apple con Logic Pro X da utilizzare, e ancora una volta, ho sentito un po 'usato molto prominente disadorno, anche su alcuni grandi dischi di successo. Ma mentre non è né illegale né immorale a farlo, come una persona creativa, vi consiglio di mettere almeno un po 'di tempo in rendendoli
#1—Change the FX on Green Apple Loops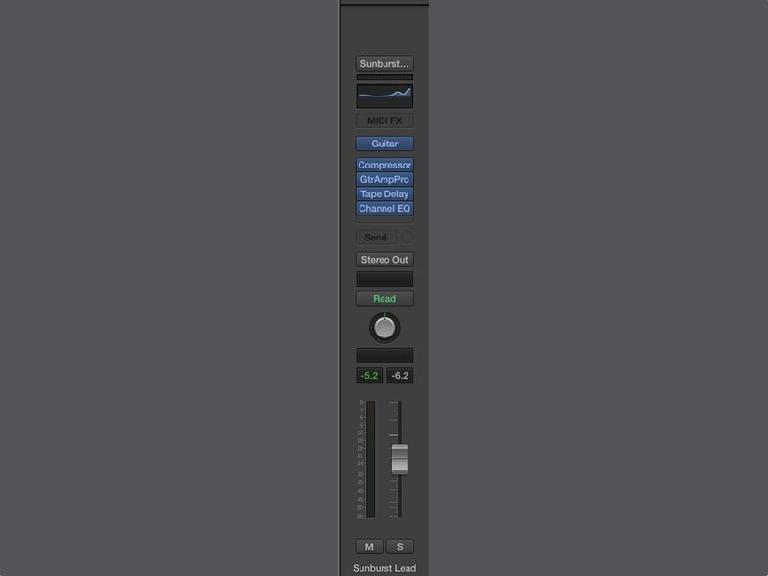 Nella foto sopra, si può vedere
[Id audio = "39869"]
Questo utilizza uno strumento software chiamato chitarra, che è uno strumento di GarageBand, e in realtà una versione dumbed giù di Logic Pro
[Id audio = "39870"]
Wow,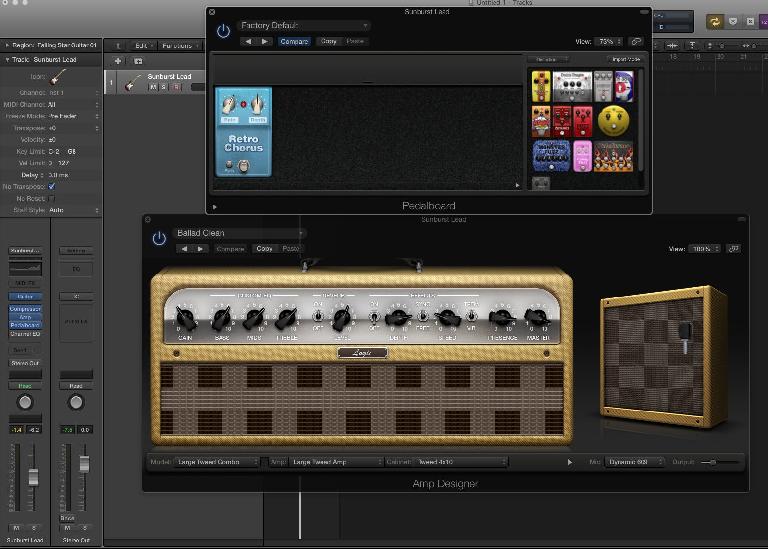 [Id audio = "39871"]
Lo adoro!
#2—Change the Sound Source on Green Apple Loops
lasciare
Nello screenshot qui sotto potete vedere sono andato nella cartella strumenti a pizzico e scelti Namaste.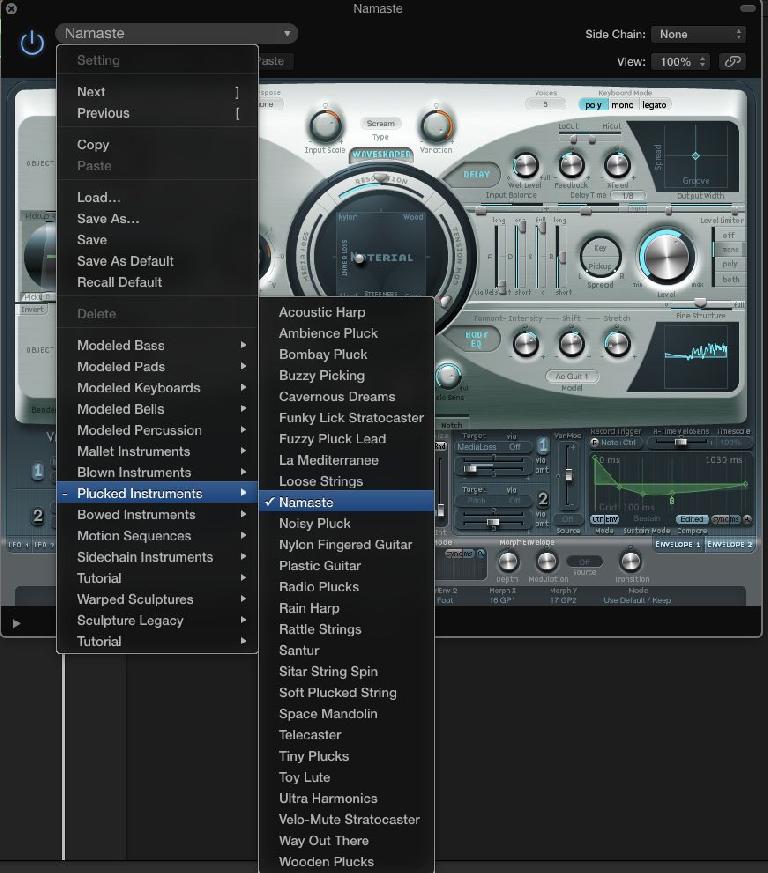 E ora sembra che questo:
[Id audio = "39872"]
Molto cool!
#3—Change the Quantizing with Flex on a Blue Apple Loop
Blue Apple Loops sono loop audio e meno facilmente manipolato rispetto allo strumento software basato Green Apple Loops. Ma c'è ancora molto si può fare con loro.
Ascolta l'esempio audio qui sotto
[Id audio = "39873"]
lasciare

Vado alla casella Regione parametri e set l'impostazione di quantizzazione a 1/16 Triplet
[Id audio = "39875"]
Certo, potrei andare oltre e iniziare a manipolare i marcatori Flex nella regione per fare qualche spostamento molto dettagliato e aggiungere un po 'di FX, quindi questo è graffi solo la superficie.
#4—Drag the Apple Loops Into Alchemy
Questa nuova funzione nel più recente aggiornamento Pro Logic apre tutti i tipi di possibilità creative. Ho trovato un bel po 'di Apple Loop nome Bells puntata di ieri che si può ascoltare qui sotto.
[Id audio = "39874"]
Creo una striscia di canale strumenti software e creare un'istanza Alchemy. Si noti che sono andato alla modalità avanzata ed eliminato la patch di default.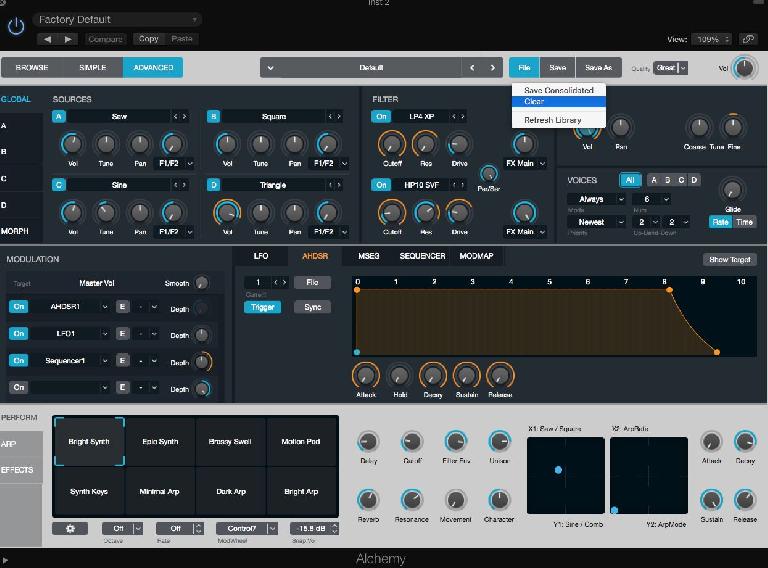 Poi ho semplicemente trascinarlo sorgente A nell'interfaccia Alchimia, come ho fatto io.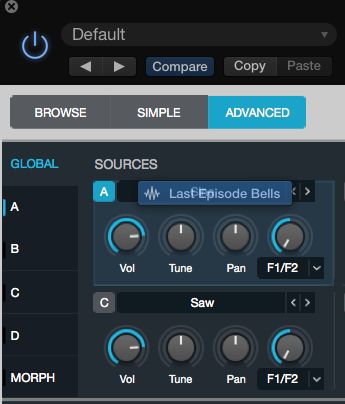 Ora è uno strumento giocabile, così come è, ma cosa succede se passo per caricare una sorgente sonora addizionale Alchemy in Source B, come sto facendo io nell'immagine qui sotto, risintonizzare esso, li Pan, e aggiungere un po 'di riverbero? Lo si può sentire nell'esempio audio.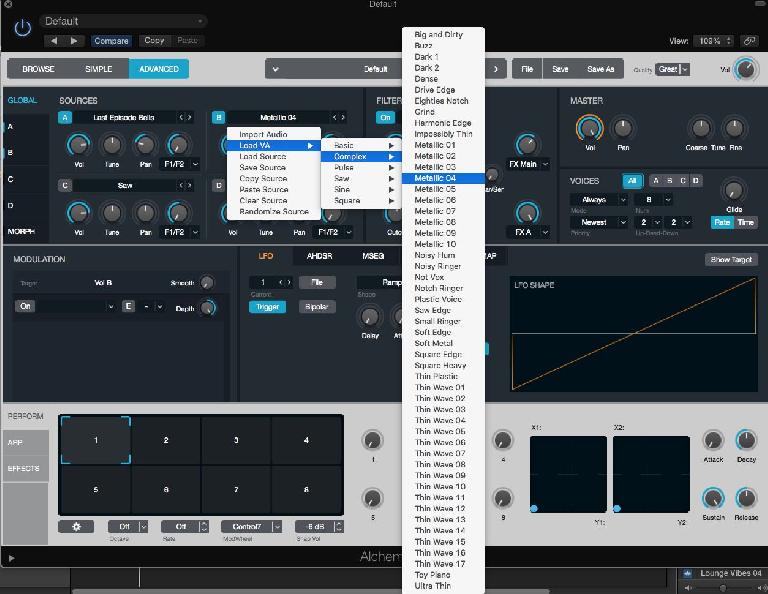 [Id audio = "39876"]
Ancora una volta, sto solo graffiare la superficie. Le mie uniche limitazioni sono il mio tempo e la creatività .
#5—Combine Altered Apple Loops to Make Your Own Apple Loop
Decido che posso usare il ciclo Trip Hop flessa con la parte Alchimia insieme e suona fresco, ma ha bisogno di più. Posso trascinare in alcuni più Apple Loops, naturalmente, ma hey, io sono un tastierista, così invece io gioco in una semplice parte di basso e un secondo strumento Alchimia, aggiungere qualche plug-in mastering sull'uscita stereo e il risultato è :
[Id audio = "39877"]
Ora può rimbalzare con la possibilità di aggiungere alla mia cartella Project Audio e semplicemente trascinarlo nella GUI Browser Loop, ed è mio da usare in qualsiasi progetto!
Si può discutere se tutto questo valeva la pena e se le mie modifiche ai loop Apple li ha fatti meglio o peggio, ma quello che non si può negare è, li ho fatti
Divertiti!