Let's say you've got a track with a Software Instrument and 4 or 5 effects plug-ins. Now, you're playing with this track and want to adjust controls from every plug-in. In Logic 9 (and most other DAWs) you'll need to open all these plug-ins to be able to adjust the parameters from each one in real-time! Not only does this feel a little crowded on smaller displays, but it's a messy solution with redundant controls displayed that you probably don't need to adjust. Solution? Logic Pro X's Smart Controls!

If you've used Apple's Mainstage, the concept of creating your own GUI complete with sliders, knobs and buttons for multiple effects or channels may be familiar to you. And Logic Pro X's Smart Controls echoes some of that by combining parameters from effects and instrument plug-ins from one Channel Strip in one easy to access panel.
Starting with the basics, in this article we'll take a look at 5 ways to get smarter using Smart Controls.
Tip 1 - Enabling Smart Controls
Once you've created a software instrument channel strip and insert an instrument of your choice from the Library (in my case I've chosen the trusty ES E). You can view the Smart Controls panel using these three ways:
Choose View > Smart Controls

Use the key command (by default this is set to "B")

Double-click on the image icon on the Track Header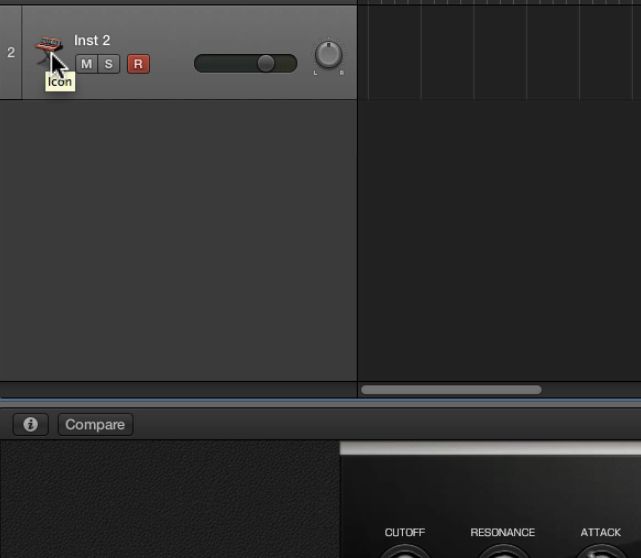 Double-click the image icon on a Track Header to open the Smart Controls panel.
You'll notice that for every software instrument or channel strip setting, an auto-mapped Smart Control panel is displayed... ready for you to start playing!

A basic Smart Control for the ES E.
Tip 2 - Auto-Add Controls
So, we started with a humble single instrument on the channel strip. Let's add an audio effect, for example the Echo plug-in, by clicking on the "Audio FX" slot of the channel strip in the Inspector.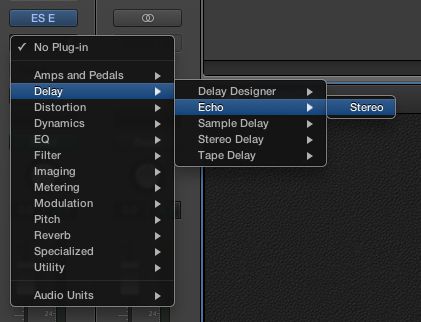 Selecting the Echo plug-in in a channel strip.
You'll notice the last four controls on the Smart Control panel now display relevant parameters from the Echo plug-in. Neat!

Logic auto-maps audio fx controls to the existing Smart Control.
Tip 3 - Quick Control, Quick Access
If you've adjusted a control you may wish to reset it to its default value. To do this simply Option-click the control. You can also click on the white dots at either extreme of a knob to set the value to either extreme.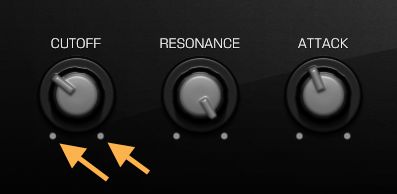 Use the white dots to set the control to extreme settings quickly.
It's also worth noting that clicking on the "Compare" button in the top-right of the panel will toggle between the current settings and the saved settings for those parameters which have been mapped.
If you need to access the instrument or effect plug-in window quickly, rather than toggling the Inspector and mousing over to the required slot, simply Right-click or Control-click on the knobs, slider or button in the Smart Controls interface and choose "Open Plug-In Window".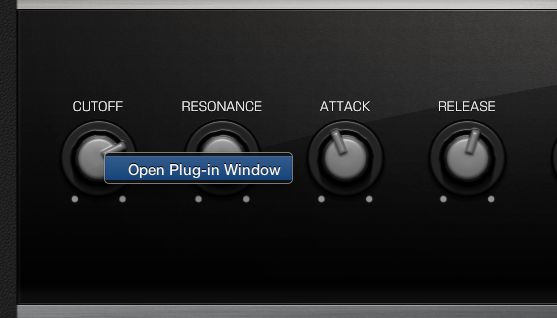 Accessing the full plug-in GUI is only a right-click away!
Tip 4 - Super Size Smart Controls
So, in Tip 1 I was holding back... There are actually four ways to enable Smart Controls. The three in Tip 1 open the Smart Controls panel which has limited resizing potential and is part of the Main window.
Let's say you're aiming to perform live using Smart Controls, or have simply setup your Logic Remote on your iPad so you can slouch on that comfy sofa away from your desk... Choose Window > Smart Controls
Smart Controls now appear in a floating window, which can be resized as large as you like!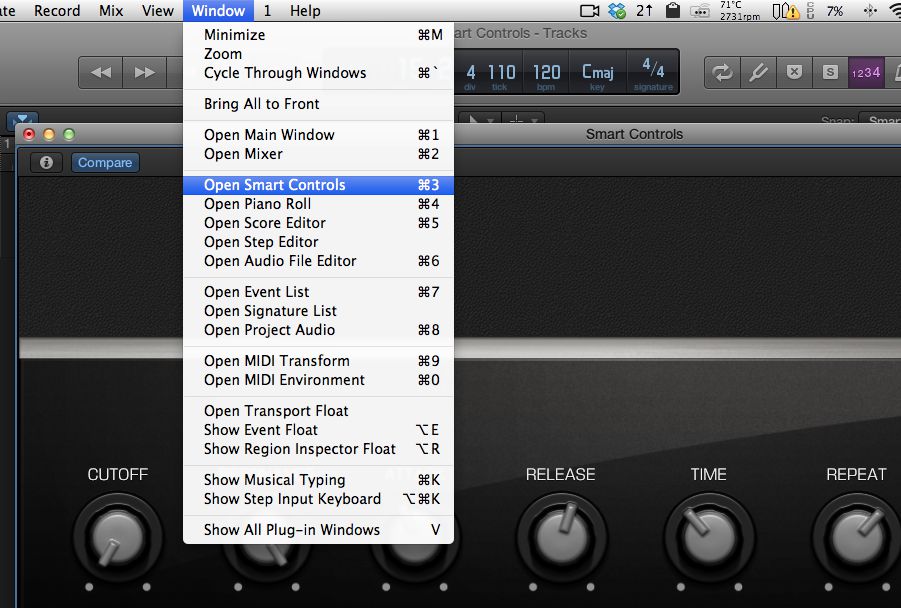 Make your Smart Controls as large or small as you need when you open it in a separate window.
Tip 5 - Easy Access Arpeggiator
So you've hidden away the Inspector again haven't you... But all is not lost. You can insert MIDI FX directly from the Smart Controls panel or window!
In the top right of the panel and the window you'll the Arpeggiator button (5 bars in the shape of a roof). Click here and a pop-up menu appears where you can adjust the most commonly needed Arpeggiator settings, like Note Order, Rate, Octave Range, as well as the presets.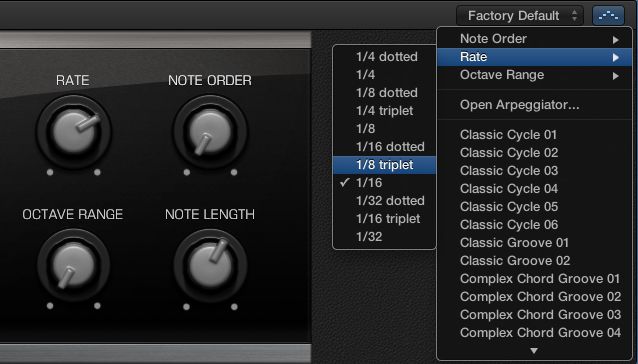 It's very convenient having access to the Arpeggiator in the Smart Controls menu bar.
And if you need to do deeper you can open the Arpeggiator MIDI FX plug-in window from the same drop-down menu too.
So Much More
The Apple Logic team have done a great job making it easier than before to control multiple controls from multiple plug-ins in one easy to use panel. Thanks to its clean and consolidated interface Smart Controls looks set to be useful in both live performance and studio environments.
And we've just scratched the surface of what's possible in Smart Controls. To learn more check out these video tutorials by SFLogicNinja (David Earl).