Recording electric guitar is one of the more straightforward tasks in the studio. While there are a lot of techniques you can use, the most basic one—an SM57 an inch from the amp's speaker—is a tried and true approach that'll work 99% of the time. Recording acoustic guitar, on the other hand, may require a little more attention to detail. As with any acoustic instrument, there are more factors that come into play that need to be addressed, and it's easy to let a slip-up in recording mar an otherwise good take. Here are 5 things to be on the lookout for when capturing wood & steel.
1. Don't forget the room
We all know that the room is an important aspect of the sound of any acoustic instrument, but with the very-close mic techniques often employed, it's easy to get in the habit of paying a little less attention to it than we know we should. Unlike louder instruments, acoustic guitar can't be miked up too closely—to capture the full resonance of the instruments, the best approach is to position the mic (or mics) around a foot away. That's still technically close-miking, but compared with that amp mic an inch in front of the speaker cone, it's far enough to let in more room tone. And that's not a bad thing—in fact, it's an important part of the sound of the acoustic guitar—how the strings and body resonance excite the space immediately around the instrument.
A lot of the time, the strongest room reflections will come from the floor, so while you do want to catch a little air, you'll want to watch out for any problem reflections, that could potentially cause unwanted comb-filtering (nasal tone) that would be difficult to fix later on. Besides tending to the usual issues like leakage and level, it's a good idea to audition the signal a bit more carefully before the first take, listening for any negative effects of room tone, and adjusting mic position to eliminate any potential environmental problems.
2. Don't fall in the hole
That's the sound hole we're talking about. Novices often assume that the richest sound from an acoustic guitar will emanate from the hole—that's why it's there, isn't it?—but in fact you're more likely to get too much boom if you aim the mic directly at the sound hole—even from a foot out. The best target will vary with the instrument and the type of sound you want—bright or full—but a good starting point would be to point the mic—maybe from a slight angle—at the 12th fret, more or less. This should provide a nice, balanced tone, and if you want more body you can angle it a little further towards the sound hole. For more presence, you could aim toward the back of the guitar, near the bridge. If you're familiar with how the tone changes (with any guitar) depending on where you pick (between neck and bridge), well, you'll get similar tonal variations when it comes to mic placement.
3. Don't go it alone
While the guitar doesn't have as much width as, say, an acoustic piano, it's not a point source—the sound emanates in multiple directions, and you may fail to capture the rich tone heard in the room with only one mic (even the usual high-quality condenser). Often two mics are employed (ideally recording to two separate tracks) to capture a more full, even tonal balance. Now, those mics can be arrayed in one of the standard stereo configurations—Spaced, XY, ORTF, etc.—but the recording doesn't necessarily have to be presented as stereo just because there are two mics involved. Both mics may be panned together in the mix, and instead of generating a stereo sound field, each will contribute a different aspect of the guitar's tone. A good example would be a mic aimed at the strings (12th fret, as above), and another at the bridge. One will provide a warmer tone with more emphasis on the strings, while the other might contribute more woodiness, from the body—blending them together in the right balance later in the mix may provide a richer tone than a single mic would have been able to offer.
Just watch out for phase issues—just as with room reflections, make sure there are no nasty phase cancellations between the mics, at their different distances. (If you record to separate tracks, at least you could fix any phase issues with delay later on, but better that the player doesn't hear a nasty, phasey tone in his/her headphones while the recording's going down).
4. Don't let a pickup trip you up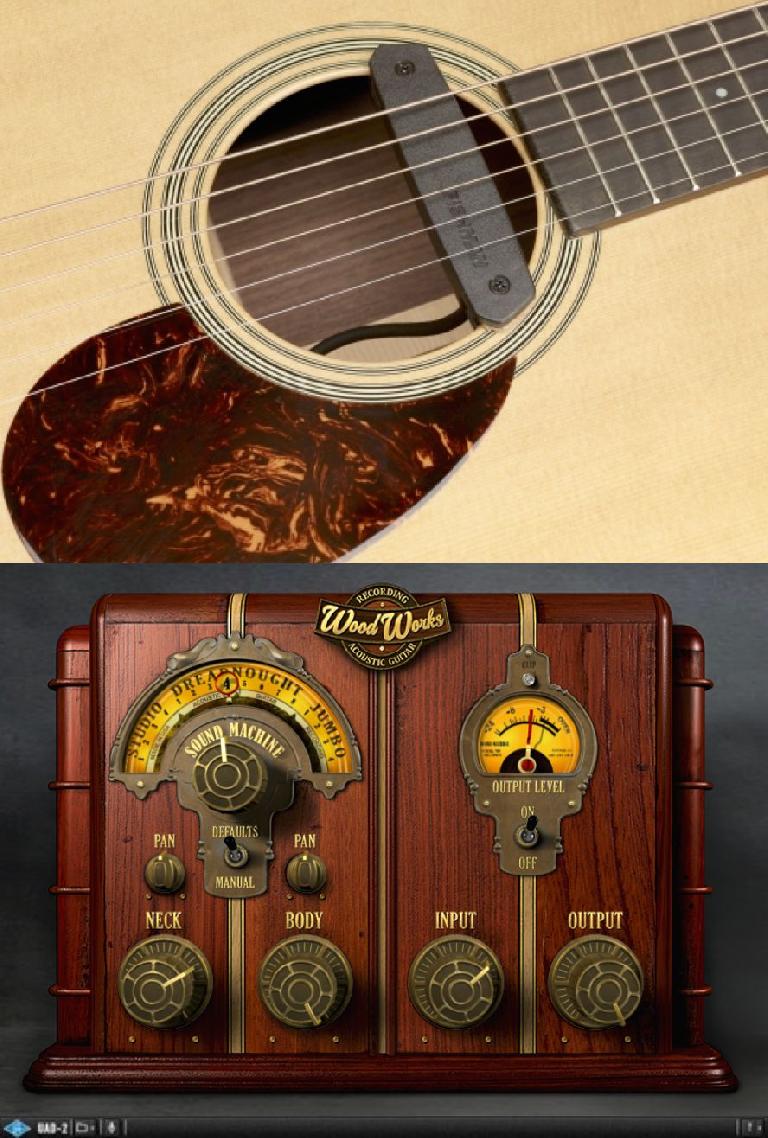 Fig 4 A typical acoustic guitar pickup, and software designed to restore air & body to a DI'd recording
Very often, for one reason or another, you may have to record acoustic guitar from an onboard pickup. Most engineers know to avoid the typically overly dry, string-heavy sound pickups offer, but at times there may be little or no choice. If you do have to D.I. acoustic guitar, try to make the best of the situation. First off, if there's an on-board preamp, don't automatically use whatever settings the player may prefer for onstage use—they'll probably provide an overly bright, peaky sound for a recording. Turn any onboard tone (and effects!) off, or set them to the most neutral settings, and do the work with your more capable studio-quality EQs and processing. There are some software packages that are designed to restore the missing sound of body resonance and air to DI recordings—if you have access to one, they can work wonders after the fact.
And if you're using the pickup because of leakage issues, try recording with a mic as well (on a separate track!)—even if you ultimately may not be able to use it, you might be able to blend in just enough air and body (without the leakage getting too intense) to help ameliorate the dead quality of the DI.
5. Don't change strings 5 minutes before the session
This is a more practical suggestion, like always have spare strings at the session, and don't record 5 minutes after bringing the guitar in from the cold. But, like with those other seemingly obvious details, it's often ignored. As any player can tell you, brand new strings will not only take a little while to settle and hold their tuning, but, depending on brand, material, and playing style, they can also tend to produce problematically loud squeaks, until they've had a chance to be broken in a bit.
While those little noises can be a natural—and welcome—part of the performance, when they're too pronounced, they can also become a distraction, and a problem to edit later on. The best approach is to change strings a day (or three) before the session, and break them in with a little light playing, before hitting the red button. (And, while we're on the subject of the obvious, I was going to remind you to "tune early and tune often"... but you already knew that...)
So, besides obsessing over the pedigree of the mic and all the other obvious elements of the recording process, a little extra attention to these various issues and details that come up when recording acoustic guitar can go a long way to achieving the best guitar sounds possible.