Max For Live was released a little over two years ago, and has (for many) changed the way Ableton Live works forever. It opens up a world of interesting devices and new ways to control Live itself. The extended functionality it brings to Live is almost unlimited. Here are five Max For Live Devices which really demonstrate the power and versatility behind Max For Live.

01 - Granulator by Robert Henke (Monolake)
If you are lucky enough to own Ableton Suite, then you are no stranger to Ableton instruments like Analog and Operator. Granulator is like their more interesting, grown-up older brother.

Granulator by Robert Henke. Worth the entry price alone.
Granulator is a sample mangling synthesizer. Feed it any sample, a voice, a piano, some bird calls and it will reward you with luscious soundscapes, evolving pads and alien worlds. It does this through granular synthesis, a synthesis method which chops up audio into tiny fragments and then re-arranges, pitch-shifts, crossfades and generally abuses them to make sounds which may or may not bear any resemblance to the original audio.
Explaining the full features of Granulator is beyond the scope of this article but let's just say that Granulator is almost worth the Max For Live cost by itself and is a testament to just how much can be achieved within it. You may have heard of Robert Henke, as well as being founder and member of the electronic music act Monolake, he is also heavily involved in the development of Ableton itself.
Download Granulator at http://www.ableton.com/pages/max_for_live/granulator
02 - LFO (part of the Max For Live library)
LFO is an often overlooked part of the Max For Live library. It is so unbelievably useful that I wish all DAWs had one.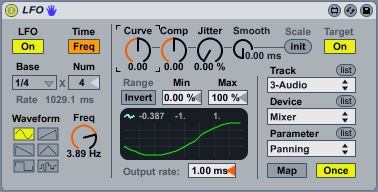 LFO (part of the Max For Live library). LFOs for your DAW!
The point of LFO is just what you'd expect, it's a Low Frequency Oscillator but the beauty of it is that it can be assigned to just about anything in your Live project. Track volume faders, send levels, other device parameters and even VST or AU parameters are all automatable directly from the LFO itself.
It comes installed already so no need to download it. Just head to Audio Effects / Max Audio Effects and drag and drop to a spare audio channel (it doesn't actually matter where the LFO effect is, it can control anything from anywhere). If you find the LFO useful, make sure you also check out Envelope Follower and Envelope Generator devices, which work in much the same way.
03 - Notepad by Prebentious
Just to prove that not every device needs to be a triumph of technical wizardry, the preposterously simple but useful Notepad allows you to enter some text in any device chain, and that's it. Use it to keep notes on your recording or processing chain, pass notes on to remixers or project partners or just remind yourself what key the song is in. Despite its simplicity, I find Notepad one of my most used Max For Live devices.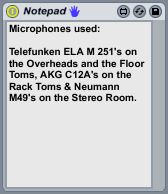 Notepad by Prebentious. Make notes directly in your device chain.
Ableton does have a Notes funtion built-in, but it's tied to clips and you don't see the notes unless you rollover the clip with the Info View open (which I tend to keep closed most of the time).
Here's a little tip: Disable the Notepad device after entering your notes. They'll still show, but the device itself will use zero CPU.
Download Notepad at http://www.maxforlive.com/library/device.php?id=176
04 - Device Randomizer 2.0 by Hanako
The Device Randomizer is an example of a simple idea which is fun and produces surprisingly good results. Place the Randomizer after any Live device and it will automatically populate with all the parameters of the preceding device (you can select a different device in the chain if you wish). Tell it to ignore certain parameters if needed, and then hit the random button. And presto: something different every time!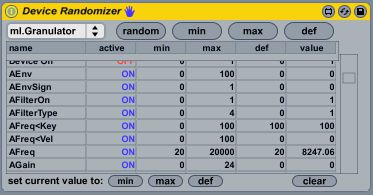 Device Randomizer by Hanako. Randomizes anything!
Download Randomizer at http://www.maxforlive.com/library/device.php?id=166
05 - Sixteen Macros by The Covert Operators
Sixteen Macros is a useful device which allows direct mapping of anything in your live set to up to 64 banks of 16 dials. This means you can control up to 1024 parameters using just 16 dials directly from the screen or from your MIDI controller.

Sixteen Macros by The Covert Operators. Control all the important parameters in your project from one location.
The layout of 16 knobs makes sense given that most MIDI controllers have 16 controls, maybe 8 sliders and 8 knobs or 16 sliders or some other combination. 16 Macros is ideal for managing MIDI control within your Live project whether it be a studio piece or a Live set.
Sixteen Macros is part of the Covert Operator's 'Max For Live Collection'