All oscillators are not created equally in the physical world, and they're programmed that way too! There are many other things, like tube and amp emulations, drive, detuning, filters, unison, and EQ/Compression that our skinny little waveforms get sent through to get all pumped up. In this article I'll be showing 5 synths that are well suited for making fat bass sounds. I made some quick samples... these are by no means all these instruments can do, they simply focus on depth, and use many of the functions above.
Native Instruments' Massive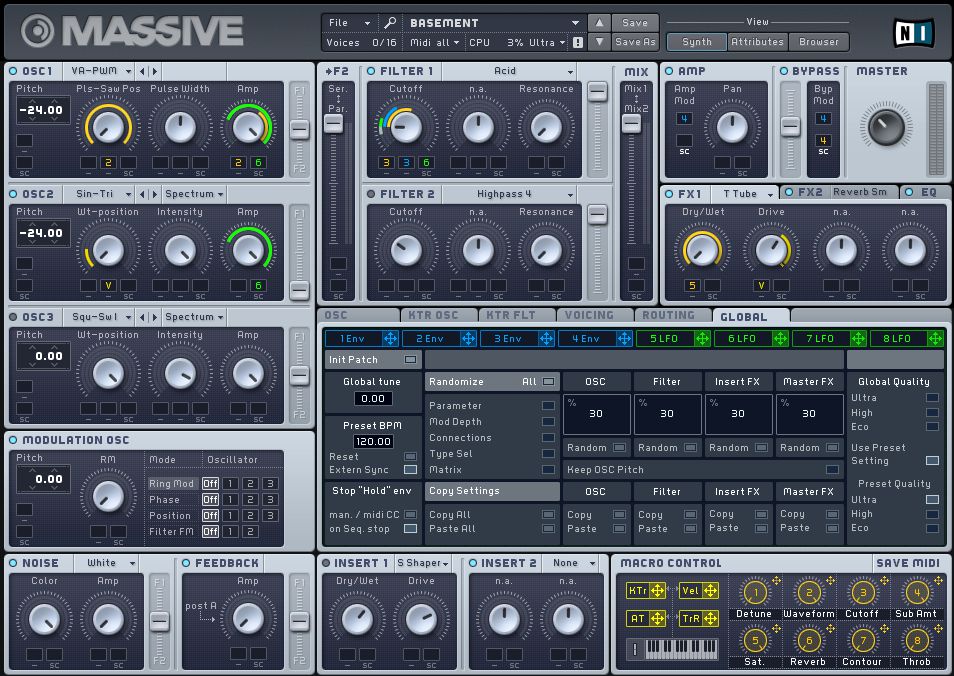 This synth is becoming an industry standard, and for good reason. 3 Oscillators with both virtual and sample-based waveform selections. An "Intensity" knob on digital waves that allows you to shape the sound, Fat sounding low pass filter options along with even fatter Scream and Daft modes. "Unisono" unison capability for playing stacked instances of the same note. Some great sounding tube emulations in the FX section, a hard clipper, wave shaping and low shelf EQ! Yes, this this thing is loaded.
http://www.native-instruments.com/en/products/komplete/synths-samplers/massive/
u-he Diva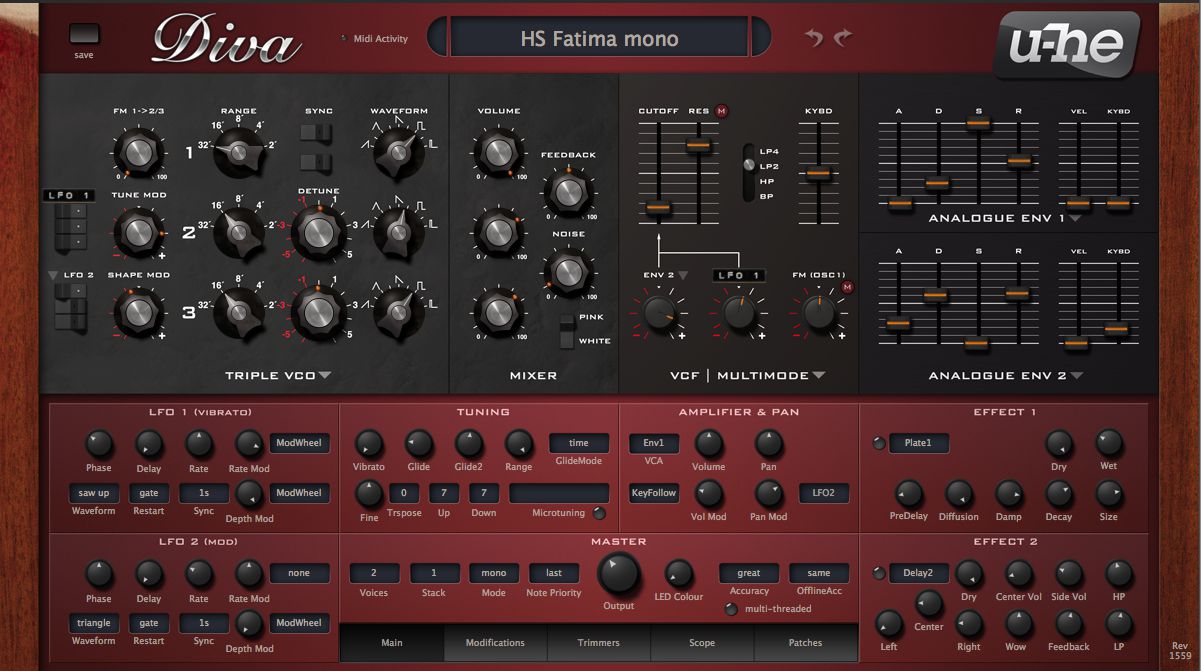 One of the best analog emulations you can get in software, Diva's amazing sound starts with its meaty oscillators that can be switched between 4 different modes; Triple VCO, Dual VCO, DCO, and Dual VCO Eco. All the voltage controlled oscillators (VCO) can be detuned, in addition to each voice independently. You have a unison mode that lets you stack voices, a feedback knob that can be used to thicken the lows, and four low pass filter modes modeled from classic hardware. If your CPU can handle it, try switching Diva into "Divine" mode... the name speaks for itself.
Rob Papen SubBoomBass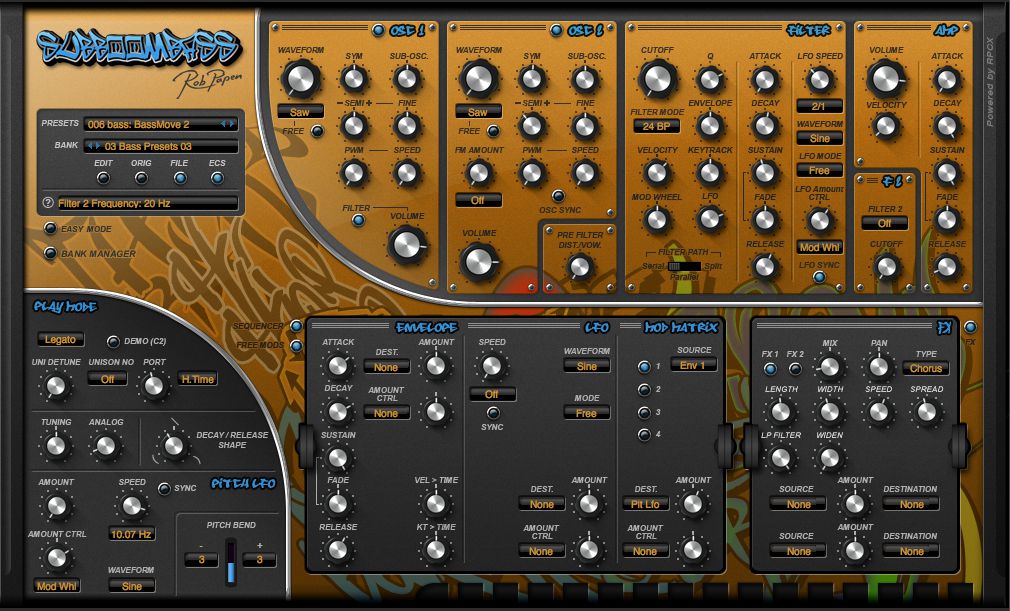 Obviously, this one was designed for big bass sounds! Two Oscillators with sample-based waveforms. Many waves are sampled to sound great at very low octaves. Each Oscillator has a sub oscillator for adding depth, fine tuning, and can be re-triggered for tighter sounds. There's a pre filter distortion, and two filters with analog modeled low pass. The unison mode with detuning per voice, can make even the simplest of patches sound enormous, and there are several distortions, wave shapers and amp sims in the FX section.
http://www.robpapen.com/subboombass.html
Sugar-bytes Cyclop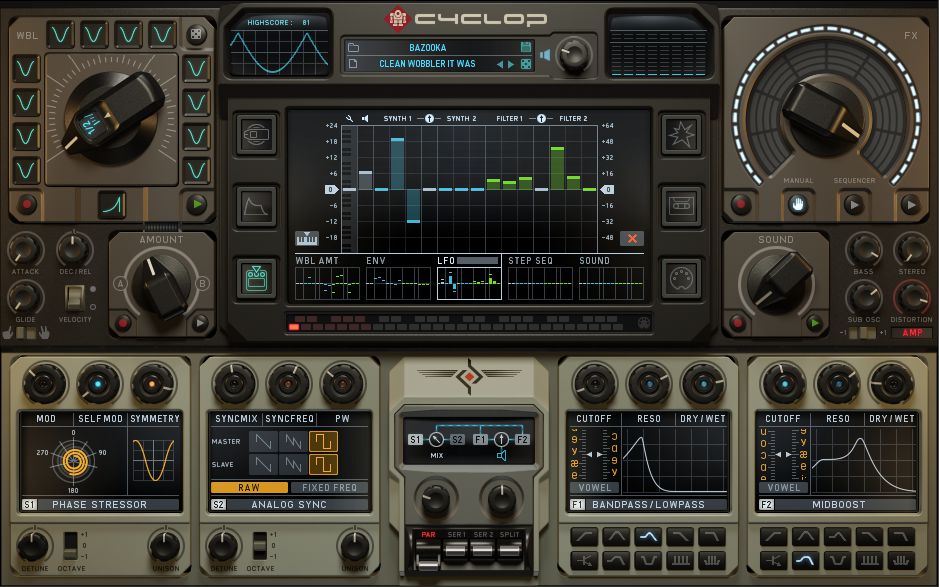 This deep and dark instrument has Dub Step, Electro House, and Drum and Bass in its eye, but that doesn't mean it's not useful for any other genre. You have 3 oscillators including a sub. The regular oscillators have 6 different synthesis methods. Some of the more chunky ones are Saw Regiment which is 7 sawtooth waves stacked, and the Analog Sync method which is a an emulation of two analog oscillators. They can also be detuned and each one has separate unison. The 2 filters sound great, and when in series (the signal enters one filter first, then the other), you can add an amp emulation, distortion, drive and more between them.
Where Cyclop really shines is in all its complex parameter automations. Many of the knobs movements can be recorded right within the instrument, and wobble LFO effects can be triggered with modifier keys (hot keys) on your controller.
https://sugar-bytes.de/content/products/Cyclop/
Lennar Digital Sylenth1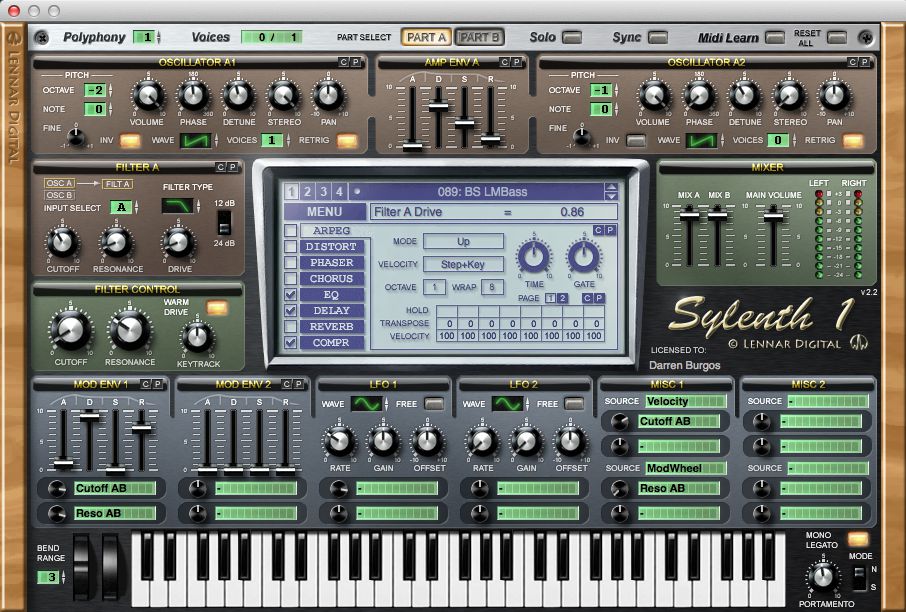 I'm putting this one last, and not because it's not as good as the others... it's actually one of the best and simplest of the bunch. I'm a bit concerned for its future since it hasn't been updated in a very long time (years), and as of this writing, there is still no Mac 64-bit version. However, Lennar Digital have announced that a 64-bit version is being developed.
If you can overlook the lack of current 64-bit support, you will seriously be impressed by the clarity and punch of this fantastic instrument. Sylenth1 is basically two stacked instruments. You can access the two via the Part A and B buttons for a total of four oscillators. The oscillators sound seriously great too... they're clear and crisp. The Retrig button restarts the oscillators so they hit in the same place on every new key press... this makes for extremely tight sounds. You have fine tuning, detuning and unison on each oscillator too. The low pass filter is one of the best sounding on any virtual instrument, and the drive knob (in the filter section) effects the filter sound in such a musical way, you just have to hear it.
http://www.lennardigital.com/modules/sylenth1/
So there you are. All of these instruments have demonstration versions for download, so go try them out. Your basslines will thank-you for it!