The holiday season is almost upon us and it'll soon be time to think about sharing gifts with your loved ones. If you already have an iPad, or suspect there might be one coming your way soon, well done! You have one of the most impressive E-Reader, portable game console, Web browsing, Video viewing, touch based tablet computers available.
What really stands out about the iPad are the huge number of apps on the iTunes App Store just waiting to be downloaded. In this article we'll take a look at 5 music creation apps that every iPad wielding musician should take a look at. (In no particular order)...

01 - Rebirth for iPad
Also available for the iPhone, Rebirth for iPad is a remake of Propellerhead's famous Dance and Techno Sequencing software by the same name.
It features the TB-303 Bass synth, 808 and 909 drum machines, tempo synced digital delay, compressor, distortion, low-pass and high-pass filters a Mixer and even a way to share your sonic creations direct to Facebook, Twitter and more.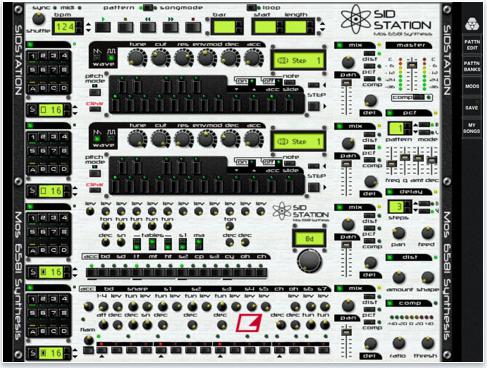 Controlling Rebirth using a multitouch screen is more intuitive than using a mouse, so this is definitely one to explore!
02 - Korg iElectribe
Korg have been very active creating synths and other goodies for the iPad. It was a difficult choice whether to recommend the Korg iElectribe or the Korg ims-20. The iElectribe is a faithful emulation of the Electribe-R hardware sequencer. Again, great for dance music enthusiasts, the iElectribe is really fun to play with. Not only that the sound engine is very impressive too.
It includes 8 instruments (4 percussive and 4 synthesizer), 8 types of effects, full 64-step sequencer with swing and tempo values, up to 160 memory patterns and audio export through iTunes!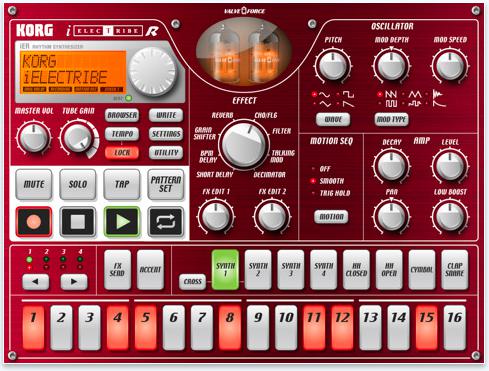 03 - TouchOSC
While not strictly a way to create music on the iPad, TouchOSC is an incredible way to transform your iPad into a Touch Control Surface. TouchOSC sends and receives Open Sound Control messages over a Wi-Fi network to your DAW. It works great with Ableton Live for example, and now with Logic's recent update to 9.1.3 it works seamlessly here too.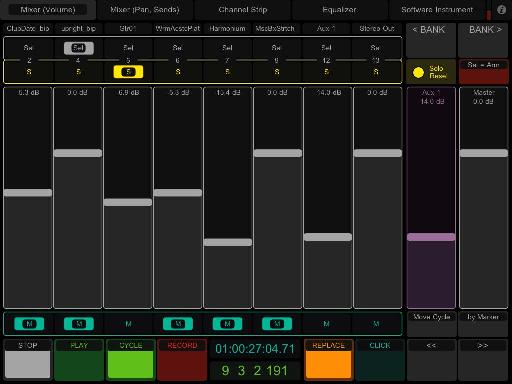 It's extremely cheap, easy to setup and in my experience has very good response. In fact considering the cost of dedicated hardware controllers just a few years back could easily reach a thousand dollars plus(!) this is a great example of how the iPad is bringing greater control to more users. Logic 9 user? Get it now!!
04 - Looptastic HD
Miss your DAW when out on the road with your iPad? Wish that an FL Studio (or Garageband even) style app existed on the iPad? Looptastic HD may be just what you are looking for!
You can create electronic flavored compositions very easily. It's as easy as dragging and dropping loops in choosing from a variety of different genres. There are 13 real-time effects included, many of which are perfect for creating real-time DJ mixes complete with stutter and glitch effects!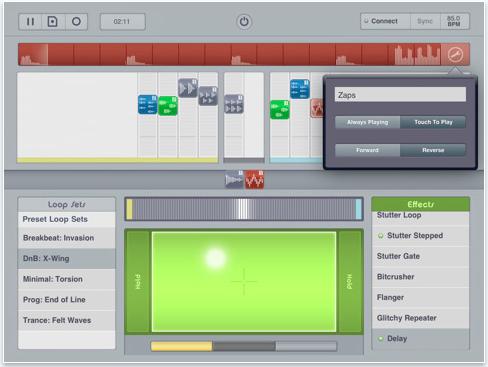 Other interesting features include the time-stretching feature so that your loops will playback at the correct tempo, the Mixer, the ability to change the tempo on the fly and of course the ability to export your Mac/PC or even share via Soundcloud!
Be prepared to spend many hours using this app!
05 - Best of the rest
Did we say "5"... Well, there are so many apps available and being merely human, I've not found the time to try all these apps out to my satisfaction... So here is a list of some more notable music creation apps for iPad you should check out!
Added post-publishing date:
Morphwhiz (by Jordan Rudess of Dream Theater!)
There's one app which I've not mentioned but is essential for Mac (and PC) based musicians. NED for iPad enables you to stream and/or download tutorials from macProVideo.com direct to your iPad! Learning about Compression, Logic, Recording techniques, Ableton Live, Pro Tools, Cubase, etc. has never been easier and more fun!
Whether you decide to gift any of these to a loved one (or gift them to yourself) let us know in the comments below what you think! If there are any music creation apps you deem worth an extra mention we'd love to hear about them too.