Virtual ANS
Alexander Zolotov's Virtual ANS is an iOS version of the ANS photoelectronic instrument created by Russian engineer Evgeny Murzin in the late '50s. This strange mechanical instrument allowed you to draw sound and is truly unique and totally mad!
Now if this all seems a bit familiar then you'd be right. Edward Spiegel used the principles of the ANS to create MetaSynth. In fact the similarities between Virtual ANS and MetaSynth are quite uncanny but then again they come from the same place.Now Virtual ANS is nowhere near as deep and complex as Metasynth, but it does pack a punch with some great features.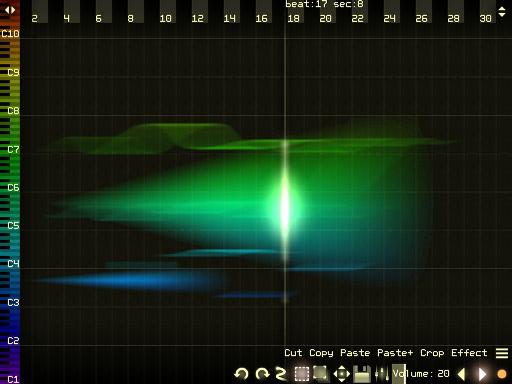 The basic idea is you set up a canvas (the higher the resolution in pixels the higher the resolution in sound) and draw on it with the provided tools a bit like Photoshop. When you hit play, the pixels are played back as sound (luminance relates to volume). The frequency or pitch depends on their position on the Y axis. You can also import and manipulate images and play them back as sound too.

Conversely, you can add an audio file and turn that into a sonogram (image) and manipulate the image to create weird effects. You can even record into it live and mangle the audio via the canvas. Confused? Great!

Virtual ANS is a sound designers dream and if you don't have $500 to spend on MetaSynth then this is the next best thing!

Sequential
Sinevibes have seem to go under the radar with most people I know. They make awesome plug-ins for Mac and have been at it for years. If you don't own at least one of their AU's then you should (starting at $19).

Sequential is their first jump into apps for the iPad and it's a really cool, fun app indeed. It's basically a scaled down version of their Sequential AU plugin. What you get are twelve effect lanes that can be sequenced on or off using a step sequencer. You can only use one at a time for each step.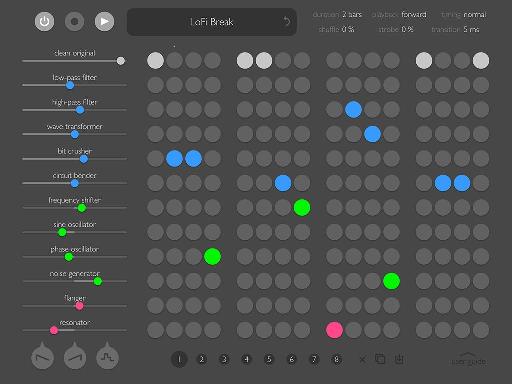 Just load in a loop from the library (or one of your own) and Sequential will work out the tempo for you. Each effect has one simple slider that changes the most obvious parameter of the effect (like cutoff for the filter). There are also three modulation shapes that modulate all effects when touched.

There are eight scenes, shuffle, strobe (gate time) and transition time (for the effects). Although you can't save presets, you can record straight to audio for your loops.

If you're looking for a fun way to mangle loops then Sequential is definitely an app you should check out.
TC-11
TC-11 is a true multitouch synth. It's also incredibly complicated to get your head around! In fact your brain might run out your ears trying to figure it all out. When you have the '