Pode-se argumentar que não há elemento mais importante na música de dança que os tambores que manter tudo em movimento. Aqui está cinco truques rápidos para fazer sua bateria se destacar da embalagem.
Dica 1 - Chord
Esta é uma maneira rápida de obter drum pads polifônicos finas sonoridade engordados em um instante. Tenho uma salva de palmas som ou aro tiro particularmente fina? Largar um efeito acorde diretamente no bloco de percussão desejado e começar a adicionar passos para os seis diferentes turnos disponíveis no acorde: oitavas mais baixas tendem a ser mais alto, mas oitavas superiores pode iluminar o ataque consideravelmente. Tente adicionar valores diferentes em todas as seis mudanças de acordes, em seguida, desativar o acorde para isolar a diferença.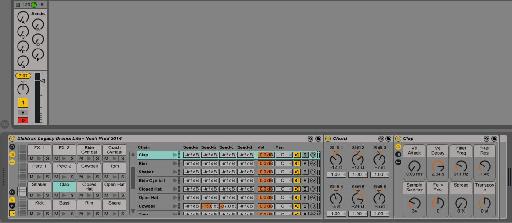 A gonorréia chorded-up.
A melhor parte é, já que é um efeito de MIDI, a fuga de CPU é insignificante. No entanto, isso só deve ser preso para fora em partes especialmente finas e usado com moderação em todos os sons que já têm algo próximo a sua grossura desejada.
Dica 2 - Saturação
A próxima dica é especialmente útil para trazer algum personagem nos altos e médios-altos, dando hi-hats, em especial, um brilho perceptível, mas realmente ajuda a arredondar as coisas com excitação harmônica em todo o espectro de freqüência. É fácil: basta pegar um dispositivo Saturator e coloque-o em sua bateria; então, a partir do menu drop-down abaixo do espectador Forma de onda, selecione Sinoid Foldyou'll notar de imediato, como ele traz tudo o que um passo em frente na mistura.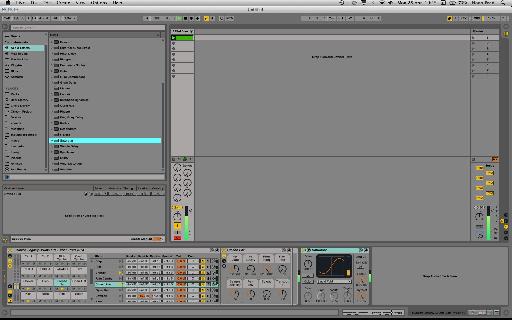 Um kit saturado.
Você pode querer usá-lo com moderação, no entanto, os sons graves pesados. Você também pode botão direito do mouse na barra de título do dispositivo Saturator e ativar o modo de alta qualidade a partir do menu que appearsor definir as configurações atuais como padrão para instâncias Saturator futuras.
Dica 3 - Choking Criativo
Parece que todo mundo sabe sobre sidechaining por NowIt uma característica essencial de muitos estilos de música de dança. Mas, com sistema de roteamento flexível da Live, você pode sidechain diferentes pads de bateria dentro de um rack da bateria de outros sons simplesmente selecionando-os na lista de sinais de origem disponíveis Drum Rack em menus drop-down cadeia lateral do compressor. No entanto, há outra maneira de conseguir um resultado semelhante (embora não idêntica), que está sufocando. Asfixia é a técnica utilizada para fechar abertas hi-hats uma vez um fechado é jogado.

Jantes asfixia shakers no grupo 2, chapéus asfixia abertas chapéus no grupo 1 fechada.
Encaminhamento de estrangulamento de um rack da bateria pode ser definido no modo de exibição corrente com a matriz de roteamento In / Out da cremalheira visível; quaisquer dois sons criados com o mesmo número de grupo de estrangulamento (dos quais existem 16 disponíveis) vai efetivamente cortar a reprodução dos outros nesse grupo quando acionado. Você pode ter um monte de diversão com este quando há sons com decaimentos mais ritmicamente interagindo uns com os outros.
Dica 4 - New York Compression
Compressão de Nova York é uma técnica de estúdio baseado na combinação de um sinal sobre-comprimido com o sinal original e seco. Em versões anteriores do Live, este requereu alguma send complicado e voltar de roteamento, mas com o novo controle Dry / Wet do Glue Compressor, é mais fácil do que nunca. Você vai querer colocar um em toda a faixa de bateria e dar-lhe algumas definições extremas: -40 dB de limiar, uma relação de 10, um tempo de ataque comprido de 3 ms para reter seus transientes e um tempo de liberação relativamente curto de 0,4 ou assim; você pode ajustar o ganho de maquiagem a gosto.

Compressão de Nova York em ação.
Once the compression is nice and brutal, start dialling the Dry/Wet blend back towards the dry side until you've got it sitting how you want—the result is a nice, punchy blend of slap-happy transients, pumping noise and the original clean signal.