Si potrebbe sostenere non c'è alcun elemento più importante nella musica dance di tamburi che tenere tutto in movimento. Ecco cinque trucchi veloci per rendere la vostra batteria si distinguono dalla massa.
Suggerimento 1 - Chord
Questo è un modo rapido per ottenere sottili suono polifoniche drum pad ingrassati in un batter d'occhio. Hai una particolarmente sottile suono di applauso o il bordo colpo? Drop un effetto di accordo direttamente sul pad desiderato e iniziare ad aggiungere punti ai sei diversi turni disponibili su corda: ottave più basse tendono ad essere più forte, ma ottave più alte può illuminare l'attacco considerevolmente. Prova ad aggiungere valori diversi su tutti e sei i turni di accordi, quindi disabilitare l'accordo per isolare la differenza.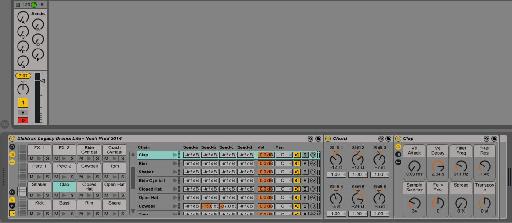 Un applauso chorded-up.
La parte migliore è, dal momento che è un effetto MIDI, lo scarico CPU è trascurabile. Tuttavia, questo dovrebbe essere eliminato solo su parti particolarmente sottili e usato con parsimonia su tutti i suoni che hanno già qualcosa di simile alla loro circonferenza desiderata.
Suggerimento 2 - Saturazione
Questo suggerimento successivo è particolarmente utile per far emergere qualche personaggio in alti e alti-medi, dando hi-hat in particolare, una lucentezza notevole, ma aiuta davvero a completare le cose con eccitazione armonica in tutto lo spettro delle frequenze. E 'facile: basta prendere un dispositivo Saturator e posizionarlo sui tuoi tamburi; poi, dal menu a discesa sotto lo spettatore Waveshape, selezionare Sinoid Foldyou'll notare immediatamente come si porta tutto un passo avanti nel mix.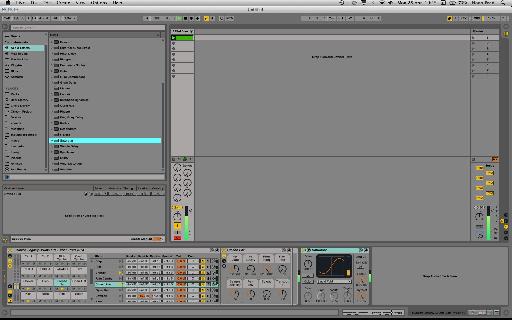 Un kit saturo.
Si potrebbe desiderare di usarlo con parsimonia, però, sui suoni bass-heavy. È inoltre possibile fare clic destro sulla barra del titolo del dispositivo Saturator e attivare la modalità di alta qualità dal menu che appearsor impostare le impostazioni correnti come predefinite per le future istanze Saturator.
Suggerimento 3 - Soffocamento Creativo
Sembra che tutti conoscono sidechaining da nowit è una caratteristica essenziale di molti stili di musica dance. Ma con il sistema di routing flessibile di Live, è possibile sidechain diversi drum pad all'interno di un rack tamburo da altri suoni semplicemente selezionandoli dalla lista dei disponibili Drum Rack segnali sorgente nei menu a scorrimento sidechain del compressore. Tuttavia, c'è un altro modo per raggiungere una (anche se non identici) risultato simile, che sta soffocando. Soffocamento è la tecnica utilizzata per chiudere aperti charleston una volta uno chiuso è giocato.

Cerchi soffocamento agitatori sul gruppo 2, chiusi cappelli soffocamento cappelli aperte sul gruppo 1.
Choke di routing Un rack tamburo può essere impostato nella vista Catena con In / Out matrice di routing del rack visibile; eventuali due suoni impostati sullo stesso numero di gruppo starter (di cui ci sono 16 disponibili) saranno effettivamente tagliare la riproduzione degli altri in quel gruppo quando viene attivato. Si può avere un sacco di divertimento con questo, quando ci sono suoni con decadimento più ritmicamente interagire uno con l'altro.
Suggerimento 4 - New York compressione
Compressione New York è una tecnica di studio sulla base di miscelazione un segnale over-compresso con il segnale originale, asciutto. Nelle versioni precedenti di live, questo ha richiesto un po 'send difficile e ritorno routing, ma con il nuovo Dry / Wet controllo di colla compressore, è più facile che mai. Avrai voglia di mettere uno su tutta la traccia di batteria e dare alcune impostazioni estreme: -40 dB soglia, un rapporto di 10, un tempo di attacco piuttosto lunga di 3 ms per mantenere tutti i transienti e un tempo di rilascio relativamente breve di 0,4 o così; è possibile regolare il guadagno trucco per piacere.

Compressione di New York in azione.
Once the compression is nice and brutal, start dialling the Dry/Wet blend back towards the dry side until you've got it sitting how you want—the result is a nice, punchy blend of slap-happy transients, pumping noise and the original clean signal.