On pourrait faire valoir qu'il n'y a pas plus élément crucial dans la musique de danse que les tambours qui gardent tout ce qui bouge. Voici cinq astuces rapides pour faire de votre batterie se démarquer de la meute.
Astuce 1 - Chord
Il s'agit d'un moyen rapide d'obtenir pads polyphoniques minces à consonance engraissés en un tournemain. Vous avez un coup de sondage ou de la jante coup particulièrement mince? Déposez un effet d'accord directement sur le pad souhaité et commencer à ajouter des mesures pour les six équipes différentes disponibles sur la corde: octaves ont tendance à être plus fort, mais octaves supérieures peuvent égayer l'attaque considérablement. Essayez d'ajouter des valeurs différentes sur les six changements d'accords, puis désactivez la corde à isoler la différence.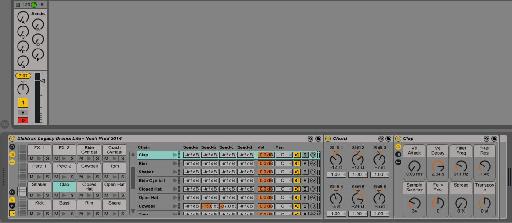 Un coup chorded-up.
La meilleure partie est, car il s'agit d'un effet MIDI, la fuite des CPU est négligeable. Toutefois, cela ne devrait être démantelé sur les parties particulièrement minces et utilisé avec parcimonie sur les sons qui ont déjà quelque chose de proche de leur circonférence désirée.
Astuce 2 - Saturation
Ce prochain conseil est particulièrement utile pour faire ressortir un certain caractère dans les hauts et les-hauts médiums, donnant hi-hats en particulier un éclat notable, mais aide vraiment à arrondir les choses avec excitation harmonique dans le spectre de fréquences. Il est facile: il suffit de prendre un dispositif saturateur et placez-le sur vos tambours; puis, dans le menu déroulant ci-dessous le spectateur Waveshape, sélectionnez Sinoid Foldyou'll remarque instantanément comment il apporte tout un pas en avant dans le mix.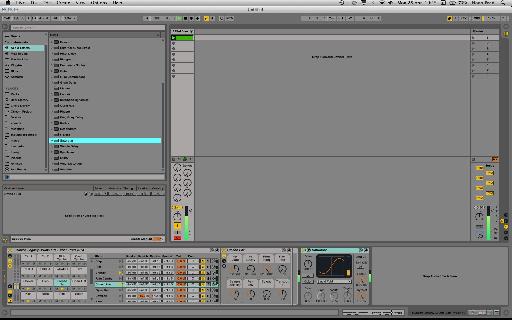 Un kit saturé.
Vous pouvez l'utiliser avec parcimonie, cependant, sur les sons de basse-lourds. Vous pouvez également cliquer sur la barre de titre du dispositif saturateur et engager le mode de haute qualité dans le menu qui appearsor définir les paramètres actuels en tant que la valeur par défaut pour les futures instances de saturateurs.
Astuce n ° 3 - étouffement Creative
Il semble que tout le monde connaît sidechaining par nowit C'est une caractéristique essentielle de nombreux styles de musique de danse. Mais avec le système de routage souple de Live, vous pouvez sidechain différents pads dans un rack de batterie d'autres sons tout simplement en les sélectionnant dans la liste des disponibles publicitaires signaux de source de batterie dans sidechain menus déroulants ci-déroulants du compresseur. Cependant, il ya un autre moyen de parvenir à une (mais pas identique) résultat similaire, qui étouffe. Étouffement est la technique utilisée pour fermer ouvertes hi-hats fois un système fermé est joué.

Jantes étouffement secoueurs sur le groupe 2, chapeaux étouffement chapeaux ouverts sur le groupe 1 fermés.
Starter de routage d'un rack de batterie peut être réglé dans la vue de la chaîne avec In / Out matrice de routage de la grille visible; deux sons réglés sur le même numéro de groupe d'étranglement (dont il existe 16 disponibles) seront effectivement coupé la lecture des autres dans ce groupe quand il est déclenché. Vous pouvez avoir beaucoup de plaisir avec ce quand il ya des sons avec plus désintégrations interagir rythmiquement un avec l'autre.
Astuce n ° 4 - New York Compression
Compression de New York est une technique de studio basé sur le mélange d'un signal sur-compressé avec le signal original, sec. Dans les versions précédentes de Live, cela nécessitait une certaine envoyer délicate et revenir routage, mais avec la nouvelle sec / Wet de colle compresseur, il est plus facile que jamais. Vous aurez envie de mettre un sur la piste de batterie ensemble et lui donner certains paramètres extrêmes: -40 dB seuil, un rapport de 10, un temps d'attaque assez longue de 3 ms pour conserver vos transitoires et un temps de libération relativement courte de 0,4 ou ainsi; vous pouvez régler le gain de maquillage au goût.

Compression de New York dans l'action.
Once the compression is nice and brutal, start dialling the Dry/Wet blend back towards the dry side until you've got it sitting how you want—the result is a nice, punchy blend of slap-happy transients, pumping noise and the original clean signal.