Se podría argumentar que no hay elemento más crucial en la música de baile de los tambores que mantener todo en movimiento. He aquí cinco trucos rápidos para hacer sus tambores se destacan del resto.
Consejo 1 - Acorde
Esta es una forma rápida de obtener pads de batería polifónicos delgadas sonando engordados en un santiamén. ¿Tienes un particularmente delgada clap sonido o borde tiro? Añada un efecto acorde directamente en el pad de batería deseada y comenzar a agregar medidas para los seis turnos diferentes disponibles en el acorde: octavas más bajas tienden a ser más fuerte, pero octavas superiores pueden alegrar el ataque considerablemente. Trate de añadir diferentes valores en los seis cambios de acordes, a continuación, desactivar el acorde para aislar la diferencia.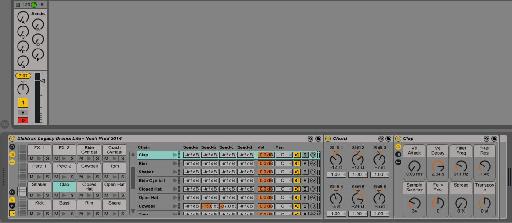 Un aplauso chorded-up.
La mejor parte es, ya que es un efecto MIDI, el desagüe de la CPU es insignificante. Sin embargo, esto sólo debe arrestaron a cabo en las piezas particularmente delgadas y utilizarse con moderación en los sonidos que ya cuentan con algo cercano a su grosor deseado.
Consejo 2 - Saturación
Este siguiente consejo es especialmente útil para llevar a cabo un poco de carácter en los altos y altas frecuencias medias, dando hi-hats, en particular, un brillo notable, sin embargo, realmente ayuda a redondear las cosas con entusiasmo armónica en todo el espectro de frecuencias. Es muy fácil: sólo tienes que tomar un dispositivo saturador y colocarlo en sus tambores; a continuación, en el menú desplegable bajo el espectador Waveshape, seleccione Sinoid Foldyou'll instante notó cómo se trae todo un paso adelante en la mezcla.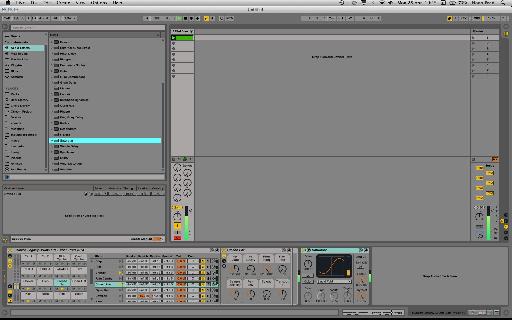 Un kit saturado.
Es posible que desee utilizarlo con moderación, sin embargo, en los sonidos de bass-heavy. También puede hacer clic en la barra de título del dispositivo Saturator y active el modo de alta calidad en el menú que appearsor establecer la configuración actual como valor predeterminado para las instancias Saturator futuras.
Consejo 3 - Asfixia Creativa
Parece que todo el mundo conoce sidechaining por nowit es una característica esencial de muchos estilos de música de baile. Pero con el sistema de enrutamiento flexible de Live, puede cadena lateral diferentes pads de batería dentro de un bastidor de la batería de otros sonidos, simplemente seleccionándolos de la lista de señales disponibles de tambor de origen de estantes en los menús desplegables de la cadena lateral del compresor. Sin embargo, hay otra manera de lograr una similar (aunque no idéntico) resultado, que se ahogaba. Ahogado es la técnica utilizada para cerrar abiertas hi-hats una vez que se hizo una pared cerrada.

Llantas de asfixia agitadores en el grupo 2, los sombreros de asfixia sombreros abiertas en el grupo 1 se cerraron.
Enrutamiento estrangulador de un bastidor de la batería se puede configurar en la vista de cadena con entrada / salida de la matriz de enrutamiento del estante visible; cualquiera de los dos sonidos fijados para el mismo número de grupo del estrangulador (de los cuales hay 16 disponibles) reducirán efectivamente la reproducción de los otros en ese grupo cuando se activa. Usted puede tener un montón de diversión con esto cuando hay sonidos con decaimientos más largos rítmicamente interactuar unos con otros.
Consejo 4 - Nueva York Compresión
Compresión de Nueva York es una técnica de estudio basado en la mezcla de una señal sobre comprimida con la señal original, seca. En versiones anteriores de Live, esto requiere un poco de envío complicado y volver de enrutamiento, pero con el nuevo Dry / Wet de control de Glue Compressor, es más fácil que nunca. Usted querrá poner uno en toda la pista de batería y darle algunos ajustes extremos: umbral -40 dB, una relación de 10, un tiempo de ataque un poco largo de 3 ms para retener a sus transeúntes y un tiempo de liberación relativamente corta de 0,4 o por lo que; usted puede ajustar la ganancia de maquillaje al gusto.

Compresión de Nueva York en la acción.
Once the compression is nice and brutal, start dialling the Dry/Wet blend back towards the dry side until you've got it sitting how you want—the result is a nice, punchy blend of slap-happy transients, pumping noise and the original clean signal.