Es könnte argumentiert werden, gibt es nicht mehr entscheidendes Element in der Tanzmusik als die Trommeln, die alles in Bewegung zu halten. Hier sind fünf schnelle Tricks, um Ihre Trommeln, sich von der Packung.
Tipp 1 - Chord
Dies ist ein schneller Weg, um dünn klingende polyphone Drum Pads im Handumdrehen gemästet zu bekommen. Haben Sie ein besonders dünn kling klatschen oder Rim Shot? Werfen Sie einen Akkord Wirkung direkt auf die gewünschte Drum-Pad und damit beginnen, Schritte zu den sechs verschiedenen Schichten an der Sehne verfügbar: unteren Oktaven auch lauter sein, aber höheren Oktaven wesentlich erhellen den Angriff. Versuchen Sie, andere Werte auf allen sechs Akkordverschiebungen, deaktivieren Sie den Akkord, um den Unterschied zu isolieren.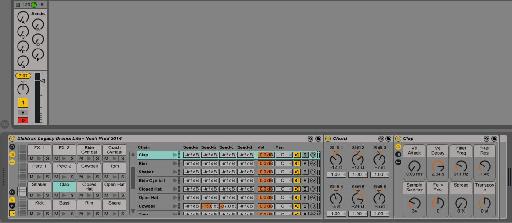 Ein Akkord-up klatschen.
Der beste Teil ist, denn es ist ein MIDI-Effekt, die CPU-Drain ist vernachlässigbar. Dies sollte jedoch nur an besonders dünnen Teile gesprengt und sparsam auf alle Geräusche, die schon etwas in der Nähe, um ihre gewünschten Umfang verwendet werden.
Tipp 2 - Sättigung
Das nächste Tipp ist besonders nützlich zur Geltung zu bringen einige Zeichen in den Höhen und Mitten Hoch, was hallo-Hüte insbesondere eine spürbare Glanz, aber wirklich hilft, die Dinge mit harmonischen Aufregung über das Frequenzspektrum abrunden. Es ist einfach: einfach an eine Saturationsvorrichtung und legen Sie es auf Ihrem Schlagzeug; Sie dann aus dem Dropdown-Menü unter der Kurvenform-Viewer, wählen Sinusoid Foldyou'll sofort bemerken, wie es bringt alles, was ein Schritt nach vorn in der Mischung.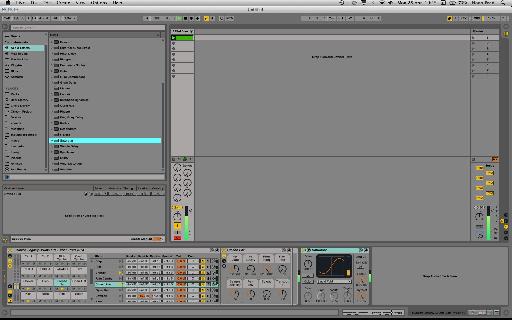 Eine gesättigte Kit.
Vielleicht möchten Sie es sparsam verwenden, aber auf basslastige Sounds. Sie können auch mit der rechten Maustaste auf die Titelleiste des Saturationsvorrichtung und greifen in die High-Quality-Modus aus dem Menü, das als Standard für zukünftige Saturator-Instanzen die aktuellen Einstellungen appearsor.
Tipp 3 - Kreative ersticken
Es scheint, wie jeder weiß, über Sidechaining durch nowit ist ein wesentliches Merkmal von vielen Stilen der Tanzmusik. Aber mit flexiblen Routing-System Lives, können Sie verschiedene Drum-Pads in einem Drum Rack von anderen Sounds Sidechain einfach durch Auswahl aus der Liste der verfügbaren Drum Rack Quellsignale in Sidechain-Dropdown-Menüs des Verdichters. Allerdings gibt es eine weitere Möglichkeit, um eine ähnliche (wenn auch nicht identisch) Ergebnis, das erstickt zu erreichen. Ersticken ist die Technik verwendet, um offene hallo-Hüte herunter einmal ein geschlossenes gespielt wird.

Felgen Würgen Treuer auf Gruppe 2, geschlossen Hüte Würgen offene Gruppe 1 Hüte auf.
Drossel-Routing eine Trommel Racks können in der Ansicht mit Ketten des Racks In / Out Routing-Matrix sichtbar eingestellt werden; zwei alle an den gleichen Drossel Gruppennummer (von denen gibt es 16 verfügbar) gesetzt wird effektiv die Wiedergabe von den anderen geschnitten in dieser Gruppe, wenn sie ausgelöst. Sie können eine Menge Spaß damit haben, wenn es Sounds mit mehr Zerfälle rhythmisch miteinander interagieren.
Tipp 4 - New York Compression
New York Kompression ist ein Studio-Technik, die auf das Mischen eines Über komprimierte Signal mit dem Original, Signal. In früheren Versionen von Live, dies erforderte einige knifflige Send-und Return-Routing, aber mit dem neuen Kleber Compressor Dry / Wet-Regler, ist es einfacher als je zuvor. Du wirst zu einer auf der gesamten Drum-Spur gesetzt und ihm einige extreme Einstellungen wollen: -40 dB Schwelle, wird ein Verhältnis von 10, ein längliches Angriffszeit von 3 ms, um Ihre Transienten und eine relativ kurze Auslösezeit von 0,4 beibehalten oder so; Sie können Makeup Gain einstellen zu schmecken.

New York Kompression in Aktion.
Once the compression is nice and brutal, start dialling the Dry/Wet blend back towards the dry side until you've got it sitting how you want—the result is a nice, punchy blend of slap-happy transients, pumping noise and the original clean signal.