Sometimes, staring at the same instruments you've grown accustomed to just isn't enough to get you excited in the studio—and sometimes, your bank balance isn't quite where you'd like it to be. Fortunately for all of us in times like these, the burgeoning collection of Max For Live devices is here to help.
1. ck.acid

If you're looking for a quick and dirty acid line, ck.acid does the trick by combining a basic sequencer with a monophonic oscillator and convincingly acerbic filter circuit. Pulsewidth adjustment and grimy distortion add optional character, while simple attack and decay envelopes help shape both the filter and amp output. The sequencer can run up to 16 steps or less, with a foldable piano roll to place your notes; filter cutoff, output volume, and filter decay can all be sequenced via their own dedicated sequencer panes, while all four sequencer parameters can be independently randomized for instant fun. It would be unfair to compare it with some of the analog hardware options out there, but if you need a little 303 for free, you could do far worse than ck.acid.
2. Phase Distortion Synth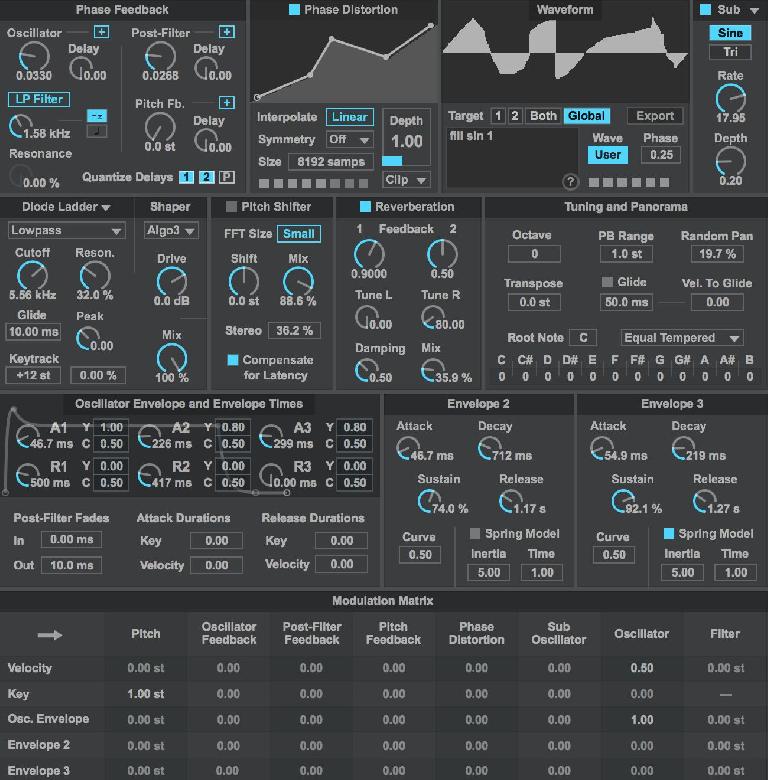 An incredibly full-featured free instrument, Phase Distortion Synth combines versatility, great sound, and a handsomely designed detachable interface. Easily user-drawn waveforms, a visual phase distortion interpolation graph, extensive phase feedback settings, and a wide range sub oscillator instantly produce timbres ranging from raw and rugged to deliciously delicate. Add in selectable State-Variable, Moog, and Diode Ladder filter circuits, six-point oscillator envelope, a pair of assignable ADSRs, five waveshaping algorithms, real-time pitch shifting, lush reverb, and a full-spread modulation matrix, and there's no excuse not to add Phase Distortion Synth to your clutch of go-to virtual synthesizers.
Web: http://www.maxforlive.com/library/device/2124/phase-distortion-synth
3. Sev

Excelling at the unusual, Max for Live is the perfect breeding ground for devices like Sev. The dead simple interface is comprised of a one-octave piano key selector and four XY pads. You can use the key selector to draw the notes of a chord that will be randomly triggered, in sync with the global tempo, according to the probability and volume controlled by the rightmost XY pad. The Random Notes pad selects the range of partials comprising the sinusoidal tones that emanate from Sev's output; the Attack/Decay Envelope XY helps range from intricate plucks to gently washing atmospheres, while the Echo/Detune XY helps spread the tonality for wider results. Better yet, you can disable the built-in key selector and feed Sev your own chord progressions via MIDI clips on the same track; experiment with the Chord and Scale MIDI devices for extra fun. And if you're interested in more of Katsuhiro's work, be sure to check out his free synth pack on Ableton.com.
Web: http://www.maxforlive.com/library/device/170/sev-by-katsuhiro-chiba
4. Crone

A comb-filter based polyphonic drone synth with a unique GUI, Crone is ideal for generating windswept atmospheres and icy drones. A selection of comb filtration and noise controls generate the signal, while an ADSR envelope and three dedicated LFOs—each of which is hardwired to pulse, frequency, and resonance settings, respectively—add shape and movement to the sound. A tone control plus chorus and stereo delay effects help widen the results, while 36 preset snapshot slots are available to store your favorite settings, making Crone a perfect tool for ambient textures and futuristic soundscapes.
Web: http://www.maxforlive.com/library/device/974/subtlesonic-crone-textural-drone-synth