In all professions, there is always the elite group. The guys that set the bar for the rest of us. While it's easy to say, "Hey, I could probably do that if..." it doesn't really matter! They were the first. And for a reason. The guys in the list below have made sound design history, and we're going to break down some of the traits/characteristics that made, or are still making them, the best in the business.
"Collect from Everything, Always"—Ben Burtt
You can't start a sound design article without him. He's a legend on almost every front of sound, outside of music. And his imagination and creativity have even traveled outside of his own movies, due to his classic 'Wilhelm scream', to what literally could be hundreds of films. The Wilhelm scream, after all, has become a tradition for many sound designers. And, let's face it, we all listen for it.
I spent some time with Ben, several years ago, and there isn't just one trick that defines the way he works. In a future article, I'll be covering a few more traits of Burtt, but if I had to choose one, it's record everything! Ben, like many sound designers, is just fascinated by sound. He's been recording crazy sounds from telephone rings, to door slams, since he was a kid. As a result, his office is filled with old tapes. Some, going back to when he was a child. And that's really how long he's been collecting!
What does this accomplish? When Steven Spielberg, or George Lucas, Francis Ford Coppola, Pixar, and several more approach him, it's because they know that he has all of the sounds they are looking for, period. He doesn't always know if a sound will be used, as he continues to fill his collection. And it doesn't matter. He literally loves collecting, and you can see how well it's done for him.
Tip—Develop a love of simply collecting cool, original sounds. And, do it as often as possible. A sound designer relies on a personal library that separates him/her from the rest. And those commercial libraries get used a lot!
"Try Not Being a Sound Designer" —Walter Murch
If you're talking about Ben Burtt, then sooner or later, the name Walter Murch is going to come up. And there's good reason—He's a machine. He's also, like many sound designers, a true philosopher, in the sense that if you've listened to his work, or have read any of his interviews, you'll discover he's worked in many different aspects of film. So not only he has a very good insight as to how sound will affect the audience, but he's got an exceptional grasp of what the director of the film is looking for. Why? Because he's been a film editor, a director, a writer... and a sound guy.
Granted, we live in a world where if you chase two rabbits, you'll go home hungry. But it never hurts to occasionally buck the tendency towards departmentalization—something Murch, and other American Zoetrope cronies eschewed, at the beginning of the famed production company creation—and try on some different hats. Try being a grip, try being a programmer, try directing, try editing. It's all fun, and it's all hard work.
Tip—Step outside of sound design, sometimes. This leads to extremely cool perspectives that you just can't get when you're only focusing on sound. And this makes you a much more valuable team player, as other crew members regard you as having an idea of what goes on outside your own sphere, and may possibly see you as empathic.
"Really Use Sound To Tell A Story"—Gary Rydstrom
When you're in the army, you know how much of a badass is, by how many ribbons one has on his chest. In professional film, you see it in your resume, and in your shelf that holds all your Academy Awards. And no one has a bigger shelf than Gary Rydstrom.
One of the stated keys to Gary's success, as well as all successful sound designers, is Gary's ability to tell a story through sound. And, while that sounds cool in practice. What does it really mean?
It's film/audio 101, but sometimes it's going back to the beginning and employing the most basic tricks, like we used when we were kids, or instructors in college might have shown us on day one. Turn down the volume on popular shows and notice what happens when the sound goes away. Observe the sub-modalities, as they play out within yourself, as a child would, when the sound goes and comes back in, by playing with the volume knob.
Then, try listening to the sound without watching it, in a film that employs little music, and dialogue, and mostly relies on environmental audio. Or, maybe even something like Baby Einstein, or an old Tom and Jerry cartoon. The audio, in a dark room, with no images always tells a story.
But what makes it tell a story so well? By going Tiger Woods and reinvestigating what really works, what works an audience (try watching a movie audience, sometime!), and what doesn't, you gain a better perspective. You key on this, you can only climb! Watch A Bug's Life, sometime, and let Gary show you how it's done! Granted, all the guys on here are amazing at it. Gary tends to embody it, for me, at times.
"Don't Be Afraid to Buck the Trends"—Steve Tushar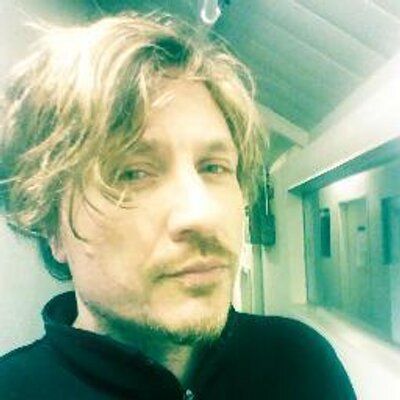 Steve Tushar. Photo: https://twitter.com/stevetushar
While Mr. Tushar may not fall into the hall of fame, or have an academy award yet, he's well on his way, already having obtained several Golden Reel nominations, designing sound on amazing titles like Poltergeist (remake), Coraline and Paranorman. As a fan, I have been seriously amazed at his work on Legend of Korra, and Last Airbender. As a friend, I've always been completely amazed with Steve's work ethic, as well as his incredible ability to envision, and build tools with programmers, and sometimes, by himself. He's also one of the minority in pro audio that uses a Windows platform, and he aggressively seeks out new plug-ins, as opposed to just going with 'industry standards'. To sum it up: He's extremely good at going with what sounds good, as opposed to what's supposed to sound good, according to college instructors, and reviews. He's cultivated the kind of ear, and confidence that he just knows what will work.
I am mostly Mac user, these days, but sometimes I really miss having a Windows machine, or just having a Bootcamp-ed partition. It's always nice to catch up with Steve, and see what I'm missing.
Conclusion
I have a lot of admiration for each of these guys and have learned a great deal listening to their work, like every one of us who have been moved by the silver screen within our lifetimes. In closing, I'd like to leave you with an additional characteristic that all of these guys share—A serious love of sound. And I believe all of them would be doing it daily even if the money wasn't there. And, it hasn't been, even for those guys, at times.