As far as reviews of synths go this one by Peter Van Hoesen, on behalf of Electronic Beats, ticks all the boxes for us at AskAudio. Kudos to him.
If you want to watch and hear a comprehensive overview of the now famous $299 Minimoog analog synth clone from Behringer then you should check this out:
This remake of the legendary analog Moog synthesizer features 3 VCOs, Ladder Filters, LFO and plays nice with Eurorack too.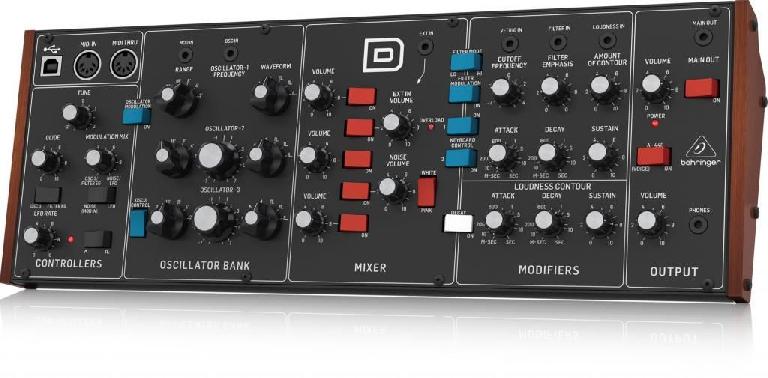 Behringer Model D Features
Legendary analog synthesizer with triple VCO design allows for insanely fat music creation
Authentic reproduction of original "D Type" circuitry with matched transistors and JFETs
Ultra-high precision 0.1% Thin Film resistors and Polyphenylene Sulphide capacitors
Pure analog signal path based on authentic VCO, VCF and VCA designs
5 variable oscillator shapes with variable pulse widths for ultimate sounds
Classic 24 dB ladder filter with resonance for legendary sound performance
Switchable low/high pass filter mode for enhanced sound creation
Dedicated and fully analog triangle/square wave LFO
16-voice Poly Chain allows combining multiple synthesizers for up to 16 voice polyphony
Semi-modular design requires no patching for immediate performance
Overdrive circuit adds insane spice and edge to your sounds
Noise generator dramatically expands waveform generation
Complete Eurorack solution – main module can be transferred to a standard Eurorack case
48 controls give you direct and real-time access to all important parameters
External audio input for processing external sound sources
Low and high level outputs featuring highest signal integrity signal stages
Comprehensive MIDI implementation with MIDI channel and Voice Priority selection
3-Year Warranty Program*
Designed and engineered in the U.K.