Channel strips are incredible time savers when mixing. The ability to bring up a single plugin that houses a good EQ, compressor, and other tools can allow you to work both quickly and efficiently. Universal Audio has quite a few offerings aside from the CS-1 plugin that comes with your hardware purchase. Here are my 3 favorites that I find myself reaching for at some point in just about every mix I do.
The Neve 88RS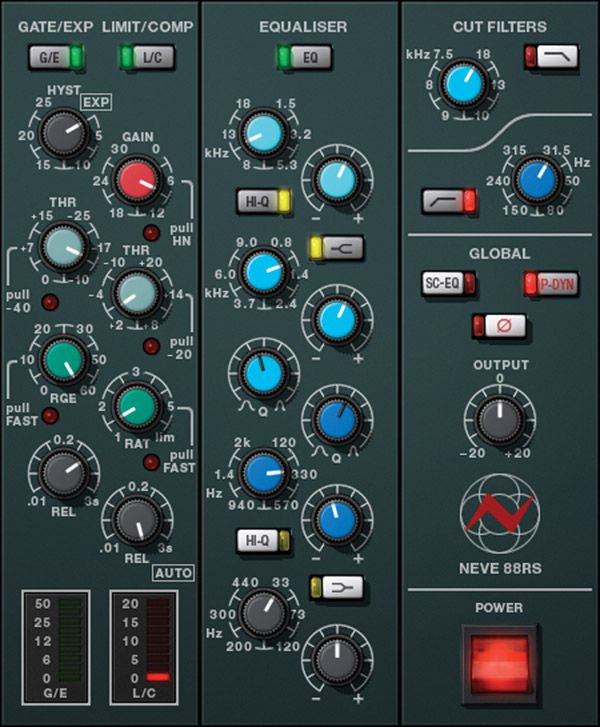 The Neve 88RS Legacy was my first UAD channel strip that I purchased. It's by far the most efficient of the 3, and as it impacts my 'UAD CPU bottom line' almost imperceptibly, I don't hesitate to load this up on a bunch of channels that don't need as much tender loving care as say, a lead vocal. The Neve EQ is easy to dial in, and it doesn't feel like a 'blunt instrument'. The flexibility in routing also allows you to place the EQ before or after the compressor with a touch of a button. At only 3.2% of a single UAD CPU core, you can afford to put this on any track without affecting your bottom line.
UAD just updated the 88RS to join the API Vision in its Unison compatibility. That means that you get all the the non-linear characteristics of the entire signal path (at a cost of UAD DSP power) and the ability for your physical preamp on your Apollo interface to actually model the impedance and gain staging of the original Neve channel strip. It's an amazingly convenient way to track - simply use the 88RS on your inputs while tracking, and you get tracks that are already gated, eq'd, compressed, and more! As a bonus, after you're done tracking, you can remove the 88RS from your inputs in console and get all your DSP back for mixing. Score!

I typically load it up on drum toms, snare bottom, backing vocals, and just about anything that ever needs a gate to clean up the signal. It's an audio swiss army knife, and it doesn't take a lot of power to use.
Web: http://www.uaudio.com/store/channel-strips/neve-88rs.html
The SSL E Series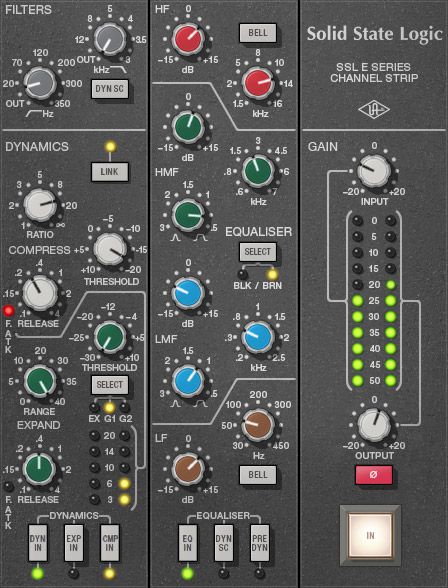 I'll get this right out of the way—I can't believe that this emulation of the venerable SSL 4000 only utilizes 7.4% of a single UAD processing core! With a highly effective expander/gate, a 4-band EQ, compressor, and side-chain input—this plugin has just about everything you could possibly need. The routing options are numerous, allowing you to place the dynamic processing and EQ processing just about anywhere in the chain. You can even enable frequency-dependent compression, (as you can with the 88RS), to de-ess your sound!
I'll use the SSL E on just about anything. If I managed to get a lead vocal sound that I'm pretty happy with upon recording, the SSL E can take me right from happy to ecstatic. It's a solid plugin that does the work of 3!
Web: http://www.uaudio.com/store/channel-strips/ssl-e-series-channel-strip.html
The API Vision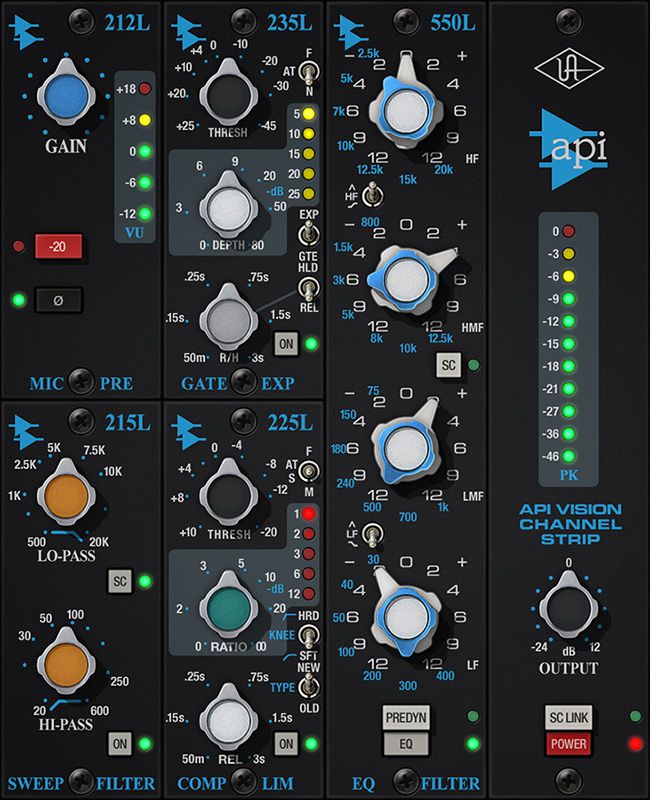 The API Vision channel strip is the Mercedes of this bunch. The sound is impeccable, the interface is fantastic, and you can achieve the 'downtown sound' nearly instantly with this plugin. It takes a whopping 22% of a single CPU core on a UAD system, but after you load it up and use it you can see why. The compression is incredibly musical, and can be either transparent or aggressive. If you're lucky enough to have an Apollo interface, you can load it up in the preamp emulation slot of the console and it will actually change the mic preamp gain staging and impedance of your audio interface!
I use the API vision for just about every voice over job I do. Lead vocals, electric guitar, acoustic guitar… it just makes everything better. It's a fantastic plugin and I wish I could put one on every channel!
Web: http://www.uaudio.com/store/channel-strips/api-vision-channel-strip.html
What's Next
Who knows what venerable console UAD will emulate next? They've shown that they can pack quality into a small CPU footprint, and they've also shown that they can do 'boutique' with the API. Here's hoping they continue to innovate and help us to leverage all the power we can out of the Unison mic preamps on our Apollo interfaces!