Whether you use Live for its live performance features, or for songwriting and composition, spending a little time organizing will mean less distractions when you get down to the important job of being creative.

Tip 1 - browser tab for most used plugins & presets
Create a folder anywhere on your hard drive and name it something like 'Quick Access'. Now, use the Ableton browser to navigate to the Quick Access folder. I have file browser tab 3 permanently set to view the Quick Access folder as it gets used a lot.
You'll use this folder to collect all commonly used presets and plugins by simply dragging and dropping files from one browser tab to another. Try going to the Live Device Browser and dragging any Live Device preset such as an EQ8 preset or a Compressor preset to your Quick Access tab.
If you tried to drag and drop the Live Device itself (for example, the EQ8 device instead of an EQ8 preset) you'll notice that Live did not allow the operation. This is because device and plugin files cannot be moved, only preset files can. So, the best solution is to save initialized presets from your favorite Live Devices to your Quick Access Folder. If you want to have quick access to third party plugins, create a Live rack containing the plugin, and then save the rack as a preset to your Quick Access folder.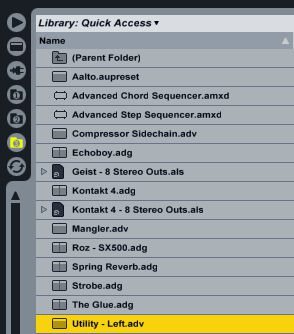 The 'Quick Access' folder can even be used for Max for Live presets, drum racks, AU presets, in fact any preset or file that can be seen in the Live browser.
Tip 2 - Save default sets for your multichannel plugins
Many instrument plugins allow multiple outputs. Setting up the input and output routing for each output isn't automatic in Live as it is in some other hosts, but do it once and you'll never have to worry about it again.
For multi-timbral plugins (those which respond to multiple MIDI channels), you can make use of the External Instrument Device: Create as many additional MIDI channels as you have outputs on the instrument (or multi-timbral parts). Then add the External Instrument Device to each MIDI track and setup the desired MIDI channel and plugin output as in the example below.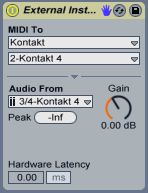 The External Instrument plugin can also be useful for managing multi-timbral plugins.
Once all the channels are set up, group them (Command-G or Ctrl-G) and then drag and drop the Group track to the Quick Access folder you created in Tip 1. This saves all the channels in the group in a single Ableton Set file, which can then be loaded into any Set via drag and drop to either the Arrange Page or the title bar in the Session View.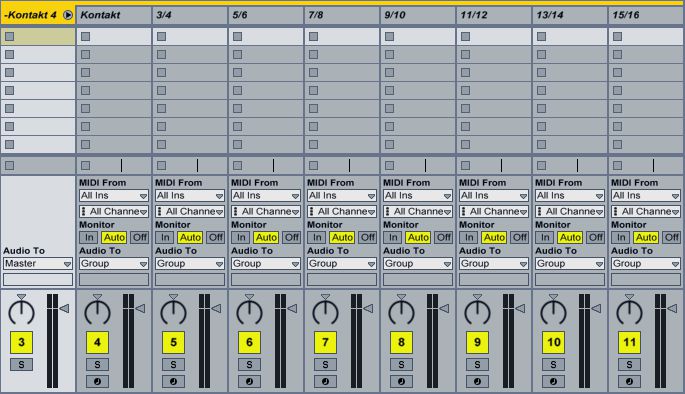 Group your multichannel instrument and save.
Tip 3 - Use the Default Sets
If you find yourself using the same Send/Return busses, MIDI and audio inputs and outputs, track colors and even plugins for every song, then use the Default Set. Setup a blank song with whatever tracks, returns, plugins and MIDI/key maps you want and then head to the File Folder tab in Live's Preferences and click "Save Current Set as Default".

Ableton's Save Set as Default option is hidden in the Preferences panel.
Spending a little time setting up and saving preferences and defaults like this can really save time by avoiding unnecessary repetition whenever you start a new song. And let's face it: We'd all like a little more time to be writing music!