Abbey Road Studios barely needs an introduction. Having its hand in countless seminal albums and film scores from Star Wars to James Bond themes, Pink Floyd and of course Beatles records, many people don't realise that its always been at a fore runner for new technology. EMI pioneered Stereo sound recording here.
Fast forward to 2015 and they've launched a new project, Abbey Road Red, Europe's only music tech specific incubator program for startups and entrepreneurs. They tell us they're working with the "brightest minds in music technology and research."
The concept is great. The experts at Abbey Road provide expertise, networking contacts, testing facilities, mentorship and regular platforms to showcase the products. In return They ask for 2% equity and an option to invest in future funding.
Mashable were there at the unveiling mid-last week and were wowed by some of what they saw. Let's take a look at 3 of the new, unusual MIDI controllers and music instruments that are being created with the help of the forward-thinking Abbey Road Red incubator.
Titan Reality Pulse
Described as a "slick sensor pad and audio controller that can replicate hundreds of instruments" it looks to essentially be a MIDI controller with sensors that allow you to trigger and play software instruments using hands on and above movement. It's pressure sensitive and can "recognize the number of fingers you're holding up to it."
Mashable tell us Titan Reality Pulse will be available for around $1200 USD / £800 later this year.
Here's a teaser video:
Mogees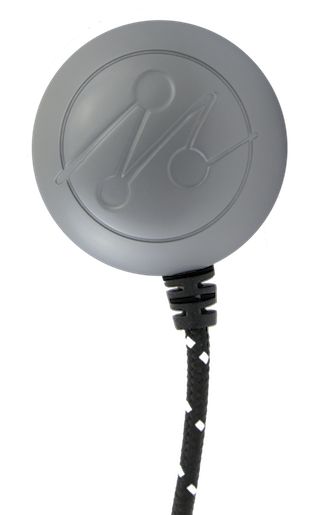 Mogees - turn anything into a musical instrument.
Imagine being able to transform any surface into a musical instrument. Yes, you can finally play drums on your kitchen table and have it sound a lot less wooden! We've seen similar sensor-based MIDI objects, but Mogees takes things a little further thanks to being both a MIDI controller and an instrument with its own sound engine. You also get to define the gestures and literally reveal an almost hidden interpretation of sound from objects, animate and inanimate. All controlled by your gestures and Mogee's picking up vibrations.
There's associated VST, Audio unit and iOS app too. The possibilities with this one are endless!
Watch this awesome video showing how Mogees can be used:
Web: http://mogees.co.uk
Mi.Mu Gloves
What? You haven't heard of the MIDI sensor gloves developed by Imogen Heap? Where have you been! Well, these incredibly powerful, flexible and sensitive controllers turn your arms and movements into a MIDI controller - perfect for stage, performance and production work.
Watch Ariana Grande having fun trying out the Mi.Mu gloves:
Web: http://mimugloves.bigcartel.com/
Back to Abbey Road Red
Interested in bringing your music technology idea to market? Need some help and support to do so? Applications for March 2016 intake are open. Apply here.
Learn more about MIDI in this fascinating video course:
MIDI 101
.