Dub is a technique and style that originated in Jamaican rocksteady and reggae. Dub pioneers created the sound by experimenting with different pieces of kit and used the mixing board as a musical instrument. Originators of the sound include Osbourne Ruddock (King Tubby), Bunny Lee, Lee 'Scratch' Perry, Augustus Pablo, Prince Jammy and Scientist. The instrumental dub remix was introduced in the late 1960s and the early 1970s. Jamaica's innovative producers and mix engineers employed a fresh approach; they used recording and mixing equipment in new ways to create the dub style. They would often modify their equipment to make unique customized sounds. One signature characteristic of dub is long, feedback style delays that were originally created using analog equipment.
Luckily for us, the sound of dub delay can be easily created with using today's modern plug-ins. Here are three essential plug-ins for creating dub style delays.
Audio Damage DubStation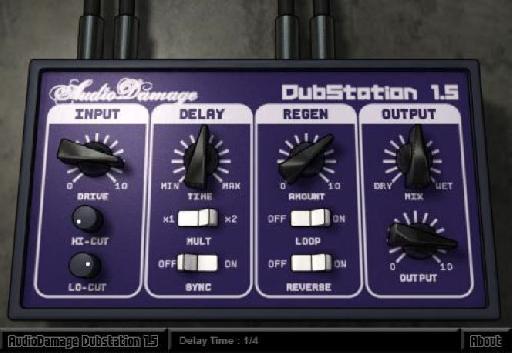 Audio Damage DubStation is a great looking and sounding plug-in that's easy to use, especially if you're just getting started creating dub delay. It's been modelled on vintage delay units, and produces a warm, classic dub reggae delay.
Dubstation is a user-friendly plug-in, and is simple for beginners to use. The input knob allows for attenuation of up to 3 dB and features a hi-cut low pass filter and lo-cut high pass filter. The low cut emulates the sound of older delays and is useful for emulating signature Jamaican style effects. The amount of time that the signal is delayed is determined by using the Time knob and the Mult switch together. The Time knob can vary the delay time from 4 ms to 1000 ms, with the option of doubling these values using the Mult switch. DubStation has been modelled on 'bucket-brigade' style delay units; which means the pitch of the signal changes as the time is changed. Dubstation's style of delay modelling helps it produce great sounding dub delays.
A good analogue delay requires a feedback control, which is called Regen (regeneration) on Dubstation. Essentially Regen controls the amount of delayed signal that is fed back into the delay line, and it can be used to create a long looping delay, similar to hardware analog delay units. In the Regen section, there's a Loop switch, which causes the plug-in to play the sound in the delay line without changing it. There's a Reverse switch which plays the audio in the delay memory backwards. The Output section allows you to control the relative amounts of the original and dry signals and the Output level determines the overall volume. Dubstation includes a selection of awesome sounding presets that are useful for beginners learning to program dub delays. Priced at only $39.00, it's affordable for every producer to have this sonic gem in their arsenal.
Key features:
Delay model Changes the pitch of the signal when the time is changed
Low cut and Hi cut filters, Loop and Reverse features
Full MIDI Learn Mode, for MIDI CC Control of every control
Available as 32- and 64-bit VSTs for Windows and 32/64-bit VST and AudioUnits for OS X
Price: $39.00 USD
Web: http://www.audiodamage.com/effects/product.php?pid=AD006
Roland RE-201 Space Echo Tape Delay Plug-In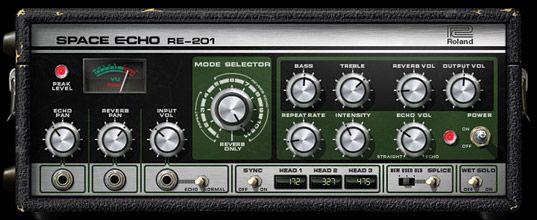 The Roland RE-201 Space Echo Tape Delay Plug-In is an emulation of Roland's famous Space Echo. Legendary artists such as Pink Floyd, David Bowie, Portishead and Radiohead all used the original delay. The engineers at Roland spent over a year developing the RE-201 Space Echo and many producers consider it simply the best digital delay. The RE-201 perfectly models the original, in both sound and appearance. It features the Space Echo's long sought after tape distortion, pitch shifting, wow and flutter, self-oscillation and spring reverb emulation.
The features have been thoughtfully laid out; on the far left you'll find controls for Echo Pan, Reverse Pan and the Input Volume. There's a Mode Selector switch for choosing head combinations, Repeat Rate for controlling timing, and Intensity for setting the repeat count and self-oscillation. The Echo/Normal 'Dub'