To coincide with my video tutorial on Native Instruments' flagship soft synth Massive, I thought I would share three of my favorite power tips for using this extremely powerful instrument.

Tip 1 - Assigning Parameters to External Controllers
I'm a huge fan of performance controllers. There is something great about using your mod wheel, after-touch or velocity to alter parameters within your synth whilst you are playing. Some synths make this process a little complex but it's extremely straightforward in Massive.
Simply right-click on any parameter in your patch and hit the MIDI learn option in the list you are presented with. You can then go ahead and move the external controller you wish to use, such as your mod wheel or any other knob or fader.
Right-clicking any parameter reveals the MIDI learn menu.
Of course this works perfectly for continuous controllers but if you wish to use aftertouch, velocity or keyboard tracking as your modifier you'll have to take a slightly different approach.
In the lower right hand corner or Massive's interface there is a small keyboard display. Here you'll find a collection of controllers that you should find very useful. Any of the four choices here (Aftertouch, Velocity, Key tracking and TriggerRandom) can be dragged and dropped to any location in Massive. So essentially, these can be used to modify just about any parameter in the synth. Nice.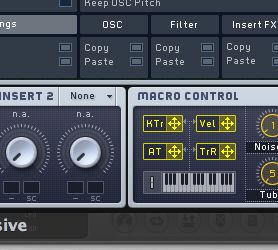 In the bottom right of the interface you can find the external controllers.
Tip 2 - Programming Macros
Another great way to quickly edit Massive's key parameters is to set up Macro controllers. These are dedicated knobs that can control one or more parameters in your patch. These Macros can be very useful for making drastic or more subtle changes to your sound with one simple movement.
The Macros are accessed in two different parts of the synth: one for editing and set up and another for tweaking. The editing section is in the lower left of Massive's main window. The small yellow dials represent the eight Macros and they can be dragged to any parameter, just like any other modifier.
You can also name the Macro in this section for fast location of the right parameter. If you switch to the Attributes window you will see your new Macro controls in all their glory. You can use these larger knobs to tweak you new custom controls to your heart's content.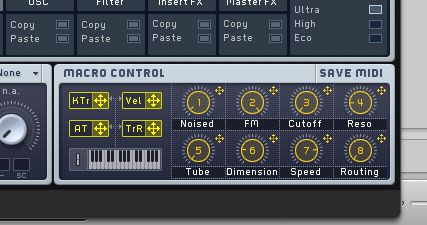 Macro editing takes place in the lower right of Massive's main page.

Once set up your Macros can be tweaked in the attributes page.
Many of Massive's preset patches have Macros already set up. It's well worth taking note of these and looking into how they are put together as this will help you when you are programming your own sounds.
Tip 3 - Loading Recently Used Patches
A very simple (but useful) feature of Massive is its ability to load recently used patches. To access this feature, simply go to the load/save area at the top of the synth's interface. You should now be able to access a small list of the last 10 + sounds you have loaded up.
Massive's 'Recent Files' feature is really useful.
Many synths don't have this feature and it has actually turned out to be a lifesaver in busy sessions and allowed me to recall patches I thought I'd lost. This menu can be cleared at any time to allow a new list to build up. Very useful stuff!
If you like the look of this synth check out my Massive video tutorial that covers every aspect of the instrument in detail.
Also, check out the rest of macProVideo.com's Native Instrument Tutorial-Videos!