Buchla Now features music from:
Marcia Bassett, Suzanne Ciani, Dan Deacon, Kaitlyn Aurelia Smith, Hans Tammen, Jonathan Fitoussi, Todd Barton and Steve Horelick.
This re-release is limited to 300 editions!
To celebrate its 5th year and 20th release, cassette label Ultraviolet Light has cooked up something truly special: Buchla Now, a collection of new music created on synthesizers designed by Don Buchla, the visionary instrument maker, inventor/physicist, circuit designer, musician, and founder of what has popularly become known as the "West Coast Style" of synthesis.
Buchla Now features music from Marcia Bassett, Suzanne Ciani, Dan Deacon, Jonathan Fitoussi, Steve Horelick, Kaitlyn Aurelia Smith, Hans Tammen, and compilation curator Todd Barton. Suzanne Ciani once said of Don Buchla that his "unique mindset allowed him to be outside the popular notion of what electronic music was." Each of these artists, in their own way, carries on this tradition of boundary-pushing music, expanding the very notion of what music can be.
Buchla Now is being released as a 300-copy limited edition cassette with 3-color risograph printed artwork by Wilson Ward Kemp as well as digital-download codes included with each cassette.
Buchla Now Tracklist:
A1. Jonathan Fitoussi, Plane?te Sauvage (Buchla Music Easel)
A2. Todd Barton, Apeiron (Buchla Music Easel)
A3. Kaitlyn Aurelia Smith, Moon like a Marble (Buchla Music Easel)
A4. Marcia Bassett, Influence Scrambler (Buchla 200 Modular)
B1. Dan Deacon, Unseen Objects (Buchla Easel Command)
B2. Hans Tammen, a?a?nia? (Buchla Music Easel)
B3. Steve Horelick, Spirals of an Inner Life (Buchla Music Easel and Buchla 200e) B4. Suzanne Ciani, Empty Skies (Buchla 200e)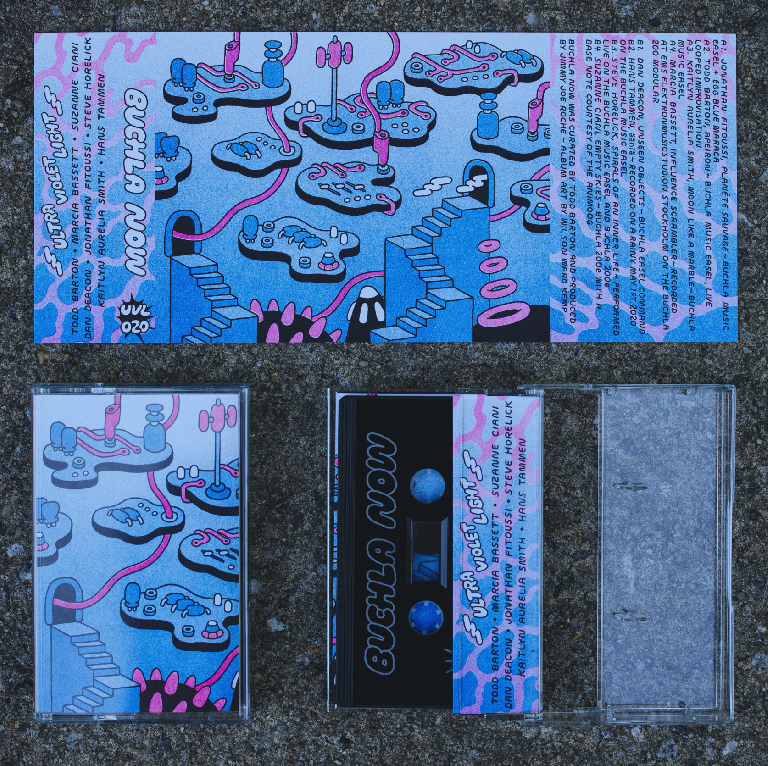 Todd Barton: I've been mesmerized and seduced by the organic sound and responsive interface of the Buchla Music Easel for decades. It is an instrument I never tire of playing, practicing, and performing with.
This project began as an idea from Jimmy Joe Roche. I was delighted that he reached out to me to contact composer/performer friends that were deep diving into Buchla instruments. As the inquiries began, the first to respond was Suzanne Ciani, which really propelled the forming of this unique constellation of musicians. Though I know most of the folks other names were suggested and that opened up into the lineup we have here. My guiding stars in curating Buchla
Now were diversity of gender, imagination, and approach to the Buchla environment. The only guidelines after that was that each offering needed to be between 5-6 minutes. Full stop. The creative content/composition was totally up to each person. Thus, curating this diversity of content became a wonderful and exciting journey into the overall structure of the album and a sense of "Oh! What comes next!"
Check out Todd's Buchla courses here.