In most Year in Reviews you'll find the editor, probably recovering from some heavy festive season partying, filling your screen with rants or rationale on what made the year gone so damn awesome, or disappointing. We'll do things differently this year.
While there's lots I'd love to talk about 2015: vintage synth re-issues continuing to make a come back, controllers like Push 2, Komplete Kontrol, Nektar and ROLI Rise that behave more like instruments, and Reaktor Blocks… DIY synth builder kits… perhaps, there's too much for one person to talk about.
Either way, I've decided to take a back seat and shine the light on the stars at Ask.Audio: the authors. Here are three products that really captured the imagination of the unsung heros at Ask.Audio...some of whom went AWOL (too much turkey or Christmas pudding perhaps?)
Oh, and have a very happy, safe, and musical 2016!
Hollin Jones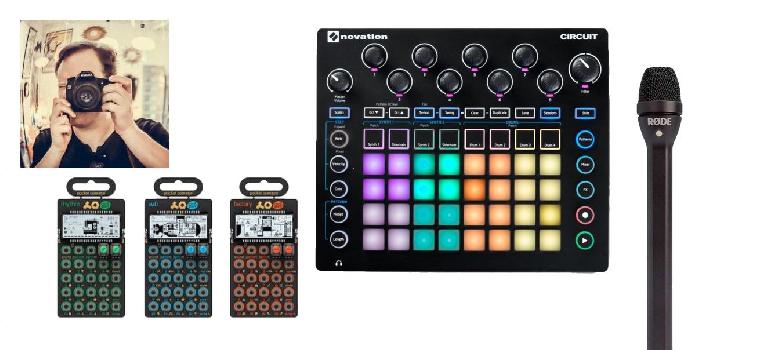 1. Rode Reporter
I had a brief to record interview footage in one of the noisiest environments imaginable: MusikMesse. The sheer amount of sonic interference in those halls is hard to describe, but Rode's Reporter mic somehow screened almost all of it out and gave me an unfathomably clear and solid vocal signal from whomever it was pointed at. Quite how they manage it I don't know, but I wouldn't use anything else for run-and-gun recording.
https://ask.audio/articles/review-rde-reporter-microphone
2. Teenage Engineering Pocket Operators
It's tempting to look at these and think that they're for your inner hipster but in truth they're way more than just cool-looking toys. They sound absolutely massive which was quite a surprise, and it's nice to see someone developing affordable, portable music making tools that aren't apps for once. Plumb them into your recording hardware and they sound really unique.
https://ask.audio/articles/review-teenage-engineering-pocket-operator-synths
3. Novation Circuit
If this was the year that hardware synths made a comeback in a big way, it was the more user-friendly stuff that caught my eye. Novation made the classic synths I envied growing up – the Bass Station, Supernova – and getting to be one of the first people to try out Circuit was great fun. It's a triumph of sound and design, but most importantly it's an absolute blast to use. There's new software about to appear for it too, so expect great things to come from this little box of tricks.
https://ask.audio/articles/novation-circuit-in-depth-video-review
Rishabh Rajan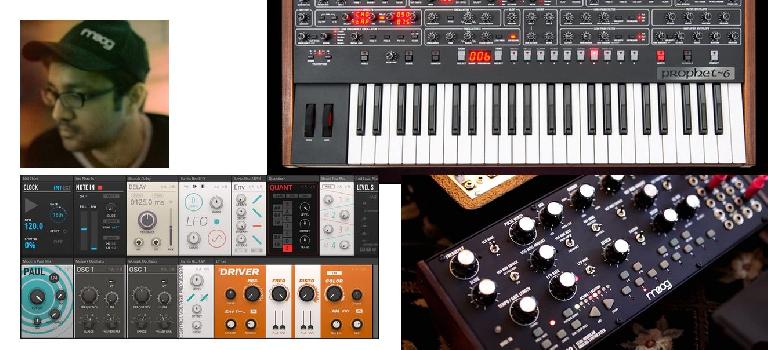 1. Moog Mother 32
Always great to have a new synth from Moog but also their first venture into the Eurorack format is very exciting news for modular synth-heads. The price point for this synth makes it almost a no-brainer.
https://ask.audio/articles/review-moog-mother-32
2. Reaktor 6
It's been a long time coming. Reaktor Blocks is great but even better is all the GUI updates that make this a much more friendly development platform than what it was before. I always preferred Max & Max for Live but now I find myself leaning towards Reaktor more.
https://ask.audio/articles/review-native-instruments-reaktor-6
3. Sequential Prophet 6
I don't come from the era of the Prophet 5. I wasn't even born when that synth came out but it's great that I can experience, to an extent the nostalgia and legacy this synth has with the new Prophet 6. Releasing a desktop module version in the same year was an excellent move as it gives the modern producer options to own the synth and yet not take up extra space with a 4-octave keyboard.
https://ask.audio/articles/review-sequential-prophet-6
Shane Berry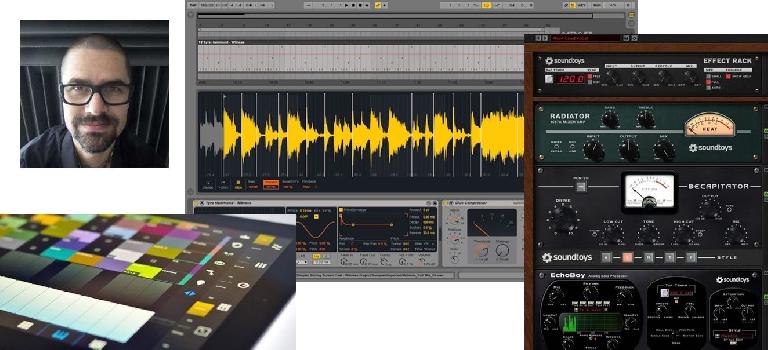 1. Soundtoys 5
With incredible configurability and sonic power, Soundtoys are among the best in the game. Echoboy remains a key component of my sound design and commercial audio work and almost every single project of mine has a soundtoy working its magic somewhere. The addition of the rack makes it possible to create effects chains and store them for later use, very handy.
https://ask.audio/articles/review-soundtoys-5
2. Ableton Live 9.5
I usually dread upgrades—but the incredible smoothness of the recent Ableton update has me tipping my hat to the team. There is a noticeable sonic improvement with fresh clarity and detail in the stereo image, and a host of small but significant additions as well. The new analog model filters are fantastic, the new Peak/RMS level meters are a welcome improvement for mixing, and the new capabilities of the redesigned simpler are creative gold. The Link functionality is also very exciting.
https://ask.audio/articles/ableton-push-2-and-live-9-5-available-introducing-link
3. TouchAble 3
I have used TouchAble since its very first, buggy, inception and I have loved it every step of the way. From rote, straight forward control of Ableton to whacky parameter controls for sound manipulation and general mayhem, TouchAble is hard to beat. The new update has a special place in my heart because it runs on iOS 6, meaning my unupdateable iPad 1 is not yet utterly obsolete. The added hardwire USB connection option is pure genius and obliterates any of the aforementioned bugginess associated with wireless connections and adhoc networks.
https://ask.audio/articles/review-touchable-3-the-ultimate-ipad-controller-for-ableton
Matt Vanacoro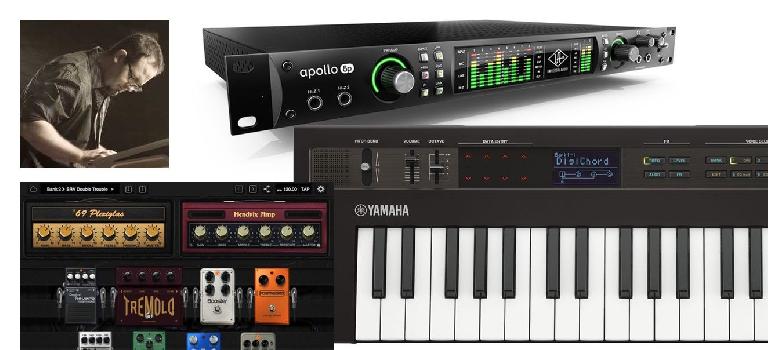 1. UA Apollo 8p
Every time the newest Apollo interface comes out, I think, "It can't possibly be THAT much better than the last one…" and it always is. Having 8 of these preamps that can be configured with Unison technology, adding 4 more DSP cores to my system, and all the little tweaks they have done between generations made this a 'must by' for me. It's an amazing interface that can transform your workflow, make you work faster, and make your recordings sound that much better.
https://ask.audio/articles/review-universal-audio-apollo-8p-audio-interface
2. Yamaha Reface DX
A DX7 that you can carry in your backpack, power with batteries, use without an amp for practice purposes, and under $500? Yes, please! I love the entire Reface line, but I like the DX the most of all. It's just so much fun to play.
https://ask.audio/articles/video-review-yamaha-reface-dx
3. Positive Grid Bias FX
If you're a guitarist and you do any recording or production at all, you really need this. It's an amazing piece of software, runs with seamless integration between iOS and the desktop version, and it's incredibly affordable. My 'direct' guitar tracks have never sounded better, and it's a real pleasure to use. Easy to use for beginners, but also a tweaker's dream. Love what Positive Grid has done with this.
https://ask.audio/articles/review-positive-grid-bias-fx-desktop
Gary Hiebner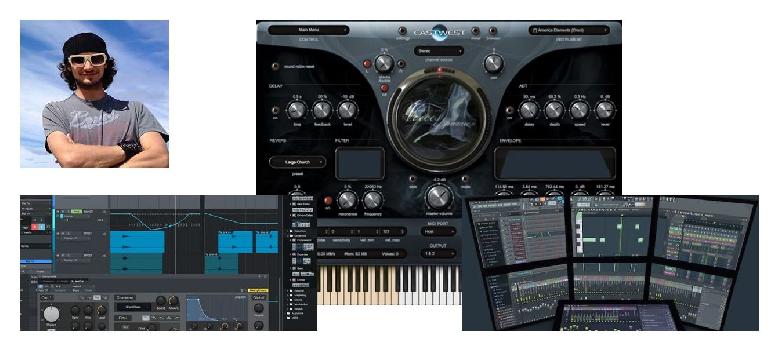 1. East West Composers Cloud
This new subscription service by EastWest is such a great product bundle and includes such an enormous amount of instruments. From the Quantum Leap Gold orchestra all the way through to the characteristic Silk and RA libraries. An invaluable tool for any composer
https://ask.audio/articles/review-eastwest-composer-cloud
2. FL Studio 12
The new FL Studio is a huge change from the previous version with its new vector based graphical look. There's been quite a bit of small updates to the software. But the new look has got to be its biggest advantage. It's so slick and clean now. But can't wait for it to be fully compatible with Mac.
https://ask.audio/articles/review-fl-studio-12
3. Presonus Studio One 3
This new Studio One has also had a big overhaul. With a new GUI look, plus with the inclusion of some great new instruments like Mai Tai, Presence XT, and the new MIDI effects. My favorite new feature is the Arranger and Scratchpad. These are great features to help to sketch out ideas and test out different arrangement ideas. Can't wait to see what Studio One has in store in the future.
https://ask.audio/articles/review-presonus-studio-one-v3
Liam O'Mullane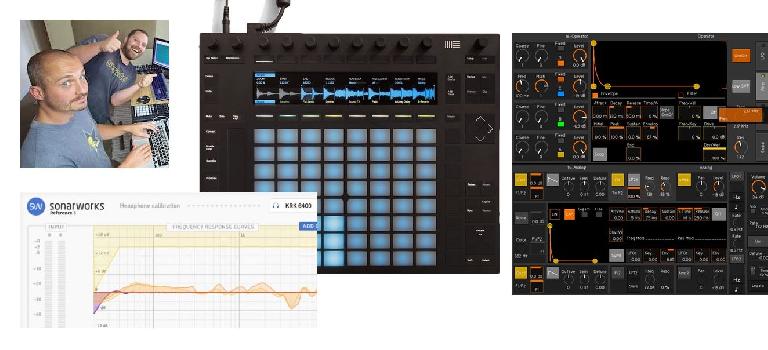 1. Ableton Push 2
The release of Push 2 is definitely a moment when the sequel destroys the original! I always wanted a mix of Maschine Studio's capabilities from Native Instruments married with the 64-pad aspect of my Push 1 and it seems Ableton have either stolen my thoughts through top-secret mind-surveillance or, just thought along the same lines. Whatever the truth of the matter is, the slick display, better responding pads and a more durable build quality gives what many of us feel was deeply lacking from Push 1.
https://ask.audio/articles/review-ableton-push-2
2. Sonarworks Reference 3 Headphone reference plug-in
It's wonderful when the excitement of a concept (which I first learned of while at Sonarworks' stand at NAMM 2011) eventually develops into an equally great real product. After four years of pre-release build, the excitement I had for this product was pleasantly satisfied and has since changed the way I use and trust headphone monitoring for finalizing project work. The neutral headphone curve it creates also works for long sessions as it minimizes ear fatigue which is a great added bonus.
https://ask.audio/articles/review-sonarworks-reference-3-headphone-plugin
3. Zerodebug Touchable 3
I've kept up with this app since its first release and it's amazing how it's developed until this version, which with the in-app purchase gives you a nice graphical and touch-based interaction with Live's Device library including Max for Live devices. Whereas Push 1 and 2 are great for performance and expression, the graphical interface for Session View on Touchable 3 makes it easy to read and navigate in the heat of a studio session or performance. The XY pad is super fast to quickly configure as you work and they've stayed true to supporting the iPad 1 (which I still use) so it's a very affordable way to control Ableton Live via touch.
https://ask.audio/articles/review-touchable-3-the-ultimate-ipad-controller-for-ableton
Liam Lacey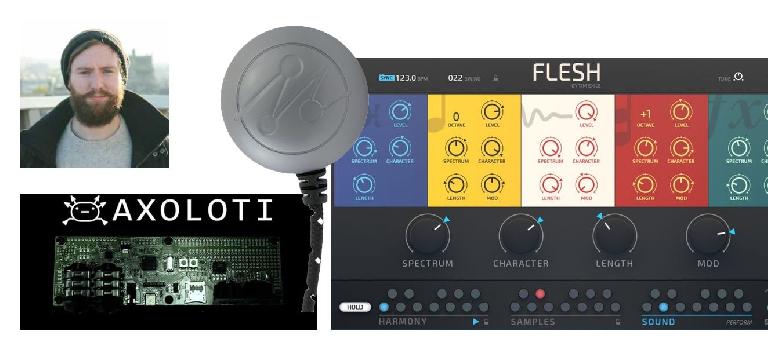 1. Mogees
Since narrowly missing their first Kickstarter campaign in 2014 I'd been keeping a close eye on the Mogees guys, so was very happy when they announced a second campaign at the end of 2015 for an improved version of their device. Mogees is such a simple yet inspiring instrument, allowing you to turn any surface into a musical instrument by mapping gestures to sounds. There's not much else like it.
https://ask.audio/articles/3-innovative-midi-controllers-being-developed-in-abbey-road-studios-music-tech-incubator-program
2. Axoloti
Axoloti is just what the DIY music tech scene has needed for years. A graphical programming language similar to that of Max/MSP or Reaktor, coupled with a dedicated hardware platform, Axoloti allows almost anybody to build their own hardware synth, sampler, or effects unit. It's the perfect device for building DIY instruments, or even for prototyping commercial ones.
https://ask.audio/articles/create-your-own-standalone-synth-instrument-effects-unit-groovebox-stomp-box
3. FLESH by Native Instruments & Tim Exile
Being a big fan of generative music and live electronic performance, it's always good to see commercial products come about that can aid in these fields. FLESH is a perfect example of this—a Reaktor instruments that uses drum loops and rhythmic sources to generate baselines, melodies, chords, among other things. It is also a great tool for getting you out of those uninspired times.
https://ask.audio/articles/native-instruments-flesh-for-reaktor-developed-by-tim-exile
Noah Pred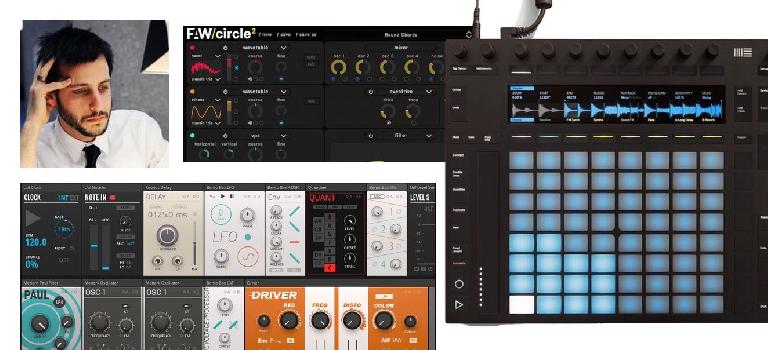 1. Ableton Push 2 & Live 9.5
At first blush it seemed a bit soon for an update to Ableton's revolutionary Push instrument, but Push 2 delivered improvement in all the right areas, making an already seamless workflow more fun - and less computer-oriented - than ever. Throw in the newly-modeled filters and revamped Simpler of Live 9.5, and even though it's just an "incremental" (and free!) update, it's difficult to imagine ever going back to the old ways.
https://ask.audio/articles/ableton-push-2-and-live-9-5-available-introducing-link
2. Reaktor 6
I've been a fan of Native Instruments' flagship synthesis environment for some time, but the advent of their modular patching system in this year's update, Blocks, finally makes Reaktor's robust back-end feel like more of a playground than a programmer's toolkit—a welcome development for novice tinkerers and modular experts alike. Maintaining exquisite sound quality while tidying up the GUI, Reaktor's update was essential.
https://ask.audio/articles/review-native-instruments-reaktor-6
3. FAW Circle 2
On the more direct side of virtual synthesis, Future Audio Workshops' Circle2 built off the elegant, straight-forward design of its previous excellent-sounding incarnation while improving its sound engine, introducing a new oscillator type, and adding numerous new effects. The result is a lush, versatile, low-CPU workhorse.
https://ask.audio/articles/review-circle2-synth
Jay Asher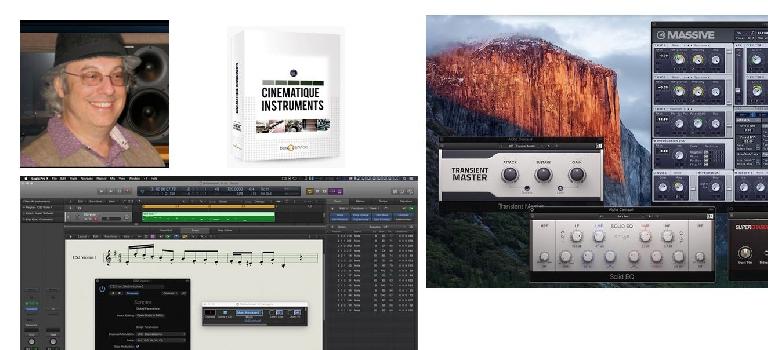 1. SkiSwitcher 2 for Logic Pro X
Great for those using large orchestral templates. https://ask.audio/articles/review-skiswitcher-2-for-logic-pro-x
2. EastWest's Hollywood Harp
The EW Hollywood Harp completes the Hollywood Orchestra and sounds gorgeous. http://www.soundsonline.com/Symphonic-Orchestra
3. OS X El Capitan
It's noticeably snappier than Yosemite. A worthy upgrade for Mac users.
Timo Preece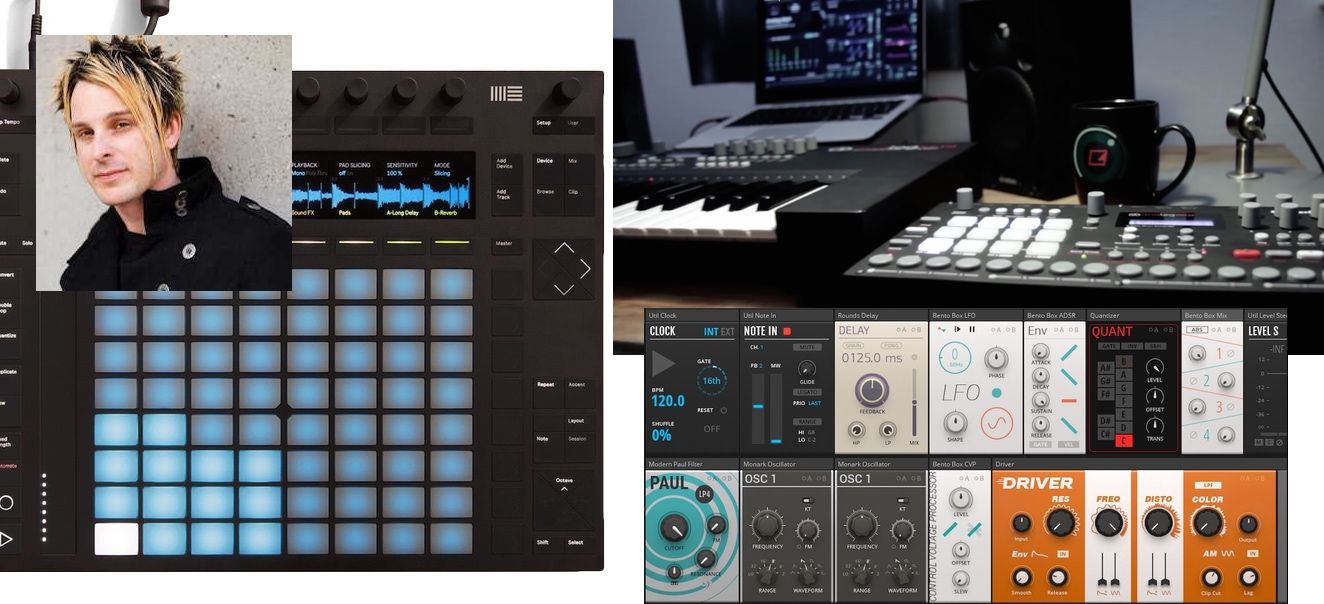 1. Elektron Overbridge
I adore my Elektron gear…. being able to more closely and directly integrate it with my Ableton Live studio and performance setups has been a huge game changer. Overbridge: Seamless integration spurred by innovative creative design and well thought-out implementation. A truly brilliant solution for bringing hardware and software. Looking forward to the 1.10 update and to see what surprises Elektron has for us next!
https://ask.audio/articles/review-elektron-overbridge-brings-software-convenience-to-analog-hardware
2. Ableton Push 2
Ableton once again taking things to the next level and proving to the world they're thinking forward and defining the bleeding-edge of audio technology. Push 2 is an impressive step forward in commercially available controllers… further blurring the division between studio production and performance. My favorite enhancements besides the exquisitely improved display are the new pads: dramatically improved look and feel. Beautifully stunning colors. I sometimes catch myself just staring, entranced like a moth drawn to a bug lamp.
https://ask.audio/articles/review-ableton-push-2
3. Reaktor 6
Long awaited update to Native Instruments' deep modular object oriented programming environment. Reaktor 6 brings us Blocks, which makes interacting and programming more intuitive and a great way to start getting your head around the wonderful world of modular. Beautifully redesigned GUI, improved workflow and remarkable sound quality makes Reaktor 6 one of my all-time favorite sound design tools.
https://ask.audio/articles/review-native-instruments-reaktor-6
Matthew Loel T Hepworth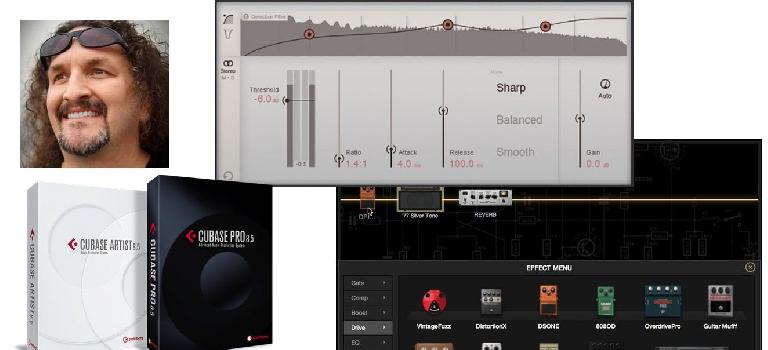 1. iZotope Ozone 7
Long known for precision mastering software and plug-ins, the new Vintage EQ, Vintage Compressor, Vintage Tape, and Vintage Limiter modules provide faithful reproductions of classic analog signal processors. Plus, the Codec Preview lets you audition your audio prior to encoding lossy formats.
https://ask.audio/articles/review-izotope-ozone-7-a-mastering-solution-that-s-hard-to-beat
2. Positive Grid BIAS FX
Lugging a pedalboard from place to place is hard, but toting an iPad is easy. BIAS FX gives you an entire virtual pedalboard in one app, with a sound quality and price point that's guaranteed to please.
https://ask.audio/articles/review-positive-grid-bias-fx-desktop
3. Steinberg Cubase Pro 8.5
The workflow of Cubase has never been faster. The 8.5 update provides many thoughtful improvements to the recording and production processes, and sharing projects through VST Transit allows Cubase users to collaborate anywhere on the planet. The updated Retrologue 2 is now beefier with 3 oscillators, more filters, and 6 FX processors.
https://ask.audio/articles/review-cubase-pro-8-5
Sara Simms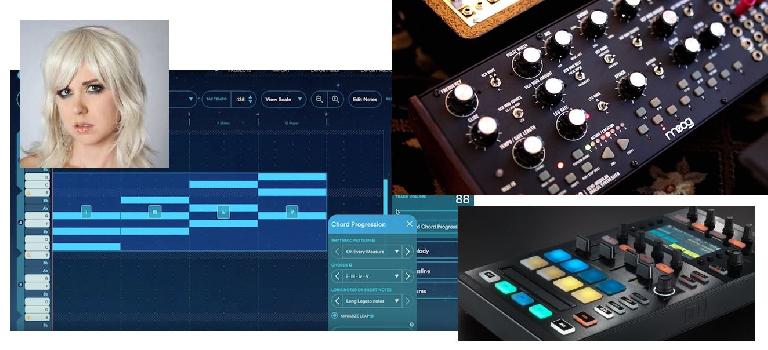 1. Moog Mother 32
The first tabletop semi-modular synthesizer from Moog looks and sounds amazing! Its spectacular design allows for easy sound creation; its flexible enough to connect with other equipment and compact enough to fit into small studio spaces. The Mother 32 features an analog sound engine that will add a warm dimension and depth to productions. Plus the promo video for this synth features all-female players, way to go Moog!
https://ask.audio/articles/review-moog-mother-32
2. Mixed In Key Odesi
Exciting new music production software from Mixed in Key that makes writing songs fast and easy! Users can compose songs by choosing a chord progression, and then add a bass line that's in key with the song. From there, the chord rhythms can be easily switched and drums can be added on top within seconds. Melody lines can be programed by hand or by using the keyboard, then the project can be exported as MIDI or Audio for further programming in a DAW. Built for speed and priced for the budget-conscious producer, Odesi is a gem!
http://odesi.mixedinkey.com (review coming soon to Ask.Audio)
3. Native Instruments Traktor Kontrol D2
One of my favorite controllers that was released in the past year, the D2 gives DJs the ability to play STEMS, NI's ground-breaking file format. I like this controller because it can be integrated into any DJ's performance arsenal and gives DJs control over the individual parameters of the STEMS tracks, including volume, filter and effects. Plus there's a full-color display screen! The D2 is a great live performance tool for the forward thinking DJ.
Honorable mention:
Roland JP-08: This cute synth proves that good things do come in small packages! The JP-08 is the size of a small book and is the recreation of Roland's classic Jupiter synth. It focuses on 'hands-on' control, has an on-board sequencer and a useful optional keyboard unit. A great choice for the producer on the go who needs big sounds, and mobile studio pieces.
G.W. Childs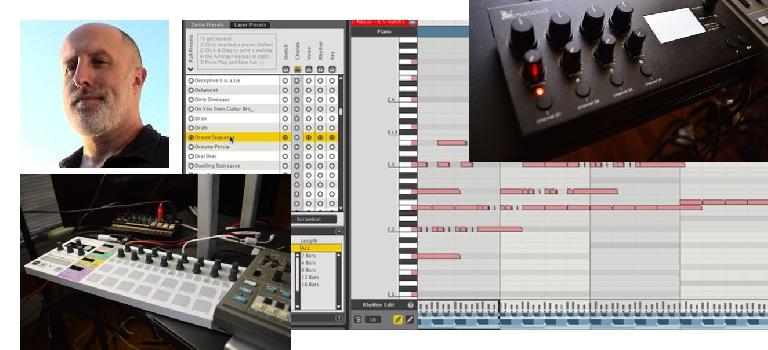 1. Arturia Beat Step Pro
Arturia's BeatStep Pro is probably my favorite addition to come into my studio in 2015. It's such an amazing centerpiece, that really ties the studio together. It also doesn't hurt that Arturia has really, really supported the product with great updates that continues to make it one of the best hardware sequencers around.
https://ask.audio/articles/review-arturia-beatstep-pro
2. E-RM Multiclock
The E-RM Multiclock rocked my world, this year. Honestly, I never knew you could have this much fun with sync! You can send different time signatures to different devices, it sends MIDI and DIN-Sync, and even has shuffle settings! If you're running a lot of hardware that requires sync via MIDI, CV, and DIN Sync, check it out!
https://ask.audio/articles/review-e-rm-multiclock
3. WaveDNA Liquid Music
While not as polished as some of the major software releases, this year. Liquid Music still does things with MIDI programming that astound and astonish. Liquid Beats and the new Music side of the application handle both unbelievable drum programming, as well as melodic programming in a way that I've never seen any application do it. And it does it all from within Ableton Live, as a Max plug. Or, as a standalone. No explanation I give will really do it justice. Make sure you check it out! Support these guys, they are geniuses.
https://ask.audio/articles/review-wavedna-liquid-music
Stay tuned to Ask.Audio through 2016 and beyond... we've got really exciting plans, news, features and reviews to share with you (including full coverage of NAMM 2016!)