Do you find yourself procrastinating when it comes to music making? Are you starting out, but unsure how to get producing music? Overwhelmed by the options? Does the mere mention of DAW, synthesis or Ableton (insert any music software name here) turn your legs to jelly?
Digital Audio Workstations tend to be very complex beasts. Yes, they're getting easier to learn than ever before, but for new users they can still be quite intimidating. With that in mind, here are some simple tips on how to make the whole process less scary and more friendly.
1. Too Many Choices
Ableton Live, Cubase, Logic, Reason, Pro Tools, Bitwig, FL Studio… which one to learn first? It's all too easy to get overwhelmed at the sheer number of different music DAWs (Digital Audio Workstations) available. Is there a right one to learn? Which one is the best? The good news is some are more suited to certain tasks or genres. They're all excellent tools to help you translate your creativity into a sonic reality. You need not learn all at once. Grab a few demos, watch some videos to help you narrow down your search for your first DAW.
Which DAW?
2. I need the Perfect Setup First
Follow on from #1 above… it's a fallacy that without the perfect music studio setup it's impossible to make music. You can actually begin making music with a very simple setup. As you learn your music software and skills you'll begin to know what hardware gear and software plug-ins will help to improve your setup. Growing your studio organically over time is a much less scary (and inexpensive) way to get started.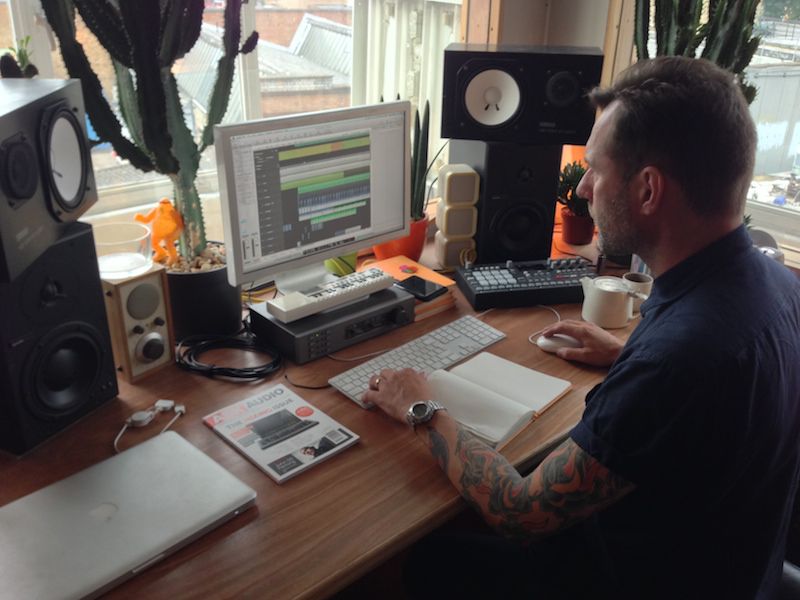 Get the gear you need now and over time build up your studio with gear you want. (Photo of Liam Howe in his London studio, producer with credits such as Sneaker Pimps, Adele, Lana del Rey.)
3. Stop talking, Start Doing it
They say "Every Journey starts with the first step" and it's the same with learning to make music on your computer. It's easier to talk about it, which in itself isn't a bad thing as this can help in the learning process… but, if you find yourself talking about it and not actually sitting down and using the software, then it's time to re-evaluate. Sometimes less talk and more action is the way forward.
4. Learn from Pros When and Where you Want at AskVideo
Wouldn't it be great if you could watch a video or an entire course online on your computer or tablet or phone on your chosen music software… or even explore techniques and skills shown to you by industry pros? While YouTube can be useful, it is unreliable and I often watch videos where the "author" doesn't know what he/she is talking about, or worse, gives misinformation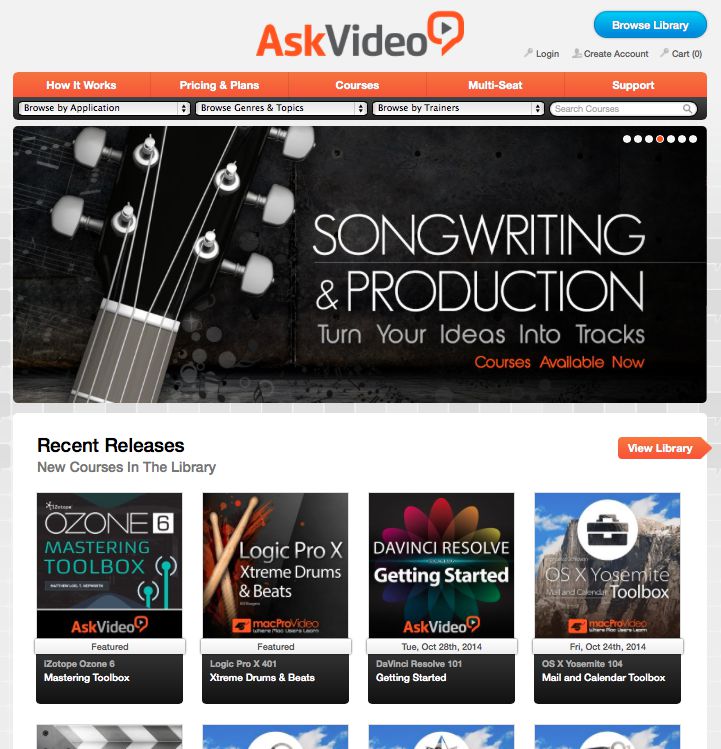 AskVideo.com (sister site of macproVideo.com) is the place to learn music production from pro trainers and artists.
That's where AskVideo.com excels. If you want to learn the essentials of your music software, or are looking for more in-depth courses on production, mixing and mastering from pro trainers you can trust, then this is the place to be. It'll reduce your learning time by weeks, if not months, and give you tips and tricks you'd probably not have found out otherwise. Plus, with a free account you can watch 10% of the entire library of courses for free. A monthly subscription costs just $25 (access to 1,800 hours of video training!!)
More info here: www.askvideo.com
5. Be Inspired By Music
It may seem obvious, but listening to the music that makes you want to make music will help you… make music! What we're talking about here is listening deeply. Use monitors or headphones to get a sense of the arrangement and production of your favorite music. Being in an inspired space can take the fear out of the music making making process when it comes to learning your software.
6. Read about Artists and Producers
Here at AskAudioMag.com we feature a number of interviews with producers, artists, sound designers and DJs with industry experience. For example, if you're interested in sound design, reading what Richard Devine uses and how he learned his chops could be helpful. Check out our interview section here and scour the web for more interviews with your favorite artists to understand the tech side of their setups and benefit from their knowledge and experience.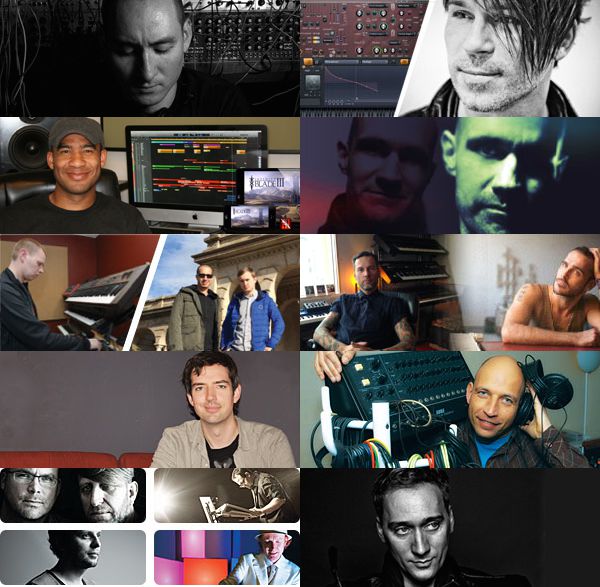 Learn how artists and producers you respect make their music and learn their chops.
7. Think of your DAW as a Musical Instrument
If you play a musical instrument like a guitar or a piano or a drum kit, then it's likely you spent a lot of time with said instrument learning it. Whether you're self-taught or not, you'll understand the time you had to/still have to put into learning how to play it. Your DAW is not that different. Think of it as an instrument, a device which when played well can create the sounds and sonic experience you're looking for.
Feeling less intimidated by your DAW now? Good!
8. Set Aside Regular Time Slots
Sometimes we can use a bit of routine to help make something that frightens us to learn, seem more manageable. So, go ahead and set aside 90 minutes twice a week to learn your music software. Split that time between watching video tutorials at AskVideo, for example, and actually applying your own ideas in the software.
9. It's a Marathon, Not a Sprint
Patience is the key to learning anything, and music software is no different. It's unlikely you'll make a hit song at your first attempt. You may not become a pro engineer overnight… but, that's part of the beauty of the learning process. Be in it for the long term and don't rush the music making process. It'll take as long as it takes.
10. Break it Down
If you're feeling stumped about what you need to learn to make music it may be helpful to go back to basics. A mammoth subject like music production can look like a mountain at times. Breaking it down into stages can make it a lot more approachable. For example, focusing on one of recording audio, MIDI, editing audio or MIDI, arranging your music, understanding synths or effects, figuring out how to mix, or mastering could be the way to go.
11. Practice Makes Perfect
We've all heard this common phrase before. When you've watched good video tutorials (see AskVideo above) it's then important to consolidate the knowledge learned. Practicing enough can make using your music software feel like an extension of your brain. It's a good feeling. Once you've learned certain functions and techniques, you'll then have the chance to experiment and explore other ways to use your software, allowing you to make music faster and perhaps even better.
12. Follow AskAudio Mag
At AskAudio Mag, we have tons (yes, literally tons) of tutorial-articles. And they're updated daily. We've designed AskAudioMag.com to be a resource for all, whether you're after specific features in your software, tips and tricks for sound design, mixing, mastering or interested in finding out which synths and gear we recommend. Check back daily and sign up to our newsletter (top of this page) to stay in touch.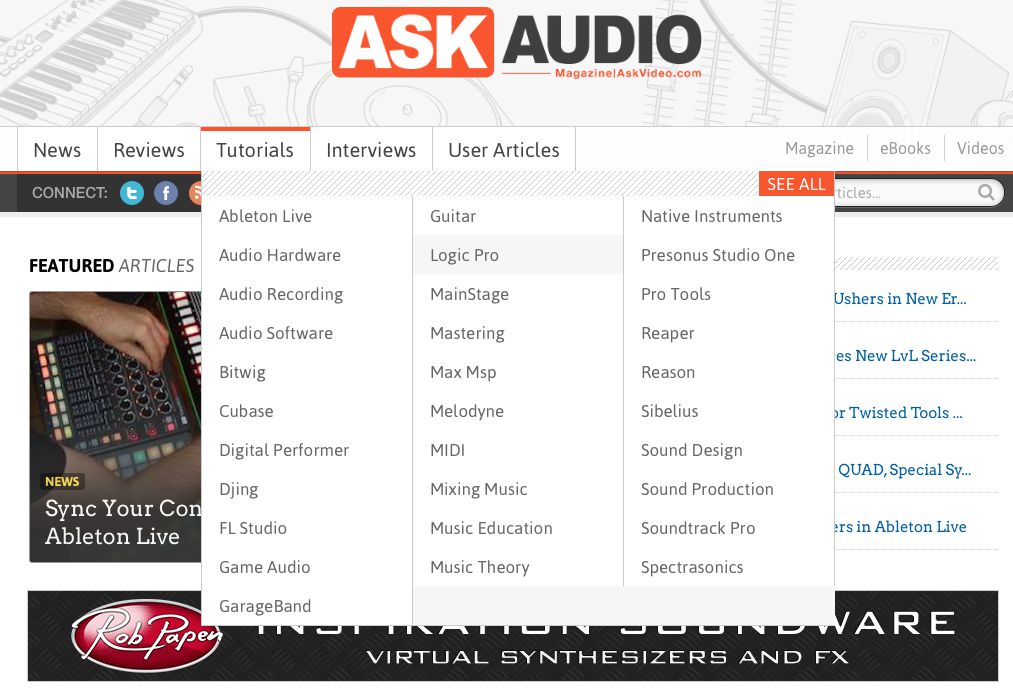 There's hundreds of free tutorial articles here at AskAudioMag you can check out 24/7.
13. Collaborate
With all the technology available so readily and relatively cheaply, it can be easy to lock yourself in your bedroom or study and become a hermit musician. There's nothing wrong with that! However, creating music with other humans, be that in person or remotely can help take your music in directions you might not otherwise have gone, and also give you and your friend the chance to teach and learn from each other. Working with others can transform a scary space into a more exciting, challenging one.
Got some tips you think we should've included? Add them to the comments below.