These days, when you label a plug-in as a filter, it can mean far more than just killing some high frequencies, or making a 303 scream. These days there are filter plug-ins that are so powerful, that when you just play a single note of a keyboard through, suddenly, you've got an entirely new sound, and rhythm. So, in a sense, filters are really becoming instruments on their own. With that being said, we at AskAudio thought it would be nice to throw down a list of the plugs we're digging, and... Why. So, here's the 2014 list of uber filters, just for you.
Trash 2 by iZotope
Izotope's Trash 2 is generally known as a distortion plug-in. However, within Trash 2, there's not just one, but multiple filters that can be be active and modulating within just one patch. And, there's even more coolness with Trash 2. Within both filter sections, there are options for more than one type of filter, as well. For example: I can have a Screaming Low Pass Filter being modulated by an internal LFO, while within the same filter section, have a Saturated Filter running at the same time, being modulated by sidechain. Then, on the other Filter section, I can have up to 6 more filters going, at once. Because Trash 2 is designed to be semi-modular, you don't even have to enable distortion, period. You can run the filter sections on their own! Way to go iZotope!
Etch by FXpansion
Etch is a destructive plug-in, to the nth degree. I actually use Etch as a last resort, as it always provides something. But, because it's a little system heavy, sometimes I'll wait to bring it in. I don't really mind that it's a hog, though. You can hear the quality! And, it's got some great modulation sources built-in, as well. Two LFOs, an Envelope, and an Envelope Follower mean that even if you're running just a bass guitar through Etch, because Etch has such a well implemented modulation system, you can easily make a bass sound like a synth, complete with a wobble. And, while this all sounds a little complicated, Etch makes it so easy to set up. Oh, and if I need some of the resources back that Etch is using... Just bounce!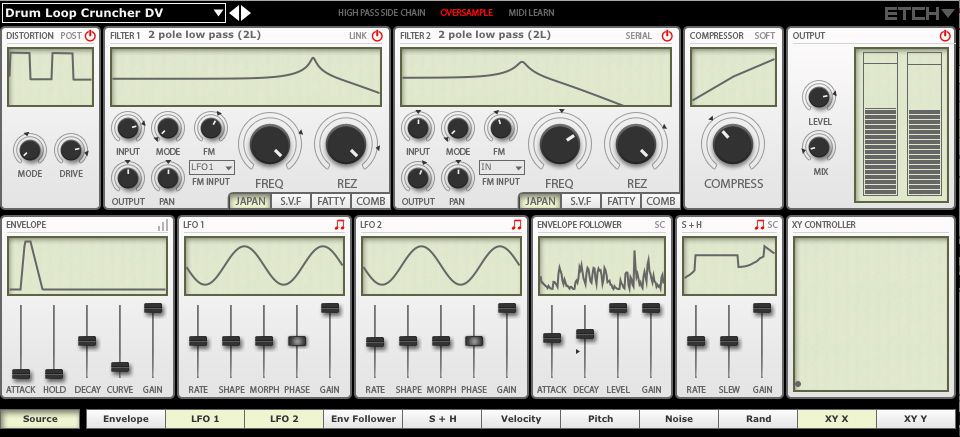 CamelSpace by Camel Audio
[Editor's Note: We're sad to say that Camel Audio is no longer in business.]
Camel Audio, for years, have been putting out the plugs that would be known as an 'Industry Standard', if there was such a thing for plugs. And, while CamelSpace isn't technically a filter (it has multiple effects as well, like delay, reverb, multiple modulation sources, Flanger, and more), it incorporates amazing filtering capabilities along with a step sequencer that really knows how to play those filters. That being said, CamelSpace really is a plug-in that can take one note being played of a synth, and turn it in to a whole arrangement. Plus, because CamelSpace has been around for a while, you can rely on an extremely well round patch library that covers pretty much any situation you'd want to bring in a multi-effects plug-in in to.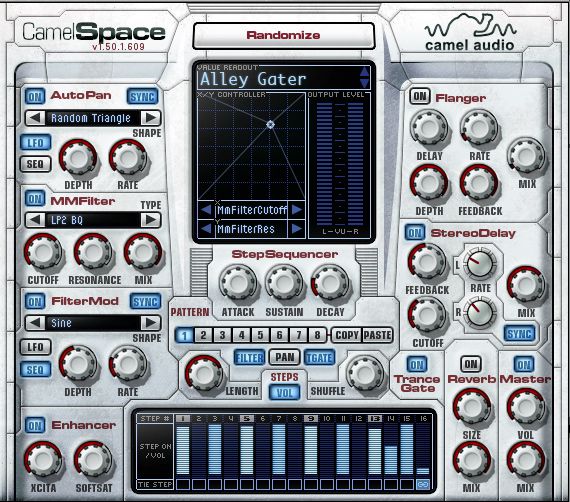 CableGuys FilterShaper 3
This is an absolute must-have on my part. I can't live without this plug-in anymore. FilterShaper 3 sports some very, very clean filters that can go from light and fluffy to straight up nasty, and has a modulation system in place that is a true love letter to those who get in to some serious rhythmic filters. I'm also a big fan of the envelope style of rhythmic sequencing that takes place in FilterShaper 3. You can actually see the waveform, as you build modulation around it. And, if tweaking filters isn't your thing, and you'd just prefer some nice presets that are 'ready to go', you'll appreciate the massive browser page that sports user made, as well as company made presets.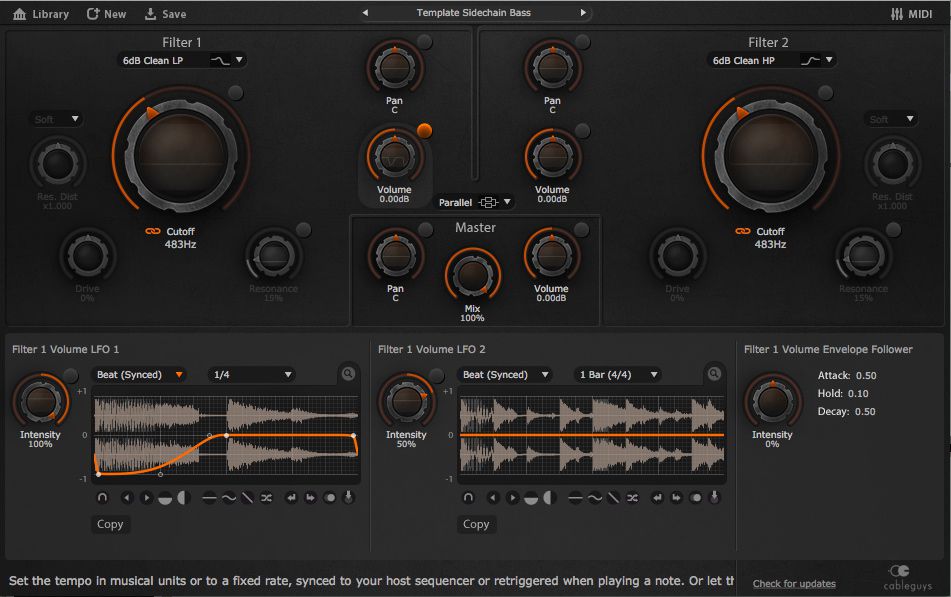 WOW2 by Sugar Bytes
If you do a web search for filters these days, WOW2 is usually one of the first to pop up, and for good reason. WOW2 has one of the most modern sounds I've heard, featuring tight, sick and crazy filter modulation, with some filters themselves that even give the hardware a run for its money. WOW 2 is especially cool for creating formant-based, Dubstep wobbles that really will make you feel like Optimus Prime is free forming some robotic sickness, right there between your fat beats. WOW 2 can serve many different purposes. For me, however, I love this plug-in for augmenting bass and lead patches that could use that 'little something special'. Also, WOW 2 is awesome for fattening some loops up, breaks beats and more.
Web: http://www.sugar-bytes.com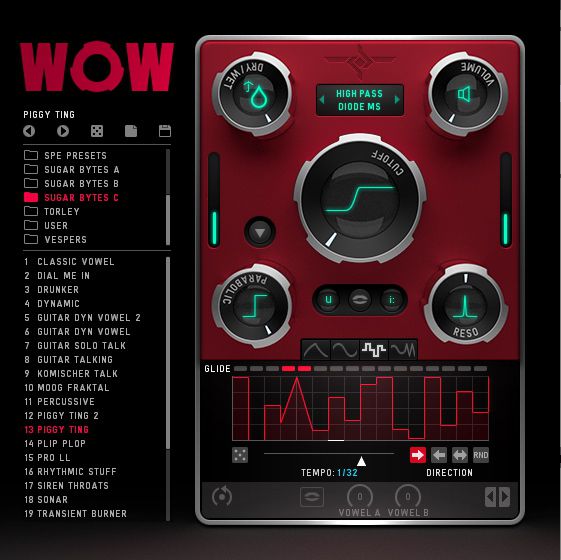 The Drop by Cytomic
Cytomic offers the Drop, an amazing, analog, modeled, resonant filter, that like the rest of the filters in our line-up, has a few tricks of its own. One of the things that really impresses me about the Drop is its ability to introduce some really complex modulation, as well as new elements, without totally destroying the original signal. However, if you want destruction, the Drop will happily fulfill the need. And, if you want a filter that introduces absolutely no latency, you'll really want to check this one out. The Drop offers multiple render modes that will ensure accurate filter sweeps, with multiple render modes that will guarantee some of the most thoughtful audio processing out there. You can literally choose your render and oversampling modes!
Web: http://www.cytomic.com/drop

Volcano 2 by FabFilter
I love it when companies create user interfaces that exist, graphically outside of the box. Volcano is not only a wonderful filter, but it's also an excellent learning tool, if creative filtering is something new for you. A clever visual display, which is actually quite large and easy to see, gives you clear, visual instruction as to what is taking place within your sound. However, don't think this is just a plug-in for the noobs. There are four, quality filter modes that feature a staggering amount of flexibility in their usage, and a full featured modulation matrix, and 16 step XLFOs. So, if you want to learn, and at the same time up your game, this is a great pick.
Web: http://www.fabfilter.com/products/volcano-2-powerful-filter-plug-in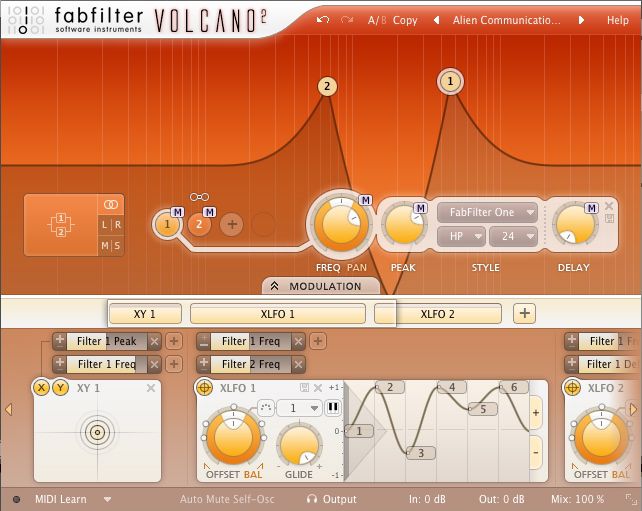 PredatorFX by Rob Papen
While it's technically not a filter bank, Rob Papen designed his soft synth, Predator, to have an additional FX mode that, you guessed, gives you access to Predator's massive effects possibilities, for any audio signal you run through it. This is no small gift. Predator offers a sinful amount of different filter types, as well as a step sequencer, multiple LFOs and presets designed by, literally, one of the best sound designers in the business.. Along with friends of his, like Junkie XL. If you're in the market for a great synth, as well as a robust effect, and filter device, and incredible customer support, make sure you check out the Predator!
Web: http://www.robpapen.com/predatorfx.html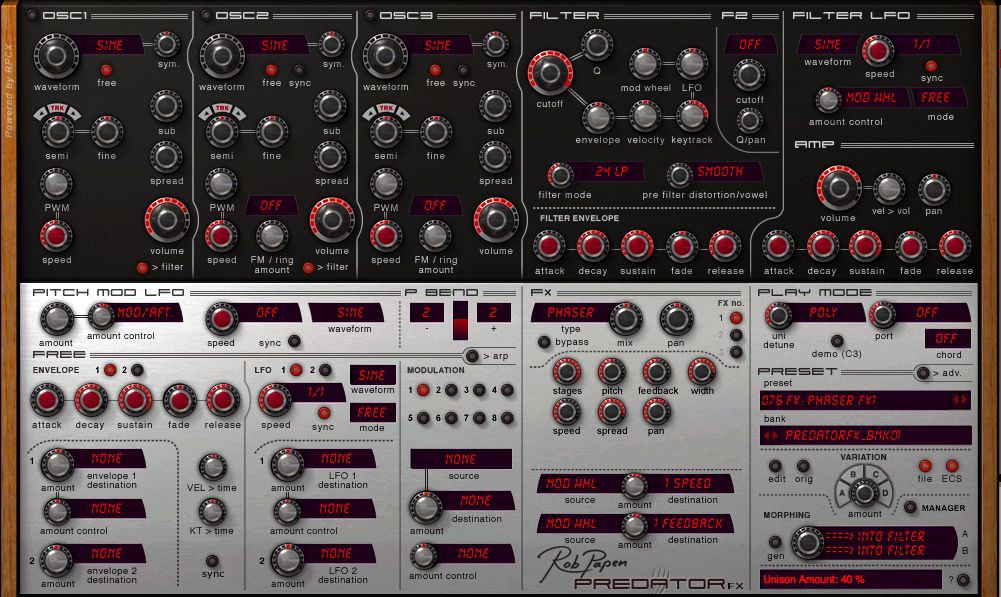 Filterscape by U-HE
Another one of the more graphically inspiring of our bunch would be Filterscape, by U-He, a multi-effect filtering device featuring a step sequencer, LFOs, and up to four envelope followers. When you mix this with a really beautiful delay, you get a plug-in that can really help your source signals soar to new areas of sound enlightenment, while still remaining a work horse filterbank, if you want it to. Like Mr. Papen's offering, Filterscape also has a synthesizer form of the plug-in that comes bundled, with purchase, and even features a 6 band graphic EQ. So, when you purchase one, you get them all, and all is a nice, nice thing, where u-He is concerned. This is a great buy: An amazing multi-effects device/filter, a synth and a 6 band EQ. What's not to like?
Web: http://www.u-he.com/cms/filterscape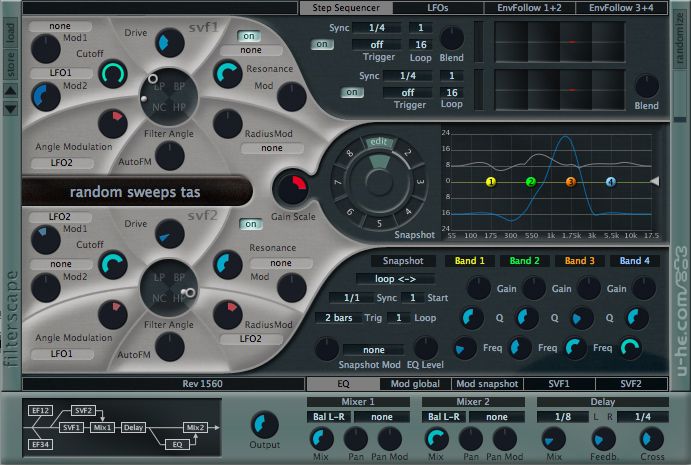 FilterFreak by SoundToys
If seriously warm, dirty, and smoking hot analog filters drive you crazy, the way they drive people like Trent Reznor crazy, then you'll love FilterFreak. I have always marveled when hearing all the work of the programmers at SoundToys, and FilterFreak is no exception. The company is one of the best for emulating an analog sound with the warmth that you expect from analog. The only thing I would caution on, is that you will need an iLok for this plug-in. However, if this doesn't bug you, you've got access to up to two phat, sick, filters (if you run Filterfreak 2, which is included in the package) from up to 2 to 8 pole, and enough resonant destruction to guide you up to the level of Reznor, himself.
Web: http://www.soundtoys.com/product/filterfreak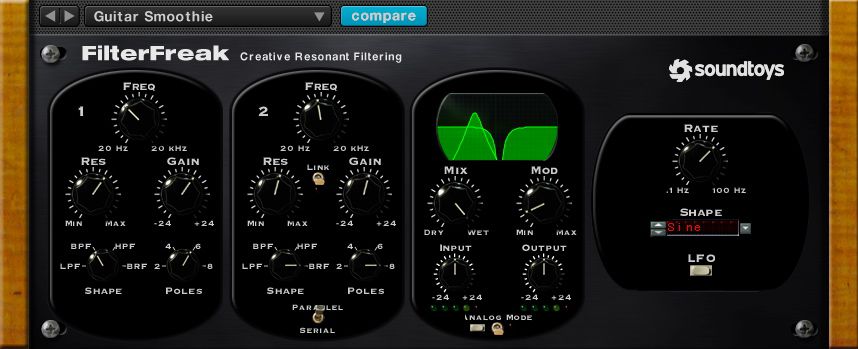 Filterbank by McDSP
If you know the name McDSP, then you probably don't even need to read another word. McDSP creates plugs that are both clean, and as pro as they come. Their offerings for the world of filters is no different. Like Papen and U-he, you get actually three plugs, when you purchase Filterbank- The E606 parametric EQ, the F202 High and Low pass filter and the P606 parametric EQ, which includes Q modes. And, while you may not see some crazy step sequencers and flexible LFOs, you're getting a filter and some EQs that are impressive enough to gain regular employment in some of the greatest studios around. I, personally, use the Filterbank trio when I get to the point of refining, balancing and mastering my mix. The natural depth and precision that I get from McDsp is unmatched. Granted, I don't really use their stuff for creative effects, as much. The other companies have that covered. But, when I need 'real'. This is where I go.
Web: http://mcdsp.com/plug-ins/filterbank/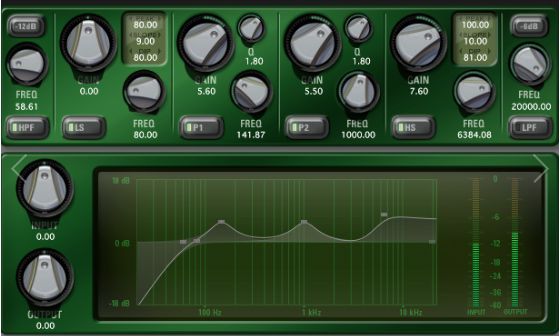 MetaFilter by Waves
MetaFilter is an incredible workhorse filter with a wide application, outside of dance music. But, just in case you are a DJ, you'll find plenty of happiness in not only a nicely laid out user interface, that really fills you in on what's going on sonically, housing some of the best filters in the business, bar none. Like many of the super filters in the list, there is an incredible 16 step, step sequencer, and includes an additional effect (delay), so that you can have a little fun, without having to add in another plug. I should also mention that this is one of those plug-ins that does come up in regular conversations in many of the studio back rooms. It's got a really fat sound to it.
Web: http://www.waves.com/plugins/metafilter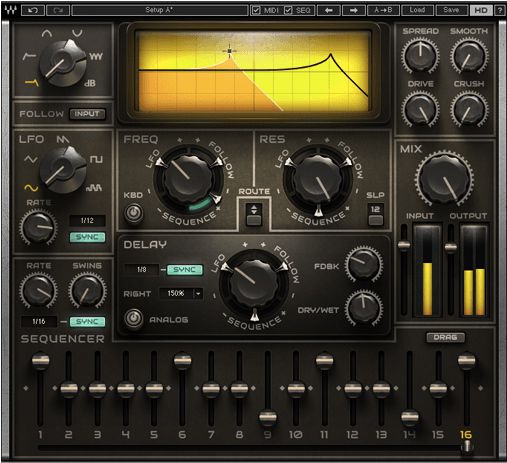 Conclusion
So, there you go! A run-down of some of the most exciting filtering, multi-effects plug-ins on the market. If you're currently on the hunt for something to take you on to a new level of polish, destruction and precision, herein I believe you'll find just what you're looking for. And, with prices that won't break the bank. I would highly recommend taking some time with each product, above, in demo mode, up until you think you've found the right on. And, if you do get one from the list that really changes your life, let us know!